Grain-Free Carrot Cake Muffins made dairy-free, refined sugar-free and paleo friendly. These amazingly moist and fluffy muffins taste just like regular carrot cake!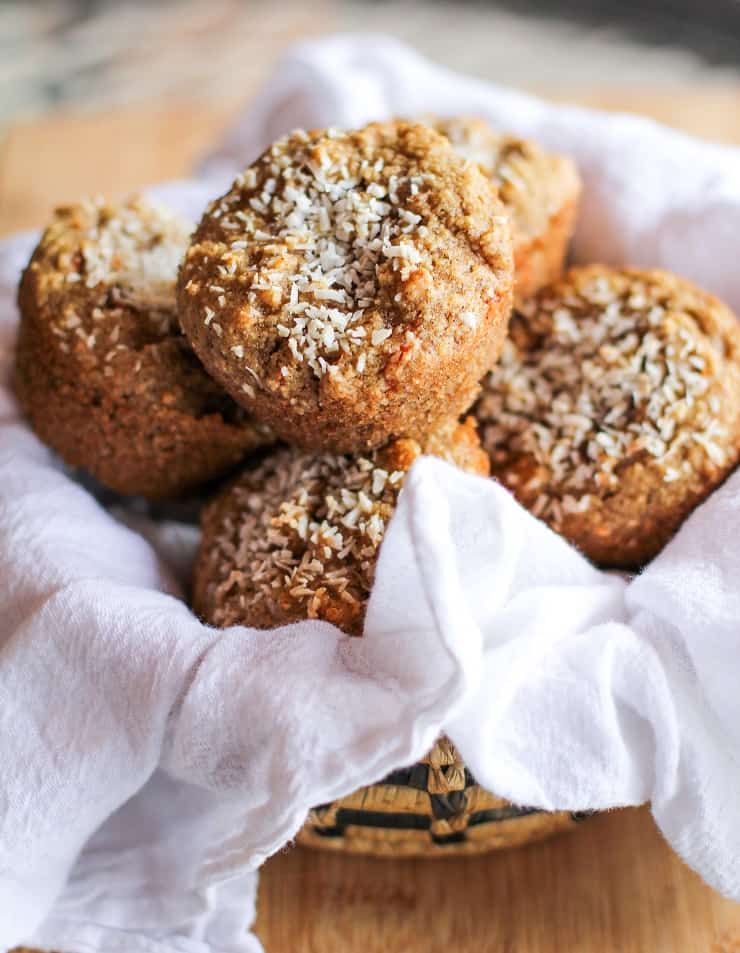 You're going to slap me in the face when you find out what's in these grain-free carrot cake muffins.
Spoiler alert: it's a parsnip.
The snow hath fallen!!! Okay, not a huge amount…just a little sprinkle sprinkle to keep things real…just enough to take pretty pictures and go fiddle around in, but every bit counts.
One of my favorite things to do during a snowstorm is bake, and there's something about this time of year that screams, "carrot cake" to me.
I'm not much of a cake person, but carrot cake?
It's like the Dave Grohl of cakes.
The Danny DeVito, Meryl Streep, Jeff Bridges, Bette Midler, Alexandre Dumas, Snoop Dogg of cakes.
I know. It makes no sense, but that's why it's so good.
And get this: there is a parsnip in these cake muffs. I know. Put that in your pipe and smoke it.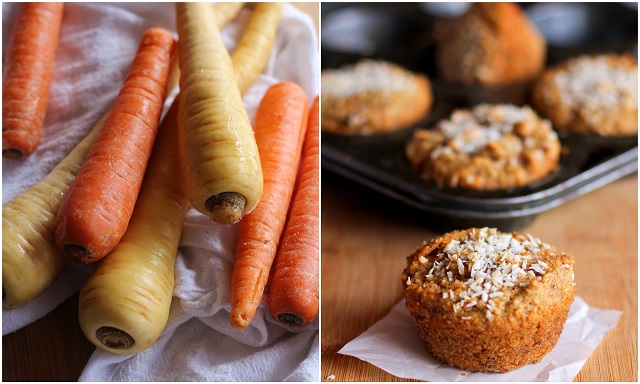 The parsnip makes the carrot cake taste 56,784,098 times better than an all-carrot carrot cake.
That's a lie. It really tastes no different. But we get brownie points for wise use of parsnips, right?
We may not have control over all the things in life, but we 200% have power over how we eat our parsnips.
Let's eat them in cake.
How do you make your carrot cake?
Do you give the carrots a little pre-soak in hot water?
That's what I do. I like to believe a hot water bath allows the sweetness of the veggies to come out…but it could just be an extra unnecessary step, who knows?
Do you add walnuts and raisins and pineapple and all those carrot cake-ly things?
You may adjust the recipe as desired by adding 1/2 cup of chopped walnuts, more shredded coconut, or 1/2 to 2/3 cup of raisins.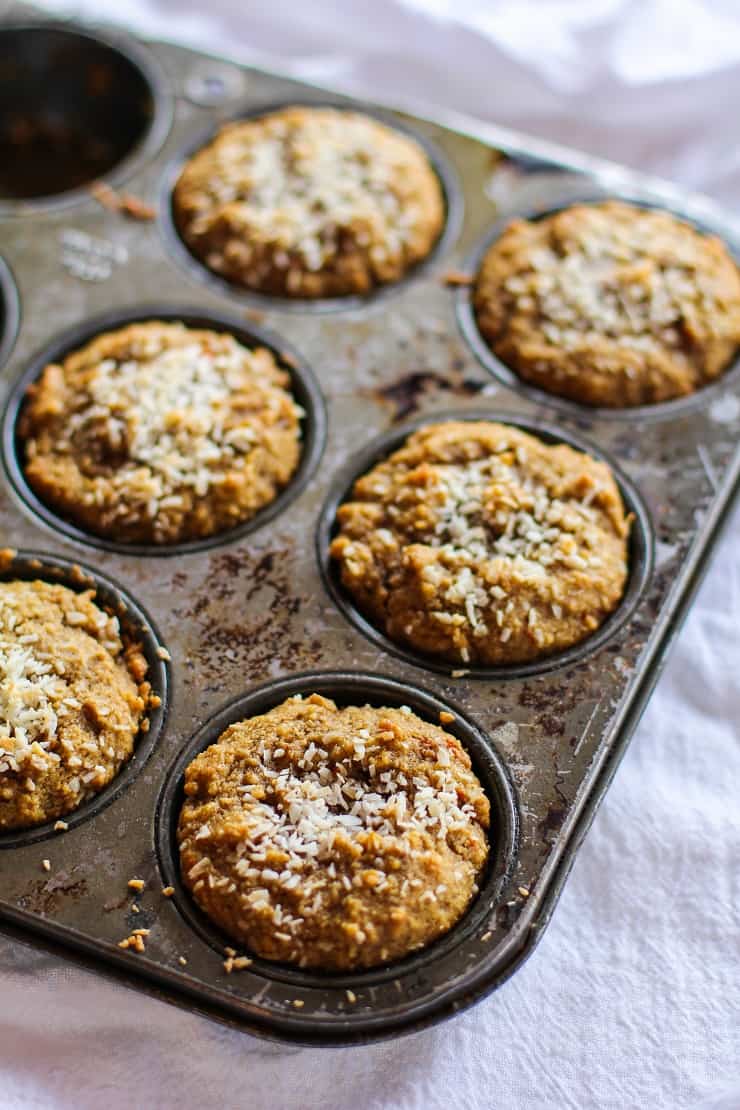 I made the cake into portion-controlled muffins, but you can also bake the batter in an 8″ x 8″ cake pan.
The recipe turns out light and fluffy, and the muffins are perfect for breakfast-on-the-go.
For my next go-round, I'll have to quadruple the recipe, because 7 joyful carrot cakes is simply not enough.
To summarize: parsnip + carrot + almond flour + pure maple syrup make this a super healthy take on classic carrot cake. Like why wouldn't you eat your protein and vegetables in the form of cake?
And why wouldn't you make muffins out of it because: portion control?
And why wouldn't you eat every last portion-controlled muffin in one sitting while marathon-watching Parenthood on Netflix? You would.
If you want to try a completely naturally sweetened version of these muffins, make my Paleo Carrot Cake Muffins with No Added Sweetener! They are sweetened with bananas.
More Gluten-Free Muffin Recipes:
Bake some edibles!
Grain-Free Carrot Cake Muffins (Paleo)
Grain-free carrot cake muffins with shredded coconut are a lovely breakfast, snack, or dessert! A warmly-spiced healthy treat for any time of year!
Instructions
Preheat the oven to 350 degrees F and lightly oil a muffin pan (you'll only need to oil 7 holes)

Heat a small pot of water and bring to a full boil. Peel and chop the parsnip and carrot in half. Place in the boiling water for 2 minutes, then immediately strain the water, pat dry, and allow the veggies to cool. When cool enough to handle, grate the veggies using a box grater.

In a mixing bowl, stir together the almond flour, baking soda, cinnamon, nutmeg, cardamom, and sea salt (dry mixture).

Whisk together the eggs, maple syrup, grapeseed oil, fresh ginger, and the grated carrot and parsnip (wet mixture) in a separate mixing bowl.

Add the wet mixture to the bowl with the dry mixture and mix until well-combined.

Fill the oiled muffin holes 2/3 full of cake batter and sprinkle with shredded coconut.

Place muffin tray on the center rack of your oven and bake for 18 to 22 minutes, until muffins are cooked through.

Remove from oven and allow to cool for at least 20 minutes. Run a butter knife along the perimeter of the muffins to release them from the muffin tray.
Notes
*You can replace the avocado oil with melted coconut oil, grapeseed oil, or olive oil
Nutrition
Serving:
1
of 7
|
Calories:
351
kcal
|
Carbohydrates:
21
g
|
Protein:
9
g
|
Fat:
28
g
|
Fiber:
4
g
|
Sugar:
13
g