Creamy, nutrient-packed carrot cake overnight oats with hidden health benefits, this oatmeal is the perfect way to start the day.
This post is sponsored by Silk.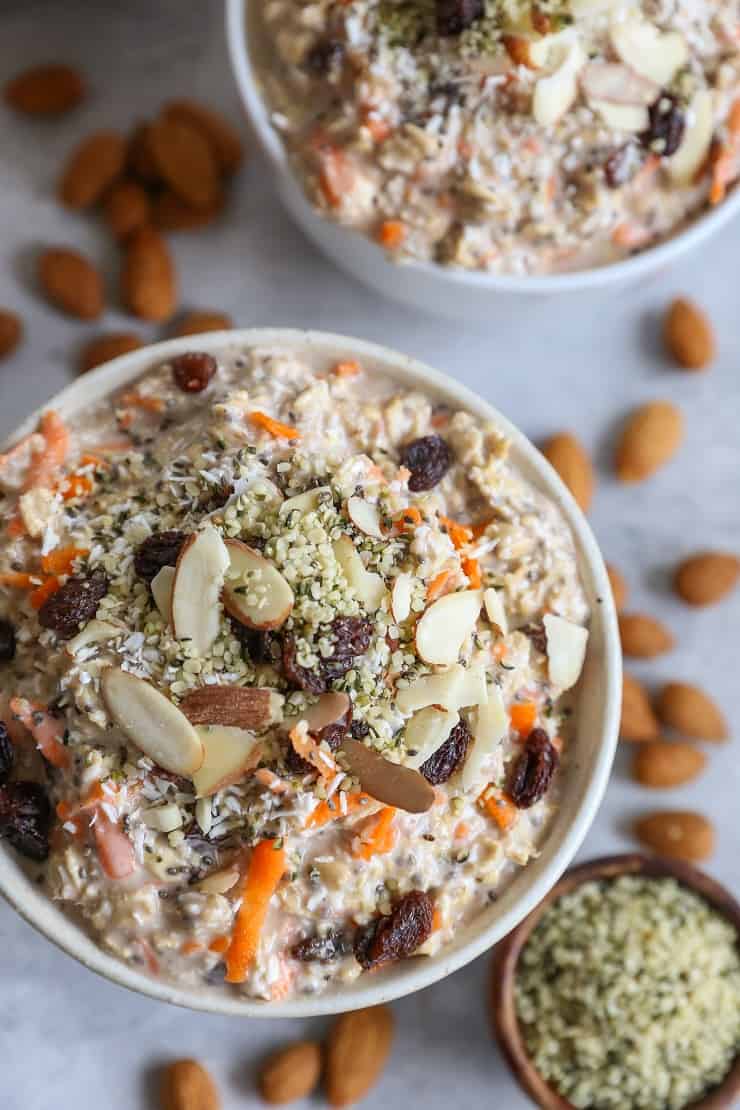 Fun fact: I ate cereal every day for breakfast until I was 24 years old.
And not the low-sugar whole grain healthful kind…the sugar bomb kid cereals with all the artificial colors and approximately zero nutrient quality.
Once I started paying more attention to my overall health and began eating a nutrient-rich diet, my daily cereal habit transformed into gluten-free oats or veggie scrambles for my breakfast routine.
I've discussed my own gut health on my blog quite a bit over the last year, as it's a topic to which many people can relate. 70-80% of our immune system resides in our gut, so when our gut is healthy, our immune system is ironclad; on flip side, if our digestive system is out of sorts, our overall health is compromised.
Tailoring your diet to promote your own personal gut health is the biggest step toward not only healing your body of any chronic ailments but also preventing illness.
Let's dive into this a little further and talk prebiotics.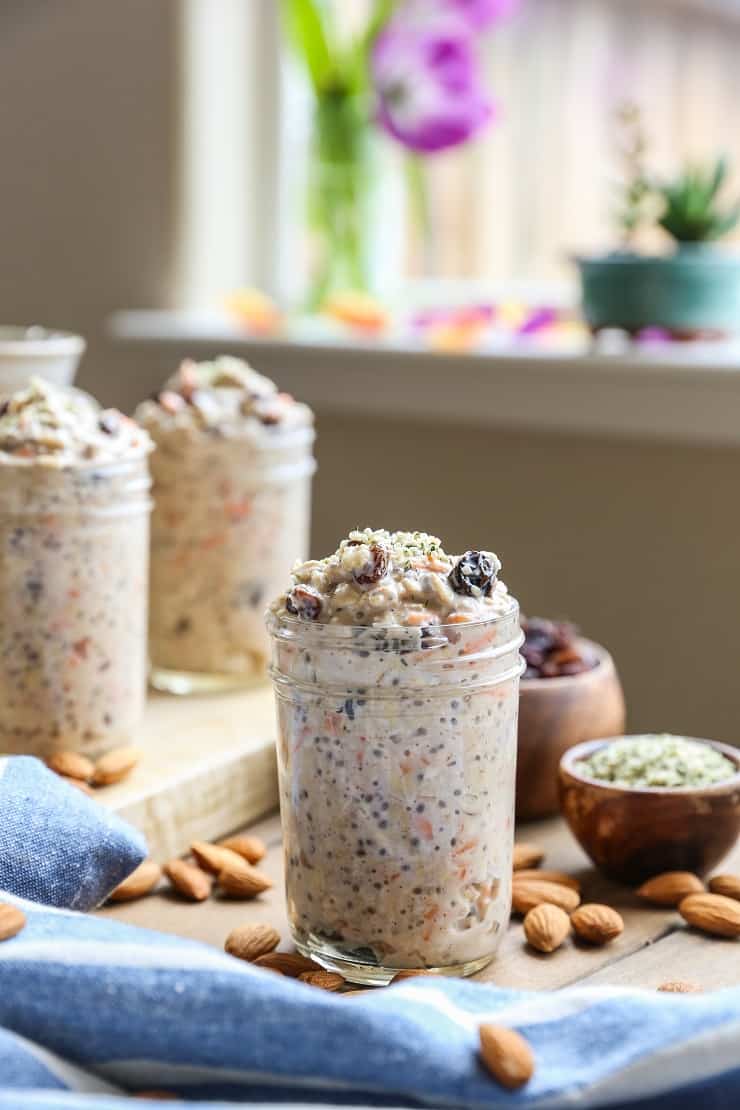 If you're unfamiliar with the difference between prebiotics and probiotics, I've gotcha covered.
Probiotics are the helpful good bacteria in your gut (the "good bugs") that help break down your food, fight off pathogens to keep your immune system strong, and send signals to your brain about your level of satiety, hunger, and provide information on the types of food your body needs.
Prebiotics are foods that help feed the good bacteria in your gut, keeping them alive, well, and reproducing so that they can ideally outnumber the bad bacteria in your gut.
Consuming prebiotics is one of the most efficient ways of strengthening your gut microbiota, since good bacteria cannot survive without the proper nutrition.
Examples of powerful prebiotics are chicory root, onions, garlic, cauliflower, oats, dandelion greens, fermented food and beverages, and more.
When healthy bacteria reigns, not only are you are properly absorbing nutrients, but you're reaping the benefits of a clear mind and happy mood, which coincide with a healthy digestive system.
That said, when your gut microbiota is imbalanced and bad bacteria outnumber good bacteria, the bad bacteria use prebiotic foods as fuel as well, which can cause IBS symptoms.
This is why it's important to be mindful of gut health – once there is an overgrowth of bad bacteria, it requires a lot of diligence to shift your system back in balance.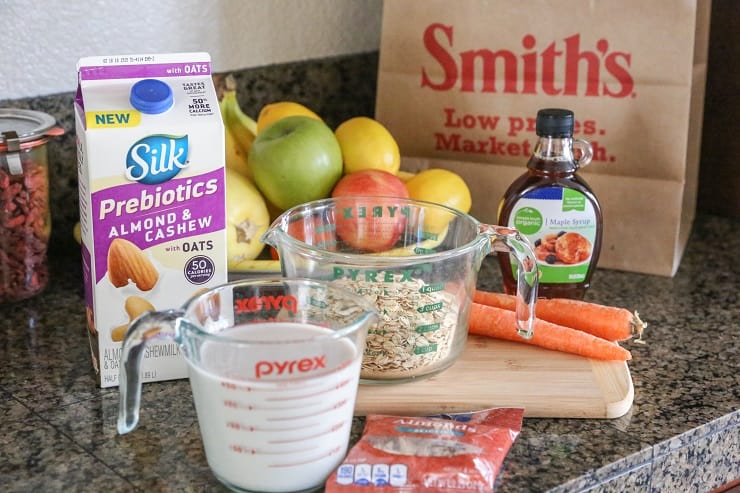 Now that we've covered a little Gut Health 101, let's talk about this Carrot Cake Overnight Oats recipe.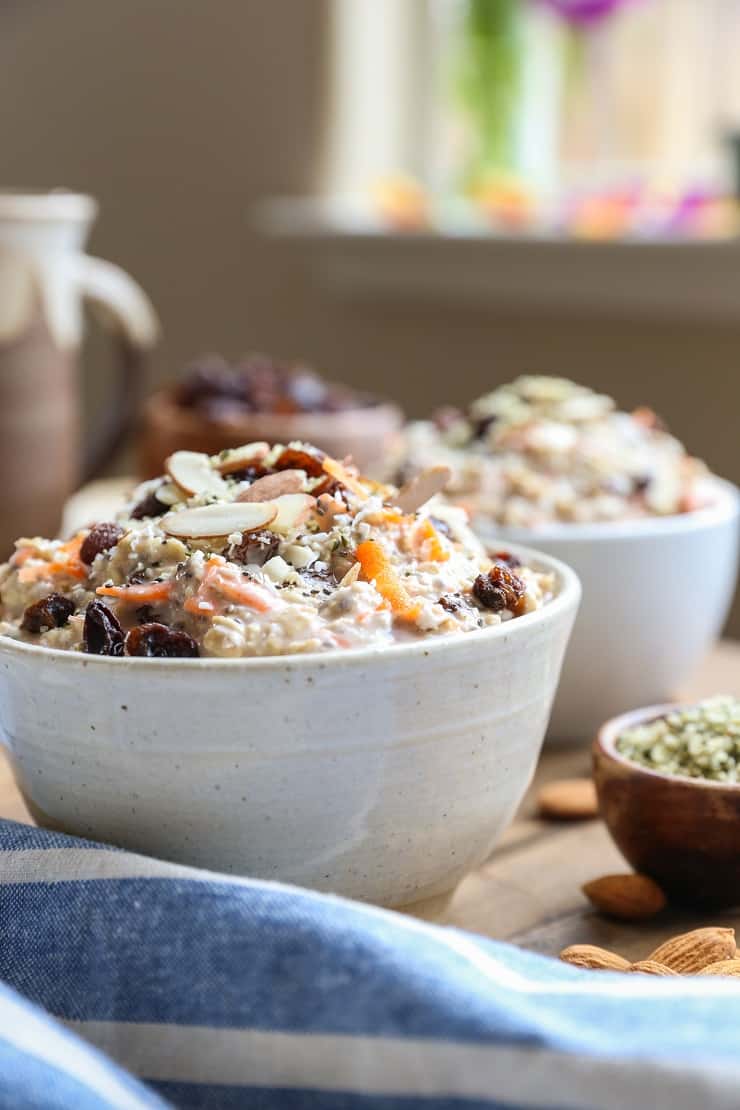 If you've never made overnight oats, it's a quick no-cook approach to oatmeal.
Simply stir all the ingredients together in a jar or sealable container, refrigerate overnight, and wake up to a thick and creamy breakfast that's all ready for you the following morning.
If you prefer your oatmeal warm, simply heat it up on the stove top or in the microwave!
More Overnight Oats Recipes:
My cookbook,
Paleo Power Bowls
, is now available! CLICK HERE to check it out. Thank you for your support!
If you make this recipe, please feel free to share a photo and tag @The.Roasted.Root on Instagram!
Carrot Cake Overnight Oats
Dairy-free overnight oats made with all the carrot cake goodies is a perfect mashup of your favorite breakfast and favorite dessert!
Ingredients
2

cups

Gluten-Free Old Fashioned Rolled Oats

2

tablespoons

chia seeds

1/2

cup

shredded coconut

1

cup

grated carrot

2/3

cup

raisins

4

cups

Silk Prebiotic Almond Cashew Milk

3

tablespoons

pure maple syrup

1

teaspoon

ground cinnamon

1/3

cup

walnuts

chopped
Instructions
Stir all ingredients together in a large sealable container until well combined. Cover and refrigerate overnight.

Before serving, stir overnight oats well. Serve with a sprinkle of hemp hearts, slivered almonds, and a scoop of almond butter.

Store leftovers in a sealed container for up to 5 days.
Nutrition
Serving:
1
Serving
|
Calories:
463
kcal
|
Carbohydrates:
80
g
|
Protein:
13
g
|
Fat:
14
g
|
Fiber:
14
g
|
Sugar:
30
g