Light and fluffy zesty gluten-free Vegan Lemon Poppy Seed Pancakes make for a delightful breakfast or brunch! This easy recipe only requires a few pantry items and take very little time to prepare.
This post is Sponsored by Bob's Red Mill. Check out more delicious healthy recipes, snag coupons and find stores near you at BobsRedMill.com!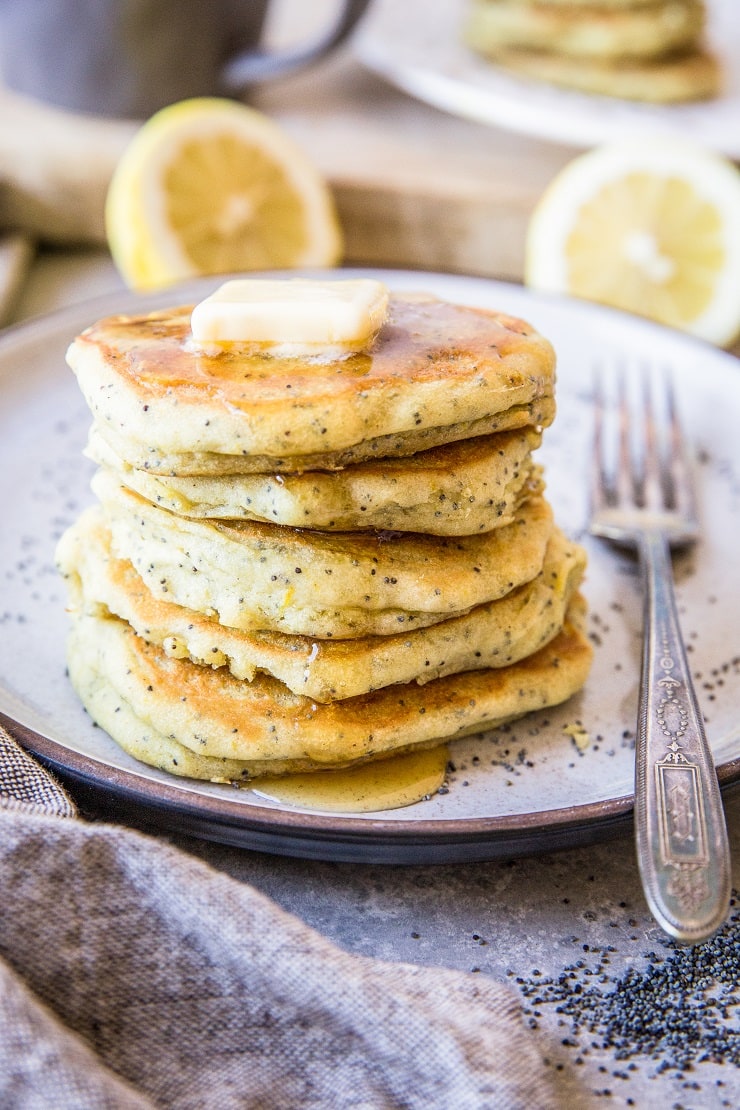 Are you in the market for some Spring breakfast or brunch recipes to share with your friends and family? You're in luck, because these pancakes are such a delightful crowd-pleaser.
Plus, they are just so easy to make! These egg-free vegan pancakes only require a handful of basic ingredients that you likely already have on hand.
I use Bob's Red Mill's Gluten-Free 1-to-1 Baking Flour, full-fat canned coconut milk, lemon zest, pure maple syrup, oil, poppy seeds, and some baking powder. Bob's Red Mill's Gluten-Free 1-to-1 Baking Flour is my ultimate go-to for gluten-free baking. It simply is the best blend I've ever used.
Not only is it the closest to regular all-purpose flour I've found, but it's made primarily with rice flour, which is perfect for my sensitive tummy. It results in the fluffiest, most delectable pancakes and baked goods!
The full-fat coconut milk in this recipe is pivotal! It makes the pancakes so nice and moist and brings an otherworldly decadence to the hot cake. While you can replace it with almond milk, I highly recommend the full-fat coconut milk because the pancakes turn out so sultry!
Let's make them, shall we?
How to Make Vegan Lemon Poppy Seed Pancakes:
My favorite part about these pancakes, aside from the fact that they are oh-so zesty and fluffy, is they don't even require a vegan egg replacement.
Simply measure out all of your ingredients, stick them in a mixing bowl in no particular order, and stir well until everything is combined.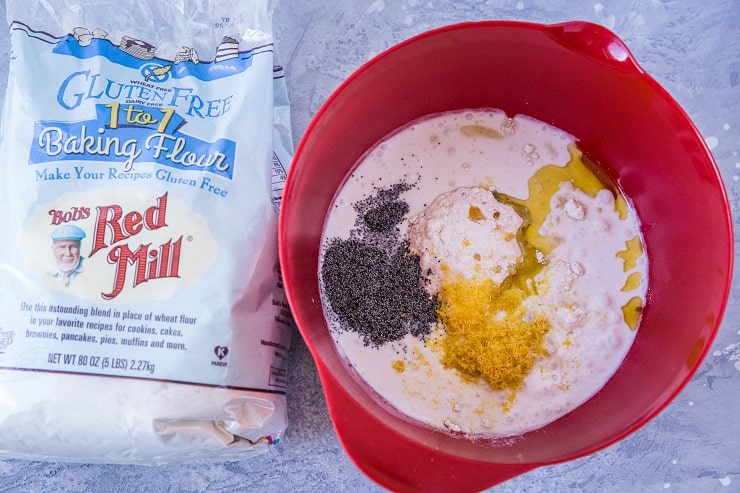 The batter will smell so nice and lemony and will be very thick.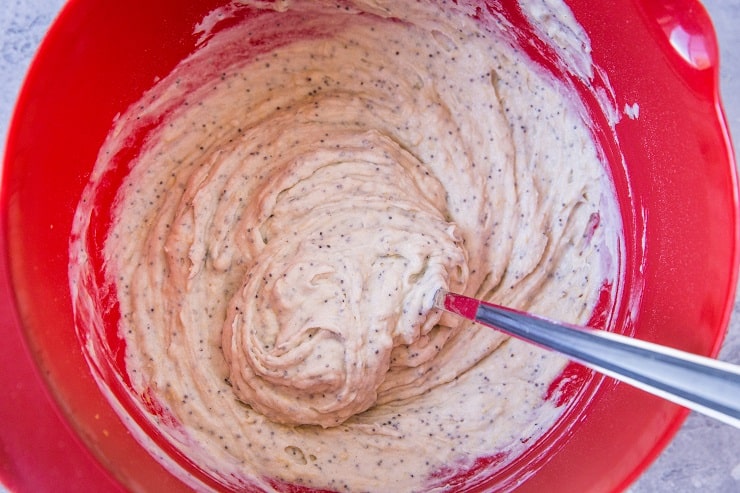 Pro Tip: If your canned coconut milk is separated (meaning the flesh is hardened at the top of the can and there's a clear liquid beneath), heat it up on the stove top until it is nice and creamy. Stirring works too, but I've found it can still be clumpy in the batter.
This pancake batter will be much thicker than you're used to – no sweat, it's meant to be that way!
Simply heat some cooking oil in a non-stick skillet or griddle (I use avocado oil) over medium-low heat. Measure out ¼ cup of batter, then pour it onto the hot surface. Use your finger to spread the batter into a circular shape. Unlike regular pancake batter, it won't spread out a whole lot on its own, so you'll need to do the spreading yourself ?
These pancakes require a little more time than regular pancakes to cook, and you likely won't notice any bubbles rising to the surface. You'll know it's time to flip them when the sides begin to firm up and the pancakes look puffier.
Carefully flip the pancake to the other side and continue cooking another minute or two, until they are cooked through.
The pancakes turn out lusciously moist, fluffy, with a nice crisp on the top and bottom…basic perfection!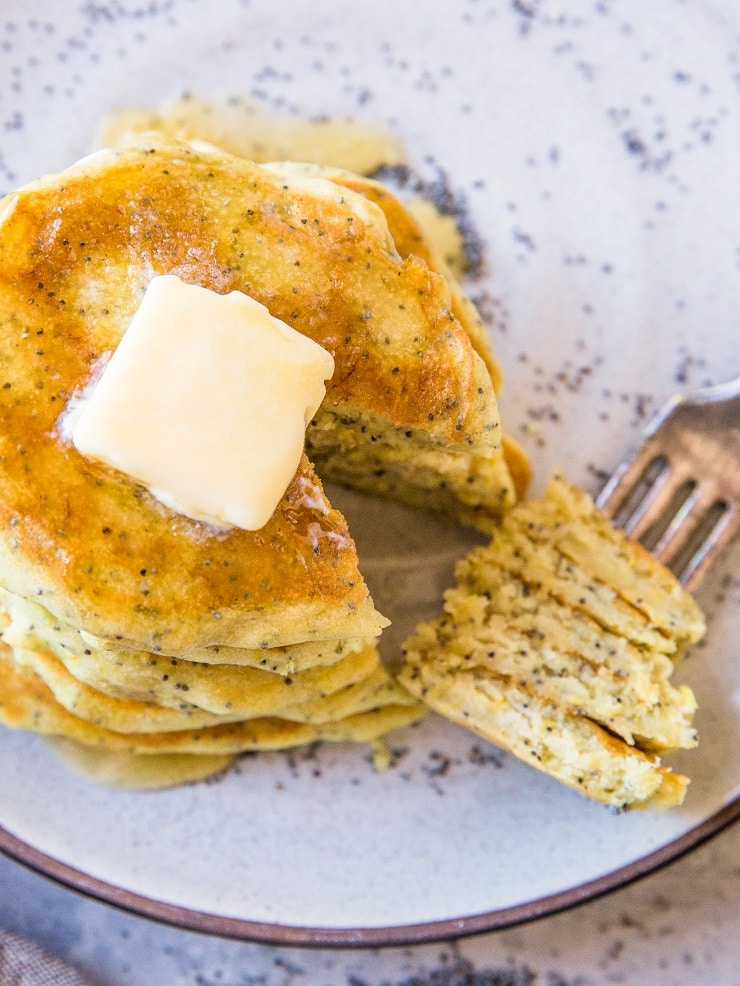 Serving Options:
Because the vegan lemon poppy seed pancakes themselves are so flavorful on their own, I keep the pancake toppings ultra simple. I just go with salted butter and pure maple syrup.
If you're strictly vegan, use a vegan butter alternative or opt for different toppings.
You can absolutely let your hair down and make a fruit compote or caramelized fruit situation as a topping for these vegan lemon poppy seed pancakes.
Try the blueberry compote, caramelized pears, boozy bananas, or strawberry chia seed jam from the recipes I linked here).
More Recipes for Vegan Pancakes:
This recipe makes about 9 medium-sized pancakes – enough to serve 3 to 4 people. If serving more people, you can easily double the recipe!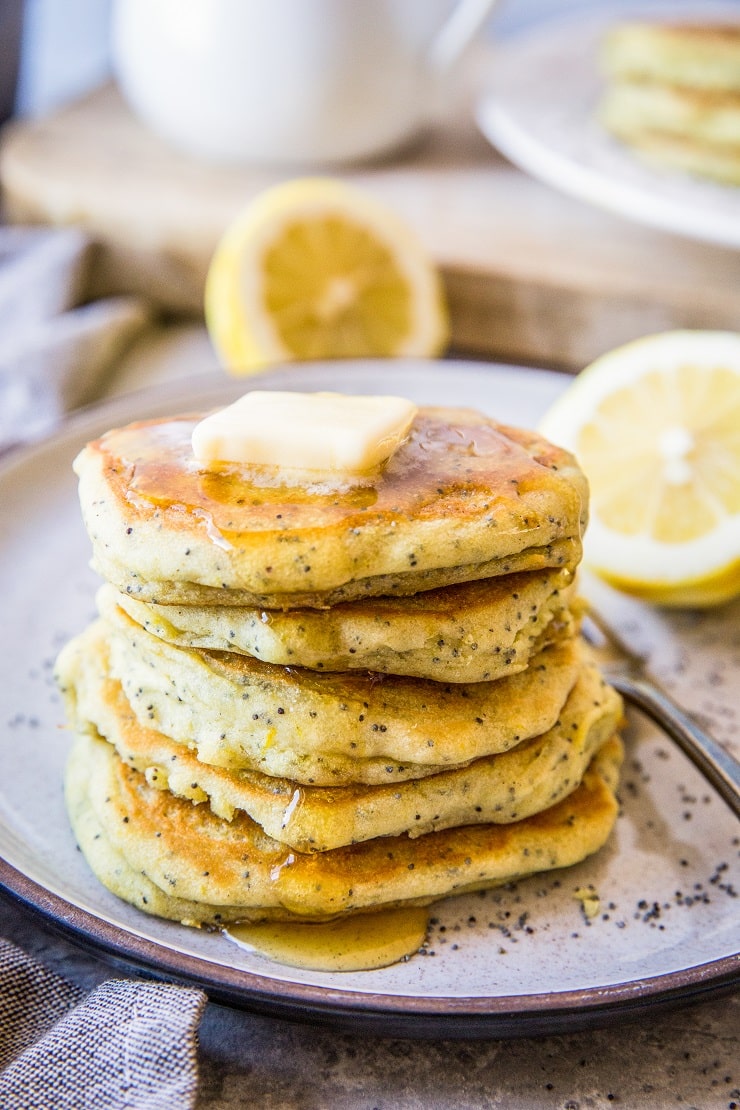 My cookbook,
Paleo Power Bowls
, is now available! CLICK HERE to check it out. Thank you for your all your support!
If you make these Vegan Lemon Poppy Seed Pancakes, please feel free to share a photo and tag @The.Roasted.Root on Instagram!
Happy brunching!
Vegan Lemon Poppy Seed Pancakes
Fluffy vegan lemon poppy seed pancakes made gluten-free! An easy and delicious breakfast recipe.
Instructions
Add all ingredients for the pancakes to a mixing bowl. Mix well until combined. The batter will be very thick – this is normal.

Heat a small amount of cooking oil (I use coconut or avocado oil) in a large non-stick skillet over medium-low heat. Measure 1/4 cup of pancake batter and pour onto the hot surface.

Use your fingers or a spoon to smooth the pancake batter into a circular shape.

Cook pancake 2 to 3 minutes, until the sides begin to firm up and pancakes turns golden brown. Carefully flip and cook on the other side another 1 to 2 minutes, until cooked through. Repeat for remaining batter.

Serve pancakes with choice of toppings.
Nutrition
Serving:
1
of 9
|
Calories:
156
kcal
|
Carbohydrates:
18
g
|
Protein:
1
g
|
Fat:
9
g
|
Saturated Fat:
4
g
|
Polyunsaturated Fat:
4
g
|
Sugar:
5
g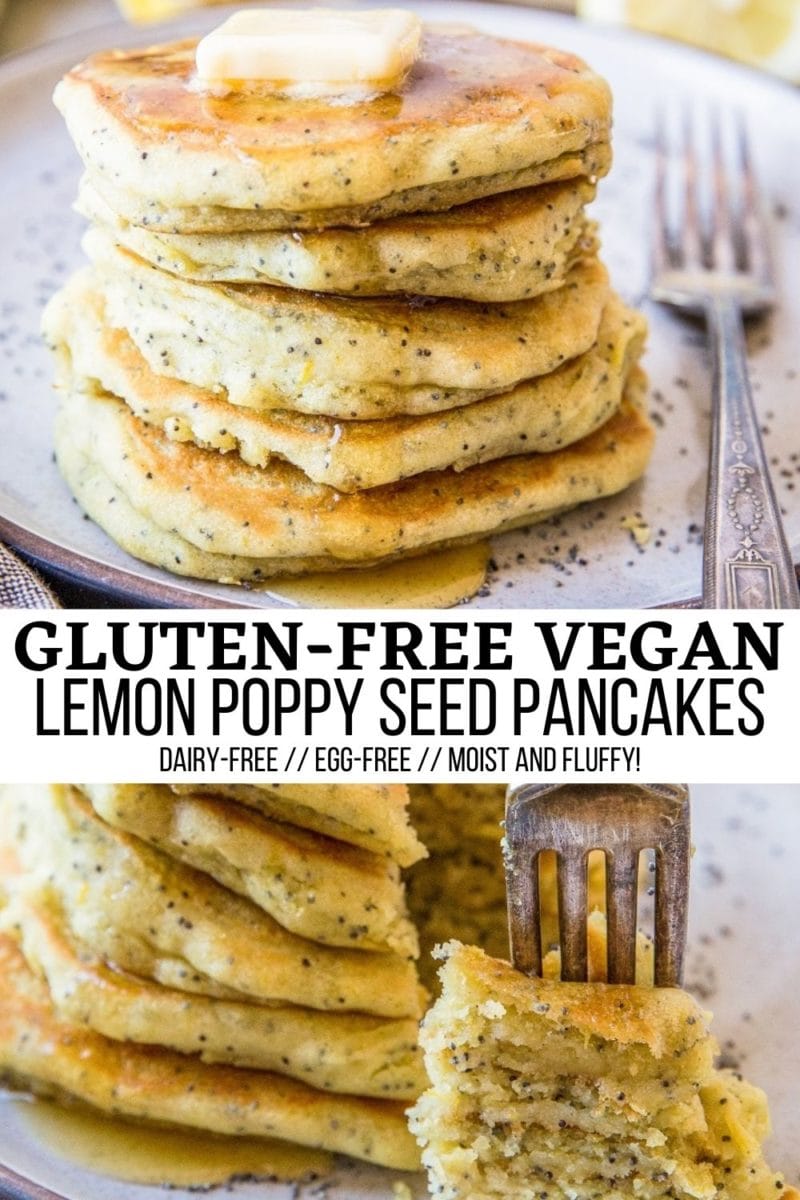 This post contains affiliate links, which means I make a small commission off items you purchase at no additional cost to you.