Vegan Gluten Free Banana Pancakes are fluffy, moist and flavorful – a healthy and delicious way to start the day.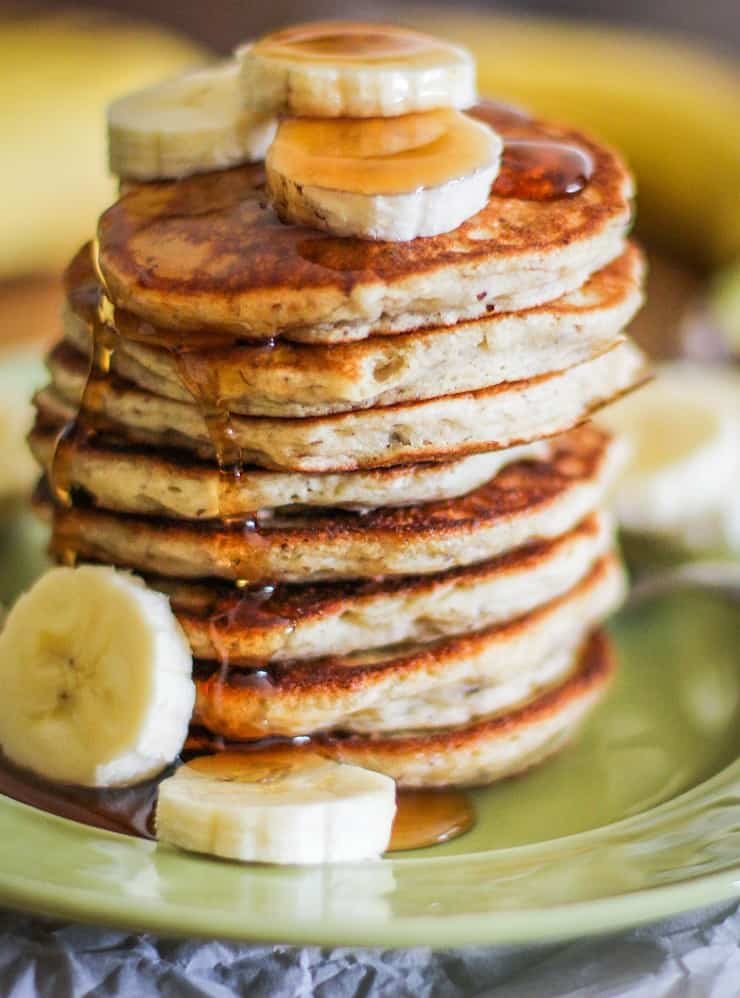 Surprise! Vegan Banana Pancakes!
I know, I know. Me posting a healthy pancake recipe is about as surprising as Friday…happening…every week.
And let's call a spade a spade: this is the third stack of banana pancakes I've posted on this here site.
You now have an up-close and personal banana pancake recipe roundup. Gluten-Free Rice Flour Banana Pancakes, Banana Bread Almond Flour Pancakes, and now Vegan Banana Pancakes.
Because pancakes come in the egg-free varietal too!
Before I tried my hand at vegan baking, I thought there was just no possible way a vegan recipe could turn out fluffy, moist, and/or bear any semblance to the word, "delicious".
I learned quickly how oh so pleasantly wrong I was.
Simply replace the eggs with flax "eggs" in many applications, and you're golden!
What Are Flax Eggs and How Do You Make Them?
Flax eggs are a combination of ground flax seed and water. When you mix together ground flax meal and water and allow it to sit, the mixture thickens and turns into an egg-like consistency. This vegan flax egg can be used for a myriad of egg-replacement applications, including pancakes.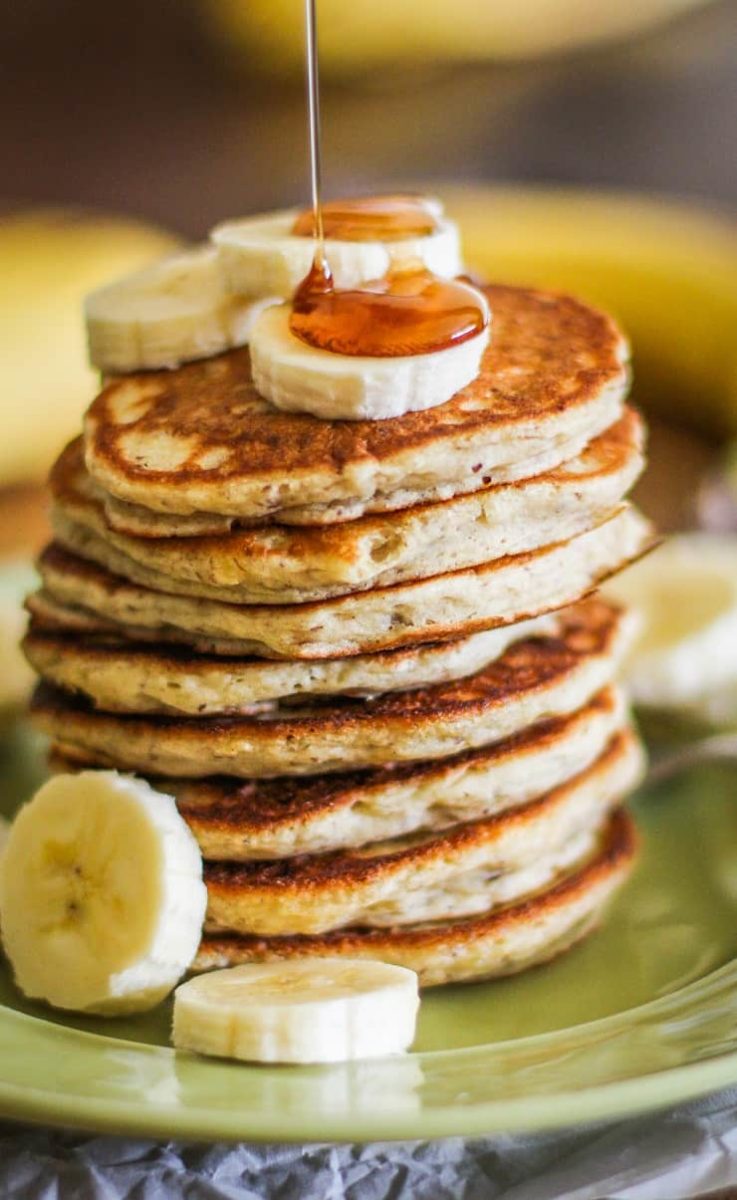 One chicken egg is about 1/4 of a cup. To make one flax egg, stir together one tablespoon of ground flax seed and 3 tablespoons of water, which equates to 1/4 cup, therefore equating to one chicken egg.
1 Flax Egg = 1 Tbsp Ground Flax Seed + 3 Tbsp water
Now that you know how to make flax eggs, let's talk pancakes.
How to Make Vegan Banana Pancakes:
The ingredients you'll need for gluten-free vegan banana pancakes are a gluten-free all-purpose flour blend, ground flax seed, ripe bananas, baking powder, ground cinnamon, and unsweetened almond milk (or non-dairy milk of choice). You can also add pure vanilla extract, but it isn't mandatory.
Mash up some ripe-as-sin bananas, whip yourself up a vegan egg, and mix all the ingredients together in a mixing bowl. BOOM! You end up with a deliciously moist and fluffy pancake with molten banana on the inside.
Tip: when you make these pancakes, keep them small, like silver dollar pancakes. This helps with the flipping process and ensures the pancakes cook all the way through.
Which brings me to my next point:
Silver dollar pancakes. Have you heard of them? They're mini versions of pancakes…small, round, and fluffy. Basically every gluten free pancake on The Roasted Root would be considered a silver dollar pancake.
They are the opposite of the large and in charge flapjacks one would use to wrap up ham and cheese to make a ham n' cheddar pancakewich. Panck-a-taco. Pancakurrito. Moving right along.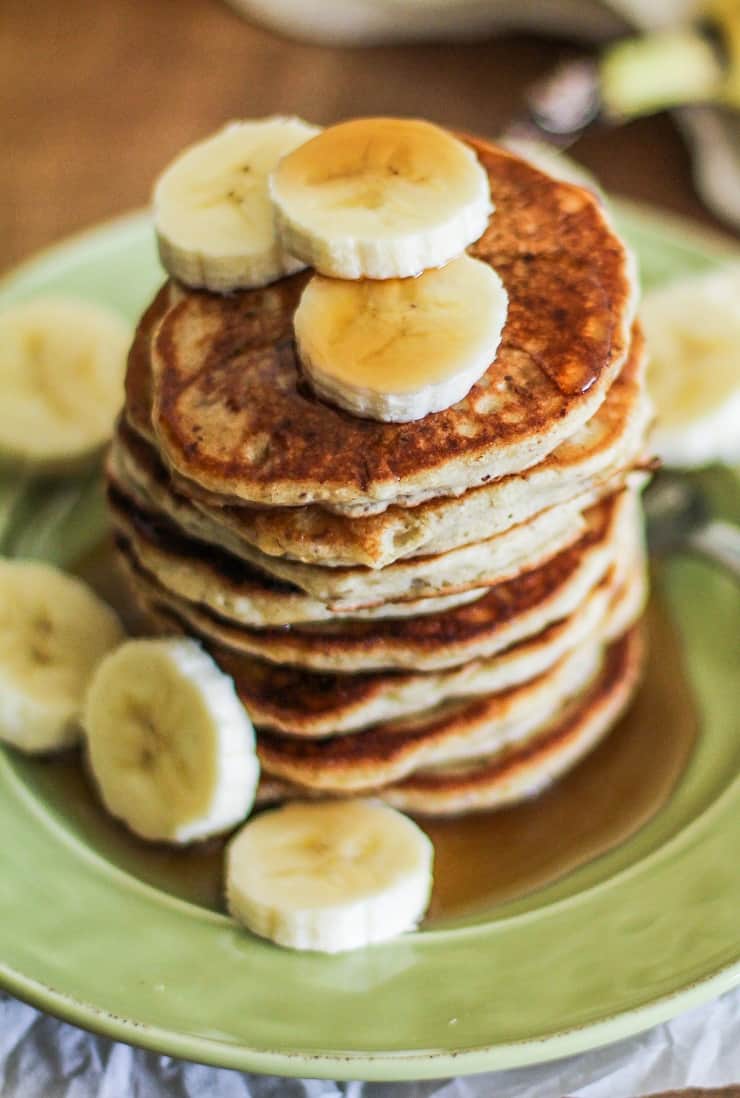 Aren't these cute and quaint? As cute and quaint as a Bed and Breakfast? As in these should be served at every B&B ever?
Recipe Adaptations:
Replace the gluten-free all-purpose flour with regular all-purpose flour if you eat wheat.
Replace the mashed banana with applesauce, pureed pumpkin, or mashed sweet potato.
Add chocolate chips and/or walnuts!
Replace the almond milk with cashew milk or coconut milk.
Vegan banana pancakes for days!
More Banana Treats:
My cookbook,
Paleo Power Bowls
, is now available! CLICK HERE to check it out. Thank you for your support!
If you make this recipe, please feel free to share a photo and tag me at @The.Roasted.Root on Instagram!
Vegan Banana Pancakes
Gluten-free vegan banana pancakes made with flax eggs are rich in banana flavor and are marvelously fluffy!
Instructions
Stir together the ground flax seed and water in a small bowl to make flax "eggs." Allow this mixture to sit and thicken, stirring occasionally, while you're preparing the rest of the recipe, about 10 to 15 minutes.

In a mixing bowl, stir together the flour, baking powder, cinnamon, and salt. In a separate bowl, whisk the mashed bananas, almond milk, maple syrup, and vanilla extract together.

Add the flax mixture (flax egg) to the wet mixture and whisk to incorporate, then pour the wet mixture into the bowl with the dry mixture and stir to combine.

Heat a pancake griddle or skillet to just below medium heat. Add enough oil to coat the surface.

Measure about 1/8 cup of batter and pour it onto the hot griddle/skillet until you run out of room, being careful not to crowd your pancakes. Cook until several bubbles rise to the top of the pancake and the sides firm up.

Flip the pancakes and continue cooking until they're cooked through, another minute or two.

Repeat for remaining batter. Serve with sliced bananas, pure maple syrup, nut butters, jam, or your favorite pancake toppings.
Notes
If you eat eggs or don't follow a vegan diet, you can replace the ground flax seed and water with two regular chicken eggs.
Nutrition
Serving:
1
of 12
|
Calories:
87
kcal
|
Carbohydrates:
19
g
|
Protein:
1
g
|
Fat:
1
g
|
Fiber:
2
g
|
Sugar:
4
g