Fluffy, festive sweet potato pancakes with warm cinnamon and maple flavors. This easy pancake recipe comes together in your blender and is great for holiday breakfasts.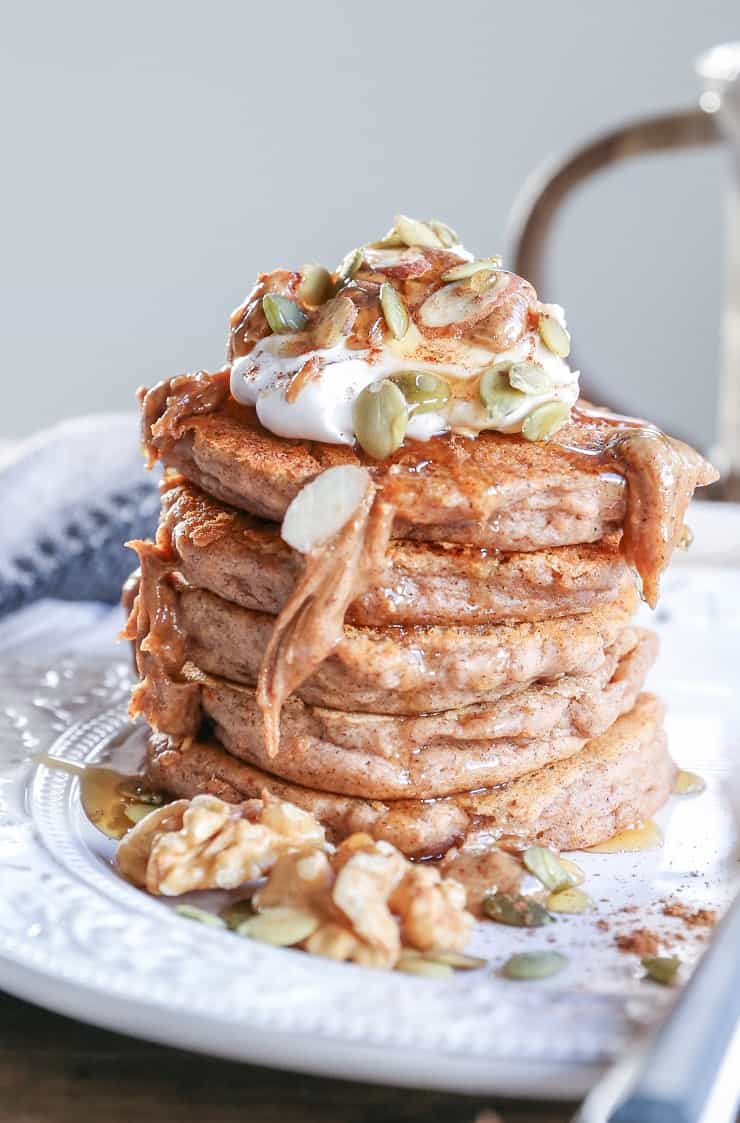 Thanksgiving week! What are you guys up to? Working? Cooking? Pretending to work? Pretending to cook? Listening to Christmas music on your noise cancelling headphones? Listening to Bone Thugs N Harmony on your noise cancelling headphones?
WELL, this week I'm working until Wednesday, then heading out of town for Thanksgiving. I'm a firm believer that everyone should get that entire time frame between Thanksgiving and Christmas off work since everyone is too full of holiday cheer and rum and giggles and fudge to focus on work anyway, amIright? I'd make a good boss.
Since we all know you guys are taking a mental holiday hiatus from work, can I tempt you with a podcast? You can listen to it while you pretend to work or pretend to cook, or both. I was on the Funk'tional Nutrition Podcast with Erin and Kyle, and lemme tell you: I absolutely LOVE our conversation. We discuss everything from gut health to food prep tips to blogging to not giving a shit about social media to mispronouncing words, to fermentation and beyond! Listen to it HERE!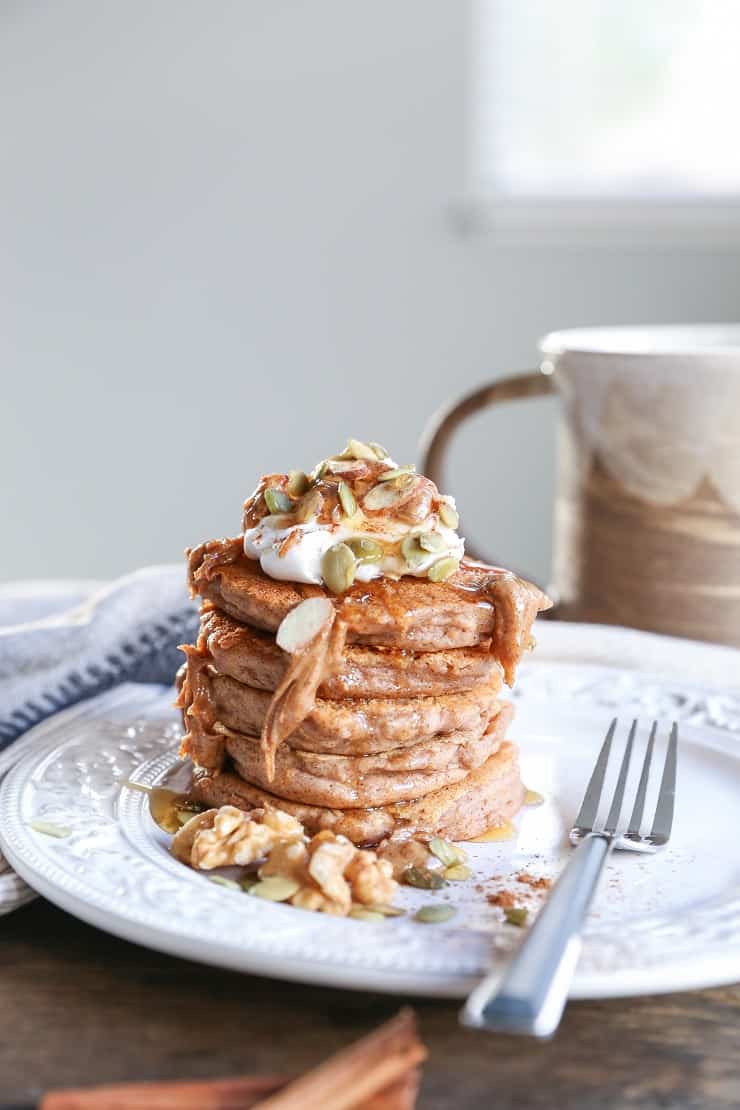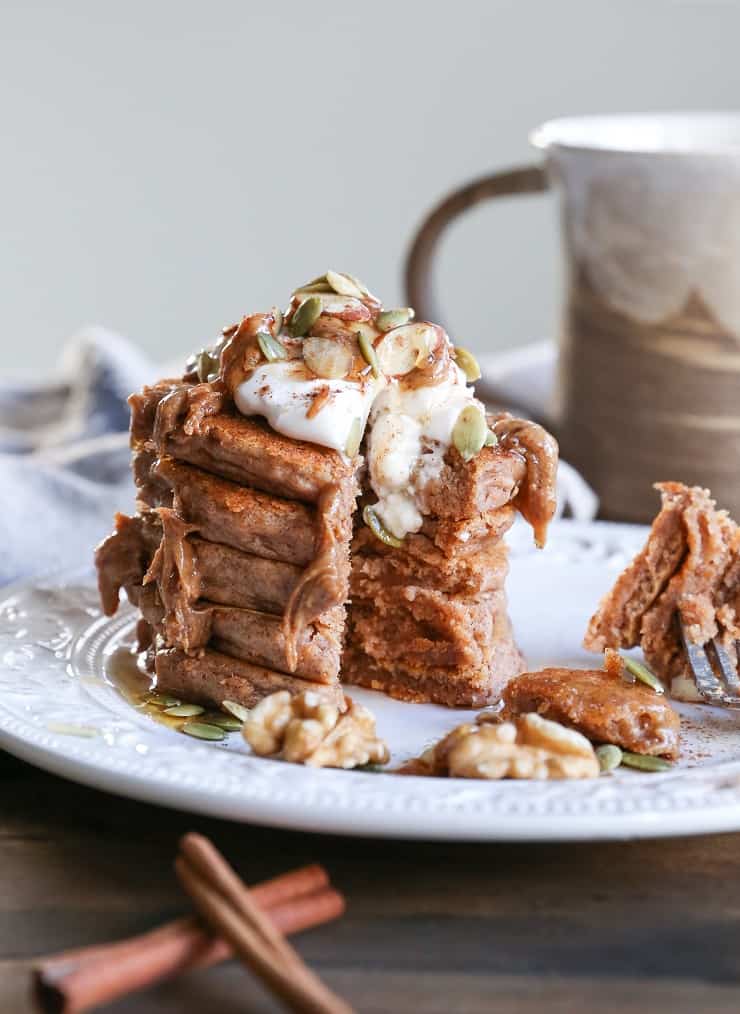 Here's what I'm thinking: you guys need breakfast ideas for entertaining your guests, right? I feel like these pancakes would be very suitable for the job at hand. Fluffy, vegan, flavorful, festive, fun.
You guys, these pancakes are essentially the exact same thing as the Vegan Pumpkin Pancakes I posted a few weeks back. Oof, piggy backing at its finest! What can I say, though? You can't argue with a good flapjack, and each and every time I make these, I think to myself everyone needs them in their lives.
Full disclosure: you can make this recipe using mashed butternut squash, acorn squash, kabocha squash…basically anything that's wintery and full of carbs can go into these pancakes.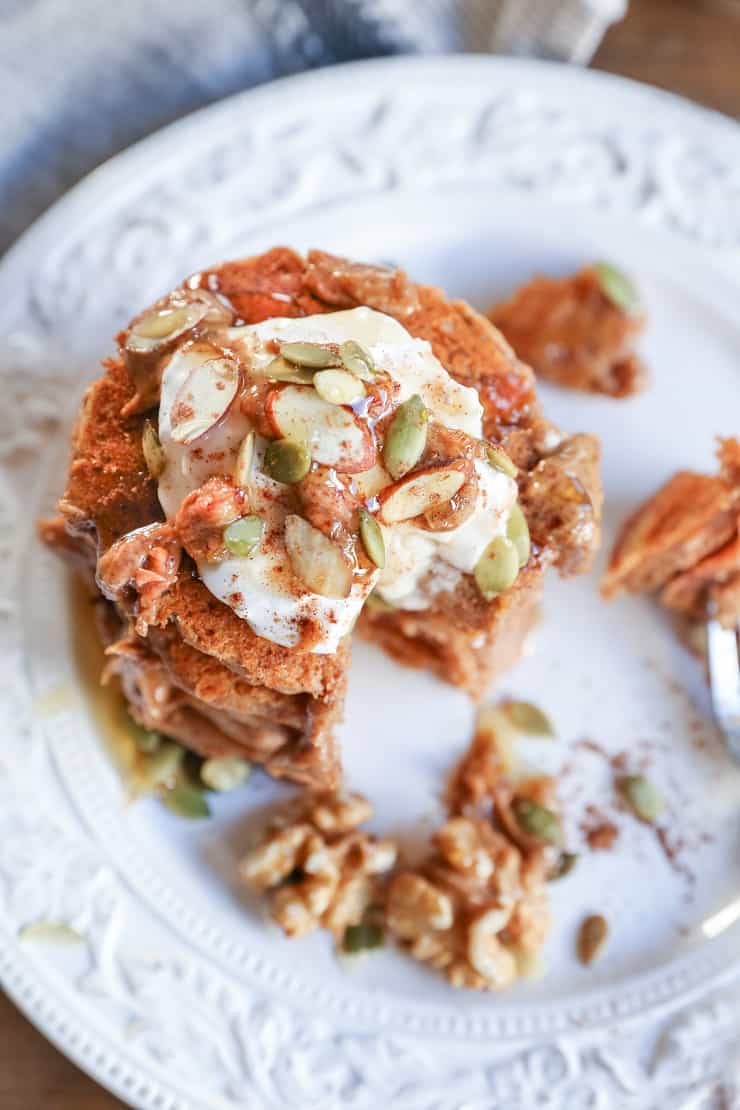 Really, there isn't anything magical or clever about making these pancakes. We just toss everything in the blender, blend, then flapjack it up. Remember these vegan sweet potato pancakes do require more time to cook than regular pancakes – the fact that they don't contain eggs means the moisture (in this case: coconut milk) needs additional time to burn off so to speak so that the center is cooked through.
You can top these beauties however you'd like! I went with store-bought coconut milk yogurt, almond butter, sliced almonds, pumpkin seeds, and pure maple syrup.
If you're looking for more sweet breakfast ideas to share with family this holiday season, check out my:
Stay tuned – I'll be posting a savory breakfast recipe tomorrow!
Dig in!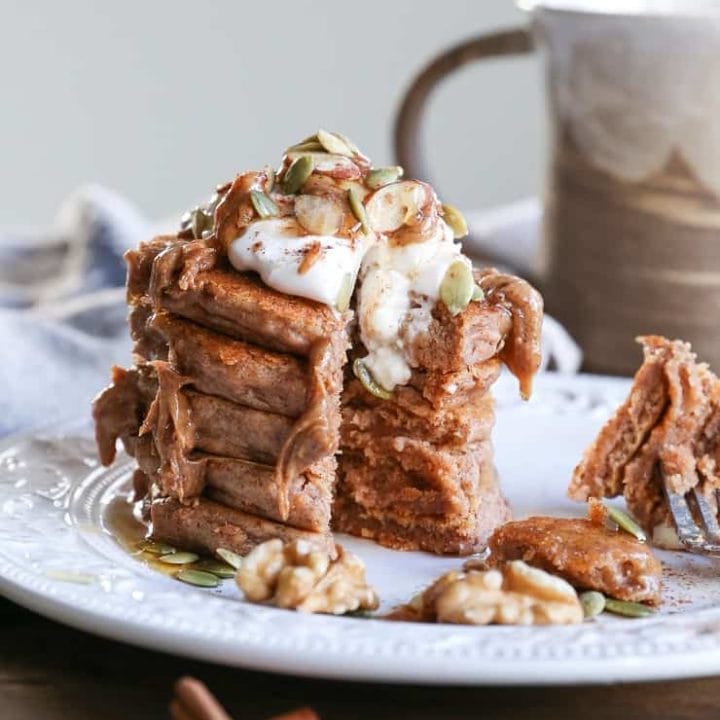 Vegan Sweet Potato Pancakes
Sweet potato pancakes made gluten-free and egg-free. This vegan pancake recipe is warmly-spiced, fluffy and flavorful.
Ingredients
Instructions
Add all ingredients for the pancakes to a blender and blend until combined (note: if you don't have a blender, you can also use a hand mixer, or whisk by hand). The batter will be thick - this is normal!
Heat 1 to 2 tablespoons oil in a large skillet over medium-high. Measure a scant 1/4 cup of batter and pour onto the hot skillet. Note that the pancake batter won't spread the way regular pancake batter does, so you can use your finger or a spoon to shape it into a disc. Cook 1 to 2 minutes per side, until golden-brown and cooked through in the center. Repeat for remaining batter. Note: pancakes will be easiest to flip when they are kept small.
Top pancakes with choice of topping, such as coconut milk yogurt, almond butter, sliced almonds, pumpkin seeds, and pure maple syrup.
Nutrition Information
Yield

9
Serving Size

1 g
Amount Per Serving
Unsaturated Fat

0g