Moist and fluffy vegan pumpkin pancakes made gluten-free. This easy pancake recipe is prepared in your blender and you'd never be able to tell they're both gluten-free and vegan! Top these beauties with Maple-Toasted Walnuts and vegan salted caramel for an epic win!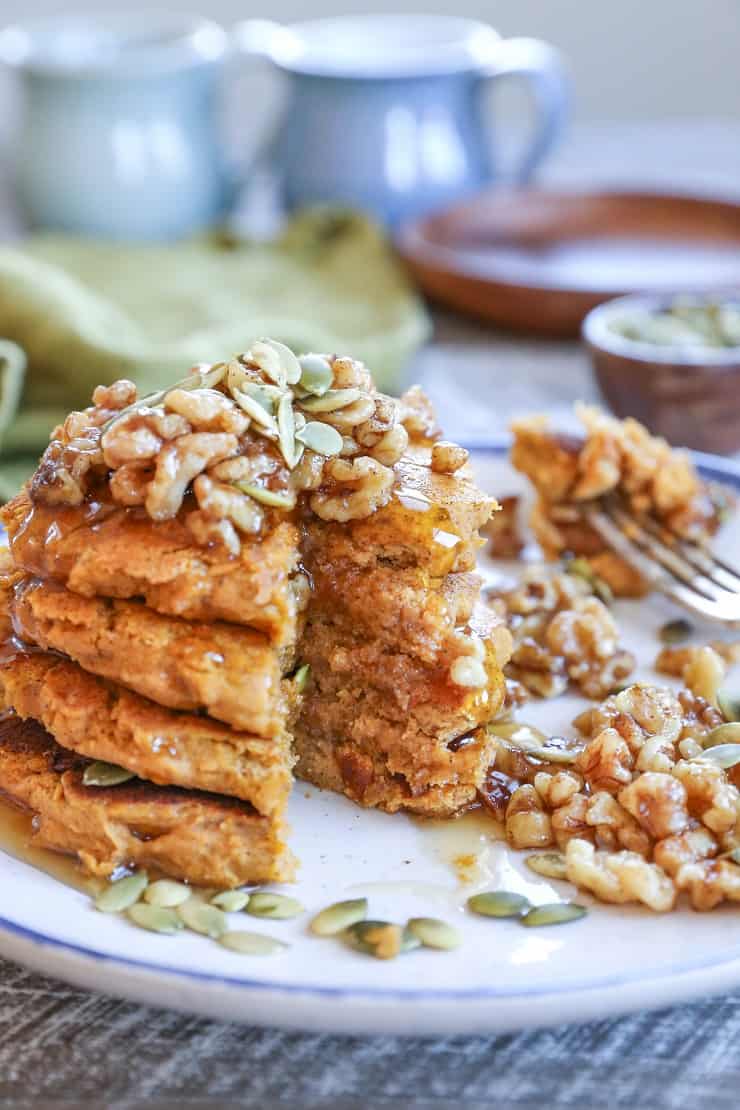 These Vegan Pumpkin Pancakes are the current object of my undivided obsession.
Warmly-spiced, fluffy, gluten-free, naturally sweetened, fall-esque, and egg-less, these pancakes are like a fleece blanket for your mind, body, and tongue-soul.
The concept is similar to the Vegan Poppy Seed Pancakes I showed you a few weeks back. We use a similar formula, but substitute some of the liquid for pureed pumpkin and add magnificent spices like cinnamon, nutmeg, and cardamom.
The end result? A crispy-on-the-outside, soft and fluffy on the inside stack of pure maple lovin' Queue the green tree leaves to turn yellow, orange, and red and fall gracefully to the earth while a gentle wind whisps through your hair.
Seriously, these pancakes are no joke.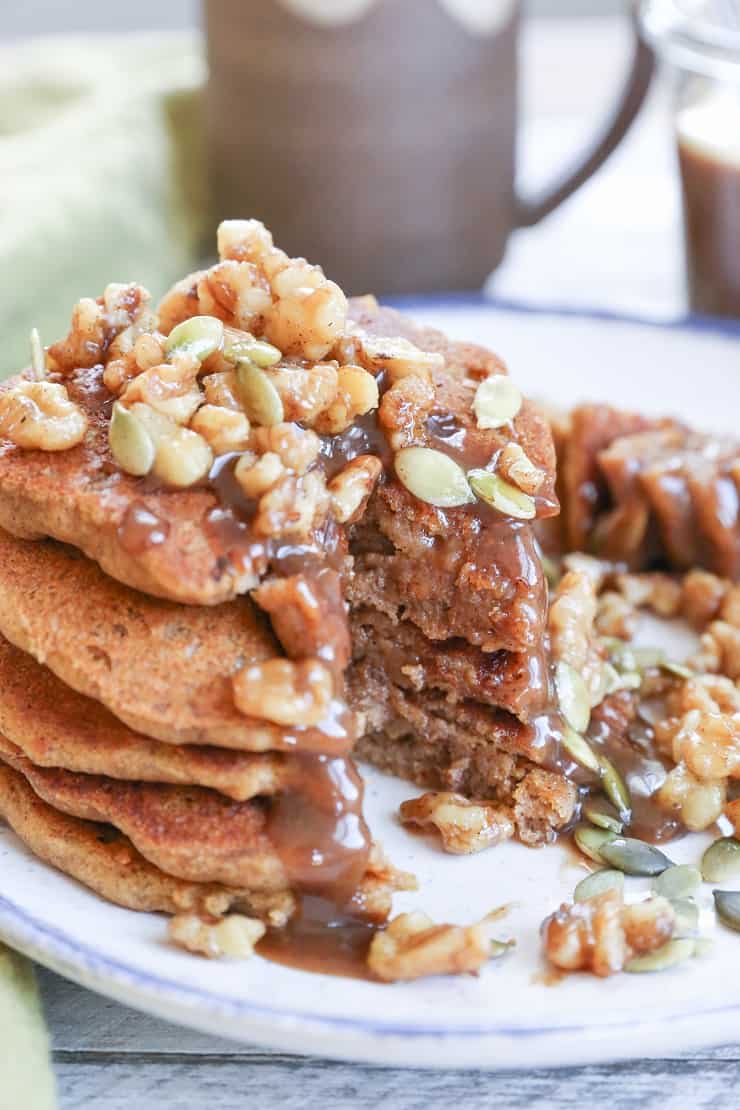 While you can top these pancakes however you choose, I went with some maple-toasted walnuts and pumpkin seeds, and a drizzle (okay, flood) of the Chai-Spiced Paleo Salted Caramel Sauce I showed you Monday. Yup, this is the first of a long line of caramel-drenched eats!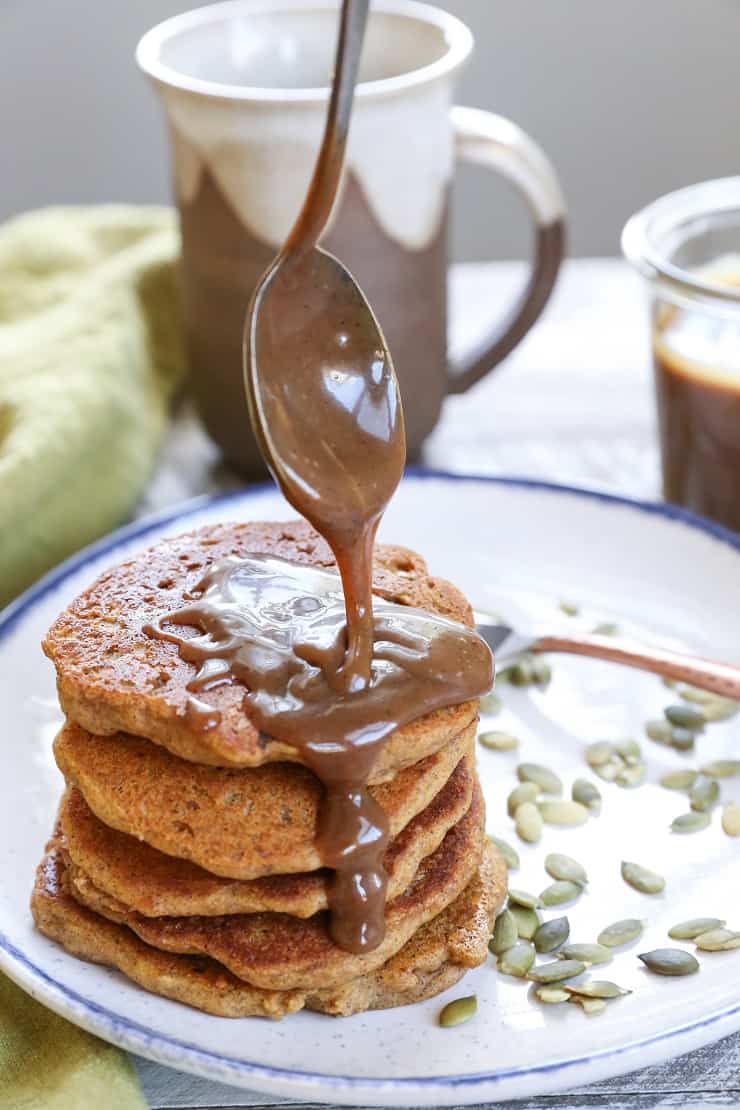 Because I couldn't stop at just one batch, I also enjoyed these pancakes with a drizzle of pure maple syrup and almond butter. If you aren't vegan, honey and grass-fed butter are excellent toppers as well.
If you're like me, your pancakes don't require much dressing in order to make you the happiest human on the face of the earth, so if that's you, you can do as I do, and fold these into a taco shape and simply stick them in your face hole.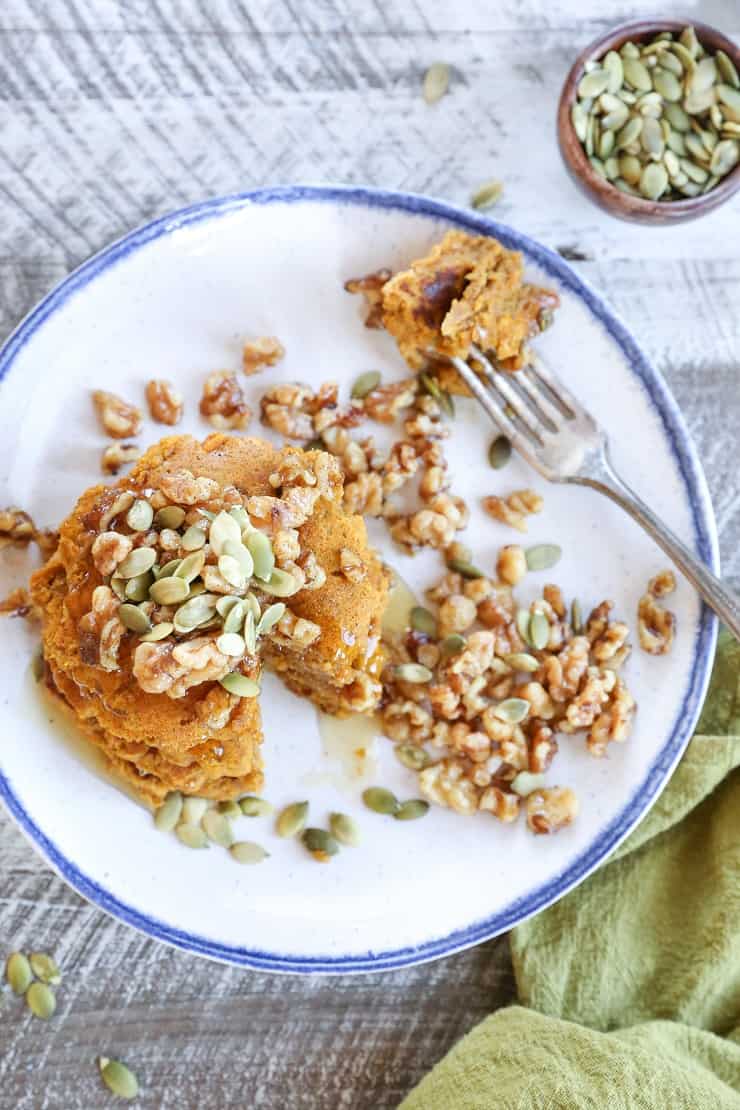 But that caramel? That caramel is where it's at.
Are you sold yet?
SO when it comes down to making these pancakes, as much as I personally love to rebel from rules and as untalented as I personally am at following someone else's recipe, I strongly suggest you prepare this recipe as written.
My savory dinner recipes can be altered in a plethora of ways to fit your substation needs, but when it comes to vegan pancakes? Nuh uh. You gotta stick to the rules this time, smalls. At least for the first go-round, and then you can get frisky with your measurements.
With ONE exception: If you aren't gluten-free, you can substitute the gluten-free flour for regular all-purpose flour, but keep the full-fat coconut milk, oil, and pureed pumpkin measurements static lest you end up with a wonky batter.
Recipe info: Be sure to let the batter sit for 10 minutes (or longer) before cooking.
This will allow all necessary magical sciencey reactions to occur to ensure your pancakes turn out fluffy and hold together-y.
Cooking these pancakes requires more time than cooking regular pancakes.
You're looking at about 2 to 3 minutes per side versus 30 seconds per side to ensure the center doesn't end up gooey.
I've also noticed these pancakes can be a bit difficult to flip, so be sure your skillet or griddle is well-sprayed or oiled and that your biceps are primed and pumped for some vigorous flipping.
What else do you need to know? These are rad. That is all.
That, and CARAMEL. The end.
Vegan Pumpkin Pancakes
Vegan pumpkin waffles are an incredible celebration of fall for breakfast!
Ingredients
Maple-Toasted Walnuts & Pumpkin Seeds
Instructions
Make the Pumpkin Pancakes
Add all ingredients for the pancakes to a blender and blend until combined (note: if you don't have a blender, you can also use a hand mixer, or whisk by hand). The batter will be thick - this is normal!

Heat 1 to 2 tablespoons oil in a large skillet over medium-high. Measure a scant 1/4 cup of batter and pour onto the hot skillet. Note that the pancake batter won't spread the way regular pancake batter does, so you can use your finger or a spoon to shape it into a disc. Cook 1 to 2 minutes per side, until golden-brown and cooked through in the center. Repeat for remaining batter.

Top pancakes with maple-toasted walnuts and pumpkin seeds, and a drizzle of Chai-Spiced Paleo Salted Caramel (or pure maple syrup).
Make the Maple-Toasted Walnuts:
Heat the oil over medium-high heat in a small skillet. Add the remaining ingredients and cook, stirring frequently, until nuts and seeds have absorbed much of the liquid and appear sticky, about 5 to 8 minutes. Remove from heat and set aside until ready to use.
Nutrition
Serving:
1
g
|
Calories:
76
kcal
|
Carbohydrates:
12
g
|
Protein:
1
g
|
Fat:
3
g