Strawberry chia seed jam only requires a few basic ingredients to prepare, and less time than traditional jam. This naturally sweetened recipe is packed with nutrients!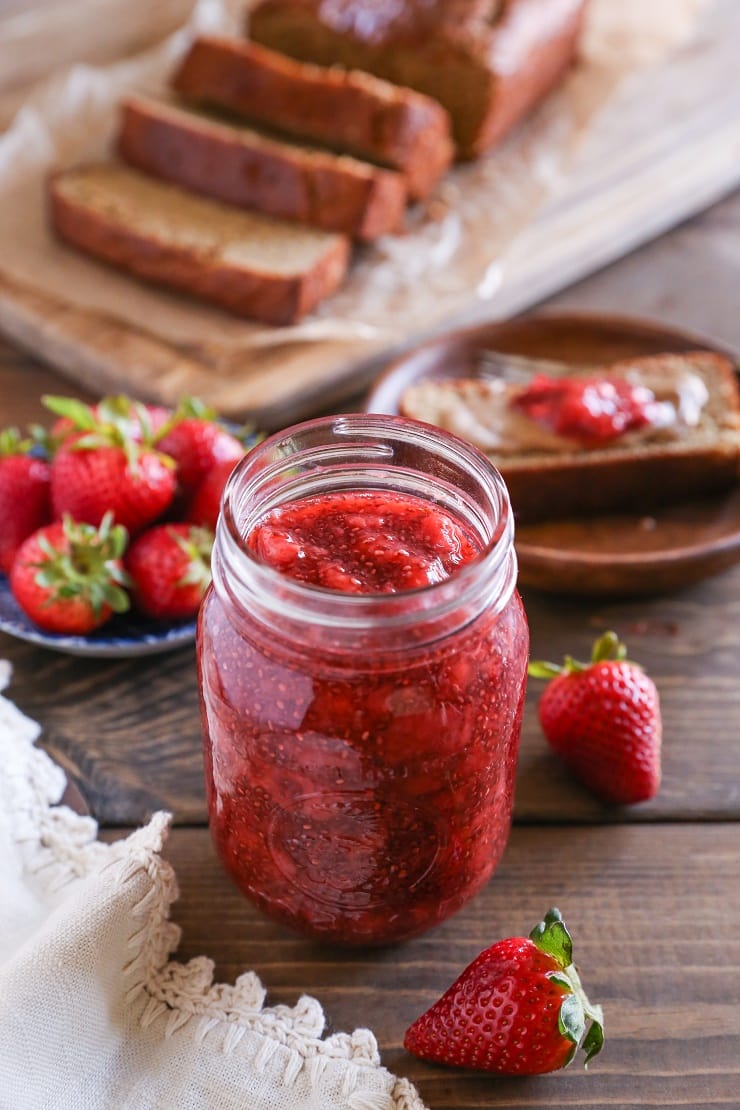 When I was a kid, my family would go blackberry picking each year, and my mom would make what seemed like hundreds of jars of blackberry jam to give away to our extended family. The whole process was always exciting – travelling to our picking spot (about a 2-hour road trip), finding blackberry hot spots in the bush brambles, and eating as we picked.
I loved watching my mom do anything in the kitchen when I was little (honestly, I find watching her as an adult to still be therapeutic!), and jarring jam was no exception. I remember thinking how big of a badass she was to diligently get everything just right, creating the perfectly sweet and tangy shelf-stable jam to enjoy on toast, pancakes, waffles, and muffins.
While I commend my mom's patience for such activities, making homemade jam has really never been my jam (buhdumching), just by virtue of the fact that it's time consuming. That changed as soon as I started making chia seed jam, as it can easily be done in small batches, requires far less time and attention-to-detail, and can be made much healthier than store-bought jam.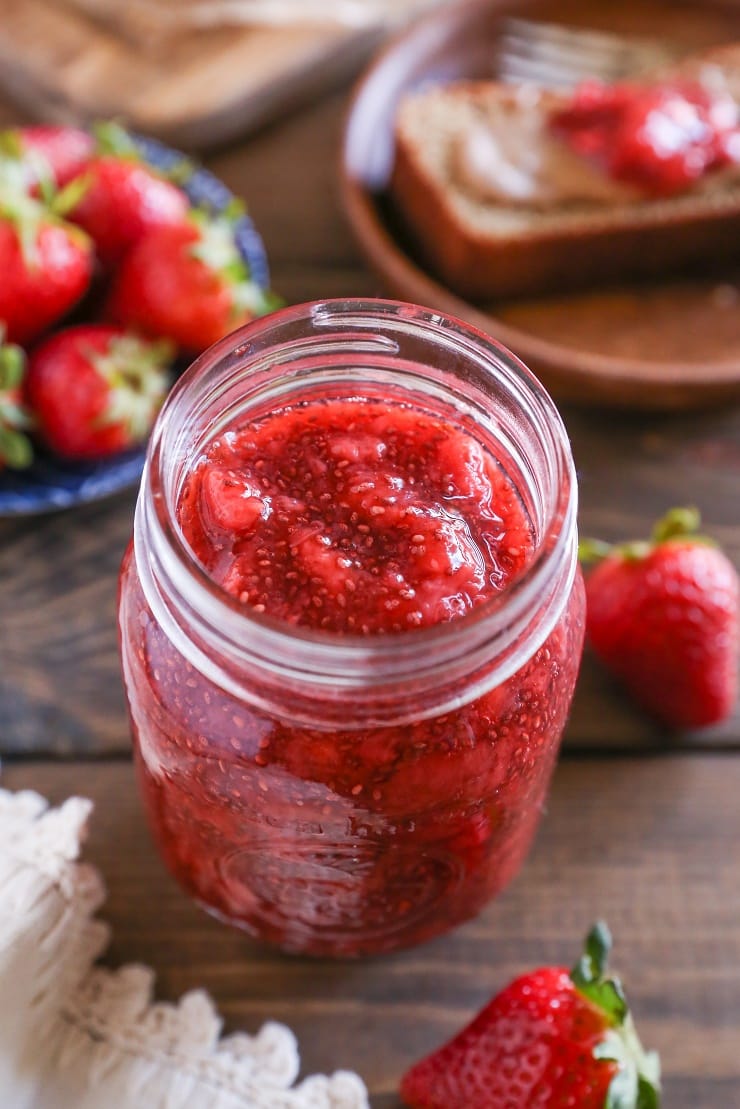 If you're not familiar with chia seeds, the jist of it is, chia seeds form a gelatinous solution when they come into contact with liquid. In this sense, they act as the thickening agent, taking the place of pectin and reducing the cook time.
One of my favorite snacks growing up was toasted whole wheat bread (yup, I preferred wheat over white out of my own volition if you can believe it!), with a hefty hunk of melty butter and shmear of jam. Once I cut back on refined sugar six-ish years ago, I stopped eating jam altogether. That is, until I started making it myself using natural sweeteners. I can now enjoy a thick slice of homemade gluten-free sandwich bread or paleo banana bread with a smear of almond butter (or regular butter) and a healthy dollop of strawberry chia seed jam.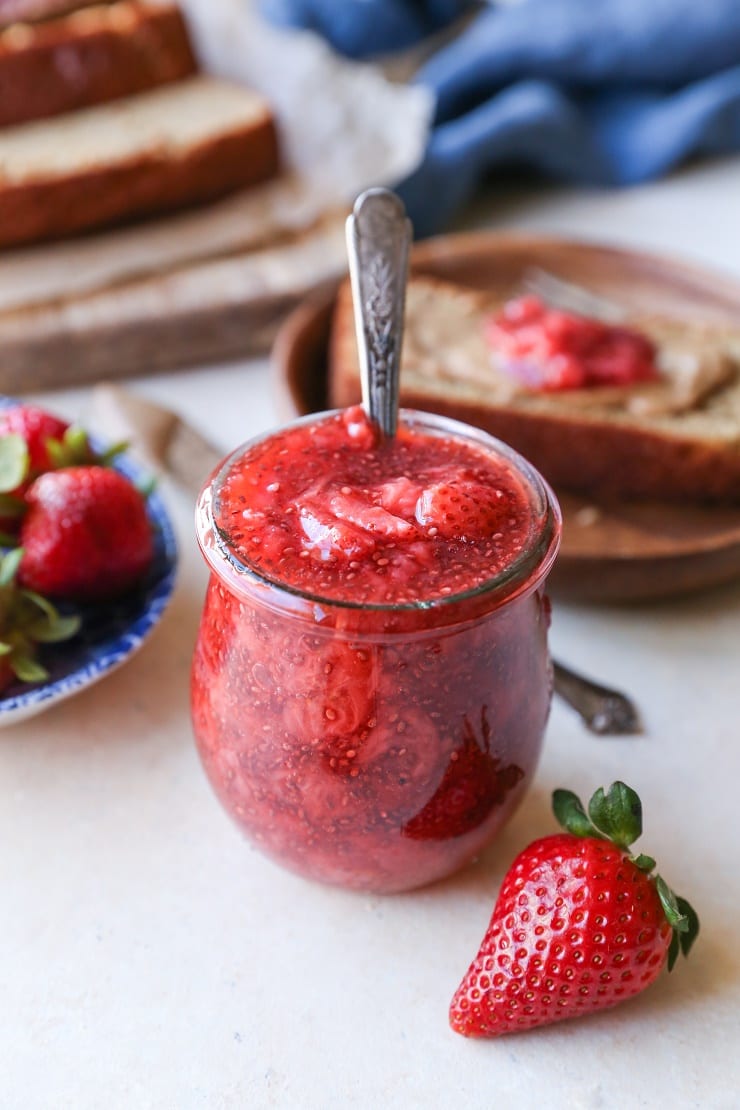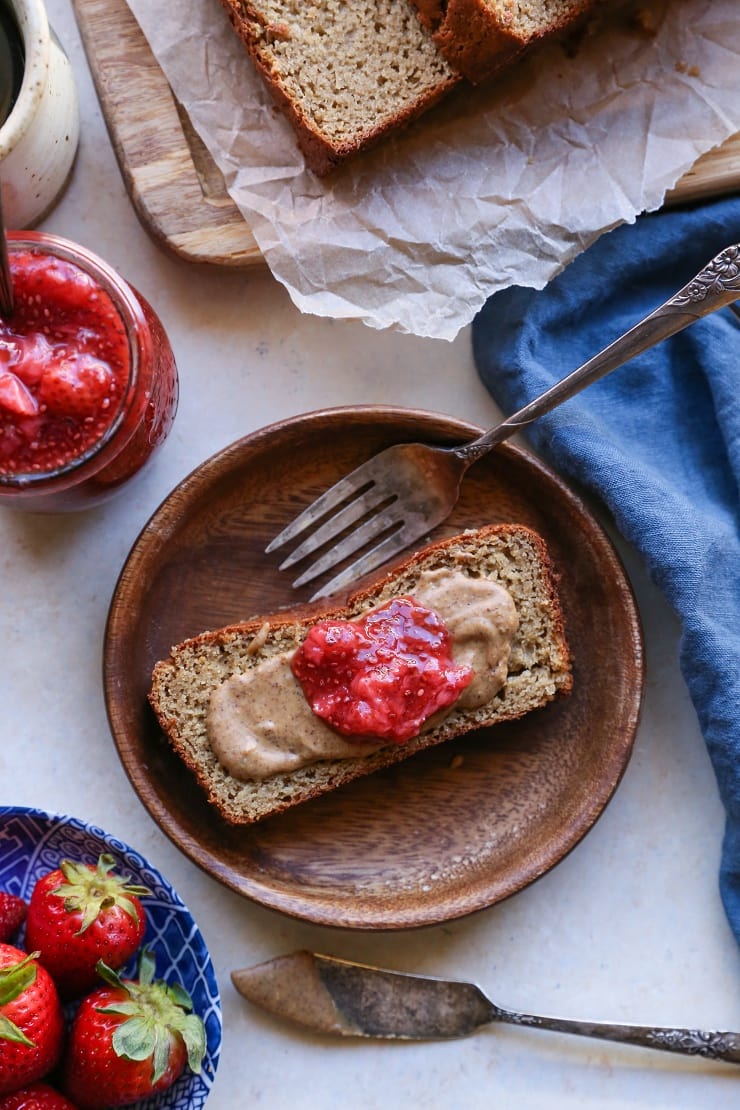 Only a few basic ingredients required (berries, pure maple syrup, and chia seeds) this strawberry jam only takes 15 to 20 minutes of actual cook time, and a few hours of cooling time. You end up with a thick, naturally sweetened jam that happens to be full of antioxidants and fiber (both from the berries and the chia seeds), and it will keep in your refrigerator for 1 to 2 weeks, and in your freezer for upwards of a month (that is, of course, unless you eat it first)!
Adaptations to this recipe:
You can use any berry for this recipe – fresh or frozen!

Replace the pure maple syrup with any natural liquid sweetener, such as honey, agave, or coconut palm syrup.

Get creative by adding fresh or dried herbs for some earthiness, or peppers or chilis for some heat.

I like adding a little vanilla extract and some ground cinnamon for a rounded flavor, but you can omit those two ingredients to keep it even more simple.
I'll be showing you recipes in the next couple of weeks showcasing this delightful jam! Stay tuned!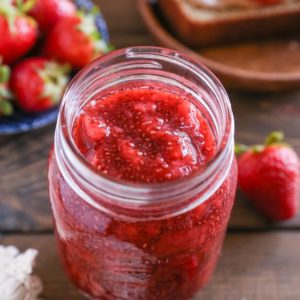 Strawberry Chia Seed Jam
Print
Instructions
Heat the strawberries, pure maple syrup, and lemon juice in a saucepan over medium-high heat, covered. Allow the mixture to come to a full boil then reduce the heat to a controlled boil and continue cooking until strawberries have softened, about 10 to 15 minutes. Mash the strawberries using a fork or a potato masher, until your desired consistency is reached (I like to leave mine fairly chunky).

Add the ground cinnamon, sea salt, and chia seeds and stir well. Continue cooking, uncovered, until the mixture thickens, about 8 minutes. Remove from the heat and allow the jam to cool for 10 minutes. Add the pure vanilla extract and stir well.

Transfer the jam to a bowl and refrigerate until chilled (note: you can also put the bowl in the freezer for about 40 minutes and stir periodically to speed up the process). Once cool, transfer the jam to a sanitized jar and seal it well. Jam keeps in the refrigerator for up to 1 week.