These gluten-free vegan poppy seed pancakes with caramelized figs are so easy to make, come together quickly, yet make for a unique – do I dare say – fancy breakfast!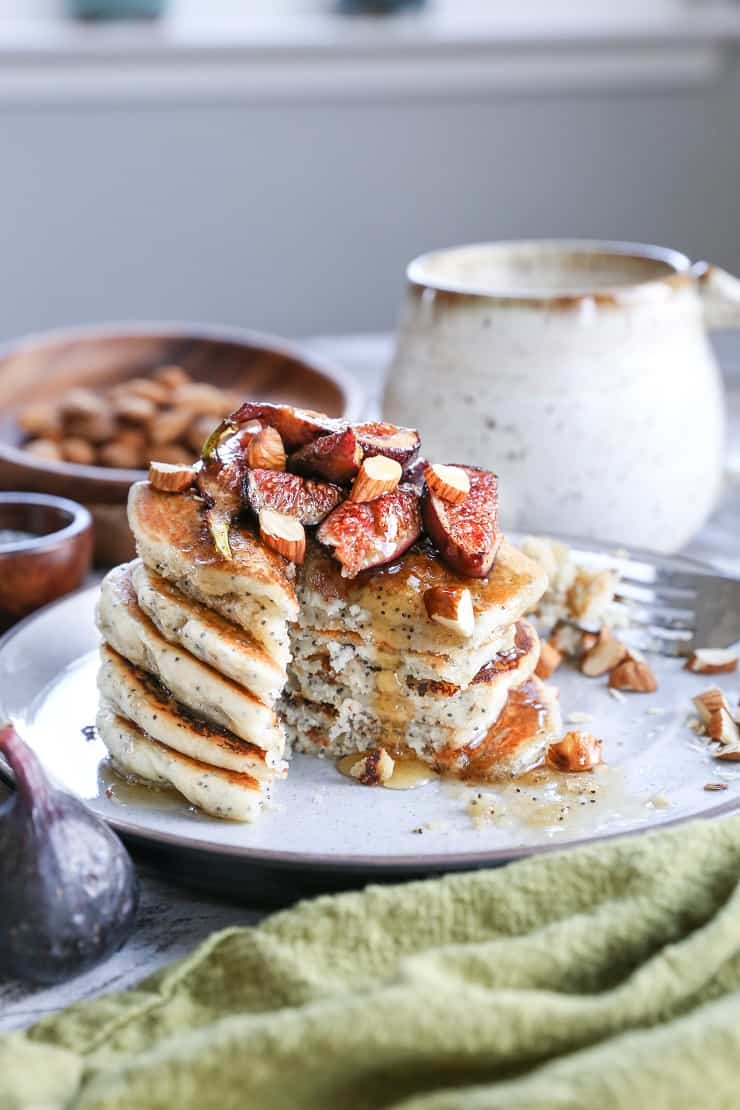 I have the doe-iest of doe eyes for these pancakes.
I've made and consumed an exorbitant amount of pancakes in my life, and I truly think these may be among the top 5 best (although I'm tempted to say they're the best pancakes) I've had the pleasure of eating).
They're fluffy, they're sweet, they're poppy, they're fun and frisky, and they come with caramelized figs.
All the bases: loaded!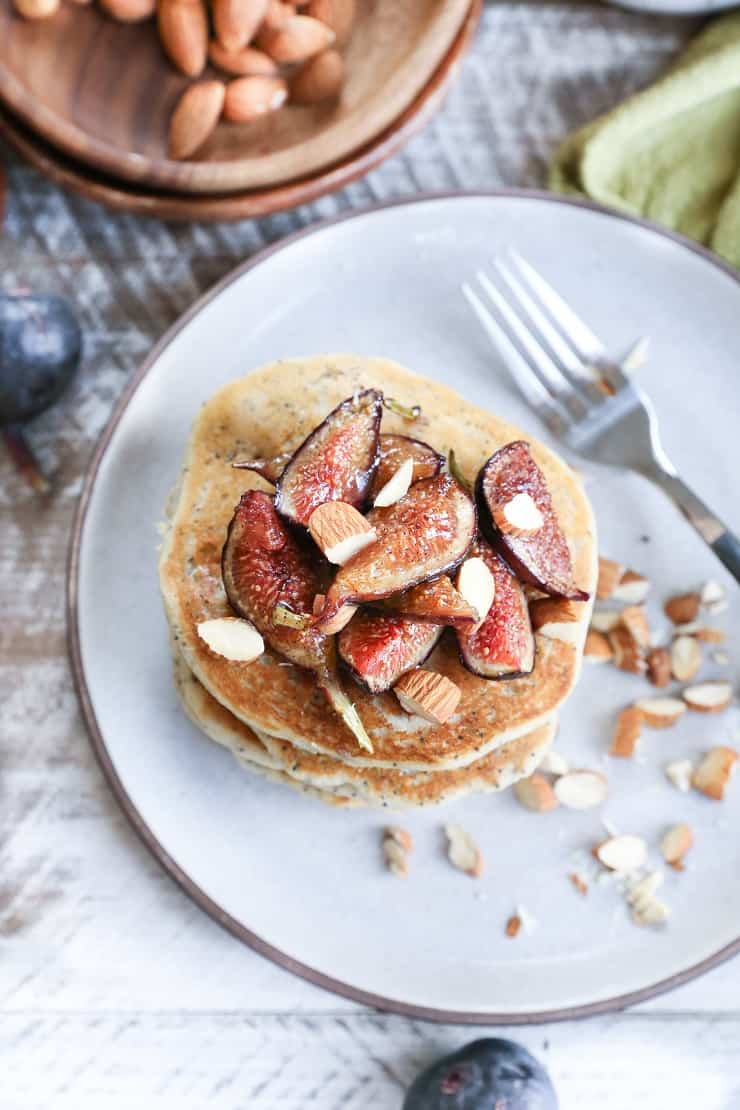 The quick rundown of this stack of steamy pancake lovin' is they are:
Vegan

Gluten-Free

Super Fluffy

Nice and moist

Naturally sweet

Flavorful

Amazing plain or with toppings

Freezer-friendly

The perfect carb load for two

My picture perfect lazy weekend breakfast
…and you'd never in a million years guess they were both gluten-free and vegan!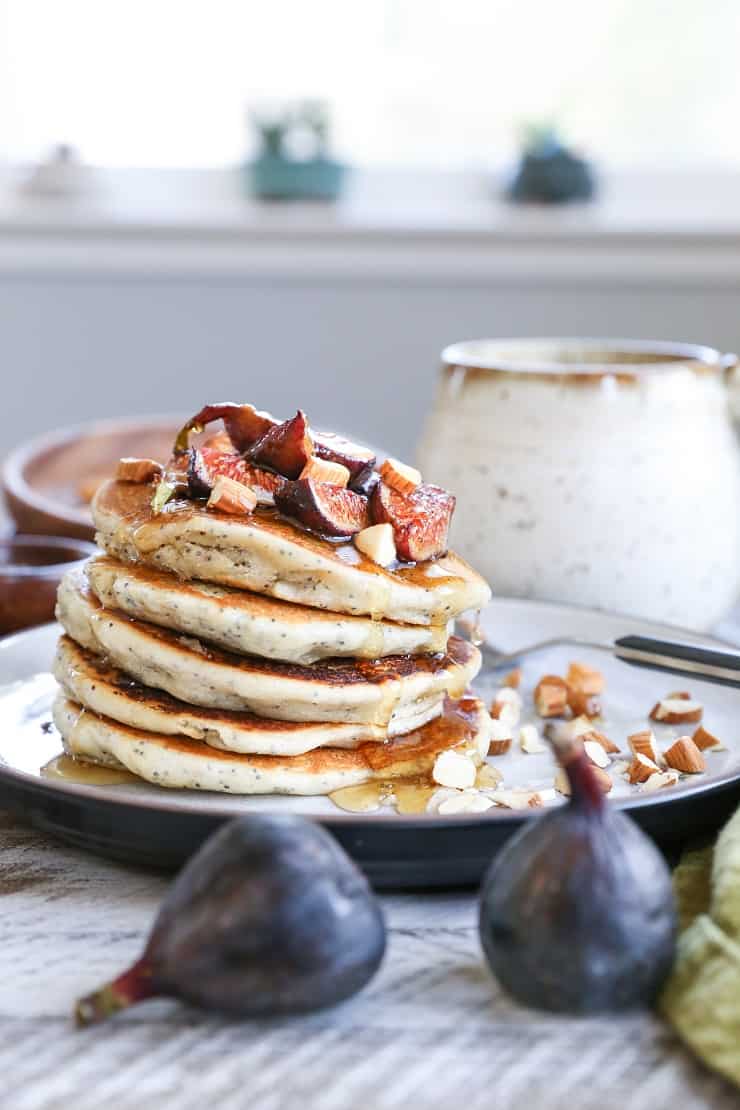 Have you ever caramelized a fig? Ohhhh my stars, they're amazing! I made Maple Roasted Figs a couple years ago and fancy that method fiercely, but with this batch,
I simply caramelized the figs on the stop top in a small skillet. It only takes a few minutes, and it takes your fig experience from "Wow!" to "Ooh eeh ooh ah ah ting tang walla walla bing bang!!" <- I promise.
It's been many moons since my last vegan pancake recipe. In fact, the last time I made a successful egg-free pancake was these Vegan Banana Pancakes I posted back in 2014.
You see, most of the pancake recipes I make are grain-free, so it can be difficult to achieve an optimal pancake consistency when both eggs and grains are out of the equation. Not impossible per se, just challenging.
My attempts with grain-free vegan pancakes have turned out crispy on the outside and molten on the inside. BUT, I'm not one to give up, so I'll revisit the vegan & grain-free (and even AIP) pancake after a brief intermission slash prolonged sabbatical.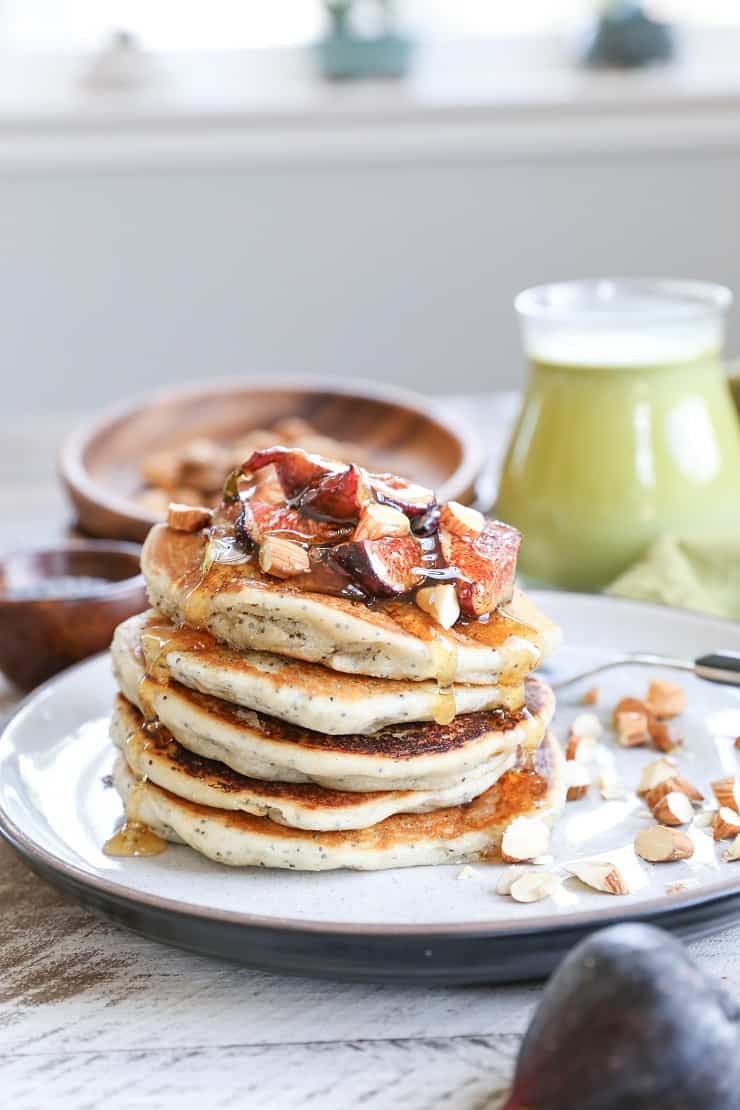 Recipe Adaptations:
Add blueberries, chocolate chips, omit the poppy seeds, and/or add mashed ripe banana.

Add 2 teaspoons of lemon zest and ½ teaspoon lemon extract to make these a lemon poppy seed adventure.

You can use regular all-purpose flour if you don't need these to be gluten-free.
I know the question of flour substitutions will come up, so I want to take a second to caution you against attempting the recipe using a grain-free flour (like almond flour, cassava, or coconut flour). Again, I definitely think a vegan grain-free pancake recipe is possible, it's just going to be an entirely different recipe from this one. So for instance, substituting almond flour for the gluten-free all-purpose flour won't work. Believe me, I've tried.
For your weekend breakfasting and brunching!
You May Also Love:
Home run!!
My cookbook,
Paleo Power Bowls
, is now available! CLICK HERE to check it out. Thank you for your support!
If you make this recipe, please feel free to share a photo and tag @TheRoastedRoot on Instagram!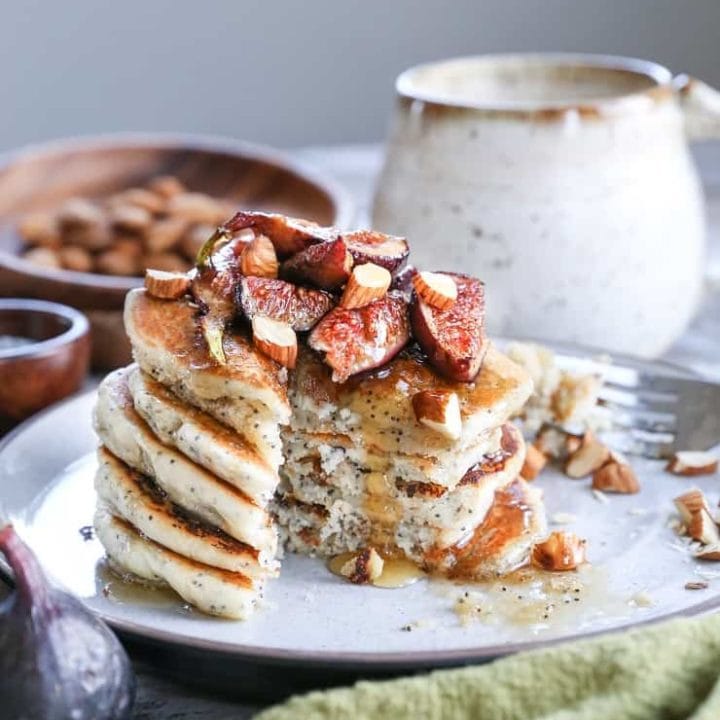 Gluten-Free Vegan Poppy Seed Pancakes
Amazingly moist and fluffy vegan pancakes studded with poppy seeds are a flavorful, delicious way to start the day!
Ingredients
Vegan Poppy Seed Pancakes:
Caramelized Figs:
4 large ripe but firm figs, quartered
Instructions
Prepare the Pancakes:
Add all ingredients for the pancakes to a blender and blend until combined (note: if you don't have a blender, you can also use a hand mixer, or whisk by hand). The batter will be thick - this is normal!
Heat 1 to 2 tablespoons olive oil or coconut oil in a large skillet over medium-high. Measure a scant 1/4 cup of matter and pour onto the hot skillet. Note that the pancake batter won't spread the way regular pancake batter does, so you can use your finger or a spoon to shape it into a disc. Cook 1 to 2 minutes per side, until golden-brown and cooked through in the center. Repeat for remaining batter.
Top Pancakes with caramelized figs, roasted chopped almonds, pure maple syrup, and/or any other toppings you love.
Make the Caramelized Figs
Heat the olive oil in a small skillet over medium-high. Add the chopped figs, pure maple syrup, ground cinnamon, and a pinch of sea salt. Cook, stirring occasionally, until figs are deep in color and caramelize, about 5 minutes. Remove from heat and serve on top of pancakes!
Notes
*you can also use regular all-purpose flour if you're not gluten-free
Nutrition Information
Yield

6
Serving Size

1 of 2
Amount Per Serving
Calories

304
Total Fat

21g
Unsaturated Fat

0g
Carbohydrates

27g
Fiber

1g
Sugar

18g
Protein

1g