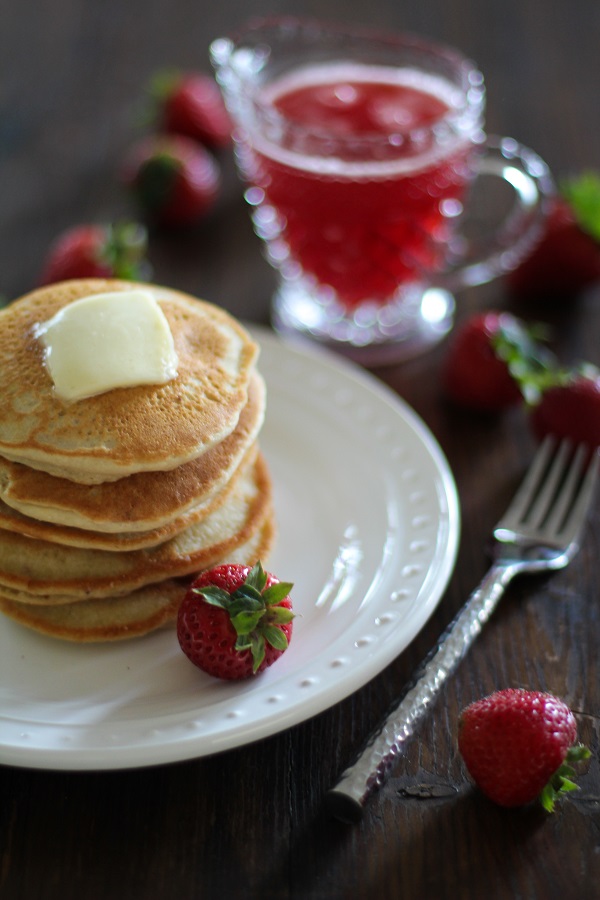 Strawberry Pancaaaaaakes!
Firsties, have you seen my new T-shirt shop that I added to my side bar with my "Give 'em Kale" t-shirts??? Ohhhh yeaaaah, I totally made a theme shirt to my cookbook, Let Them Eat Kale!…Waaaadeeeehoooooooo! Ialso made a theme shirt to my Delicious Probiotic Drinks cookbook. Check those and more fun shirts out. My shop will be changing periodically so be sure to check back for more funky fresh swagger!
Okay, now we move from clothes to food.
When I was a kid, my family went to Arkansas during the summer for family reunions. We would meet up at IHOP in the morning for breakfast, which quickly became the center where many of our family reunion memories were made. IHOP, the memory-maker.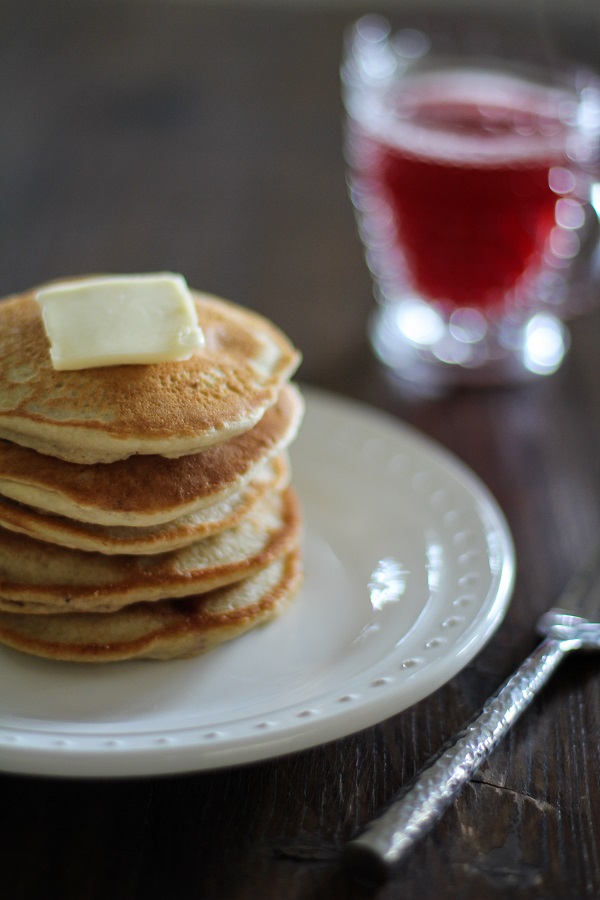 On one such memory-making day, for instance, my cousin ordered some delicious combination of side dishes, like toast, sausage, eggs, and bacon. The waitress, looking out after his 10-year-old pocket book, drawled in a beautiful Arkansasian accent, "would you like pancakes with that? It's cheaper?"
Done. That would forever be the line we said for the rest of family reunion history.
Someone would say, "I'm gonna go get a glass of water" and the response would be, "would you like pancakes with that? It's cheaper." Or, "Let's go play Frisbee." "Would you like pancakes with that? It's cheaper."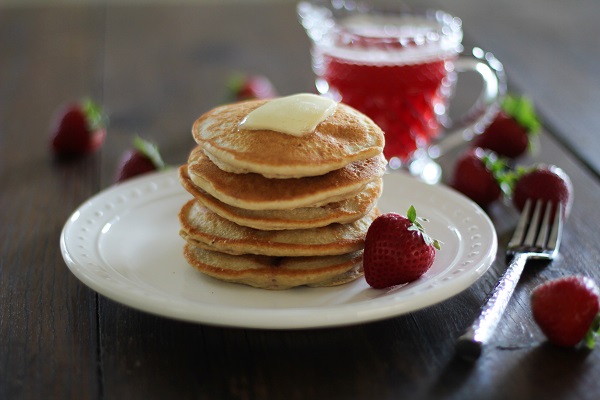 I know, it's not funny. It's actually pretty mean.
But when you're a kid, you need a "would you like pancakes with that? It's cheaper" crutch to lean on. Huh? Truly.
I brought up IHOP and this adventure for one good reason. The syrup. My first experience getting pancakes at IHOP was a game changer. I didn't have to stick to boring maple, I could have exotic flavored syrups like boysenberry, blueberry, or strawberry. Or I could really let my hair down and mix.
That's it. It don't get much better than that. We've reached the top. There's nowhere to go once you've had flavored syrups. Bring on that sugar high.
So when I whipped up this batch of strawberry almond flour pancakes the other morning, I went back to the good ol' days and made strawberry syrup to go with it. I typically leave the fruit pulp with the juices when I make fruity syrups, but this time I really wanted to soak my cakes, so I strained the pulp and soak my cakes, I did.
I need to take a second to highlight the strawberries that go in the pancake batter. There are strawberries in the batter. Okay, that's all I wanted to tell you. That and the fact that putting strawberries in pancake batter is suuuuureal! Have you done it? Probably. You're light years ahead of me.
If you enjoy fruity batter (wait, is "fruity batter" a thing? I think we just made it a thing), try the banana bread almond flour pancakes I posted a couple of weeks ago or the classic gluten free brown rice flour banana pancakes (I sure know how to name 'em, don't I?). Because as eeeeee'eryone knows, banana pancakes are INSANE! But these ones are strawberry. Equally, INSANE!
These pancakes are made with almond flour
and brown rice flour
(my favorite gluten free combo) with strawberries in the batter. Sinking your teeth into almond flour pancakes and getting a burst of fresh strawberry is a sure way to have the best day of your life. Just nod your head. Soak them with strawberry syrup and enjoy a filling breakfast made with nothing but healthful ingredients.
Strawberry Almond Flour Pancakes
Just a delicious way of stepping up your weekend pancakes, these Strawberry Almond Flour Pancakes are a grain-free delight!
Ingredients
Strawberry Almond Flour Pancakes:
For the Strawberry Syrup
2

cups

heaping fresh ripe strawberries

chopped

2

tablespoons

water

1

tablespoon

honey
Instructions
To Make the Strawberry Syrup
In a small saucepan, combine all ingredients for the syrup and bring to a full boil.

Reduce the heat to medium-low and allow the mixture to continue to boil gently until the strawberries have softened and the juices are thickened somewhat, about 10 minutes.

Remove the saucepan from the heat and strain the juices from the strawberry pulp using a fine strainer. Save the strawberry pulp for a tasty smoothie – no need to throw it away!

Set the syrup aside to use for the strawberry pancakes.
To Make the Strawberry Almond Flour Pancakes
In a mixing bowl, whisk together the eggs, almond milk, chopped strawberries and vanilla extract.

Add in the flours, baking powder and salt and stir together until combined.

Add enough oil to a skillet to coat the bottom and heat to medium.

Measure ¼ cup of pancake batter and pour on the skillet. A 12" skillet will cook 3 pancakes at a time comfortably.

Allow the pancakes to cook until the edges firm up and small bubbles rise to the top.

Flip and cook on the other side an additional minute or two until pancakes are cooked all the way through.

Serve with butter and strawberry syrup!
Nutrition
"We want more!" you say? MOOOOORE gluten free pancakes! Here's more:
Peanut Butter & Jelly Pancakes
Lemon Poppy Seed Coconut Flour Pancakes
Gluten Free Pancakes with Caramelized Pears