His take on Cornbread Flapjacks: "Rustic. Rustic pancake. Like a cabin. They're like eating cornbread next to the fire in a cabin. And bacon. They're real good with bacon."
Her take: "I'd like a bowl of chili to go with my pancake."
Greetings and welcome to Week 5 of The Pancake Project! For those of you just joining in, Bob's Red Mill and I have teamed up to bring you a new pancake recipe every Friday. My goal is to create fun and tasty pancake recipes using alternatives to wheat and give you something to sink your teeth into during the weekend. Along with a pancake recipe each week comes a Bob's Red Mill giveaway! If you have never tried BRM products, I recommend them with every fiber of my pancake-wielding soul.
After eating a plate of cornbread flapjacks with butter and honey drizzled on top, I can't help but question why every single flapjack is not made out of corn flour. Hi, commodity pancake, what a hot commodity you are!  Bob's Red Mill Corn Flour is a finer grind than corn meal, which gives the pancake the same tasty cornbread flavor but they turn out softer and fluffier than cornbread. Corn flour is the bee's knees is what it is. It's too soon to talk favorites but I would be hard-pressed to believe the Cornbread Flapjack wouldn't make the top 3. They're easy to flip, easy to eat and would make a divine ham and cheese sandwich if you want me to give it to you straight.
Giveaway Details:
For the chance to win Bob's Red Mill Corn Flour, all you need to do is leave a comment below. The Corn Flour giveaway ends Wednesday, 2/13 and the winner will be notified via email!!
Pancake Project Recap:
Week 1: Cranberry Orange Oat Flour Pancakes
Week 2: Bacon & Egg Buckwheat Stacks
Week 3: Almond Flour Pancakes with Pomegranate Syrup
Week 4: Lemon Poppy Seed Coconut Flour Pancakes
Week 5: Cornbread Flapjacks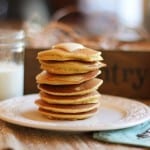 Cornbread Pancakes
Print
Ingredients
¾

cup

corn flour

Bob's Red Mill

½

cup

brown rice flour

Bob's Red Mill

1/4

teaspoon

salt

3/4

teaspoon

baking powder

¼

teaspoon

baking soda

1

egg

1-1/4

cup

almond milk

1

tablespoon

oil or melted butter

1

teaspoon

pure vanilla extract

1

tablespoon

agave nectar

or sweetener of choice

Grapeseed oil/coconut oil/butter for cooking
Instructions
In a mixing bowl, whisk the wet ingredients together.

In a separate bowl, add the dry ingredients and stir/whisk to combine.

Pour the dry ingredients into the bowl with the wet and mix until completely smooth.

Heat a skillet just above medium heat and add enough oil/butter to grease it.

Measure ¼ cup worth of batter and pour onto hot skillet.

Allow the pancake to cook until bubbles rise to the top, 1 to 2 minutes, then flip and cook another 45 seconds on the other side.

Repeat with all the batter

Serve with butter and honey the way you would cornbread!