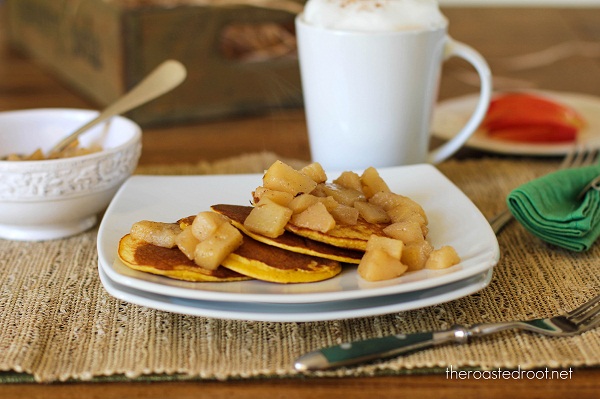 Foot stomping, banjo strumming blue grass, sun in your hair, a beer in your hand and soul in your voice. Sing it. Straight from your lungs, make your muscles burn. Fill your lungs with air, belt it out with song, shake your sun-filled hair and by golly, drink that beer! Stomp. Your. Foot.
Live. Turn off your phone, bail on anything that feels obligatory, do what gives you anxiety, punch fear in the knickers and just forget about everything that doesn't matter. Have a lazy morning with a high stack of hotcakes and then soak up blue sky. Don't come home till the sun goes down. Breathe. Feel. Sweat. Laugh. Live by your feelings and put your brain on time out. Because it's the weekend and the time is now.
Pancake: a thin, flat cake of batter, usually turned over in a pan. Turn it, flip it, spin it, slap it, cover it, slather it. Caution: Pancakes will tickle pleasure receptors and illicit feelings of jubilation. Contains (but not limited) to para para paradise. These pancakes are made out of puuuuuuure…
Garbanzo bean flour. Okay, okay, these pancakes are made out of garbanzo bean flour, which may seem weird to you, but hear me out. Garbanzo bean flour is used a great deal in gluten free products because the way it behaves is actually pretty similar to wheat flour.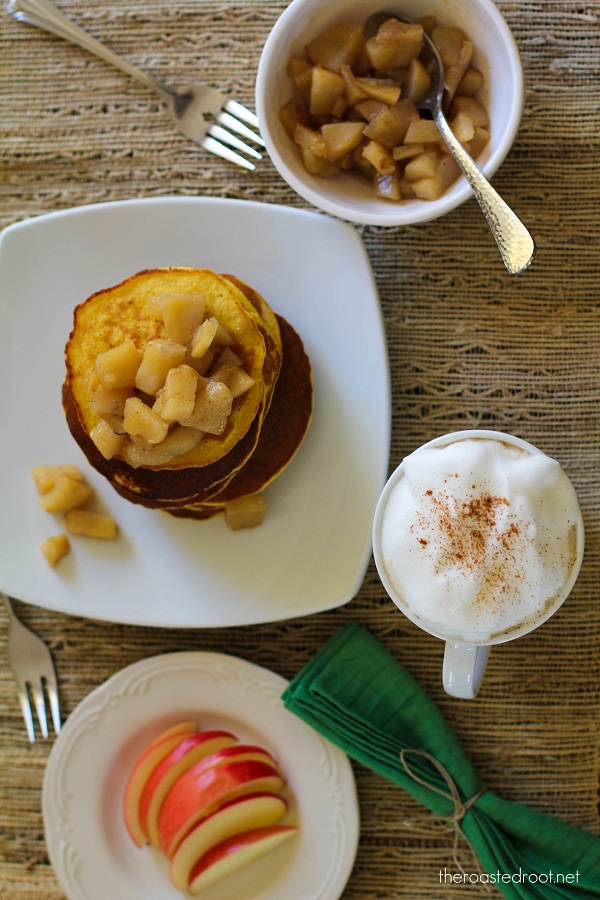 Garbanzo beans (or chickpeas) have a very neutral and somewhat creamy taste, which makes them easy to use for both sweet and savory recipes. Garbanzo bean flour rises slightly when baked and holds together very well, so using it for pancakes results in a light, soft, slightly spongy texture and buttery flavor.
Remember the Garbanzo Bean Brownies I threw your way a while back? Although those were made with whole garbanzo beans, they should serve as proof of just how versatile (and shockingly tasty) the garbanzo bean is. These naturally gluten free pancakes can be topped with anything and so far, homemade fruit based syrups and compotes are my favorite topping for them.
And the caramelized pear topping all warmed up, spiced up with cardamom. All the flavors meeeeeeelt away in your mouth and although I tell my pancake-kids I don't play favorites, I'll let you in on a little secret. . .
So far, six delicious, healthful and gluten free pancakes have come out of the Pancake Project:
Week 1: Cranberry Orange Oat Flour Pancakes
Week 2: Bacon & Egg Buckwheat Stacks
Week 3: Almond Flour Pancakes
Week 4: Lemon Poppy Seed Coconut Flour Pancakes
Week 5: Cornbread Flapjacks
Along with your shiny new gluten free pancake recipe, you have the chance to win a bag of Bob's Red Mill Garbanzo Bean Flour! Allllll you need to do is leave me a comment below and you'll be in the running. This giveaway ends Wednesday, 2/20. The winner will be selected using a random number generator and will be notified through email!
Until next time, my little pancake eaters!
Gluten Free Pancakes with Caramelized Cardamom Pears
Print
Ingredients
For the Garbanzo Bean Flour Pancakes:
1

egg

1

cup

almond milk

1

tablespoon

grapeseed or olive oil

1

tablespoon

agave nectar

or sweetener of choice

1

teaspoon

pure vanilla extract

1

cup

garbanzo bean flour

1

teaspoon

baking powder

1/4

teaspoon

salt

Roughly 1 tbl grapeseed/olive oil or butter for cooking the pancakes
For the Pear Topping
2

bosc pears

1

teaspoon

lemon juice

¼

cup

to 1/3 water

¼

teaspoon

cardamom*

Pinch salt

2

teaspoons

brown sugar

honey or agave nectar (optional)
Instructions
To Prepare the Pear Topping:
Peel and chop the pears into small ¼" to ½" sized pieces.

Add the chopped pears to a small saucepan with about 2 tablespoons of water, the lemon juice, salt and the cardamom.

Cook pears, covered, over medium heat.

After about 8 minutes, add another couple tablespoons of water and continue cooking.

Cook until pears are softened and begin to caramelize, leaving the saucepan covered and stirring every couple of minutes. This process should take 30 to 40 minutes. This may seem like a lot of time, but if you start the pears first and make the pancakes while they're cooking, they will be done right around the same time as your pancakes.

If at any time, the pears begin to stick to the bottom of the saucepan, add a little more water. The topping is finished when the pears are softened but al dente and there is a little bit of thick, sweet sauce coating the pears.

If desired, add some sugar, honey or agave. When the pears cook and caramelize, they get very sweet, so I didn't add any extra sweetener.
To Prepare the Pancakes:
In a mixing bowl, whisk together the egg, milk, oil, agave and vanilla extract.

In a separate bowl, stir together the garbanzo bean flour, baking powder, and salt.

Pour the flour mixture into the egg/almond milk mixture and stir well. The batter will have small clumps. This is okay.

Allow batter to sit 10 minutes.

Heat a large skillet just above medium heat (but below medium-high). Add about a tablespoon of oil or a combo of oil and butter.

Measure out 1/8 cup of batter and pour it on the hot skillet. Allow the pancake to cook until a great deal of small air bubbles rise to the surface, about 45 seconds.

Flip to the other side and cook an additional 30 second.

Place pancakes on an oven-safe plate in a warm oven (around 200 degrees) until you're finished cooking all the batter so that the pancakes stay nice and warm. Cook just above medium heat (below medium-high).

Serve pancakes with caramelized pears on top!
Recipe Notes
* The cardamom can be replaced with cinnamon if you don't have any on hand, or you can eliminate spice altogether. The pears come out very sweet and flavorful.
Don't resist. Jump in off the back, don't act like you don't want to