Superfood peach and spinach smoothie bowl with a collagen boost to promote healthy skin, nails, and bones. Top the smoothie bowl with fresh fruit, seeds, and nuts for a nutritious breakfast.
Alternatively, this smoothie bowl was almost named:
Healthy Glow Smoothie Bowl, because it's great for your skin, hair, and nails.
Age-Defying Smoothie Bowl, because it helps prevent wrinkles and even staves off cellulite
Great for Athletes Smoothie Bowl, because it maintains bone, joint, and blood vessel health
How can one smoothie bowl do all of these tricks for you?
Collagen. Let's chat.
Collagen has been a cornerstone in the beauty product industry for decades, and was particularly rageful in the 80s and 90s.
Case in point: I knew collagen made your skin youthful and supple before I knew the difference between butter and margarine.
Not only is collagen a topic of conversation in the beauty realm, but it's also a-buzz in the food world as well.
We discuss health benefits of various foods on this site quite a bit, so I thought I'd introduce you to a nutritional element ** collagen ** that is not only essential to your everyday life, but also to keeping your body spry and youthful.
What exactly is collagen?
Collagen is the most prominent protein in mammals (including homo sapiens) and is the building blocks of your bones, muscles, skin, and tendons, effectively holding everything together. It makes your bones, connective tissue, and hair strong, and your skin elastic.
Collagen production declines as you age, causing skin to wrinkle and bones and joints to weaken. Therefore, those of us who don't get enough collagen in our diet may be susceptible to bone and joint pain or injury.
The Health Benefits of Collagen:
Helps prevent wrinkles and cellulite, and keeps your skin firm and healthy.

Promotes healthy, beautiful hair and strong nails.

May help support natural hormone production, thereby balancing your body's hormones.

Essential componentry for your joins, bones, and tendons.

May promote healthy digestion.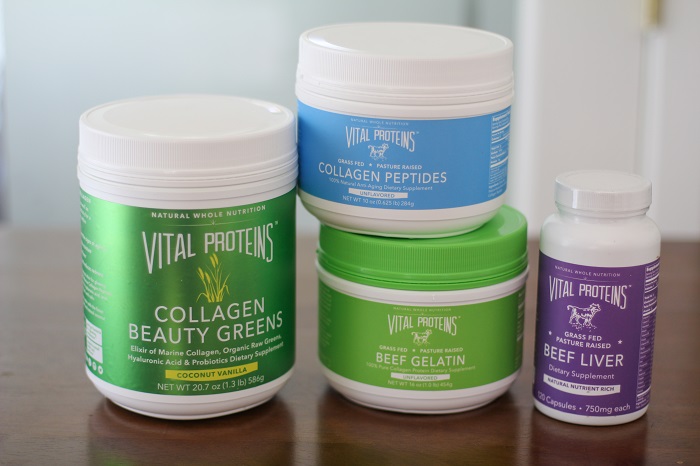 How do I get more collagen?
Everyone wants healthy hair, skin, and bones, right? With a side of good digestion and balanced hormones? Absolutely! I find this best way to source collagen, rather than going on a caveman-like rampage, is to leave it to the professionals.
Vital Proteins makes powdered collagen products sourced from sustainably-raised grass-fed beef, and from wild-caught non-GMO snapper.
They're easy to incorporate into your morning smoothie, coffee, or tea, or even your no-bake treats and raw soups. The powders dissolve in hot and cold liquid, making them a no-hassle supplement to support every day healthy living.
I added one scoop of Vital Proteins's Collagen Beauty Greens to this smoothie bowl, which contains marine-based collagen peptides as well as superfoods such as wheat grass, spinach, and kale for a vitamin and antioxidant boost, as well as probiotics for gut health.
The powder is Vanilla Coconut flavor, adding a subtle and pleasant flavor to your smoothie. One scoop provides 10 grams of protein, a decent amount of fiber (12% of your daily value), and a 110% of the Vitamin A you need for the day, along with other vitamins and minerals.
Want to learn more about collagen and check out more recipes? Here are some blog posts from around the web that provide info about collagen as well as recipes using the powder:
Topping your smoothie bowls…what are your preferences?
I could go a number of directions when it comes to toppers. Dollop of yogurt, drizzle of coconut milk, homemade or store-bought granola, any fruit, nut, or seed under the sun, even cereal, my friends.
As you can see, I went the fresh fruit route with some hemp hearts and pumpkin seeds. Top to your heart's delight!
Rejuvenating Peach and Spinach Smoothie Bowl
Rejuvenating Peach and Spinach Smoothie Bowl will make your soul glow!
Servings:
1
Large Smoothie Bowl
Ingredients
1

large ripe peach

chopped

¼

cup

coconut milk or almond milk

½

ripe banana

1

scoop Vital Proteins Beauty Greens Collagen Powder

1

teaspoon

agave or natural liquid sweeener of choice

optional

1

cup

ice cubes

Handful baby spinach
For serving:
Sliced peach

2

ripe strawberries

chopped

1

tablespoons

to 2 pumpkin seeds

1

tablespoon

hemp hearts

½

ripe banana

sliced
Instructions
Add the ingredients for the smoothie to a blender and blend until smooth.

Pour the smoothie into a bowl and top with your toppings of choice!
Nutrition
Serving:
1
smoothie bowl
|
Calories:
317
kcal
|
Carbohydrates:
48
g
|
Protein:
16
g
|
Fat:
12
g
|
Fiber:
7
g
|
Sugar:
26
g
This post is sponsored by Vital Proteins. All opinions are my own.