Anti-inflammatory, nutrient-packed Carrot Ginger Smoothie is loaded with health benefits and goes down real nice! The antioxidants and probiotics in this healthy smoothie recipe provide a big boost to your immune system.
Whether you're feeling under the weather or are trying to stay on top of the weather, this nutritious anti-inflammatory smoothie recipe is here to provide your body with energy and natural immunity.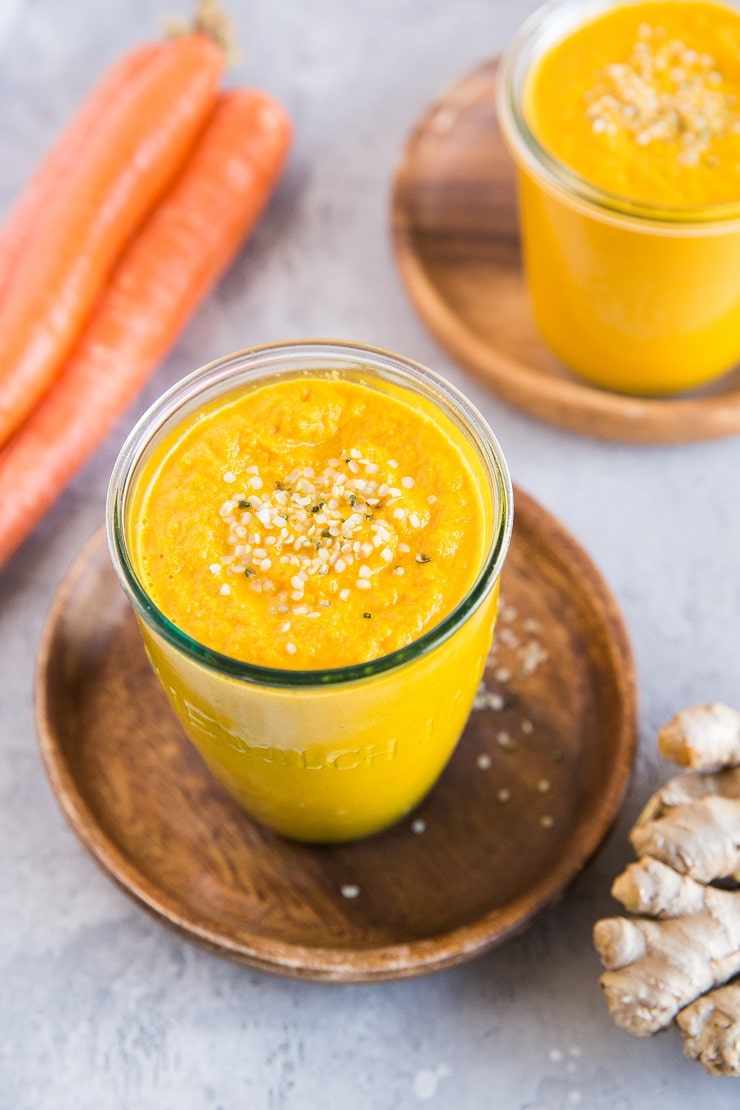 I always like to begin the New Year with a smoothie recipe, because: on trend.
This one is actually a tale as old as time.
In fact, an ex-boyfriend created this smoothie for me years and years ago one evening when I had a massive headache, felt nauseous, and had all but tossed myself on the floor like a ragdoll.
As the story goes, as I sipped on this smoothie, the headache subsided, the nausea disappeared, and I came back to life.
I woke up the next day feeling like a forty-niner.
This to say, this smoothie was designed to heal, and heal it does.
It is loaded with antioxidant and anti-inflammatory properties to ease inflammation, reduce pain, and hydrate your cells back to health.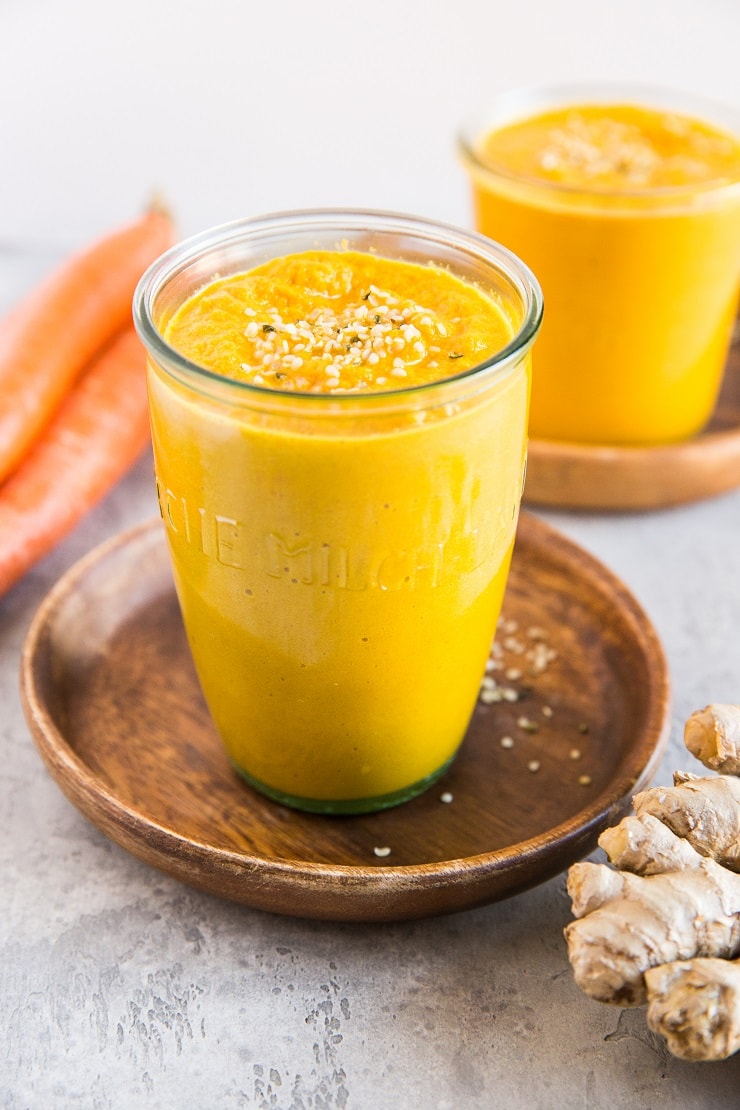 Not to mention, it contains a boost of probiotics to lend your gut a helping hand, further boosting your natural immunity.
Let's do some reverse engineering so we can get the full healing-power effect.
Health Benefits of this Carrot Ginger Smoothie:
Ginger: Ginger has been used in natural medicine for thousands of years! It eases nausea, improves circulation, aids in digestion, is an anti-inflammatory food, and boosts the immune system.
Carrots: Packed with beta-carotene, potassium (hello, hydration!), Vitamin K1, Vitamin A and antioxidants. They are also a great source of complex carbohydrate, an awesome source of fiber, and may help lower cholesterol.
Coconut Milk: Coconut milk contains antioxidants, immunity boosting, Vitamins E, B, and C, potassium, iron, magnesium, phosphorus. These minerals support heart, kidney, and brain tissues, strengthens your bones, creates red blood cells, which helps the transportation of oxygen through your body. AND it's more hydrating than water.
Honey: One of nature's superfoods, and one fine sweetener. Honey contains natural anti-bacterial, anti-fungal, and anti-viral properties and therefore more support to the immune system! Honey helps wounds heal, and has been touted by the athletic community to enhance athletic performance, as it is contains an anti-inflammatory aspect in addition to carbohydrate.
If you follow a low-carb diet, omit the honey. I find the smoothie still tastes marvelous without the honey, so if you prefer your smoothies less sweet, the honey is entirely optional.
Yogurt: Probiotics = gut health = happy people. I use coconut milk yogurt, but you can use your favorite yogurt varietal.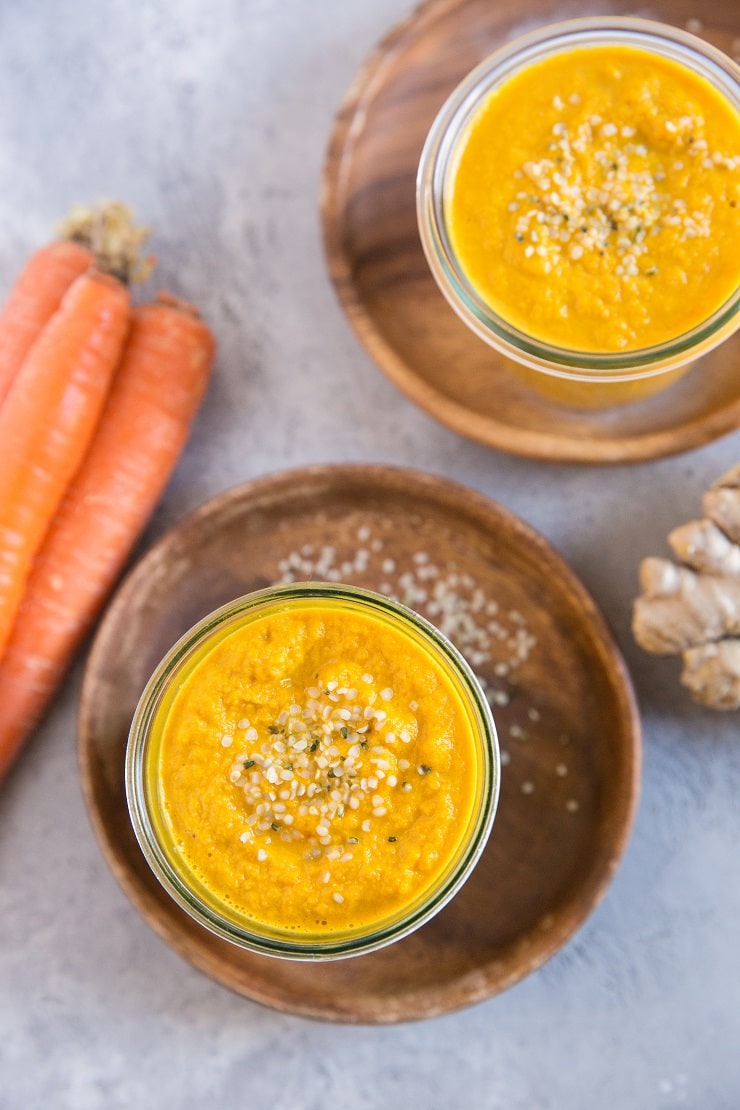 How to Make Carrot Ginger Smoothie:
This is just too simple. Toss everything in a high-powered blender and blend until smooth. Do note that the smoothie does turn out fairly grainy because it contains raw carrots.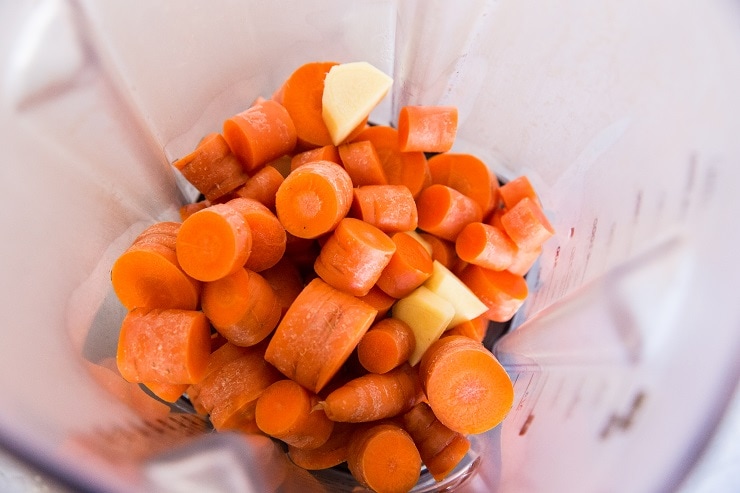 If you're opposed to the graininess, you can either cook the chopped carrots first by boiling them for 8 to 8 minutes (I do this more often than note), or swap them out for cooked sweet potato (which is also high in antioxidants and potassium).
I do recommend using a high-powered blender for this smoothie recipe. If your blender is from the 1950's, like my mother's, you will have a difficult time getting the carrots to blend.
Recipe Adaptations:
For a lower fat version, use light canned coconut milk or an unsweetened nut milk (almond or cashew work great!) Do note that the smoothie won't taste quite as rich if you go with a lighter non-dairy milk.
Add 1/4 cup of orange juice for some zesty flavor and Vitamin C! If you do this, consider omitting the honey or lowering the amount you use so that you aren't drinking a sugar fest 🙂
Swap the carrots for cooked sweet potato.
Boil the chopped carrots for 8 to 10 minutes before making the smoothie. If you do this, also consider refrigerating or freezing the carrots so that the smoothie is nice and cold.
Add a small nub of fresh turmeric or 1/4 tsp ground turmeric for even more antioxidant, anti-inflammatory power!
You've been healed! Let's go forth and be merry!
More Healing Smoothie Recipes:
Carrot Ginger Smoothie
Carrot Ginger Smoothie is loaded with immunity-boosting properties and is nice and hydrating to keep you feeling great!
Ingredients
3

cups

carrot

chopped (peel on)

1-

inch

peice of ginger

peeled and chopped into smaller chunks

1/3

cup

plain yogurt

I use coconut milk yogurt

1

cup

full-fat canned coconut milk*

full-fat recommended

1

Tbsp

honey

to taste

1/2

cup

ice
Instructions
Put it all in a blender and blend until all chunks have smoothed out. If needed, add more coconut milk (or almond milk) to help process the smoothie.
Notes
* If your blender can't blend a large piece of ginger, grate the ginger first using the fine side of a box grater. about 1.5 tablespoons of grated ginger is what you're going for.
Nutrition
Serving:
1
of 2
|
Calories:
271
kcal
|
Carbohydrates:
21
g
|
Protein:
7
g
|
Fat:
12
g
|
Fiber:
5
g
|
Sugar:
12
g