The Best Paleo Banana Bread Recipe that only requires a handful of basic ingredients! This easy healthy banana bread recipe is so easy to make using your blender or a mixing bowl and turns out just like the real deal.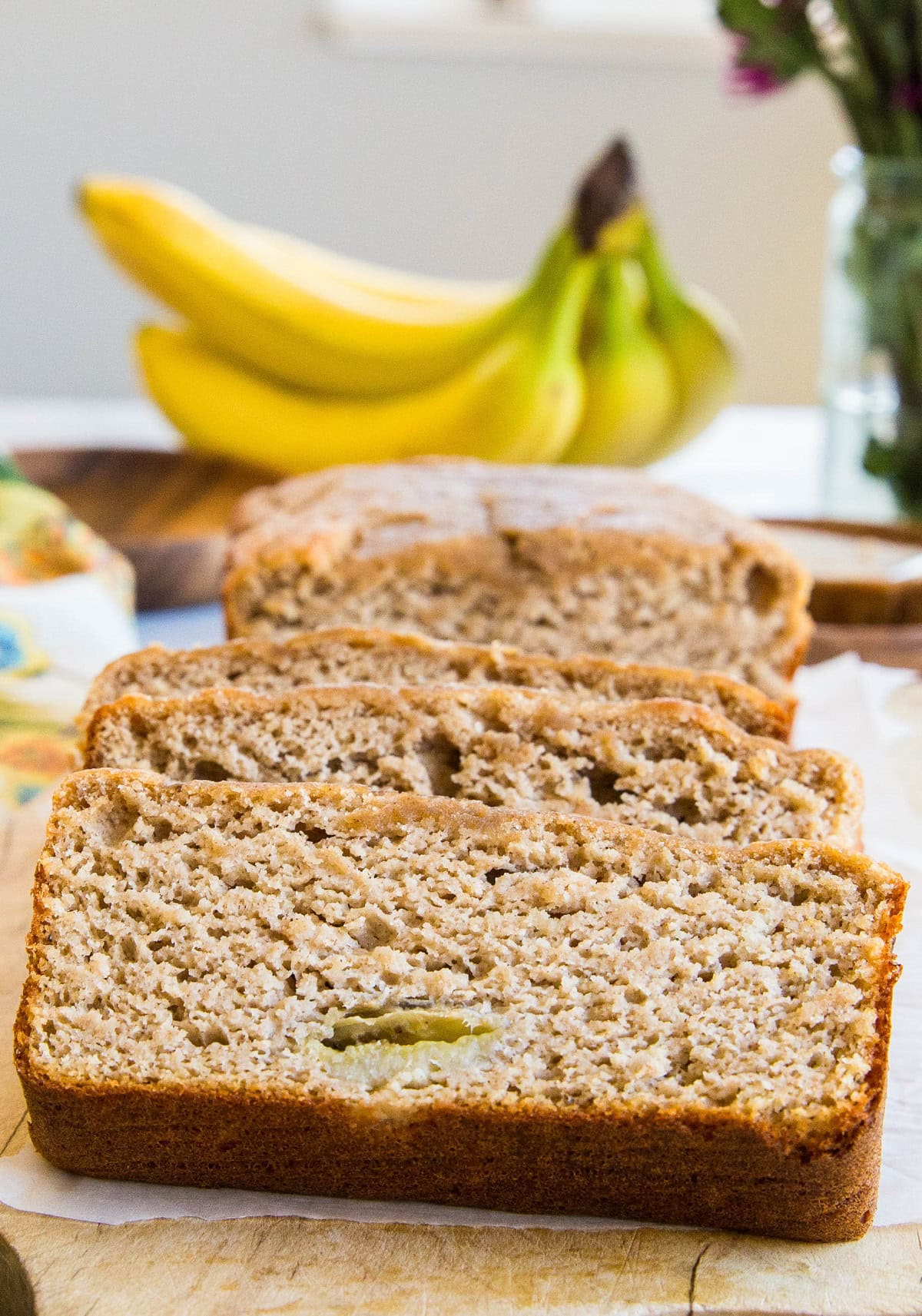 Made with almond flour and pure maple syrup, this comforting banana bread is grain-free, oil-free, dairy-free, and refined sugar-free.
If you've been around my site a while, you know I have a ton of recipes for banana bread. Some classic, like my The BEST Gluten-Free Banana Bread Recipe, some flavored with different goodies like my Paleo Carrot Cake Banana Bread.
It goes without saying that my love for banana bread runs deep.
This recipe for Paleo Banana Bread is a classic for anyone who eats grain-free or follows a paleo diet!
Just like traditional banana bread, it has a tender crumb and is exploding with banana flavor with warm hints of cinnamon.
It's a tried and true reader favorite from October 2014, and has been made hundreds, if not thousands of times!
And for a good reason! It's grain-free, dairy-free, oil-free, has AMAZING texture, is so moist and fluffy yet dense, loaded with natural sweetness and banana flavor.
I'm willing to bet your friends and family won't even realize it isn't regular banana bread.
There is just nothing cozier than a big hunk of fresh-out-of-the-oven banana bread. And healthy banana bread that tastes like the real deal without a lot of added sugar and just the right amount of sweetness? Even better!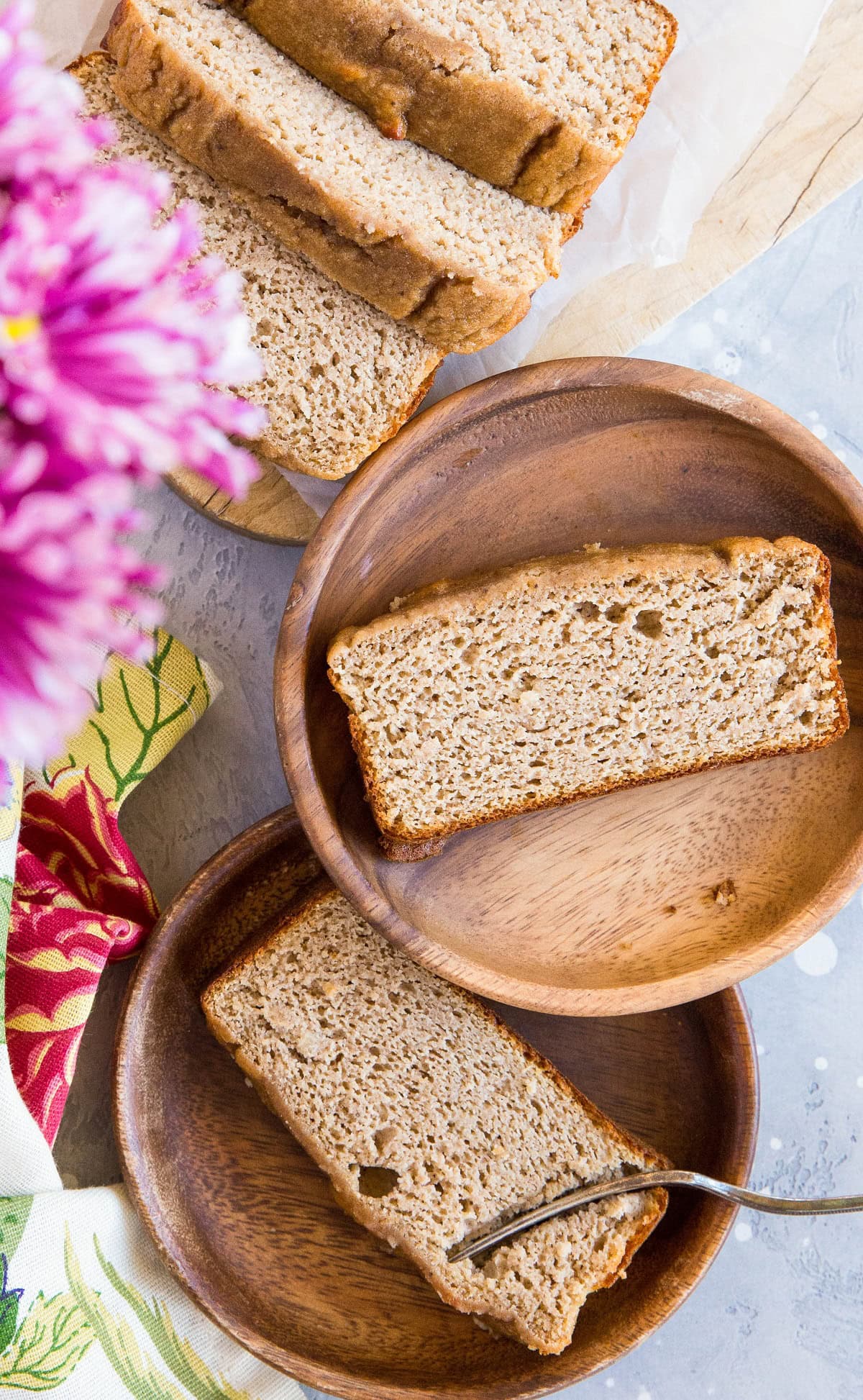 Let's discuss the simple ingredients for this healthy banana bread recipe.
Ingredients for Paleo Banana Bread:
Almond Flour & Tapioca Flour: The combination of almond flour and tapioca flour yield a texture that is very similar to regular all-purpose flour. It holds together well, and is nice and light and fluffy!
If you don't bake using tapioca starch, you can replace it with 1/3 cup of additional almond flour or arrowroot starch. I recommend using fine almond flour for the best texture.
Ripe Bananas: The all-star here! Overripe bananas bring the sweetness and moistness to the banana bread without needing oil! They do a marvelous job of generating rich, flavorful banana bread, and we hardly need to add any additional sweetener.
Be sure to measure the mashed banana (you're looking for about 1.5 cups) for the best banana bread because bananas vary in size. I also recommend using regular ripe bananas at room temperature rather than thawing previously frozen banana for the best results.
Eggs: That element that helps fluff up the banana bread and hold everything together! If you can't do eggs, check out my Chocolate Chip Paleo Vegan Banana Bread, which uses flax egg.
Pure Maple Syrup: We add just a touch of pure maple syrup to bring out more sweetness and richness, but not much is needed! If you go entirely sweetener-free, feel free to skip the pure maple syrup!
Note: if you replace the pure maple with honey, keep a very close eye on the bread while it bakes, because honey burns at a lower temperature than pure maple syrup, and your bread can turn out a little overdone.
Replace the pure maple syrup with coconut sugar or brown sugar if you'd like.
Baking Powder and Sea Salt: Baking powder helps leaven the bread and sea salt enhances the flavor and brings out the natural sweetness.
There are some folks who don't love to bake with baking powder – if this is you, skip it and add an extra tablespoon of tapioca flour.
Optional Add Ins: Pure vanilla extract, ground cinnamon, ground nutmeg, chopped walnuts, chocolate chips or dark chocolate chunks
While these ingredients aren't mandatory, they definitely enhance the experience!
This recipe is made super quickly and easily using a blender. You can also fashion up the bread batter in a mixing bowl, but I find just tossing the ingredients in a blender and blending until smooth is the simplest way with minimal cleanup.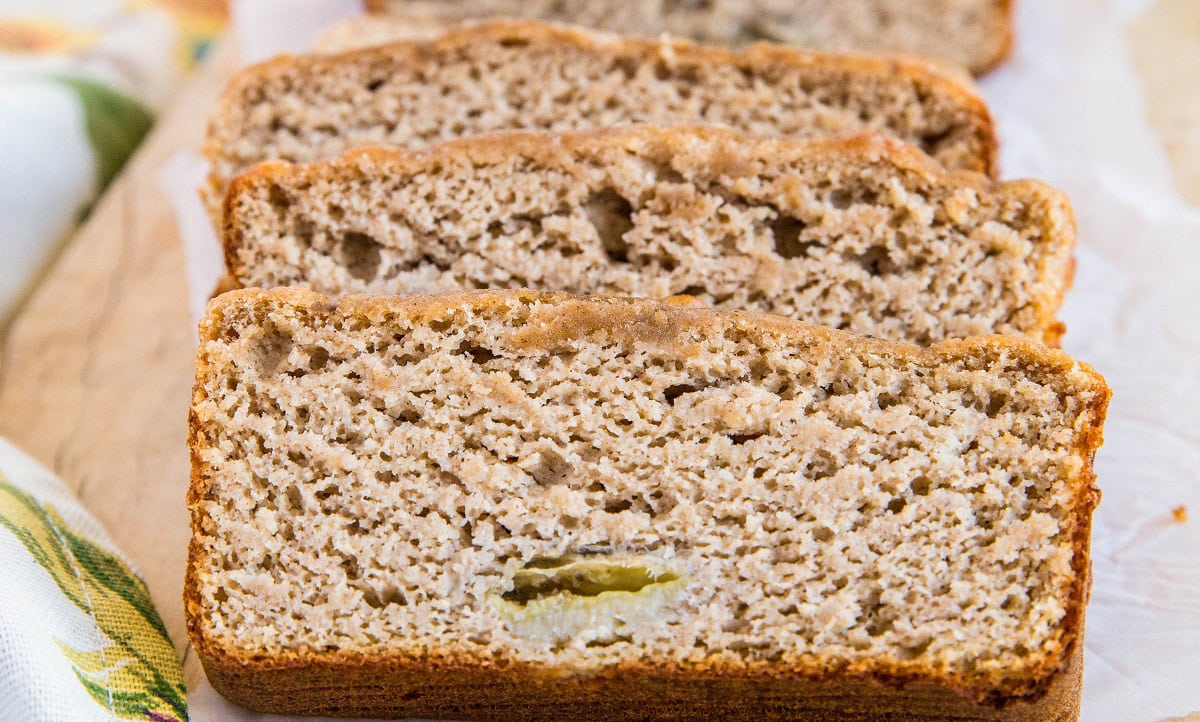 Tip For The BEST Paleo Banana Bread:
The bananas. They make all the difference, since we're using so many and they make up the majority of the volume of the bread.
The key to a stellar banana bread is using bananas that are so brown they're practically fermenting. Overly-ripe bananas are real moist-makers.
How to Make Paleo Banana Bread:
Preheat the oven to 350 degrees F and line a 9″ x 5″ loaf pan with parchment paper.
Mash the bananas in a measuring cup to be sure they come out to about 1 1/2 cups when mashed. Adjust as needed.
Add all of the ingredients (including the mashed bananas) to a blender and blend until smooth.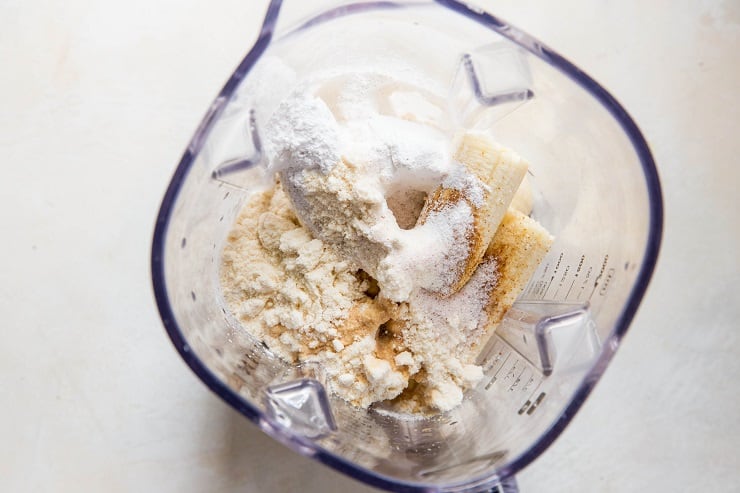 Note: You can also prepare the banana bread batter in a large bowl by first mashing the banana until it's nice and creamy.
Pour the banana bread batter into the parchment-lined loaf pan and bake in the preheated oven for 50 to 60 minutes, or until the banana bread is firm on top, golden brown, and baked through.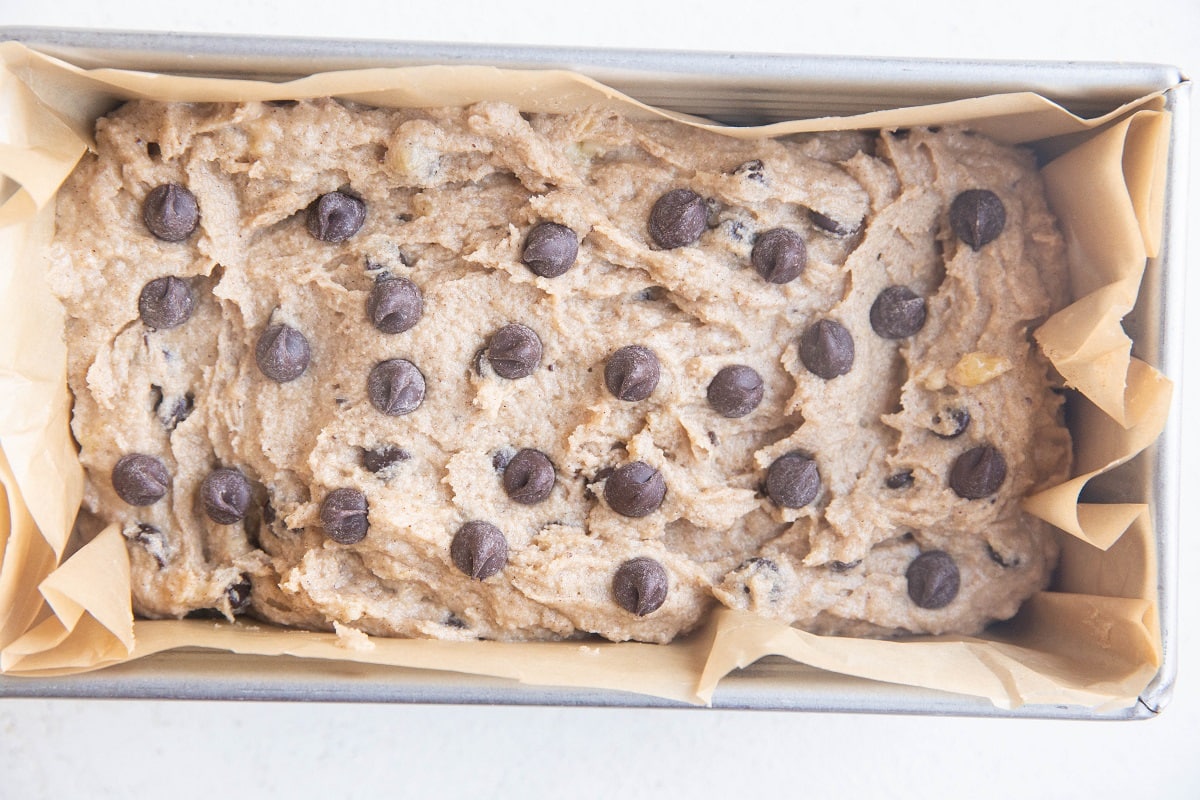 If the banana bread becomes too dark on top at any point, you can cover the loaf pan with aluminum foil.
Allow the bread to cool at least 20 minutes before slicing and serving.
Serve warm with almond butter, peanut butter, and fresh fruit for a delicious afternoon snack.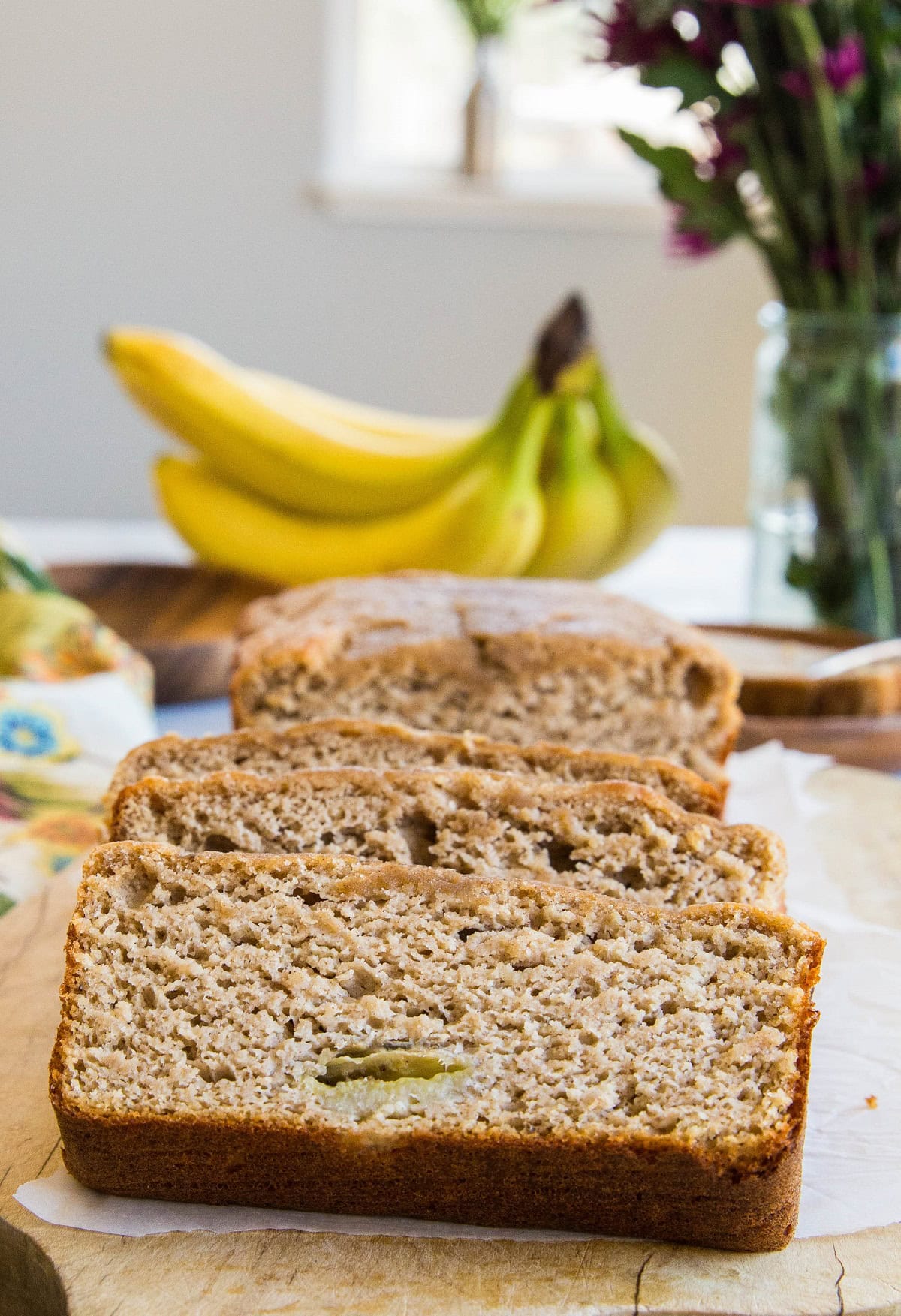 Recipe Tips/Troubleshooting:
When I initially posted this recipe in 2014, I would periodically get a comment or email letting me know the banana bread turned out under-baked in the center.
This can happen for a number of reasons, so here are some tips to ensure your loaf turns out nice and fluffy (and baked all the way through!)
1.) Mash the bananas and measure them – Make sure your bananas are measured out to be 1 1/2 cups when mashed.
2.) Use finely ground almond flour – Bob's Red Mill fine almond flour is my favorite, and is the only flour I have used to test the recipe. Other brands may be used, but other brands have different absorbencies, so you may need to make alterations to the amount of liquid if you go with a different brand.
3.) Line the loaf pan with parchment paper – I find my quick breads (regardless of the recipe) fall flat when I don't line my loaf pan with parchment.
4.) Bake until the center of the bread rises up and feels firm when gently poked. Depending on the elevation at which you bake, you may need to adjust the bake time. You can test the internal temperature of the bread.
Quick breads are considered fully cooked when they reach an internal temperature of 200 degrees F. Simply insert a digital thermometer into the center of the bread to ensure it is fully baked.
5.) Don't over-mix in your blender – If you feel more comfortable using mixing bowls for preparing batter, simply beat the wet ingredients (bananas, eggs, pure maple syrup, vanilla) together in a mixing bowl, then add in the remaining dry ingredients and mix until combined.
That's it! An easy banana bread recipe with great texture for a healthy breakfast or snack that the whole family can enjoy.
Store any leftovers in a zip lock plastic bag or airtight container in the refrigerator or freezer.
If you would like to make this recipe in a muffin pan, make my Paleo Banana Muffins, or bake fill a muffin tin with the batter and bake at 350 for 20 to 25 minutes.
Prefer using coconut flour over almond meal? Make my Coconut Flour Banana Bread!
The next time your sweet tooth is talking to you, whip up a batch of this grain-free banana bread!
If you love baking quick bread recipes, here are some of my favorite recipes for banana bread.
More Delicious Gluten-Free Banana Bread Recipes:
Paleo Banana Bread
Fluffy, moist and delicious Paleo Banana Bread made with almond flour and sweetened mostly with banana.
Instructions
Preheat the oven to 350 degrees F and line a 9" x 5" loaf pan with parchment paper.

Pour banana bread batter into the prepared loaf pan and use a spoon or spatula to spread the batter into an even layer.

Bake for 50 to 55 minutes on the center rack of the preheated oven, until the edges of the bread are golden-brown. Turn off the oven and allow bread to sit in the still-warm oven another 10 minutes.

Allow bread to cool for 30 minutes before releasing it from the loaf pan and cutting into slices.

Cut thick slices of bread and enjoy!
Notes
*You can also use hazelnut meal
**You can also use arrowroot flour or replace the tapioca flour with 1/3 cup additional almond flour.
Nutrition
Serving:
1
of 10
|
Calories:
192
kcal
|
Carbohydrates:
18
g
|
Protein:
6
g
|
Fat:
12
g
|
Cholesterol:
38
mg
|
Sugar:
9
g
This post contains affiliate links, which means I make a small commission off items you purchase at no additional cost to you.