This paleo banana bread recipe is made quickly in your blender and only requires a handful of straight-forward ingredients. Made with almond flour and pure maple syrup, this comforting banana bread is grain-free and refined sugar-free.
Banana bread will forever have my heartstrings tied into a love lump. It is a timeless classic. If I had to choose between a quadruple chocolate molten lava brownie cake with espresso butter cream and brown butter caramel filling with sprinkles and twinkies all up in it orrrrrrrrrr a loaf of banana bread, I'd go for the banana bread hands down.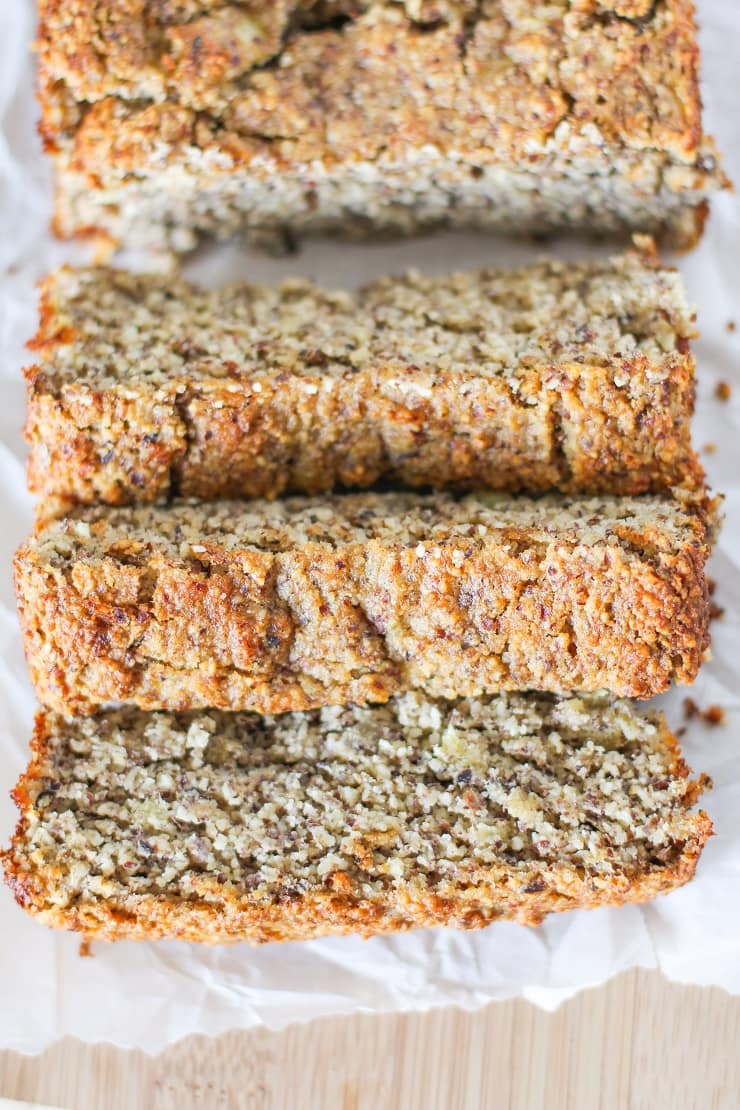 I made a gluten free banana bread a couple of years back and decided to give the recipe a bit of a facelift.  I omitted the brown rice flour to make the recipe to make this a grain-free paleo-friendly bread. I also omitted the oil, because it dawned on me that it wasn't all that necessary, considering the three (count 'em: THREE) bananas give the bread plenty o' moisture. Muh muh muh moist.
Sorry.
Check out these naners:
Normally when bananas get to a certain level of freckled brown-edness, I peel them, stick them in a zip lock, and freeze them for smoothies. This time around, I let the naners hang on my counter extra long so that I could make the sweetest, moistest, most paleo-riffic bread in town. The key to a stellar banana bread is using bananas that are so brown they're practically fermenting. Overly-ripe bananas are real moist-makers.
Moist. The word everyone loves to hate. You know I say about this conundrum? Why loath the word whose meaning yields foodgasms of epic proportions? If moisture buys me gasms, I say bring on the moisture.
And since we're on the topic: pamphlet. Pamphlet is another word everyone loves to hate. I've been looking for an occasion to use both words in a sentence. For instance, "daaaaang, the rain made my paaaaaaamphlet mooooooist. What am I going to do with this moist pamphlet? Moist pamphlets are a real Debbie downer. I could really use a pamphlet that's not so moist." Words of that nature.
Are we still talking about moist pamphlets?
This here caveman loaf…
It's pretty filling since it's basically made out of nuts and bananas. Because it's gluten free, the bread doesn't hold together quite as well as a regular loaf of glutinous banana bread. But it sure tastes nice and moist, so there's that. Just be sure to allow the bread to cool for at least 30 minutes when it's out of the oven before cutting into it in order to avoid any breakage.
This recipe is made super quickly and easily using a blender. You can also fashion up the bread batter in a mixing bowl, but I find just tossing the ingredients in a blender and blending until smooth is the simplest way with minimal cleanup.
Break out a good pamphlet and have a nice read while enjoying a thick comforting slice of this paleo banana bread.
Recipe Tips/Troubleshooting:
Periodically, I'll get an email or comment saying the banana bread turned out uncooked in the center. This can happen for a number of reasons, so here are some tips to ensure your loaf turns out nice and fluffy.
1.) Make sure your bananas are measured out to be 1 1/2 cups when mashed.
2.) Use finely ground almond flour – Bob's Red Mill is my favorite.
3.) Definitely line the loaf pan with parchment paper. I find my quick breads (regardless of the recipe) fall flat when I don't line my loaf pan with parchment.
4.) Bake until the center of the bread rises up and feels firm when gently poked. Depending on the elevation at which you bake, you may need to adjust the bake time.
5.) Don't over-mix in your blender. If you feel more comfortable using mixing bowls for preparing batter, simply beat the wet ingredients (bananas, eggs, pure maple syrup, vanilla) together in a mixing bowl, then add in the remaining dry ingredients and mix until combined.
Tools I Used to Prepare this Recipe:


Paleo Banana Bread
Fluffy, moist and delicious paleo banana bread made with almond flour and sweetened mostly with banana.
Print
Instructions
Preheat the oven to 350 degrees F and line a 9" x 5" loaf pan with parchment paper.

Add all of the ingredients for the banana bread to a blender. Blend until completely smooth, but be very careful not to over-blend. (Note: If you prefer using a mixing bowl over a blender, simply mash the bananas in a mixing bowl, whisk in the eggs and pure maple syrup, then proceed to mix in the remaining ingredients.)

Pour banana bread batter into the prepared loaf pan and use a spoon or spatula to spread the batter into an even layer.

Bake for 50 to 55 minutes on the center rack of the preheated oven, until the edges of the bread are golden-brown. Turn off the oven and allow bread to sit in the still-warm oven another 10 minutes.

Allow bread to cool for 30 minutes before releasing it from the loaf pan and cutting into slices.

Cut thick slices of bread and enjoy!
Recipe Notes
*You can also use hazelnut meal
Nutrition Facts
Paleo Banana Bread
Amount Per Serving (1 of 10)
Calories 192
Calories from Fat 108
% Daily Value*
Fat 12g18%
Cholesterol 38mg13%
Carbohydrates 18g6%
Protein 6g12%
* Percent Daily Values are based on a 2000 calorie diet.