Moist and dense chocolate chip paleo vegan banana bread is a healthful breakfast or snack. This vegan banana bread tastes remarkably buttery, even though it is entirely dairy-free!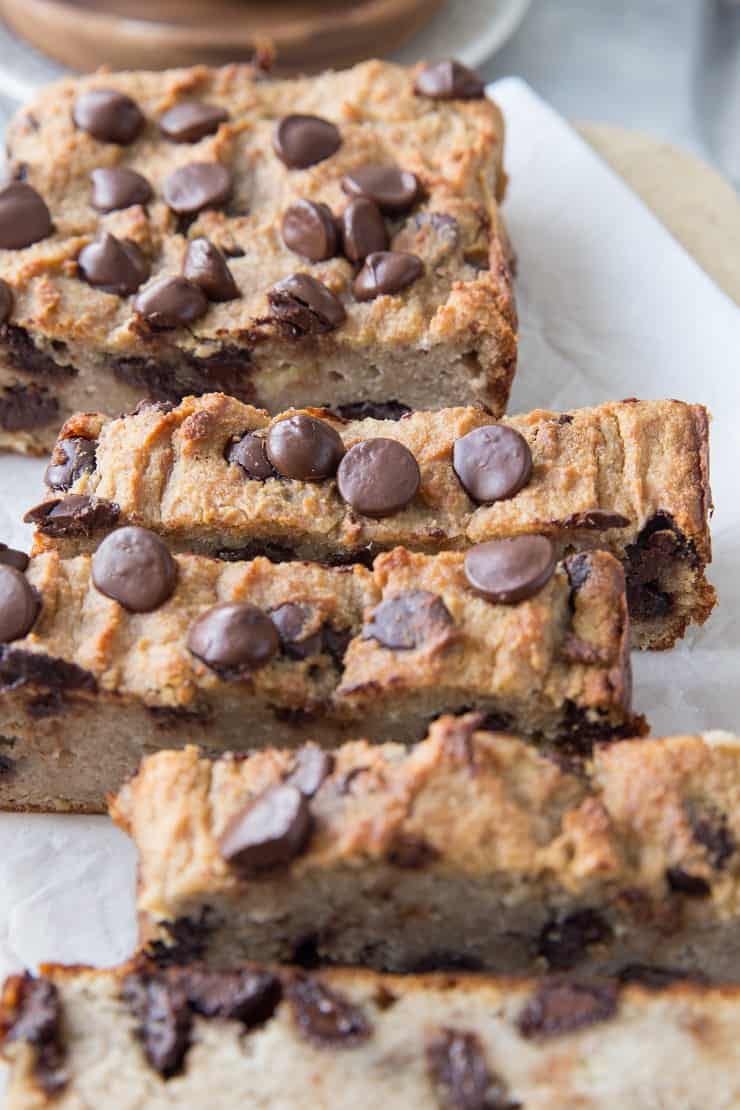 I can't even tell you how many times I've made this Chocolate Chip Vegan Banana Bread in the last two months!
The first two times were to test the recipe, and the remaining several times? Pure gluttony.
One of the most popular recipes on my site is the Paleo Banana Bread I posted back in 2014. Talk about a recipe I've made eleventy billion times! In so many renditions, flavors, and colors. If you want to take a gander at all the versions, simply deep dive into my Paleo Banana Bread archives.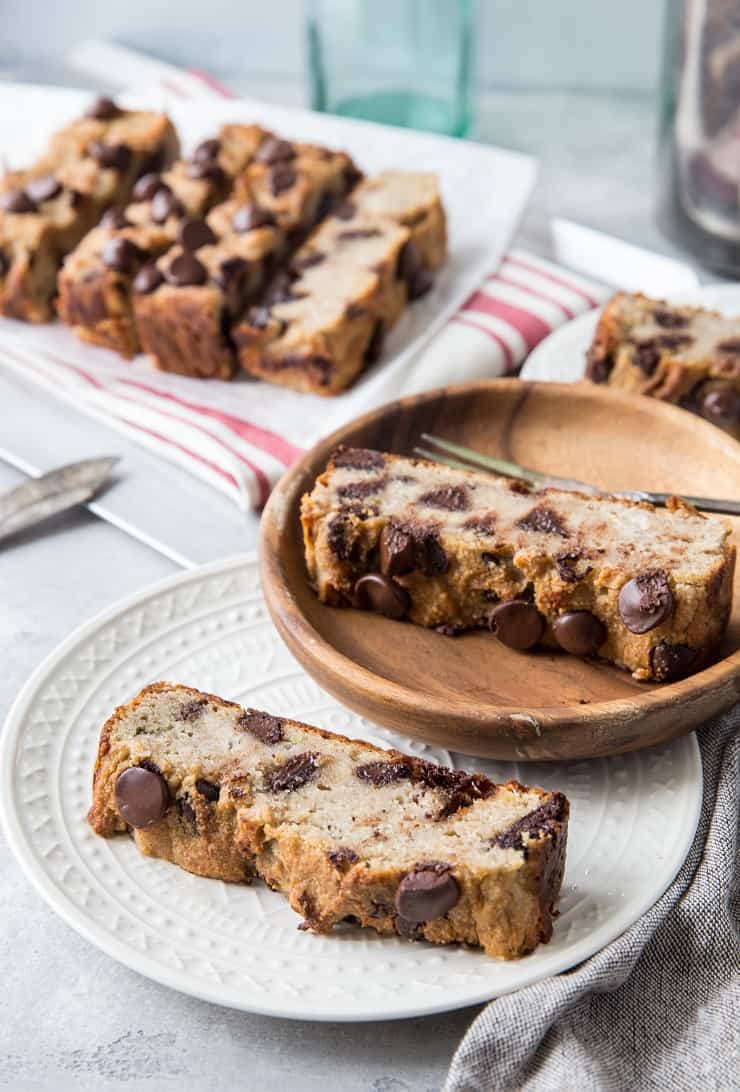 While I have made so many variations upon an egg-included version, it was only within the last couple of months that I began making an egg-free version. I know many of my followers (that's you!) avoid eggs due to an allergy, sensitivity, or for ethical reasons. Suffice it to say, it was high time I make a paleo vegan banana bread recipe for those who don't consume eggs.
You guys, you would never guess this banana bread is dairy-free, egg-free, oil-free, grain-free, AND refined sugar-free! It's crazy delicious, yet nutritious!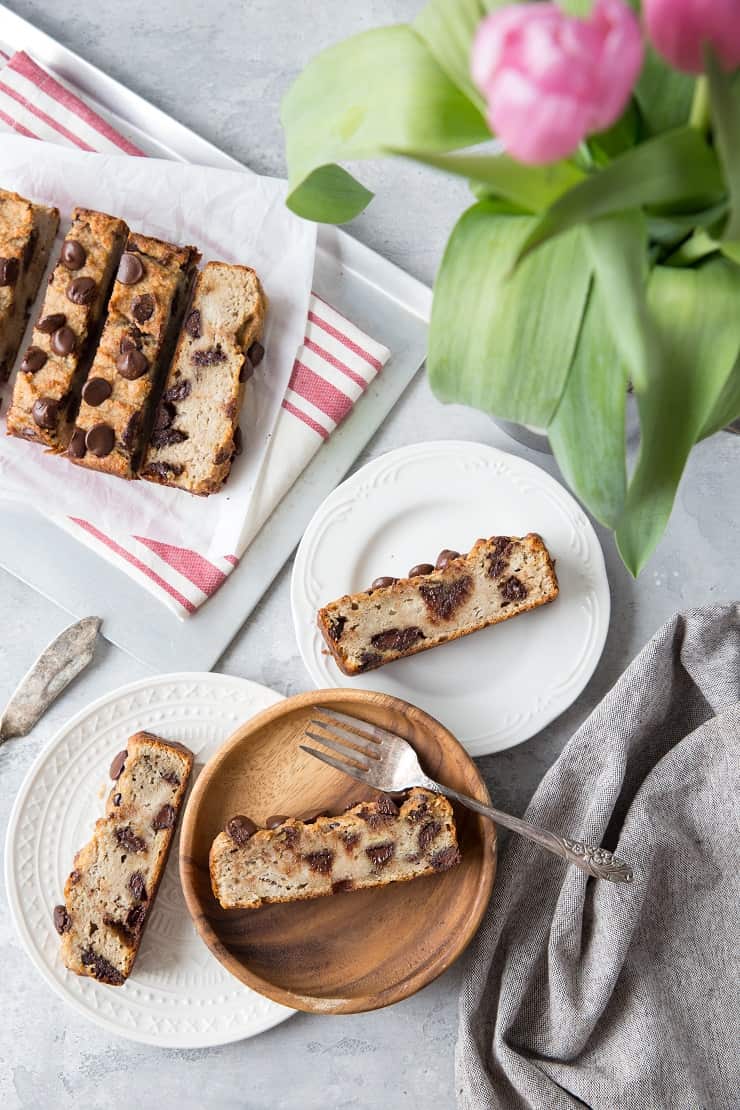 The Details:
What is funny about this vegan banana bread, is I almost like it more than the regular version. It turns out with this magnificent buttery flavor in spite of the fact that there's clearly no butter, dairy, or even oil.
The loaf itself is pretty rockin from a nutrition standpoint. Sweetened almost entirely with bananas (plus a couple tablespoons of pure maple syrup), it's an excellent option for those who avoid refined sugar.
Not to mention, it packs a bit of a protein punch, which is always nice!
I've been studding my banana bread with dark chocolate chips, but you can absolutely omit them.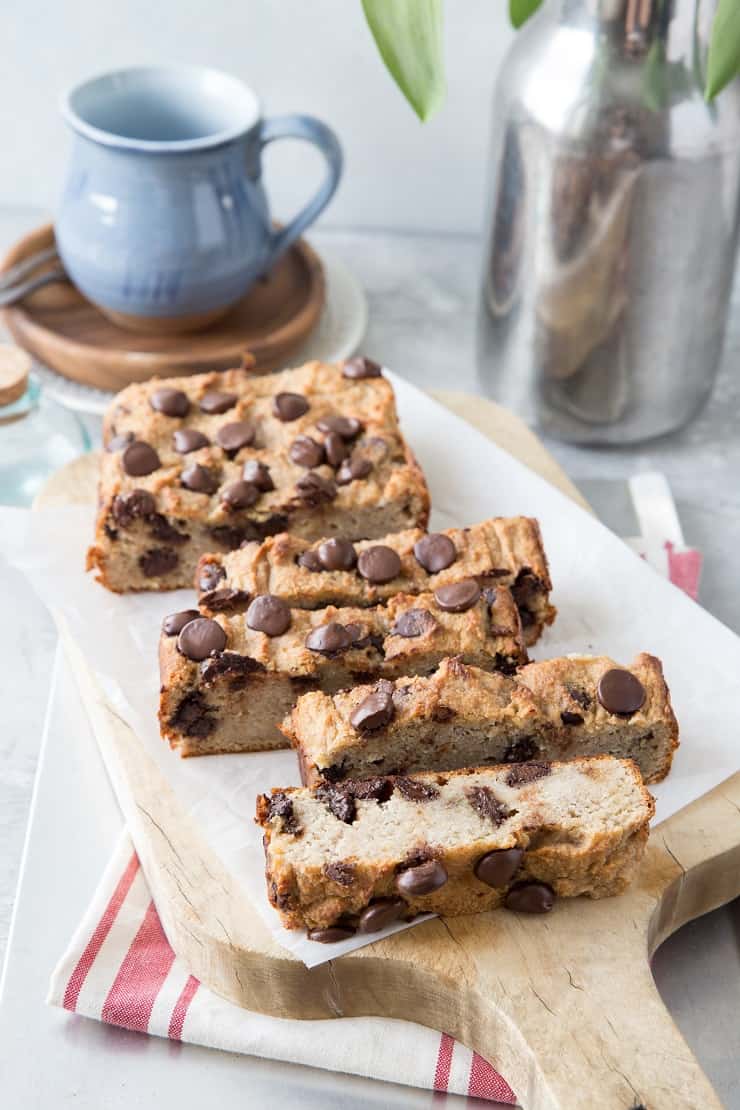 How to Make Vegan Banana Bread
Replace the eggs with "flax eggs." If you're new to the concept of flax eggs, they are simply made using ground flax seed and water. The mixture thickens to the consistency of actual eggs and helps bind baked goods. Incorporate flax eggs just as you would a regular chicken egg.
I will mention, flax eggs do not fluff up quite the way a regular egg does, so I find egg-free recipes tend to be denser. In fact, this banana bread is very dense, which is a characteristic I thoroughly enjoy.
Combine all ingredients in a mixing bowl, pour the batter into a parchment lined loaf pan, bake, and wait!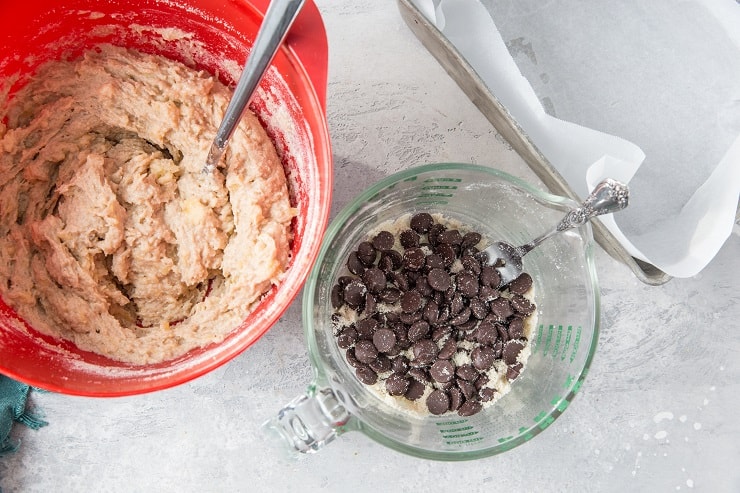 Once the loaf has cooled for 15 minutes or so, slice into it and enjoy all the heavenly pleasures of a perfectly moist and fluffy loaf.
Feel free to add chopped walnuts, pecans, and/or dried cranberries!
Enjoy this joyous loaf of buttery butterless bliss!
My cookbook,
Paleo Power Bowls
, is now available! CLICK HERE to check it out. Thank you for your all your support!
If you make this Paleo Vegan Banana Bread, please feel free to share a photo and tag @The.Roasted.Root on Instagram!
Paleo Vegan Banana Bread
Grain-free, egg-free, dairy-free banana bread makes for an amazing breakfast or snack!
Instructions
Whisk together the ground flax seed and water in a small bowl until well combined. Allow mixture to sit 15 minutes, stirring occasionally, until mixture is thick and gooey, like the consistency of beaten eggs.

Preheat the oven to 350 degrees F and line a 9" x 5" loaf pan with parchment paper.

Whisk the flax eggs, mashed banana, vanilla extract, and pure maple syrup together in a mixing bowl. In a separate bowl, stir together the remaining dry ingredients. Pour the dry ingredients into the bowl with the wet ingredients and stir until combined.

Transfer the banana bread batter to the lined loaf pan and place on the center rack of the preheated oven. Bake 50 to 60 minutes, or until loaf turns golden brown and feels firm when gently poked in the center. If the loaf begins to look too brown on the top at any point, you can cover it with aluminum foil to protect the top from burning. Turn off the oven and allow loaf to sit another 8 minutes in the warm oven.

Remove loaf from the oven and allow it to cool at least 10 minutes before slicing and serving.
Notes
Baked goods are considered fully cooked once they have reached an internal temperature of 190 to 200 degrees Fahrenheit. To verify the internal temperature, insert a digital thermometer into the center of the loaf and wait until the numbers stop moving to get an accurate read.
Because this recipe doesn't contain eggs, you don't need to worry as much about it being fully cooked; however, for the best texture you still want the bread to bake to around 200 degrees.
Nutrition
Serving:
1
of 10
|
Calories:
261
kcal
|
Carbohydrates:
23
g
|
Protein:
6
g
|
Fat:
17
g
|
Fiber:
2
g
|
Sugar:
14
g