Coconut flour banana bread made grain-free, naturally sweetened, dairy-free, and paleo-friendly. But it won't do your taxes for you, I've already asked.
Ready for another bangarang loaf in my series, Moist Breads? Of course you are. Fridays are for moist bread-ing, let's get this loaf in your face!
Anyone else ever feel the urge to shove a hot buttered loaf of bread in their mouth?
Glad to hear I'm in good company.
Banana bread. the bread that heals, the bread that soothes, the bread that everyone loves. Banana bread comforts a troubled heart, rainy day, or wicked red wine hangover. It's what you bake with your momma, because mommas know: banana bread rules. It's just the all around good guy loaf, the loaf that shall do no harm, the…I think you get my point.
#MeltedButterShot:
After posting my Paleo Banana Bread recipe a while back, several people asked me if they could replace the almond flour in the recipe with coconut flour. I didn't realize coconut flour banana bread was in such high demand; however, it makes sense, as I know plenty of gluten-free eaters who are also allergic to almonds. I figured I'd shine a light on the topic, because I'll take any excuse I can get to bake a naner loaf.
The answer to the substitution question is yes…but no. But yes. One can absolutely bake banana bread using coconut flour, but because coconut flour absorbs like a million times its volume in liquid, it it cannot be used as a 1:1 replacement for other gluten-free flours. You'll notice there's only ½ cup of coconut flour in this whole recipe, but lots of eggs and bananas. In essence, a coconut flour banana bread is a completely different recipe from an almond flour one. Which is why we're here!
That, and the bananas.
There are a screaming FOUR ripe bananas in this loaf. The only thing better than 4-banana banana bread is 6-banana banana bread, and the day that comes to fruition will be guh-lorious!
Just look at all that banana!: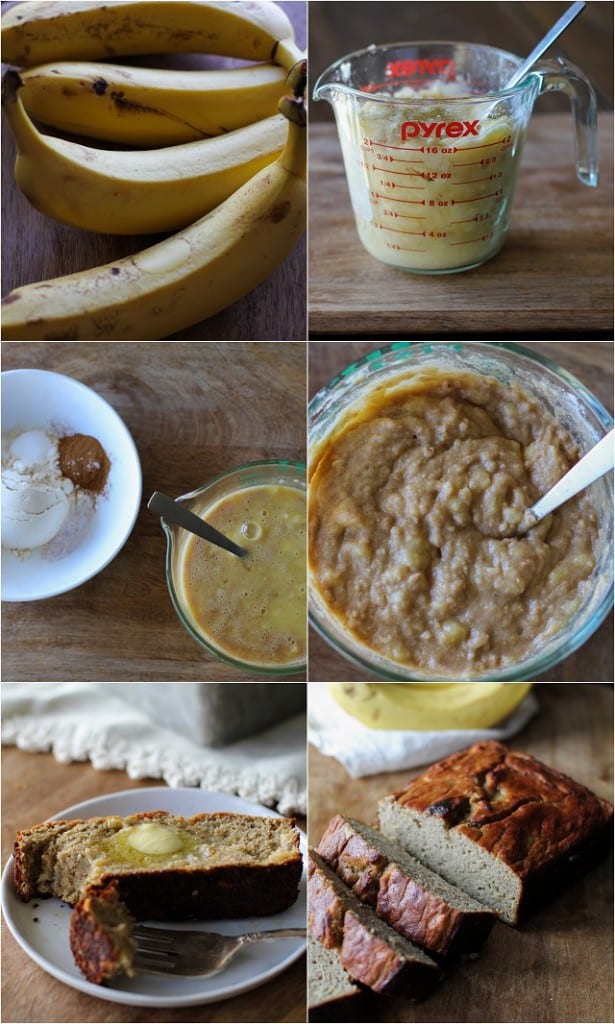 Not to get all Keeping Up With the Loaveses on you, BUT should I have put chocolate chips in this loaf? What are your favorite banana bread add-ins? Is my loaf inferior to the other fully-loaded, boozed-up, tricked-out, someone-call-for-reinforcements loaves?
Is it begging to be bedazzled with blueberries, dark chocolate chunks, peanut butter, and/or all the nuts, seeds? Should I have pimped this ride with toasted coconut, browned butter, salted caramel, streusel topping, and/or fruity pebbles? Or will Plain Jane Coconut Flour Loaf pass the rad detector test?
My loaf needs words of affirmation.
This particular banana bread varietal is ever-so-healthy for you. With zero refined sugar and all the fiber, you're looking at a bloat-free loaf that sits pretty in your system without shooting your blood sugar through the roof. Just so's you know, this bread does not come out super sweet (per usual with my bake-ables), so I'd recommend adding some coconut sugar (or crystallized natural sugar of choice) if you want to boost the sweetness. The texture is moist and spongy. Best served with a slab of butter and a drizzle of honey, because duh.
I have made this banana bread both using a blender and using a mixing bowl – either version works famously, so it's up to you how you like to prepare your banana bread batter!
Recipe Adaptations:
Add 1 cup of chocolate chips and/or 1 cup chopped walnuts or pecans
For a sweeter banana bread, add 2 to 4 additional tablespoons of coconut sugar
Use arrowroot flour in place of tapioca flour
More Quick Bread Recipes:
My cookbook,
Paleo Power Bowls
, is now available! CLICK HERE to check it out. Thank you for your all your support!
If you make this Coconut Flour Banana Bread, please feel free to share a photo and tag @TheRoastedRoot on Instagram!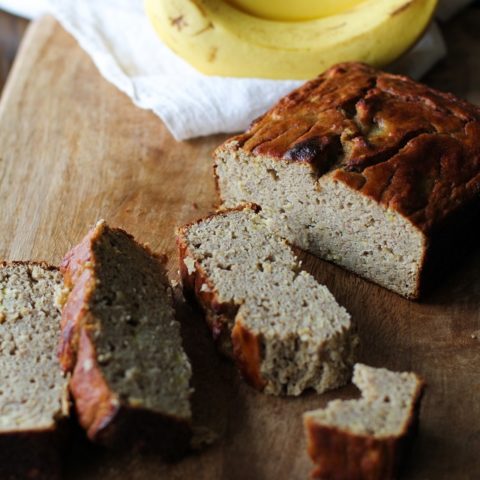 Coconut Flour Banana Bread (Paleo)
Total Time:
1 hour
5 minutes
Moist, fluffy paleo-friendly banana bread made with coconut flour and sweetened with a touch of pure maple syrup makes for an amazing breakfast!
Ingredients
3 large eggs
4 ripe bananas, mashed (about 2 cups)
½ teaspoon baking soda
Instructions
Preheat the oven to 375 degrees F. Lightly oil an 9" x 5" loaf pan and line with parchment paper.
Add all ingredients to a blender and blend until smooth (note: you can use a mixing bowl and hand held mixer to prepare the recipe if you don't own a blender). Transfer batter to the prepared loaf pan and smooth into an even layer.
Bake on the center rack of the preheated oven 45 to 55 minutes, or until bread is golden brown and feels firm when poked in the center. Turn off the oven and allow bread to sit in the still-hot oven 5 to 10 minutes longer.
Remove bread from oven and allow it to cool at least 30 minutes before turning it out onto a cutting board and cutting into slices. Serve with grass-fed butter and a drizzle of honey or pure maple syrup.
Nutrition Information
Yield

10
Serving Size

1 of 10
Amount Per Serving
Calories

109
Total Fat

3g
Unsaturated Fat

0g
Carbohydrates

18g
Fiber

3g
Sugar

10g
Protein

4g