Paleo grain-free banana walnut muffins made with almond flour and pure maple syrup. These naturally sweetened treats come with a nutty streusel topping and make for a healthy breakfast or snack!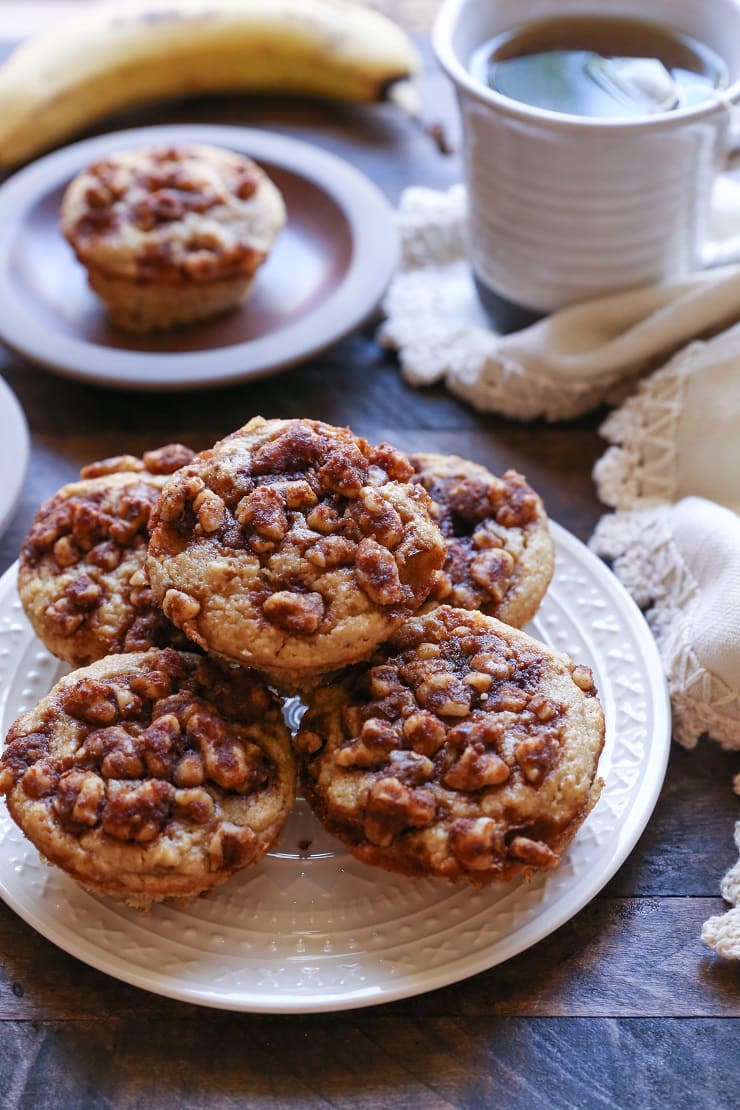 If there's one thing I've learned in my (almost) six years of blogging, it's that banana bread recipes are serious business. They're practically an institution.
And for a good reason…
Moisture
Natural sweetness
Comfort
Familiarity
Warmth
…like a really, really, ridiculously long embrace from a chiseled hunk of the most glorious human specimen.
…if I may be so frank as to draw that comparison
I feel like the most important thing I could possibly say to you right now is you need to make these muffins.
..Not that I'm trying to be pushy or overbearing, just that I know us well enough by now to say with confidence that these muffins will strengthen trust, build bonds, comfort all the chakras, and lay the foundation for future wise decisions. BIG news, bears.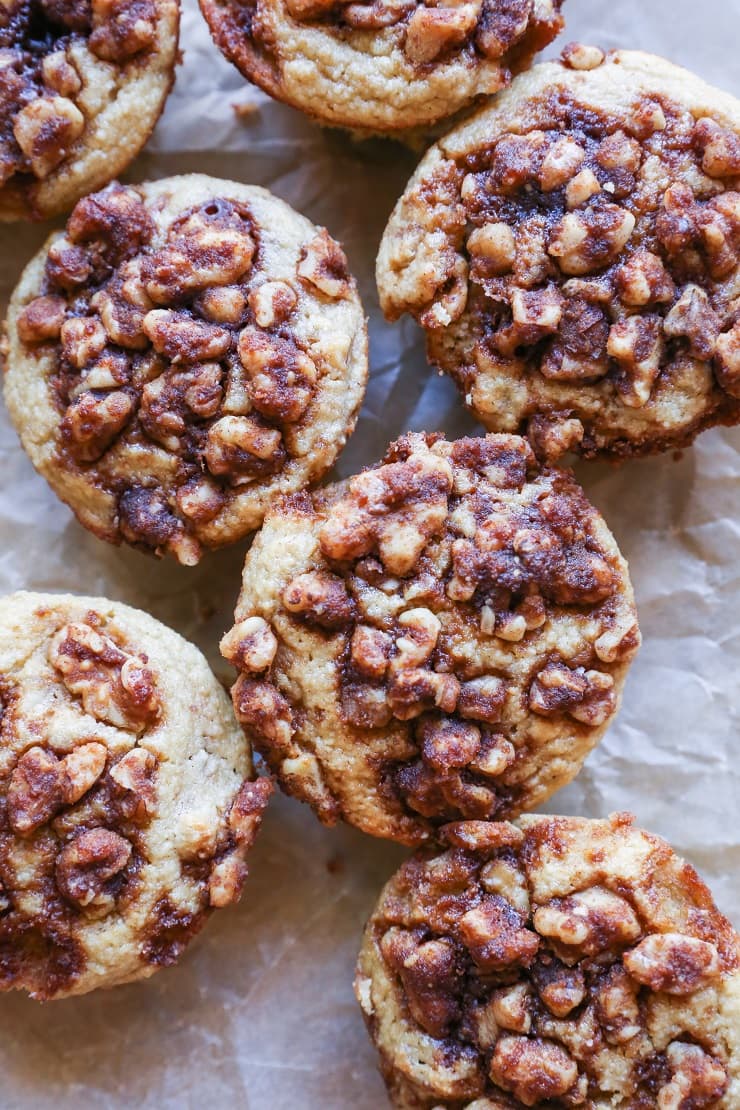 In all seriousness, I actually made this recipe because I had a few people inquiring about making my age-old Gluten-Free Banana Walnut Muffins grain-free.
I've learned over the years that when it comes to you and banana bread, there's no fooling around. So rather than trying to troubleshoot that specific recipe to adapt a grain-free version, I started from scratch. And what I've landed on here is MEGA.
..Don't forget the nutty topping, though. It counts.
As per ush, The muffin batter is whipped up in your blender. Zippity zap zoom DONE! You stir together your nutty topping mixture in a bowl, spoon it over the muff batter, bake, and shizzity shaza rama lama dingdong UGH! Best muffins ever.
Now that I've sold you on the concept, I will say, I always recommend making muffins in bulk. I mean, why not? They freeze super well, they're perfect for snack, brunch, throwing at birds, you name it, there's a purpose. So feel free to go big on this recipe.
Have a Happy Memorial Day Weekend!
My cookbook,
Paleo Power Bowls
, is now available! CLICK HERE to check it out. Thank you for your support!
If you make this recipe, please feel free to share a photo and tag @TheRoastedRoot on Instagram!
Grain Free Banana Walnut Muffins
Grain Free Banana Walnut Muffins made with almond flour and sweetened with pure maple syrup
Instructions
Preheat the oven to 350 degrees F and lightly oil or spray a muffin pan (or line with muffin liners).

Add all of the ingredients for the muffins (except for the walnuts) to a high-powered blender and blend until completely smooth. Note: the batter will be thick - this is normal. Stir in 1/2 cup of raw walnuts. Pour the batter into the prepared muffin tray, filling 9 of the holes 3/4 of the way up.

Stir together the ingredients for the walnut topping. Spoon the topping over the muffin batter.

Bake on the center rack of the preheated oven for 20 to 25 minutes, or until the edges begin to turn golden-brown. Turn off the oven and leave muffins in the warm oven for 5 minutes.

Remove muffins from oven and allow them to cool at least 30 minutes before releasing them from the muffin tray. Note: if you don't use muffin liners, run a knife between each muffin and the muffin tray in order to pop them out. Serve and enjoy!
Nutrition