Grain-free, refined sugar-free, oil-free, dairy-free vegan banana muffins with chocolate chips.
This paleo vegan muffin recipe is so easy to prepare and an excellent choice for sharing with loved ones for breakfast, brunch, or snack.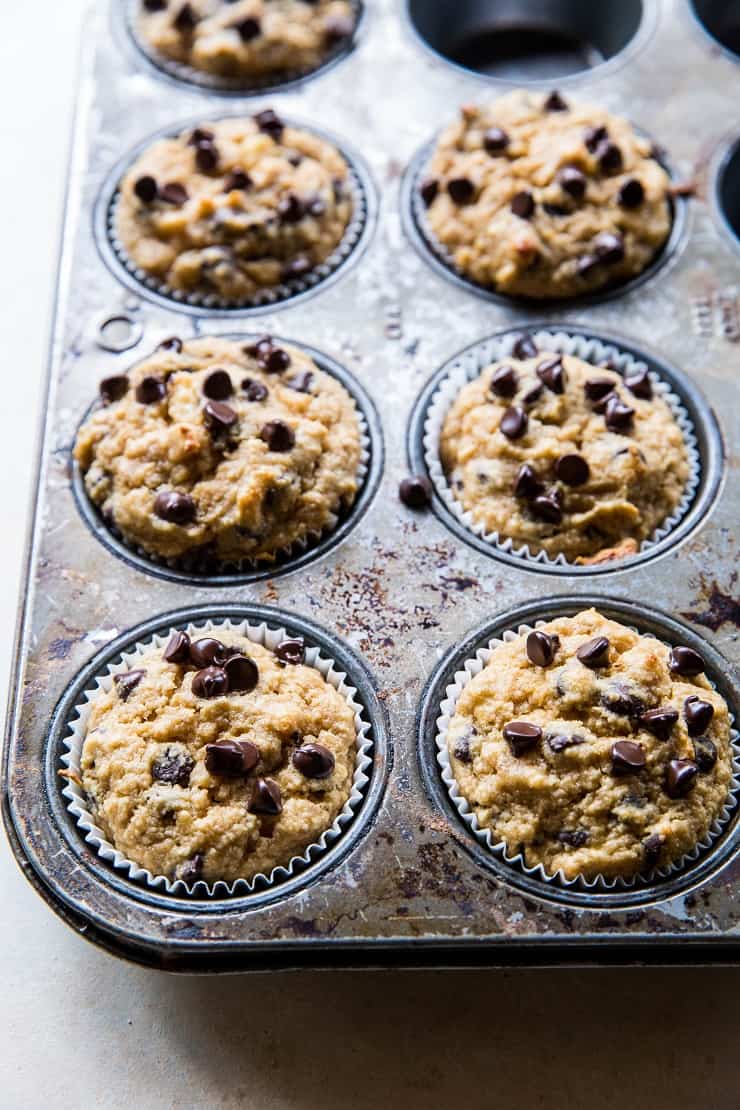 Six years ago, I started my own personal tradition of posting a muffin recipe on Mother's Day with a note to my mom.
You see, my mom and I share a common love for baking and both of us are muffin-obsessed. Some of my fondest childhood memories are baking with my mom.
To honor my tradition, I baked my mom these Chocolate Chip Paleo Vegan Banana Muffins and am now posting the recipe with my little love letter to her. Here we go!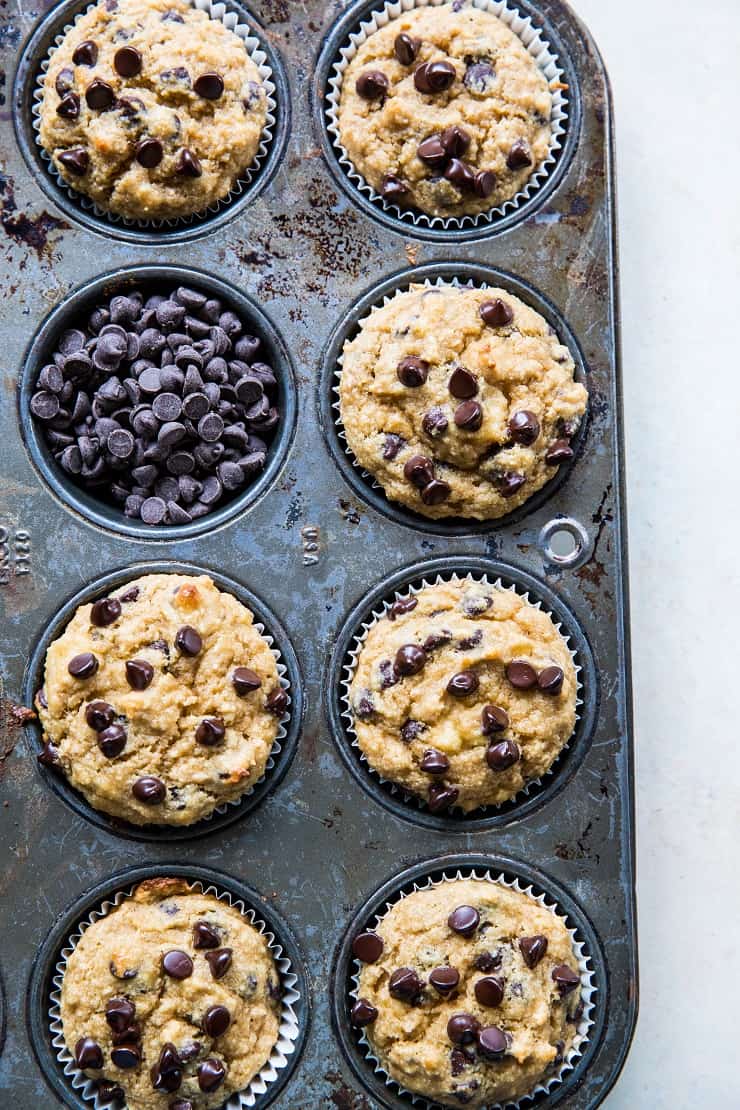 Dear Mom,
A very happy Mother's Day to you!
Over the last year, I have needed you more than I ever have before. And you were there for me above and beyond what I could ever expect from any human. You've shared wisdom, you've listened, you've received my tears and snot like a welcoming blanket, you've offered food and company and conversation.
You've given me everything I need: someone to rely on, someone to understand, someone to carry some pain. When I needed a safe space to upchuck my deepest emotions, you've created that space. When I got to points that I sufficiently upchucked my guts, you directed me away from my own self-pity through effective distraction tactics to give me the opportunity to grow and heal.
You are my goldilocks. My just the right amount of everything. You don't let me get away with my own shit, but you recognize when my shit is valid and you validate it.
With each passing year, I feel more and more blessed to have a solid connection with you. Our bond is sacred and as gooey as it sounds, I believe we're protected by angels.
As I write this, I'm sitting on your couch and watching a swarm of pigeons eat bird food off of your deck. Which reminds me: Your bird feeding habits need to be dialed back a little, ma. It's rad that some of the birds that visit your deck (a.k.a. Wildlife feeding station) are cool and colorful and have sweet ass names, but I draw the line at 14 pigeons. That's too many pigeons. They aren't pretty, and they make funny sounds.
The end.
Just kidding.
I'm so grateful for you and your curiosity. You gave me your sense of adventure, your wandering soul, your empathy, your strong set of values, and your eye for beauty. Because of you, my life is richer than the moistest, sultriest, sexiest chocolate cake. I can't thank you enough for what you've given and continue to give.
And with that, I give you muffins. Actually, I already gave you these muffins, but here is the recipe, momma.
I love you,
Julia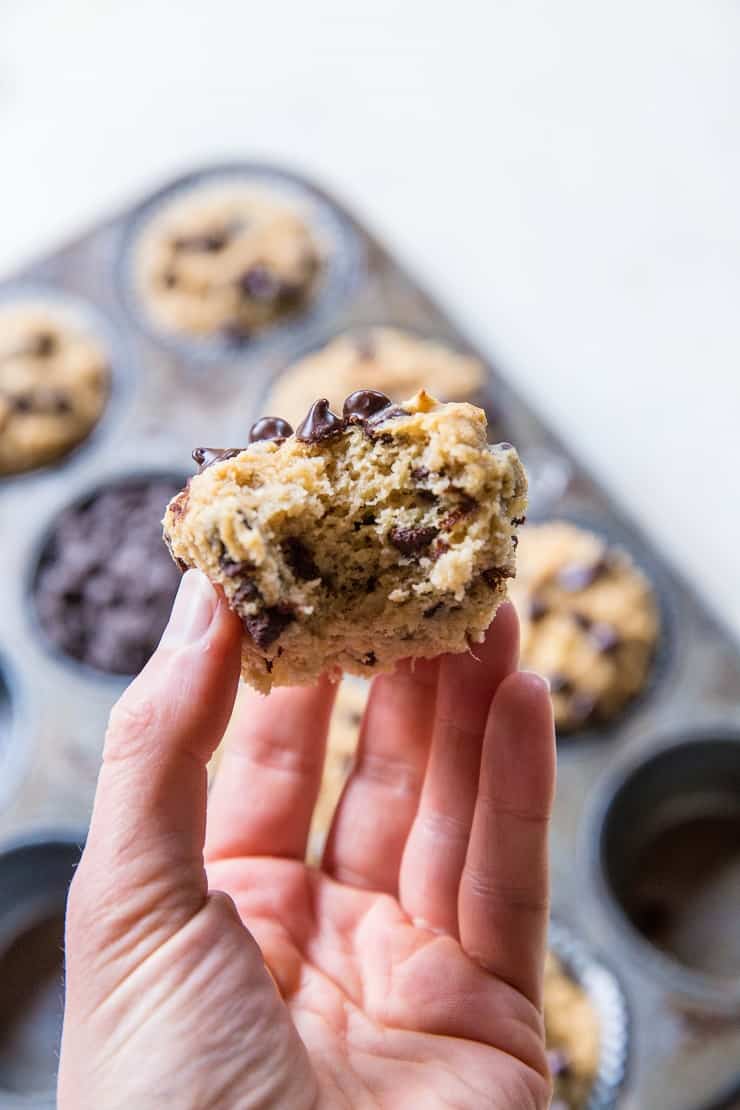 How to Make Vegan Banana Muffins:
Start by preparing the flax "eggs." Simply stir the ground flax seed and water together in a small bowl. Allow this mixture to sit until it reaches the consistency of beaten eggs (about 10 to 15 minutes). I like to give the mixture a stir every few minutes to help the process along.
Mash the bananas in a mixing bowl, then stir in the flax eggs and vanilla extract.
In a separate bowl, stir all the remaining dry ingredients together. Transfer the dry mixture to the mixing bowl with the wet and give everything a great big stir until combined.
Bake at 350 for 28 to 35 minutes. Allow the muffins to sit at least 30 minutes at room temp. This step is important, as the muffins will stick to the muffin papers if you try to eat them right away.
Can I Make This Recipe With Eggs?:
If you aren't vegan, you can simply omit the ground flax seed and water and replace them with two chicken eggs. Simply beat the eggs into the mashed banana mixture until combined and proceed with the rest of the recipe.
Recipe Adaptations:
Use hazelnut flour in place of almond flour
If you have a nut allergy, use this recipe for Coconut Flour Banana Bread – to make it vegan, replace the eggs with flax eggs.
Replace the flax "eggs" with two regular chicken eggs if you aren't vegan.
I like using Lily's Sugar-Free Dark Chocolate Chips to keep the recipe refined sugar-free and vegan, but you can use any chocolate chip or chunk you like.
To make muffins sweeter, add 2 Tbsp pure maple syrup.
To turn these muffins into a loaf, follow this recipe for Chocolate Chip Paleo Vegan Banana Bread.
More Muffin Recipes For Moms On Mother's Day: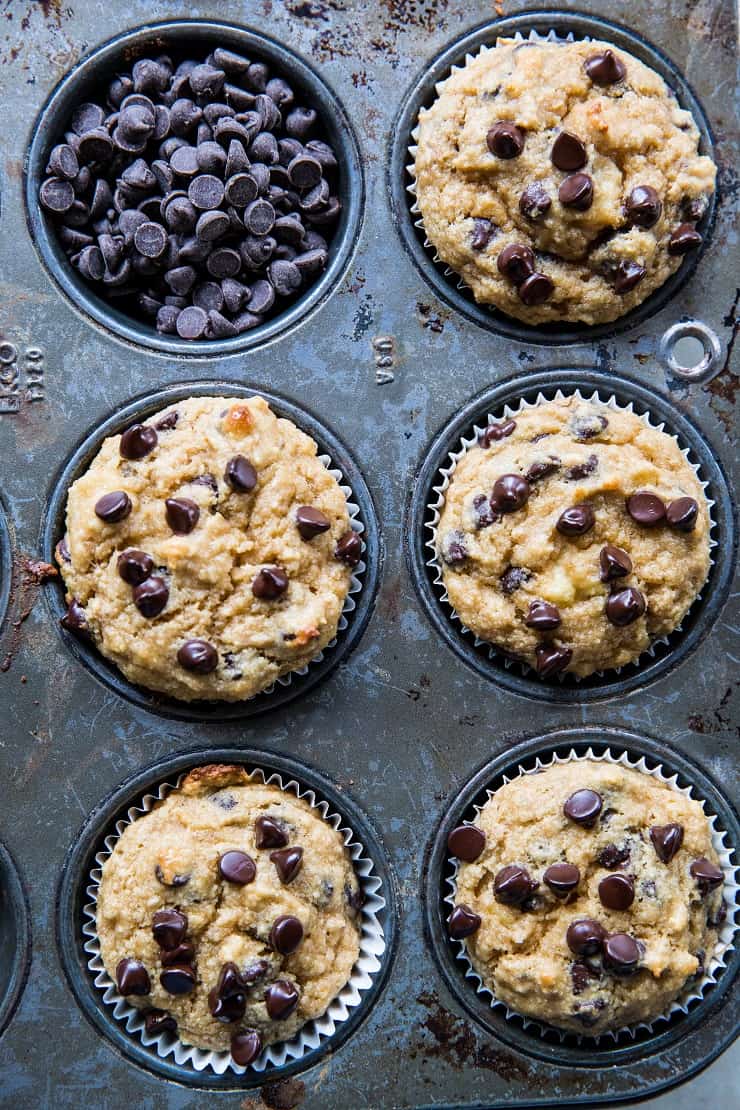 My cookbook,
Paleo Power Bowls
, is now available! CLICK HERE to check it out. Thank you for your all your support!
If you make these Vegan Banana Muffins, please feel free to share a photo and tag @The.Roasted.Root on Instagram!
Enjoy with your mommas, momma figures and sisters on Mother's Day or any day beyond!
Chocolate Chip Paleo Vegan Banana Muffins
Grain-free chocolate chip paleo vegan banana muffins are a dairy-free, refined sugar-free snack or breakfast.
Instructions
Preheat the oven to 350 degrees F and line a muffin pan with muffin papers.

In a small bowl, stir together the ground flax seed and water. Allow mixture to sit at least 10 minutes, until it reaches the consistency of beaten eggs. Stir mixture occasionally as it sits.

In a mixing bowl, mash the bananas and whisk in the flax eggs and pure vanilla extract. Stir until well combined (it's okay if the banana stays chunky).

In a separate bowl, stir together the remaining ingredients. Pour the dry ingredients into the bowl with the wet and stir well until combined.

Fill the muffin holes with the banana muffin batter. Bake on the center rack of the preheated oven for 28 to 35 minutes, until muffins are cooked through and lightly golden-brown around the edges.

Allow muffins to sit at least 30 minutes before peeling off the muffin papers and eating.
Notes
*Replace the flax seed and water with two chicken eggs if you aren't vegan
Nutrition
Serving:
1
of 9
|
Calories:
278
kcal
|
Carbohydrates:
31
g
|
Protein:
7
g
|
Fat:
20
g
|
Fiber:
12
g
|
Sugar:
7
g