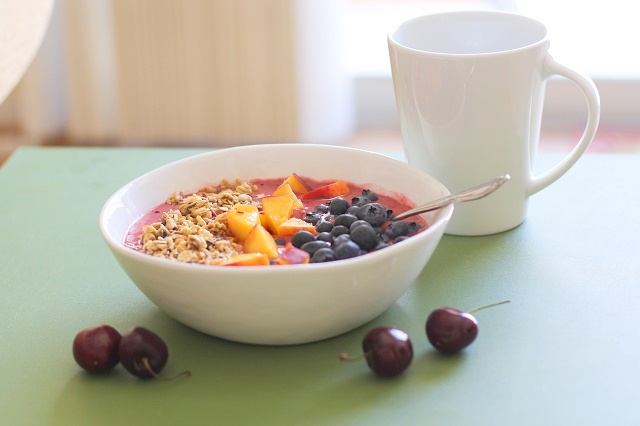 Oy! Greetngs from the Pacific Northwest! I spent the weekend in Washington with two of my best girlies, getting in a hearty variety pack of outdoor activity, art, culture, alcohol, and food. One of my girl friends and I flew in to Seattle on Friday to visit our friend who recently moved to Tacoma. We hiked Mt. Ellinor, a.k.a. the steepest hike I've ever done – the views were breathtaking and there were legit mountain goats roaming around to boot. Sunday, we spent the day in the city and to Chihuly Garden and Glass (<- seriously amazing!), the Space Needle, and Pike Place Market. I fly back home this evening, and I must say, I'll be missing the color green, the fresh seafood, and the tasty local beer.
SO.
This whole cherry thing. Couldn't you just go berzerk?
There's something so satisfying about a sweet, tart, juicy cherry that you must take your time to slowly enjoy, because: stem and pit. I could eat cherries on their own all day long, but love using them for all intents and purposes. That Cherry Walnut Smoothie I showed you last year was my go-to snack for all of cherry season, and I'm all about picking up fresh ingredients from the farmer's market and whipping out that Cherry and Pea Shoot Kale Salad as well. Plus, I could eat this Indian-Spiced Broiled Salmon with Citrus Tart Cherry Chutney every.single.day. You know that Paleo Raspberry Crumble I posted just a few months ago? I've made it twice with cherries.
Breakfast, lunch, dinner, dessert?
Cherries, cherries, cherries.
But first: breakfast.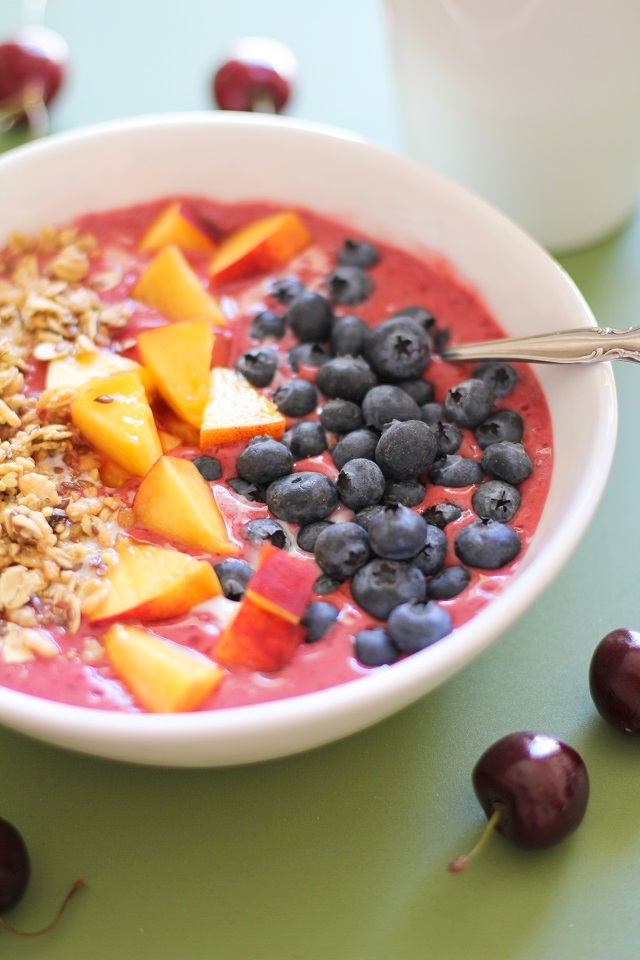 It's the return of the smoothie bowl, ee'erybody get PUMPED!
I've always loved suuuuuper thick smoothies. For the longest time, I've loved blending up frozen berries and banana with a small amount of almond milk or apple juice so that the smoothie is so thick it stays in the glass when held upside-down, just no joke at all.
Back when I was a smoothie newbie, it took me a few smoothie-shots to the face to realize thick smoothies aren't super drinkable out of a glass. I then switched to the spoon method for a cleaner approach. So when smoothie bowls came into fashion, it didn't take long for me to jump on the bandwagon. What's not to love about them? You whip out your favorite thick, fresh smoothie, pour it in a bowl for some surface area action, and add extra fruit and granola on top for plenty of texture and flavor. Such a brilliant way to change up breakfast.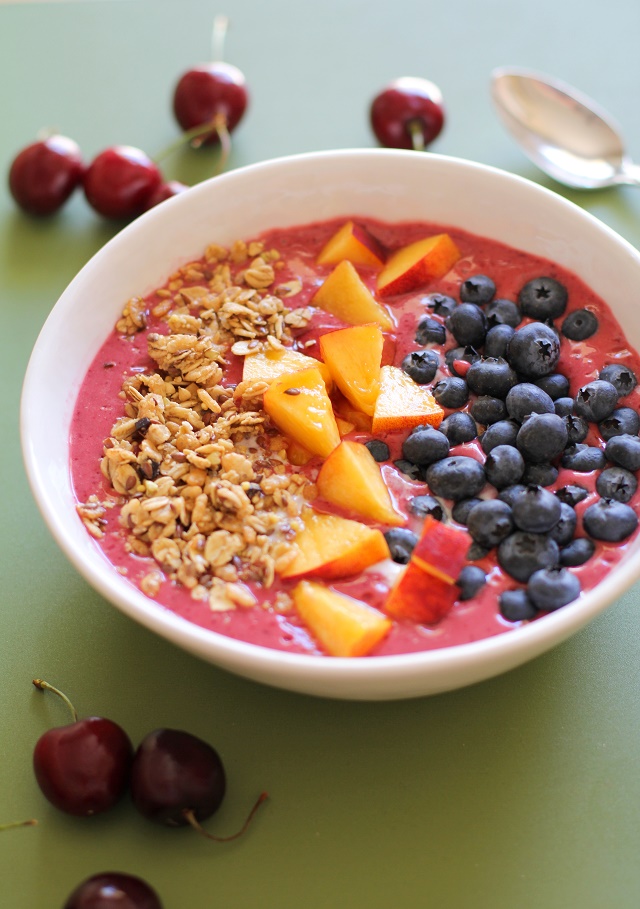 Did you know cherries and coconut go CRAZY well together? True story. I made this super tasty (yet simple) smoothie using ripe dark cherries, banana, a squirt of lemon juice, and full-fat coconut milk. Since berries and peaches are in season and I already had some in my fridge, I topped the smoothie with bluebs and chopped peaches, as well as store-bought granola. You can also use my favorite Paleo Granola recipe to make your own granola for some epic smoothie bowl toppage.
Smoothie bowls. So cherry.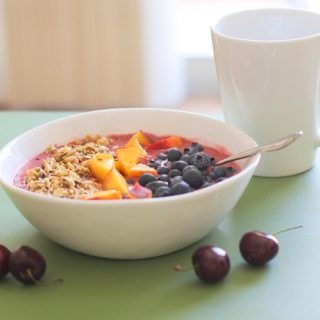 Cherry Coconut Smoothie Bowls
Delicious cherry smoothie with tasty toppings make this fresh bowl an incredibly tasty breakfast
Ingredients
Cherry Coconut Smoothie
1 cup fresh or frozen cherries, pitted
½ ripe banana, frozen
1/3 cup full-fat coconut milk
2 teaspoons pure maple syrup
1 teaspoon lemon or lime juice
For serving:
½ ripe peach, chopped
1/3 cup fresh blueberries
¼ cup granola
Instructions
Add the ingredients for the cherry coconut smoothie to a high-powered blender. Blend until completely smooth.
Pour smoothie into a bowl and top with fresh peaches, blueberries, and granola
Nutrition Information
Yield

1
Serving Size

1 grams
Amount Per Serving
Unsaturated Fat

0g
Also have a looksy at these Beet Coconut Smoothie Bowls I made for Love Beets: