Gluten-Free Beet Pesto Pizza with Kale and Goat Cheese is a nutrient-dense healthier pizza recipe, packed with vitamins and flavor! This colorful superfood pizza is packed with antioxidants!
I'm just chuffed to bits over this piece of exciting news I have for you! My second cookbook, Let Them Eat Kale!, will be released in one month has been published! It feels like yesterday that Delicious Probiotic Drinks hit the shelf, and come July 1, 2014 book #2 will join it. Every fiber (get it? fiber?) of your mind, body, and soul will feast upon all the kale. Your Vitamin K tank? Full. Antioxidants? Antioxidized.
By the way, have you pre-ordered my book yet? Because you should. Not that I'm being remotely pushy, sales-y or at all douche-y, but stop what you're doing right now and pre-order. But no pressure. But seriously.
Now that you have the progress report (and my cookbook in transit), we can discuss pizza pie.
Heavens-ta-Betsy, this pizza. It will slap you silly.
This pizza has components. Let's talk about them.
The goat cheese. Have you ever eaten baked goat cheese?
Something magical – nay, fantastical – happens to goat cheese in the oven.
It gets an outer layer of crisp and becomes bombastic on the inside. There are no words to describe the magnanimity that is baked goat cheese. Baked goat cheese should happen in abundance, and it should happen on your pizza.
This is how you make dreams come true:
The kale. I figured I'd give you a little kale teaser to prime your pump for my big cookbook release. Plus superfood on your pizza is the rad thing to do.
The beet pesto.
You have options. You can make the Roasted Beet Pesto recipe I posted a while back or you can use the beet pesto from my 4 Ways to Make Pesto Without Basil post at Oh My Veggies. Both are marvelous on pizza.
Crust Options:
You can prepare your favorite pizza crust to be the caravan of this superfood pizza. Whip up an Almond Flour Pizza Crust , Cauliflower Pizza Crust , or even a Kale Pizza Crust.
I use Bob's Red Mill's Gluten-Free Pizza Crust mix that I have lost the capability of making pizza dough from scratch. If you'v tried making gluten-free pizza dough by your own hand, you already know it can be a real son of a beehive.
You pick your battles in life, and finding the optimal starch-to-gluten-free-flour-to-leavening-agent-ratio is not a battle I choose. On account of my blood pressure. And convenience.
The mix makes enough dough for two 12-inch pizzas, so I made this pizza immediately following the Asparagus and Pancetta Pesto Pizza I showed you a while back. Eating the two pizzas in a 48-hour period made for an all out pleasure cruise.
Put this bombastic pizza in your face trap!
My cookbook,
Paleo Power Bowls
, is now available! CLICK HERE to check it out. Thank you for your support!
If you make this recipe, please feel free to share a photo and tag @TheRoastedRoot on Instagram!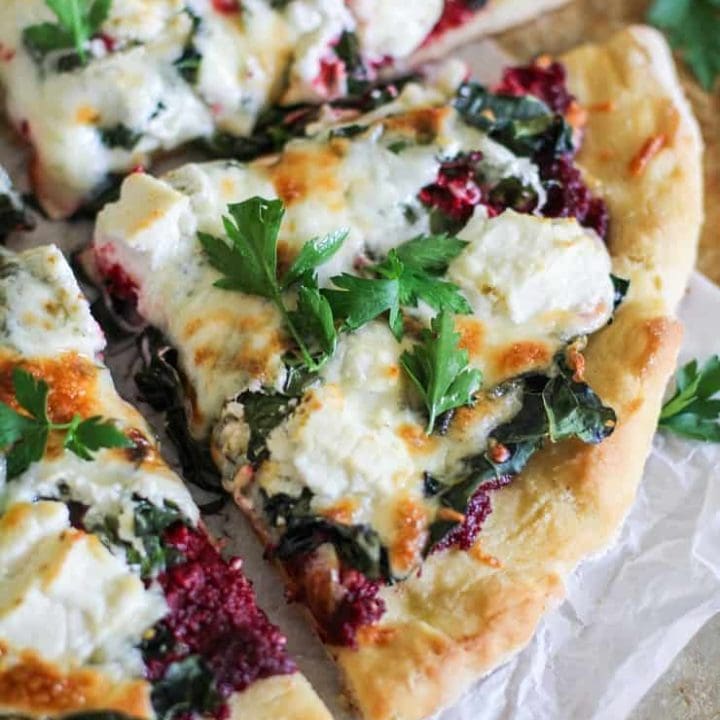 Beet Pesto Pizza with Kale and Goat Cheese
Total Time:
1 hour
30 minutes
Gluten-Free Beet Pesto Pizza with Kale and Goat Cheese is a vibrant, superfood pizza recipe!
Ingredients
1 lb gluten-free pizza dough
2 cups kale leaves, thinly sliced*
1.5 cups mozzarella cheese, grated
2 ounces goat cheese
Instructions
Prepare the beet pesto and the pizza dough.
Preheat the oven to 415 degrees F.
Dust gluten-free flour (or cornmeal) on a baking sheet and press or roll the dough to desired thickness.
Bake the dough for 5 to 7 minutes with no toppings.
Remove the crust from the oven and spread the beet pesto over it. Add the kale leaves, followed by the goat cheese and mozarella. Note: the kale will cook down in the oven.
Bake pizza for 20 to 25 minutes or to desired crisp.
Allow pizza to cool 5 minutes before serving.
Notes
*I used lacinato (dino) kale
Nutrition Information
Yield

8 slice
Serving Size

1 slice of 8
Amount Per Serving
Calories

259
Total Fat

15g
Unsaturated Fat

0g
Carbohydrates

39g
Fiber

2g
Sugar

2g
Protein

10g