This Prosciutto, artichoke heart, and sun-dried tomato pizza with pine nuts makes for a mouth-watering dinner.
This post is sponsored by Bob's Red Mill.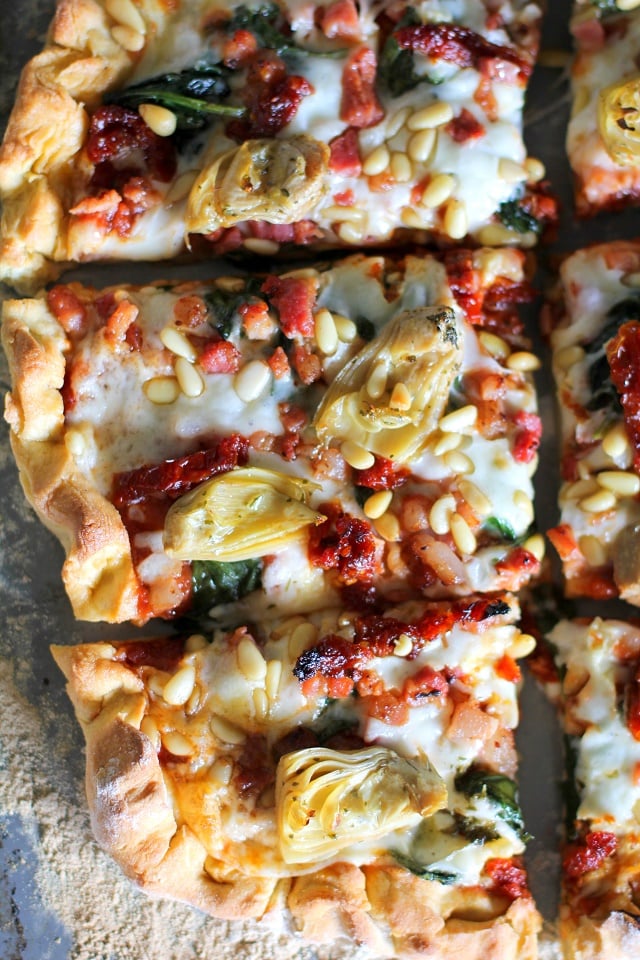 Back when I had the metabolism of a wolverine, I would order myself a large pizza and eat approximately ¾ of it for dinner, and the remaining bits of crust for breakfast the next day.
I had a two-year long obsession with a very particular pizza, during which time I would consume no other pizza toppings from no other pizzeria it HAD to be the exact pizza you see here.
Girl's got standards.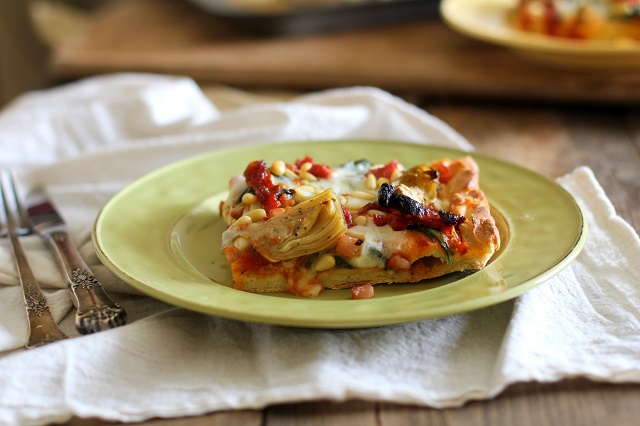 For that two-year period, the roof of my mouth was tough as nails, as I'd chomp through hot-as-hades molten cheese and tomato sauce, never ever waiting for that sultry pie to cool off.
Since we're on the topic of molten cheese and tomato sauce, is it just me, or are cheese and tomato sauce capable of getting hotter than all the other foods? Like otherworldly hot? Solar flare hot?
So hot that it's cold hot? Hurt so good hot? Perhaps it's just my imagination.
Bygones.
The crispy prosciutto bits, though! You don't want to skip those.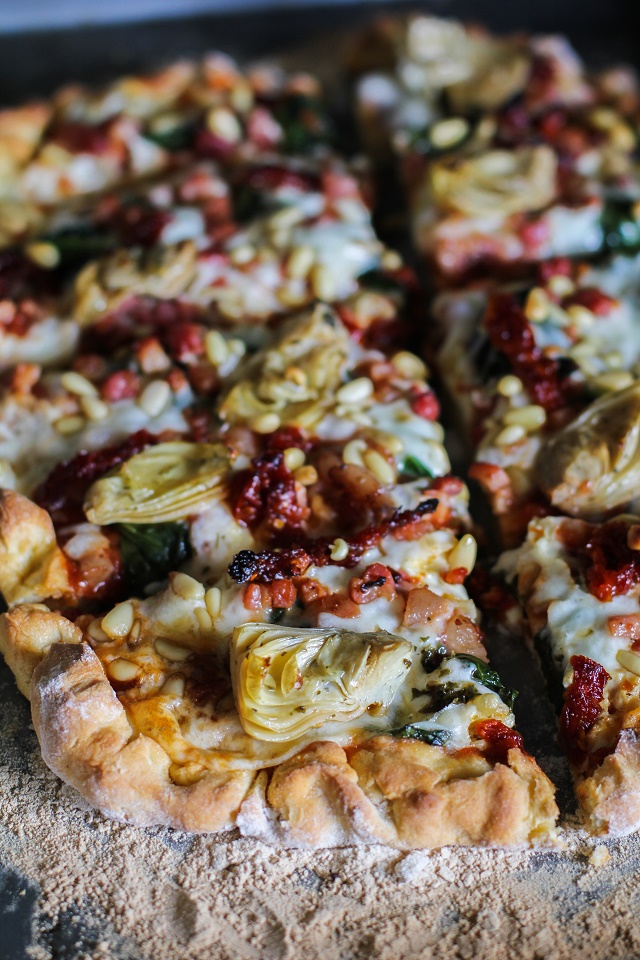 I've shown you all sorts of pizzas on TRR, some of my favorites being my Asparagus and Pancetta Pesto Pizza, Roasted Chicken and Mushroom Pesto Pizza, Beet Pesto Pizza with Kale and Goat Cheese, (<- bangarang) to my Carnitas Taco Pizza, but I haven't shared my ye olde coveted pie until now.
The toppings are simple: a red sauce (I used store-bought but you can use your favorite homemade sauce), mozzarella cheese, prosciutto (the chunked kind, not the sliced kind), artichoke hearts, sun-dried tomatoes, spinach, and pine nuts.
I crisped up the prosciutto on the stove and sautéed the spinach for the topping, but everything else goes on the pizza as-is. Easy peasy cheesy squeezy.
When I stopped eating gluten a few years back, I didn't stop eating pizza. I'd make spinach and collard greens pizza crust or cauliflower pizza crust.
Both options are dreamy eats but they do not a real pizza make. It wasn't until I spotted Bob's Red Mill's Gluten-Free Pizza Crust Mix in the grocery store a few years back (a monumental day, indeed!) that I could enjoy a legit pizza pie the way a good pizza pie should be enjoyed: atop a fluffy, yet crispy crust that stays together like a dream.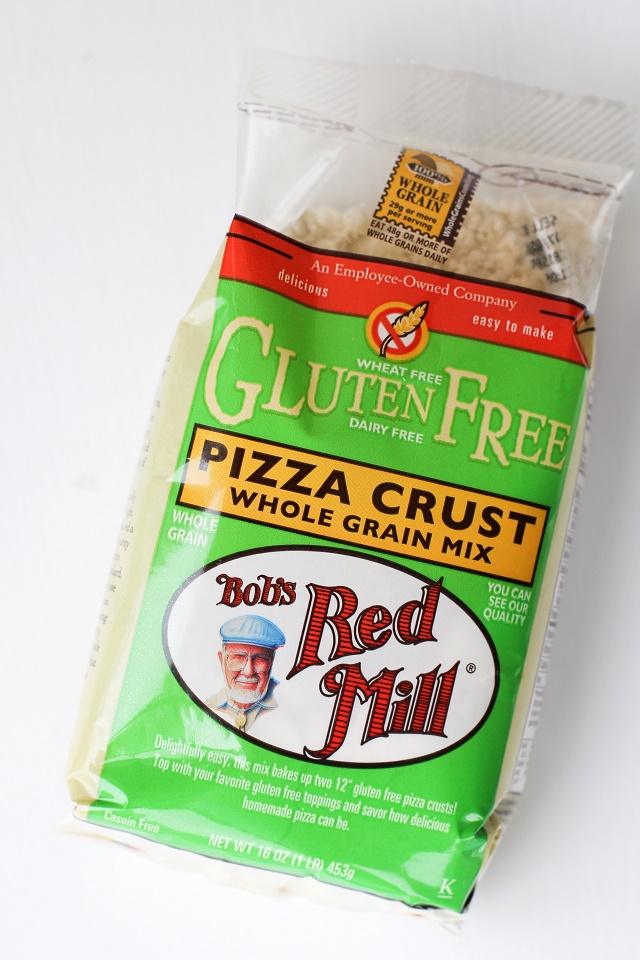 You've heard me say it before, but I'll say it again: whenever I make pizza, I use Bobs Red Mill's pizza crust mix – it's just too darn good and easy not to!
Sure, I could make my own dough using gluten-free all-purpose flour, but the package makes everything easy for you, complete with a packet of yeast and super easy-to-follow instructions. I will say: do have some additional gluten-free all purpose flour handy for dusting/kneading.
You'll knead it. Get it? Knead it? Need it? I know, I'm the worst.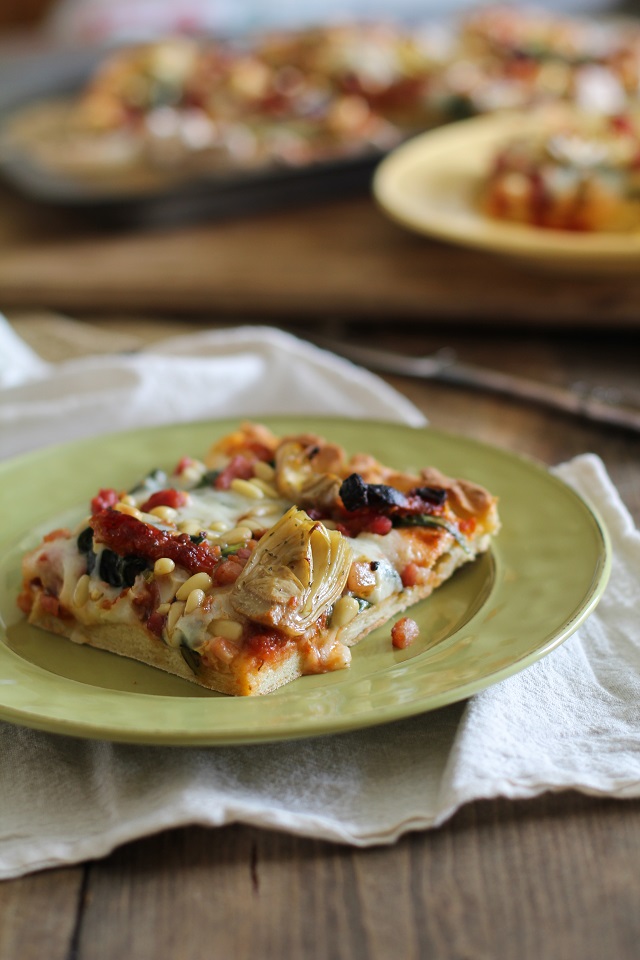 Get your pizza pie!
Prosciutto, Artichoke Heart, and Sun-Dried Tomato Pizza with Pine Nuts
Top your pizza with Prosciutto, Artichoke Heart, and Sun-Dried Tomatoes and pine nuts for a crazy delicious meal!
Ingredients
1

package Bob's Red Mill gluten-free pizza crust mix*

3/4

cup

red sauce

5

ounces

prosciutto

2

cups

baby spinach

tightly packed

1-1/2

cups

mozarella cheese

grated

1/3

cup

sun-dried tomatoes

drained and patted dry

1/2

cup

artichoke hearts

drained and patted dry

2

tablespoons

pine nuts
Instructions
Prepare the pizza dough according to package instructions. Note: you will only need half of the dough for the pizza, so wrap the other half in plastic wrap and refrigerate or freeze it for future use.

Preheat the oven to 450 degrees F.

Sprinkle some gluten-free flour on a baking sheet and roll out the pizza dough to desired thickness.

Bake the crust (without toppings) until firm and golden brown on the edges, about 10 minutes.

Remove crust from the oven and allow it to cool slightly. Reduce oven temperature to 425 degrees F.

Add the prosciutto to a small saute pan and heat to medium-high. Cook until prosciutto is crispy, about 5 minutes. Use a slotted spoon to transfer the prosciutto to a plate.

Saute the spinach until wilted in the same pan you used to cook the prosciutto, about 3 minutes.

Spread the pizza sauce over the pre-baked crust. Evenly distribute the prosciutto and spinach, followed by the mozarella cheese, sun-dried tomatoes, artichoke hearts, and pine nuts.

Bake pizza until cheese is melted and golden brown, about 12 to 16 minutes.

Allow pizza to cool slightly before slicing large pieces with a pizza slicer. Enjoy!
Notes
*Or use 1 pound prepared pizza dough of choice.
Nutrition