Asparagus and Pancetta Pesto Pizza is fancy for your face. Check out that edamame!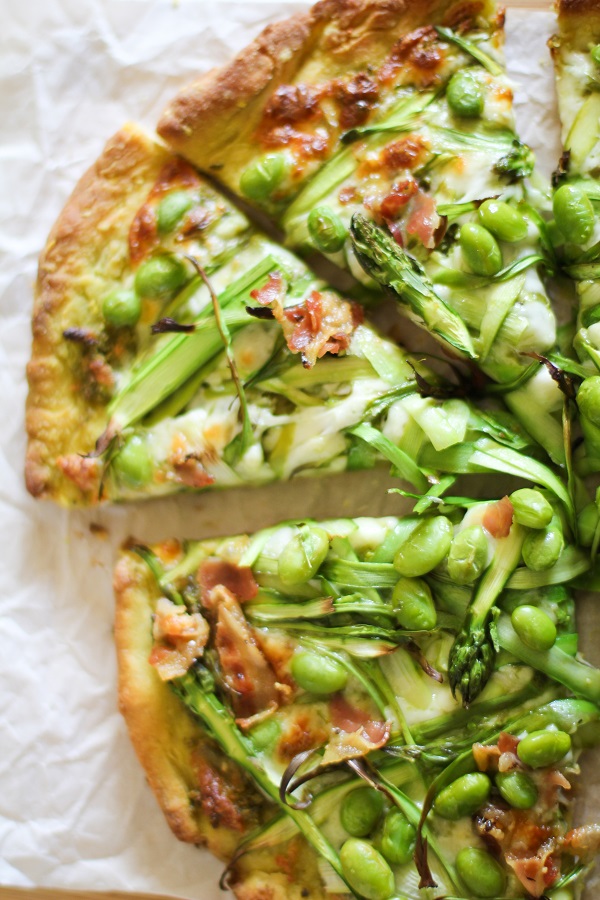 This pizza. What is going on here? Other than a pound of shaved asparagus, adorable shelled edamame, and porky pancetta? Pesto sauce. Your mind wants to melt. Let it. Have you ever had asparagus on a pizza? Or edamame? What about pancetta? What is pancetta anyway? I can answer that, it's fancy bacon. Kind of like prosciutto. Kind of like bacon. It's bacon.
For the last two weeks, I've had an influx of pesto sauce in my house and needed a gateway for getting it into my mouth (#firstworldproblems). Being as it is spring, I was in the mood for a spring-inspired pizza. So I whipped out the ol' Bob's Red Mill Gluten Free Pizza Crust Mix
and shaved up some asparagi. It all comes together like a little prayer. You have the fresh parmesan-y pesto with the asparagus ribbons, snappy little edamamers and the salty, oh-so-fatty pancetta. It's like a bloomin' circus in your mouth.
Remember when I made that Spring Salad with Shaved Asparagus and Lemon-Parsley Dressing? Similar idea. Asparagus is so fun when it's all ribbon-ed up.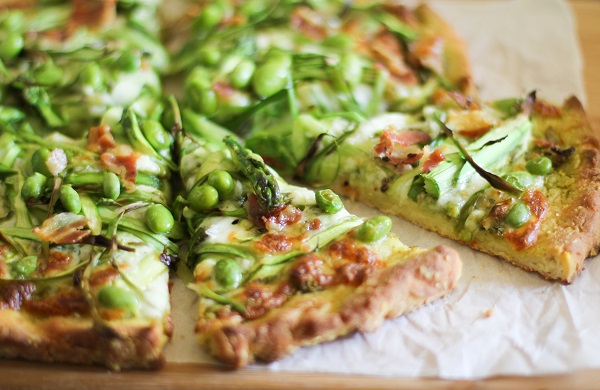 I'm guest posting over at Girl Versus Dough today! Stephanie is welcoming her first child into the world and will be taking a short blogging hiatus to snuggle with her new munchkin. Head on over there to get my Asparagus and Pancetta Pesto Pizza Recipe!
P.S. If you love a good pesto sauce, check out my 4 Ways to Make Pesto without Basil post over at Oh My Veggies!