Fresh, nutrient-dense pesto sauce made with beet greens and pistachios – a flavorful sauce to spruce up any meal!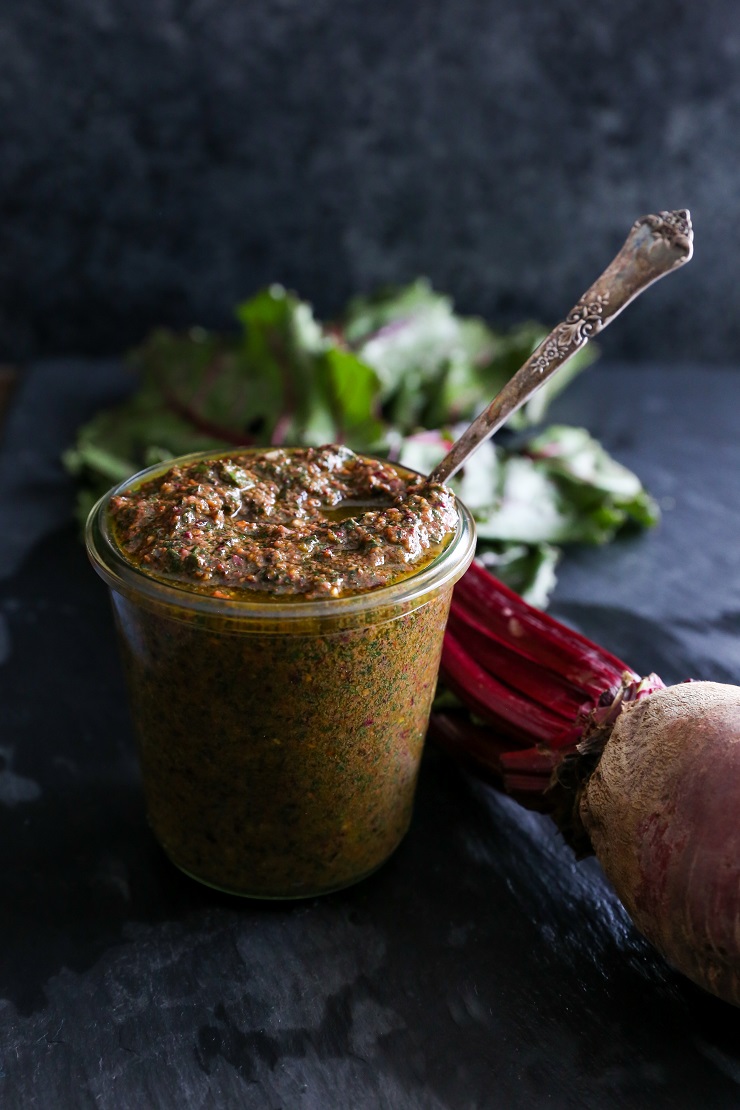 Perhaps it's my humble upbringing or my background in finance that makes me so cognizant of maximizing my output from my inputs. I try to be as resourceful as possible in all facets in life, and because I cook so frequently, I'm particularly tickled pink when I'm able to make the most out of my ingredients. Parts of produce you would normally just toss (carrot greens, beet greens, kale stems, vegetable peels and scraps, etc.) can be repurposed in many ways!

While I typically use beet greens (the long leafy stems attached to your big bulbous beets) the same way I use kale – in salads, stir fry, scrambled eggs, etc – I am jumping for joy over my new discovery – beet green pesto.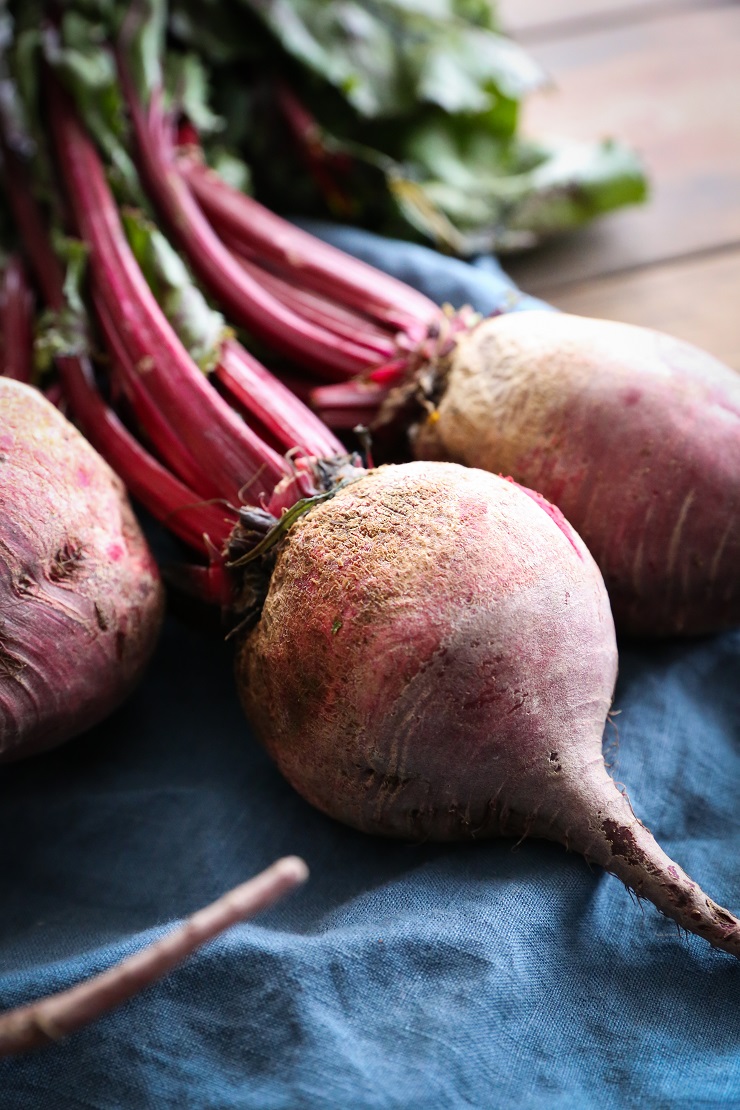 Truly, I don't know why it took me this long to think of beet green pesto. I've made kale pesto, your standard basil pesto, parsley pesto, sun-dried tomato pesto, and roasted beet pesto, but it wasn't until I was checking out the beet stems on my most recent bushel that it dawned on me to use the greens.
Not to be confused with regular beet pesto, beet green pesto is simply pesto sauce made using just the greens. You can use the actual beets and stems for other purposes, but the actual ingredient we care about for the purpose of this recipe is just the leaf. If you're a regular buyer of bunches of beets, you'll notice beets typically come with lots and lots of greens. Let's make pesto sauce out of them, shall we?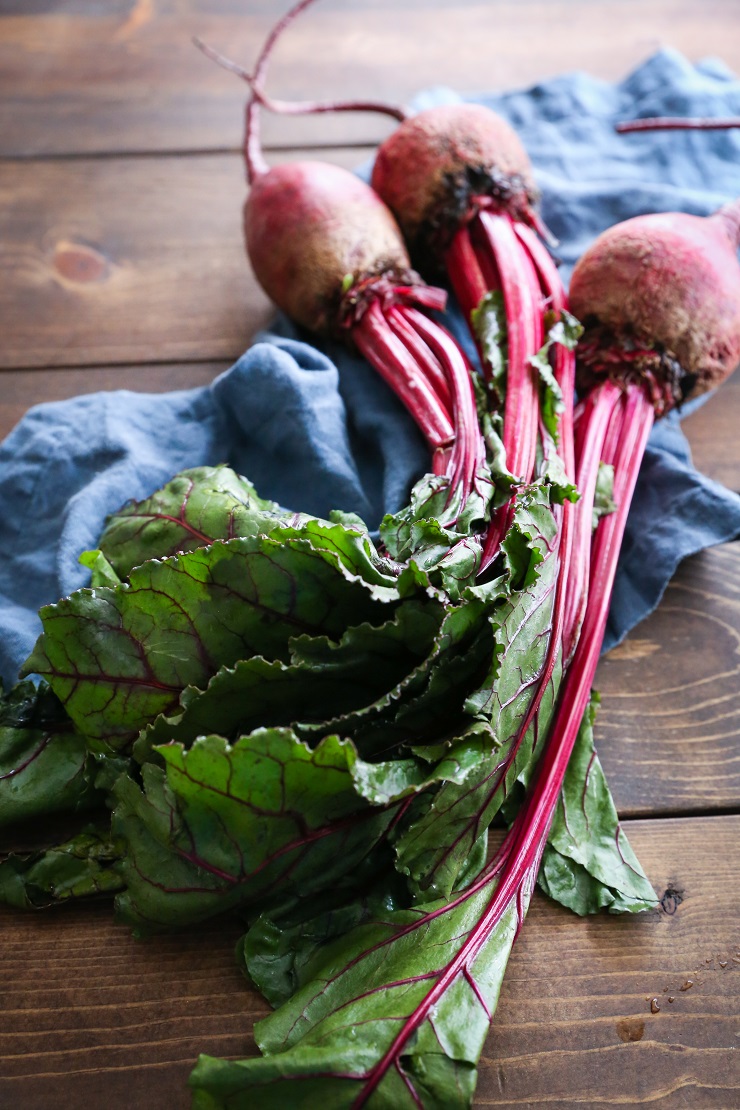 What you do is chop the stems off of the beets. You can use the stems of broth, veggie stir fry, etc. We remove the leaves from the stems and chop the leaves.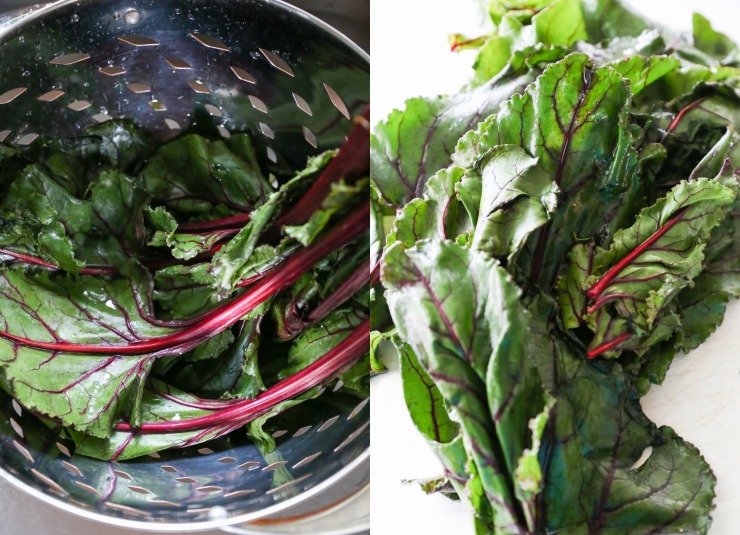 Add the leaves to your food processor along with some nuts (I used pistachios), garlic (I used roasted – you can definitely use raw), sea salt, cider vinegar, and olive oil. Pulse the ingredients without the oil first to give them a good chop, then slowly stream the olive oil through the opening of the food processor while it's on. I like my pestos super thick, so I don't use a great deal of oil (½ cup for this recipe), but you can adjust the amount of oil to your heart's desire.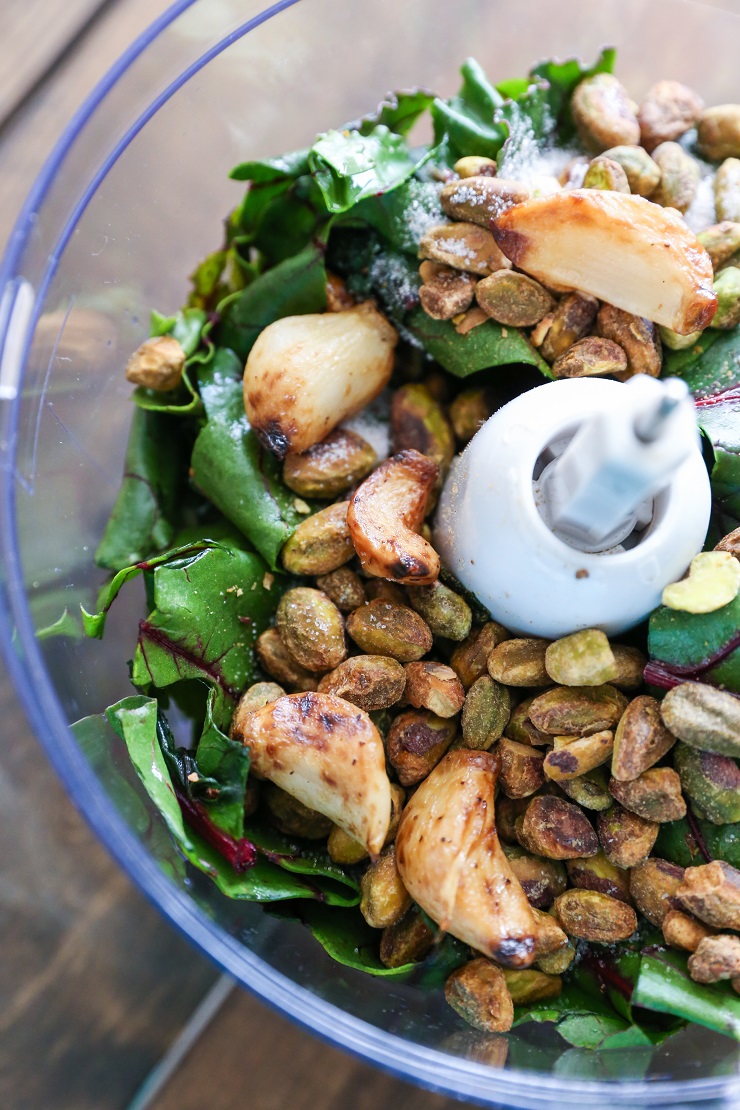 I kept this recipe vegan by omitting the parmesan cheese, but if you'd like, feel free to add ½ to 1 cup of grated parmesan (or aged cheese of choice). As an alternative, you can add a couple tablespoons of nutritional yeast to keep the sauce vegan but give it that cheesy flavor.
As a side note, if you buy bunches of carrots, which include the stems and greens, you can use the carrot greens in pesto as well! Virtually anything leafy and green will work in pesto.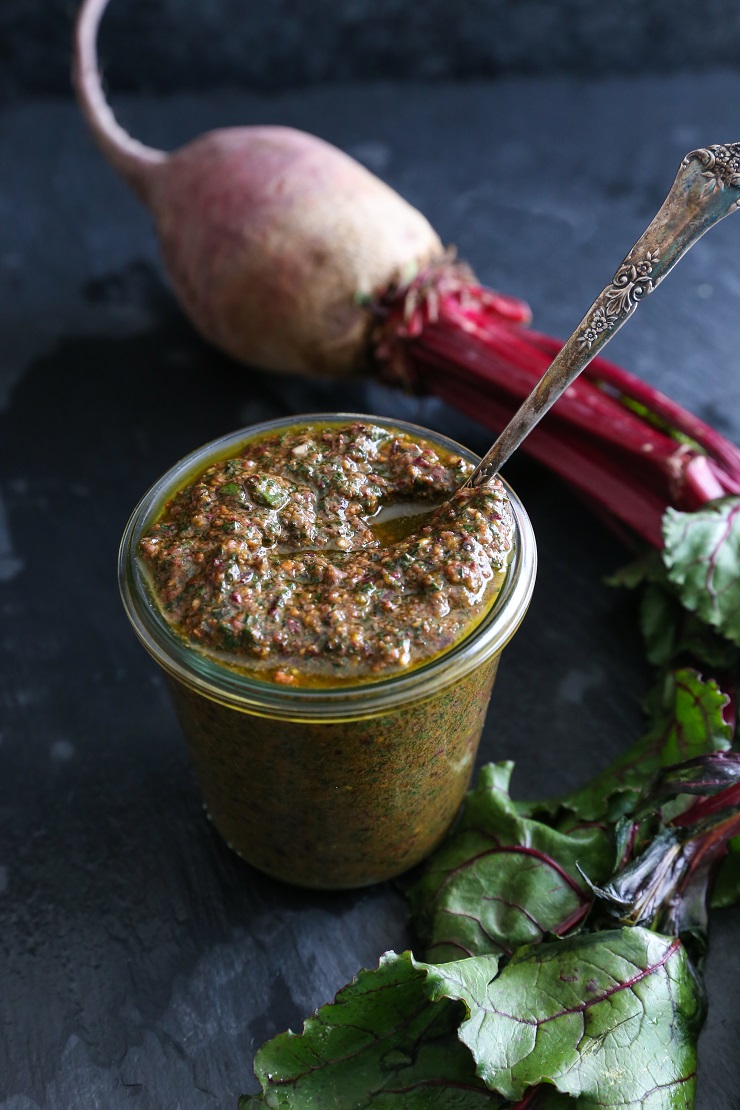 So there you have it! A super fresh superfood pesto that can be used to spruce up your pasta, sauteed veggies, chicken, fish, salads, etc. I'll be showing you a recipe tomorrow using this very pesto! Enjoy!
Beet Green Pesto
Use beet greens in homemade pesto sauce! Using the whole plant is brilliant and brings so much nutrition to your life.
Ingredients
2

cups

beet greens

tightly packed

1/2

cup

shelled pistachios

see note*

5

cloves

roasted garlic

see note**

1

teaspoon

sea salt

to taste

2

tablespoons

cider vinegar

1/2

cup

olive oil
Instructions
Add all of the ingredients except for the olive oil to a food processor. Pulse 5 to 10 times, or until the ingredients are roughly chopped

Turn the food processor on and slowly stream the olive oil through the opening at the top.

Taste the pesto for flavor and add more sea salt, vinegar, or garlic to taste.

Use immediately or transfer to a sealable container and refrigerate until ready to use. Pesto will stay fresh for up to 7 days in a sealed container in the refrigerator.
Notes
*you can use virtually any type of nut or seed in this pesto to replace the pistachios if desired. Try walnuts, almonds, pecans, pumpkin seeds, or pine nuts.
**If using raw garlic instead of roasted, start with only 2 large cloves and add more if you desire more garlicky flavor
Nutrition