Caramelized onions, figs, ricotta, and fresh basil give this mouth-watering pizza fresh flavor. Make it on cauliflower pizza crust for a healthful, gluten-free pizza!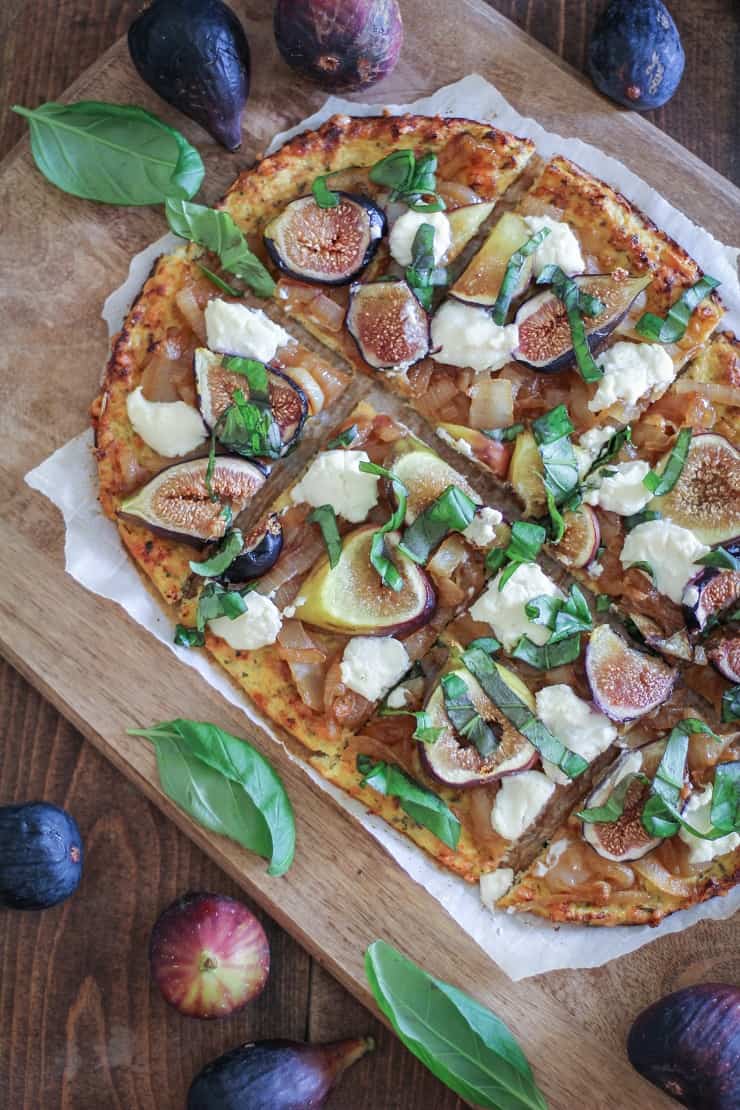 Cauliflower crust pizza is a rare and special occurrence in my house.
Not because I don't think about it, yearn for it, dream about it, or have the strong desire to lay mouth on it regularly…but because it requires several steps.
Although I don't often prepare food that requires multiple dishes and a hefty chunk of prep time, when I set out to make cauli crust, it's always well-worth the extra labor.
I'll admit, it is pretty fun prancing all over the kitchen in a maelstrom of little cauliflower bits flying through the air, getting in my hair, between my toes…the cracks between the counter tiles…underneath the refrigerator…in the basil plant…coffee pot…
…anywhere a cauliflower can go, those cheeky little florets.
Case in point: many steps…but a fun cooking adventure when time allots.
For this version of cauli crust, I first made cauliflower rice by zipping the florets through my food processor, baked the rice in the oven, squeezed the water out of it, mixed it with egg and cheese, laid it out on a baking sheet, baked to firm it up…then baked with toppings. Phew! It looks like so: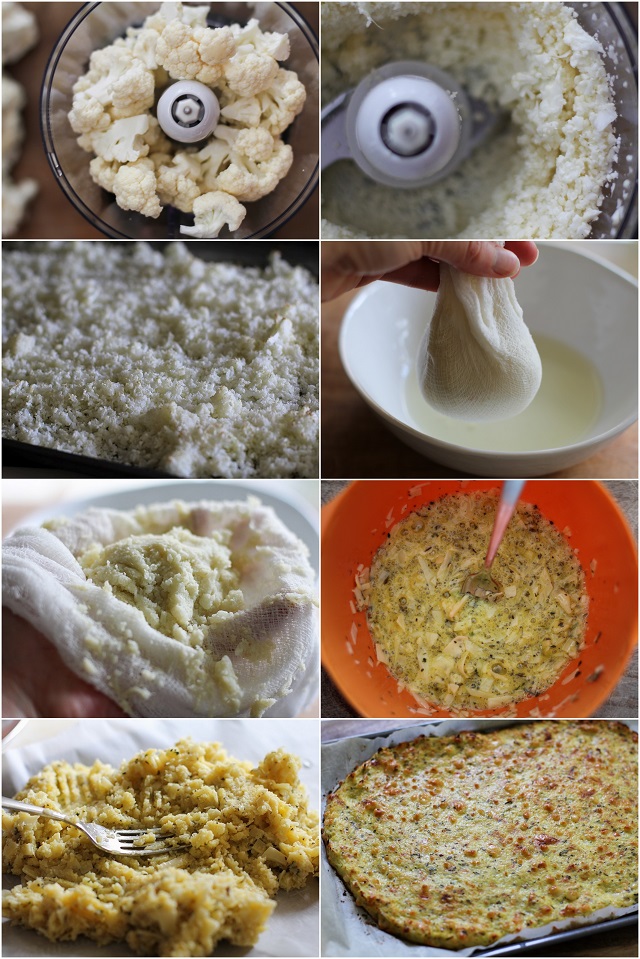 I know. All good things are worth the patience.
The first cauliflower pizza crust I made, I simply steamed the cauliflower first, then pureed it with the remaining ingredients. Both that method and this method work and are wonderful, BUT this version does turn out crispier than the steamed version…even if it does require more steps. And time….and flying cauliflower florets…in my bra…in my coffee pot…anyhoo.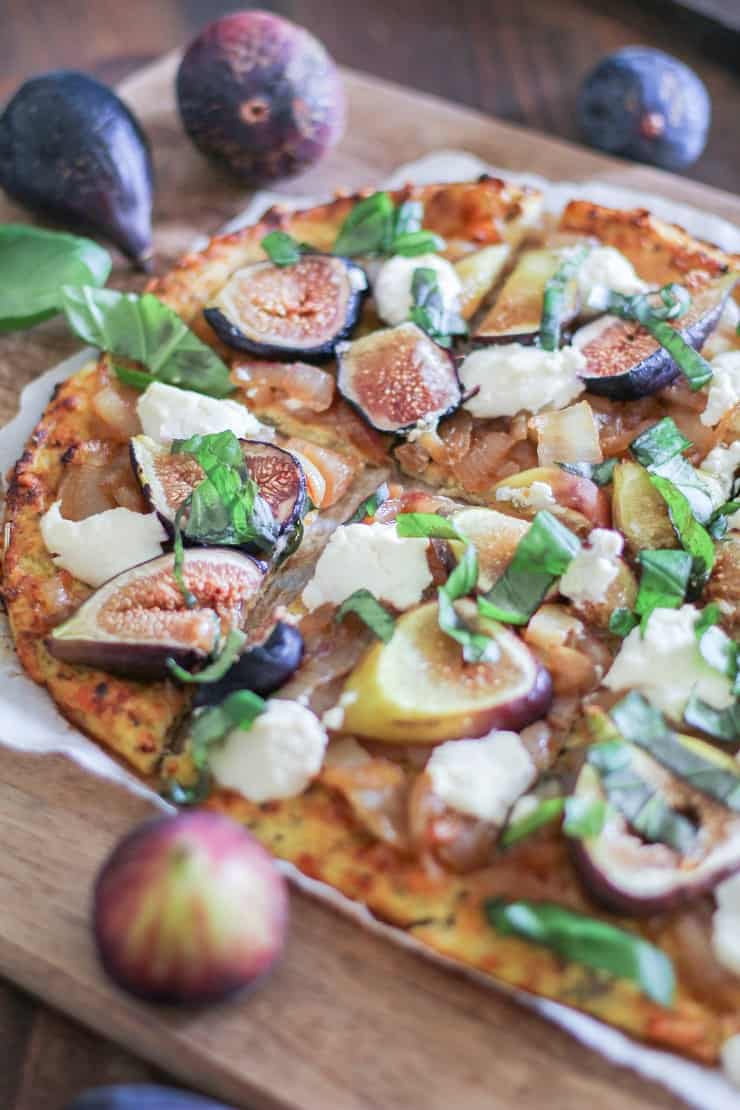 This pizza pie…
It's sauce-less so that the flavor of the toppings really shines.
Let's discuss componentry:
Cauliflower Crust // It's gluten-free, and made out of vegetables, my friends.
Caramelized Onions // Nature's candy
Ricotta Cheese // So nice for keeping the pizza fresh tasting rather than heavy. Goat chevre would work marvelously, too!
Figs // A little sweet to complement the creamy ricotta and salty caramelized onions.
Basil // Adds that earthy herb appeal and makes it all taste fresco.
Balsamic Reduction // …Invisible from this recipe, because I spaced making it, but nevertheless I recommend you serve this pizza with a smattering of balsamic reduction…it brings the tang, the riche, the yummity yum yum yum. Trust.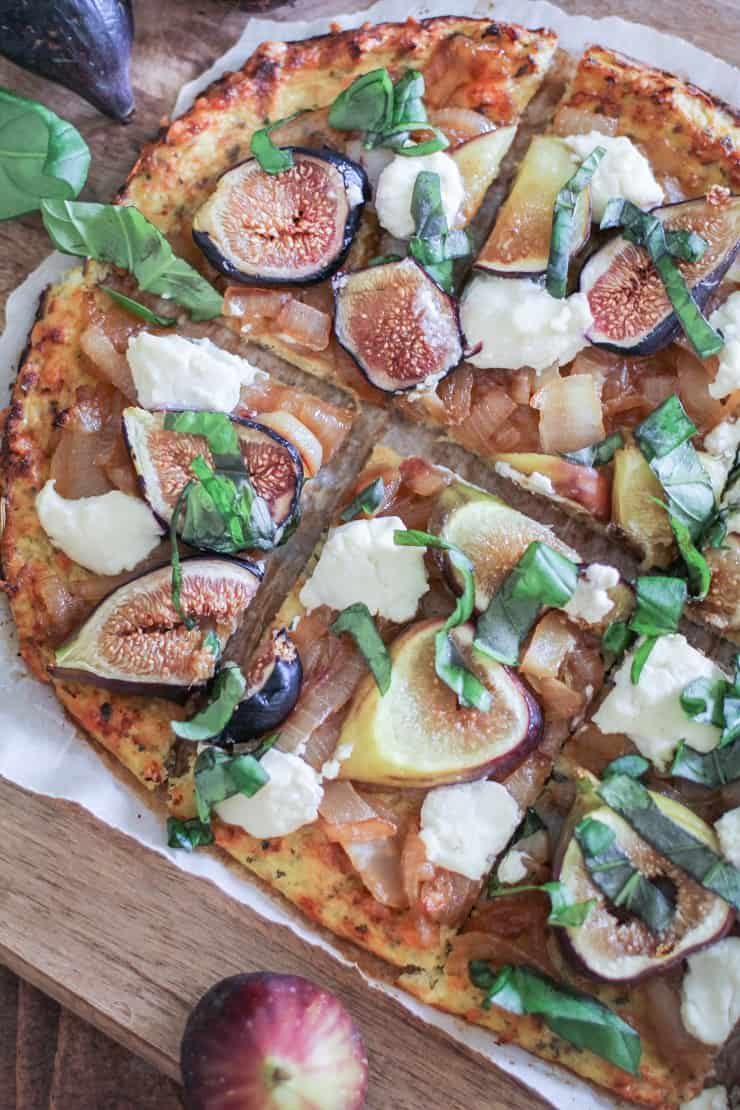 Recipe Adaptations:
If you feel compelled to sauce, pesto or a light marinara sauce would be great.
When in need of meat, add rotisserie chicken, prosciutto, or pancetta.
Lighten it up further by eliminating the ricotta cheese.
Would it be weird to put apricot jam on this pizza? I think not…If you're feeling some fruit spread or preserves, I say you go for it!
Brie cheese in place of ricotta would be acceptable.
Is your mouth watering? Is there a stirring on your tongue buds?
My cookbook,
Paleo Power Bowls
, is now available! CLICK HERE to check it out. Thank you for your support!
If you make this pizza recipe, please feel free to share a photo and tag me at @The.Roasted.Root on Instagram!
Cauliflower Pizza Crust + Caramelized Onion, Fig and Ricotta Pizza
Cauliflower Pizza Crust is a great grain-free alternative to pizza crust. Top it with Caramelized Onion, Figs and Ricotta for an epic pizza!
Ingredients
1

large head cauliflower

chopped into florets

2

eggs

lightly beaten

1

cup

Asiago cheese

or mozzarella or parmesan

2

teaspoons

Herbs de Provence or Italian seasoning

1/4

teaspoon

sea salt

1

large yellow onion

caramelized

4

large fresh figs

cut into 1/4-inch slices

1/3

cup

ricotta cheese

1/3

cup

fresh basil

chopped
Instructions
Heat the oven to 375 F. Line a large baking sheet with parchment paper, and plug in your food processor.

Wash the head of cauliflower, and remove the green stems. Chop the head into florets.

Add the chopped cauliflower to a food processor. Pulse until small "rice" grains form. Depending on the size of your food processor, you may need to do this in batches.

Spread the cauliflower over the parchment-lined baking sheet, and bake for 15 minutes in the preheated oven. Remove and let cool.

Fold a large piece of cheesecloth once or twice, and place it over a large bowl. Once the cauliflower is cool enough to handle, place it in the center of the cheesecloth and wrap it into a ball. Squeeze out as much of the water as possible. This will take several minutes. Repeat for all of the cauliflower.

Place the drained cauliflower into a mixing bowl along with the other crust ingredients. Stir the ingredients together until a thick, sticky mixture forms.

Line a small baking sheet (or 8-inch pizza sheet) with parchment paper. Pour the crust mixture onto the prepared baking sheet.

Spread the crust mixture over the baking sheet, using a fork or your hands to make the desired shape. Bake for 15 to 20 minutes in the 450-degree oven.

Once the crust is golden brown around the edges and feels firm, remove the baking sheet from the oven and allow the crust to cool slightly before adding toppings.

Evenly distribute the caramelized onion, ricotta cheese and sliced figs over the crust. Bake the pizza (still at 450 degrees) for 8 to 15 minutes or until the cheese has melted and the toppings reach desired crispness. Remove the pizza from the oven, and allow it to cool 5 to 10 minutes. Sprinkle the finished pizza with sea salt and fresh basil, and transfer it to a cutting board to cut into slices for serving.
Nutrition