Chicken and Mushroom Pesto Pizza with spinach, featuring delicious homemade pizza sauce instead of red sauce. This delicious, cheesy, herby chicken pizza is packed with flavor and so divine!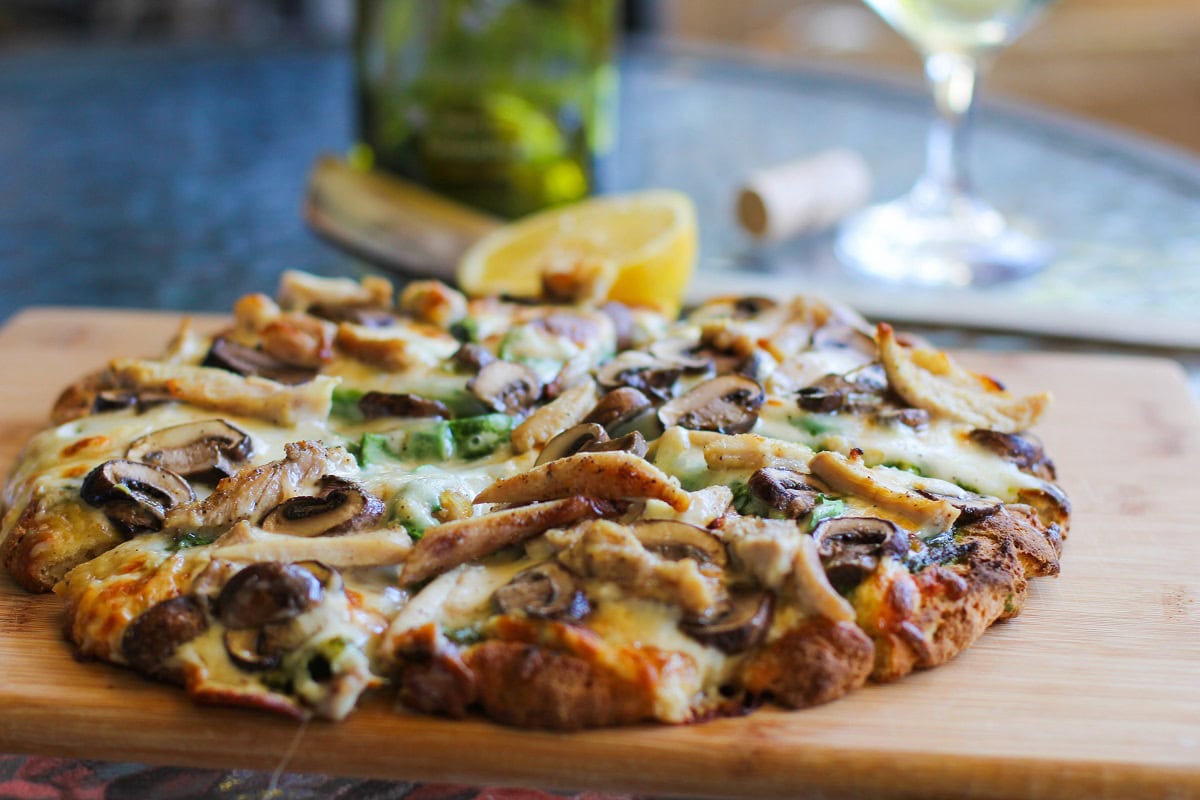 Mmmmlllaaaasooooogoood. Oh mi scusi, my mouth was full of pizza. The kind of pizza that makes you wish rock music was still good – like back when System of a Down was still together – so you could sing Pizza Pie in your most intensest System of a Down voice. It's an intense pizza, calling for an intense song.
You know what else is intense? Camping. Get it?? In tents…intense…camping is IN tents (also intense, especially when you end up eating ants off your s'mores marshmallow) ?? OH that joke never gets old!
I've lost you.
Cooooome back, come on back to me. Let's reel it in. With cookbook #2 well underway, I've been cooking up a kale storm. Bless me father, for I have been eating kale three times a day. suuuuriously.
If you've been following my social media banter, you already know that my editor and I were having the darndest time naming my kale cookbook. I reached out to you folks on facebook to get your thoughts and you came up with some excellent titles! In general, you guys got a hoot out of replacing "hell" with "kale" which really tickled me pink.
Out of a Saturday morning fit of brilliance, a fellow blogger came up with the title. So lo and behold, here she be: Give em' Kale! Simple and Delicious Recipes for Everyone's Favorite Superfood. The title couldn't be more fitting, IMO (did you catch that? it means "in my opinon"…winky face. So intense). Every time I say, "Give 'em Kale!" out loud (sometimes to an empty room), I inadvertently fist pump the ceiling. Titles that come with fist pumps are grrrrrreat!
(Update: The title of my cookbook was changed to Let Them Eat Kale! after this post was written)
Thank you to everyone who weighed in on the title decision-making! I enjoyed your feedback and love having you as part of this kale-cooking, fist-pumping process.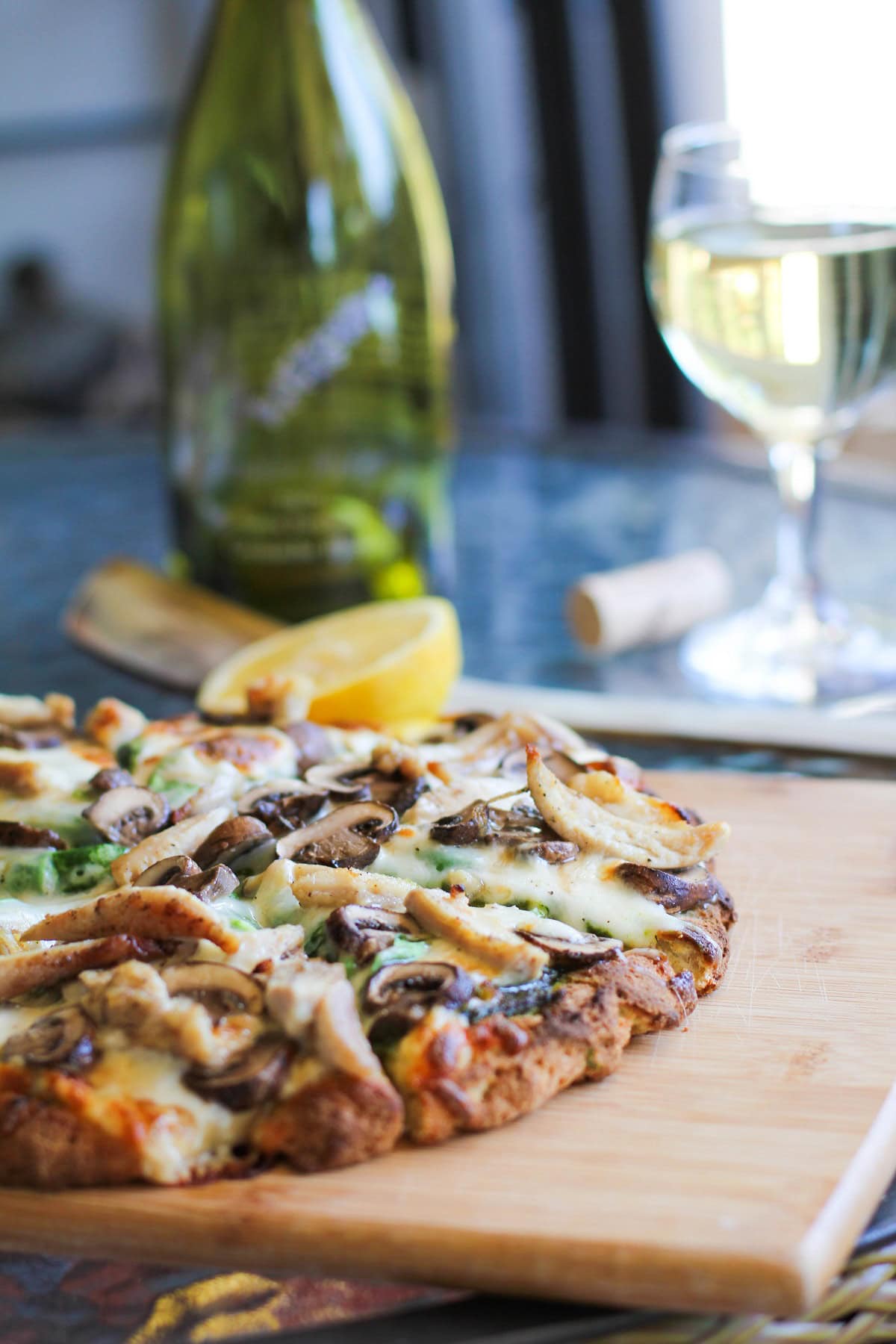 And now the pizza! For the sauce, I used a super duper secret (to-be-released with Give 'em Kale! Let Them Eat Kale! [fist pump]) kale pesto, but the kale pesto recipe I posted on Food Fanatic will do ya too! I short-cutted the crust by using Bob's Red Mill's Gluten-Free Pizza Crust Mix
, but you can also make the gluten-free pizza dough that I used in my Carnitas Taco Pizza recipe. Or you can make any pizza dough you fancy. That works too.
What counts is you're making pizza, and it's going to be good. PIZZA PIE!
Roasted Chicken and Mushroom Pesto Pizza
Looking for a fun and interesting pizza recipe?! You've found it! This Roasted Chicken and Mushroom Pesto Pizza will please all who try it!
Servings:
1
(12-inch) pizza
Ingredients
For the Roasted Chicken & Mushrooms
1

lb

boneless skinless chicken thighs

or breasts

1

Tbsp

olive oil

or avocado oil

2

Tbsp

fresh lemon juice

1/2

tsp

Salt and pepper

to taste

2

tsp

onion powder

1

tsp

garlic powder

6

large

crimini mushrooms

chopped
For the Pizza
Gluten-Free Pizza dough

1.5

cups

mozzarella cheese

grated

2

cups

baby spinach leaves

1/2

cup

pesto sauce

to taste
Instructions
To Prepare the Roasted Chicken & Mushrooms
Preheat the oven to 375 degrees F

Place the raw chicken thighs and chopped mushrooms in a casserole dish or on a baking sheet. Drizzle with olive oil, lemon juice, sprinkle with salt, pepper, onion powder and garlic powder.

Roast chicken and mushrooms in the oven for about 30 to 35 minutes or until internal temperature reaches 165 degrees F.

Remove chicken and mushrooms from the oven. When cool enough to handle, chop the chicken and set aside until ready to use.
To prepare the Pizzas
Raise the oven temperature to 425 degrees F.

Roll out your favorite pizza dough (I used Bob's Red Mill Gluten-Free Pizza mix) on a 12" pizza tray.

Pre-bake the crust for 10 to 15 minutes. Until the crust feels slightly firm and begins to show some color.

Top pizza with pesto sauce and lay the spinach leaves on top of the sauce.

Distribute the cheese on top, followed by the chicken and mushrooms.

Bake the pizza for 10 to 15 minutes until crust is golden-brown and the cheese is melted and also golden brown.

For crispier crust, put your oven on the high broil setting and broil the pizza for about 2 to 3 minutes.
Nutrition
Serving:
1
Slice
|
Calories:
325
kcal
|
Carbohydrates:
27
g
|
Protein:
22
g
|
Fat:
26
g
|
Fiber:
6
g
Want more gluten-free pizza recipes? Doooo it!