Roasted Beet Pesto with walnuts is a nutrient-dense take on pesto sauce that will rock your world! Use it anywhere a pesto can go! Pizzas, sandwiches, pasta, wraps, and more, will all benefit from this delicious superfood sauce.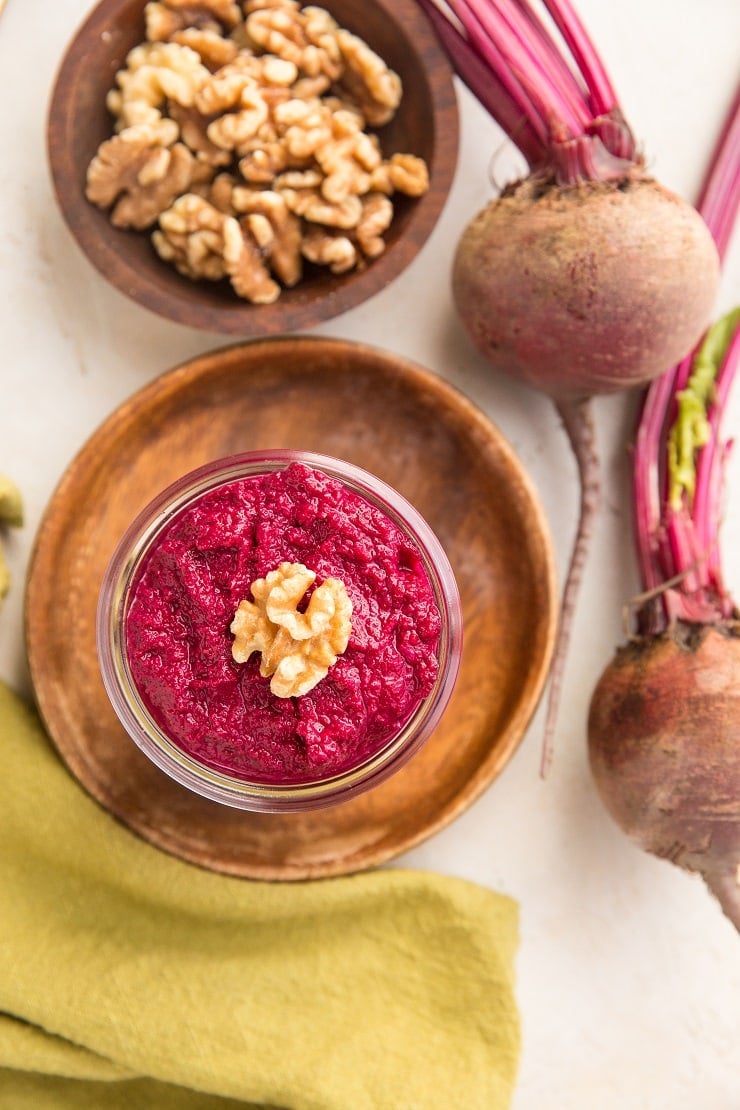 I shared this Roasted Beet Pesto recipe way back in 2013, and it has been a reader favorite ever since!
Because the original post didn't provide very in-depth information and the photos were in desperate need of updating, I figured I would give it a facelift and bring it to the forefront, leaving the original recipe completely intact.
The concept of beet pesto may sound odd, but it's actually pretty miraculous.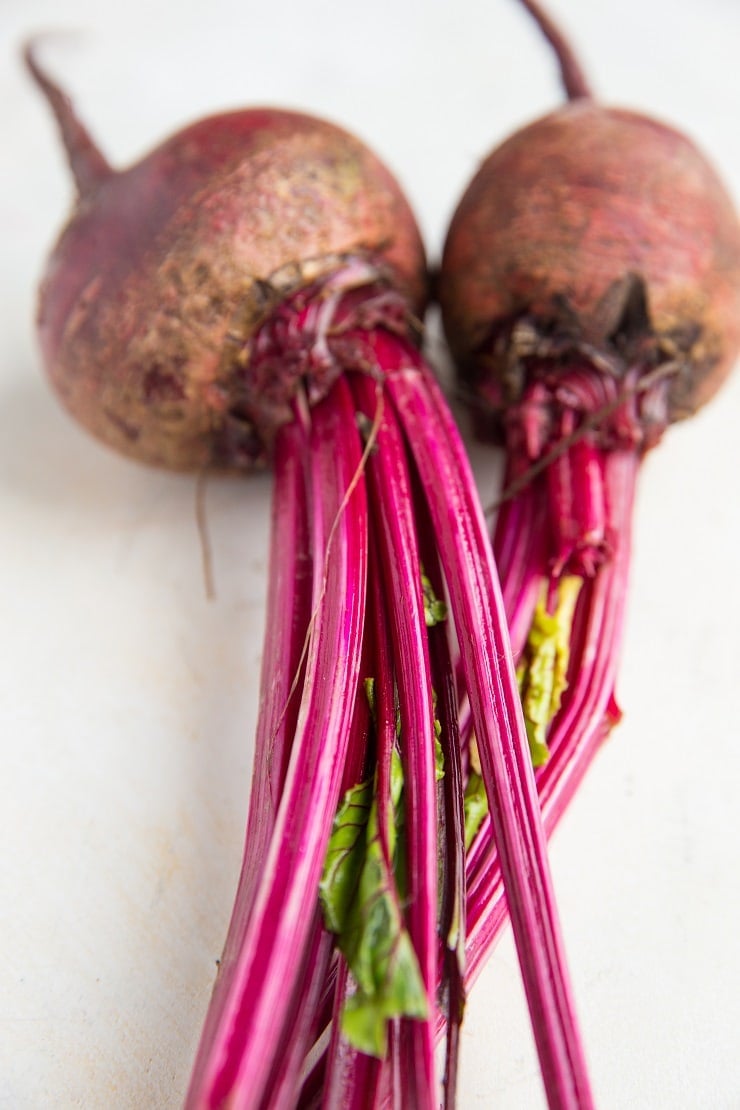 Full to the brim with vibrant color and nutrients, it can be used in any way regular pesto sauce can be used (think: pasta, pizza, sauce for burgers, sandwiches, and more).
This isn't the only time I've gotten wild and crazy with pesto on this site.
In fact, I've posted recipes for Spinach Pesto Sauce, Beet Green Pesto, Carrot Top Pesto, Broccoli Pesto, and more!
Traditional basil pesto sauce is made with basil, pine nuts, garlic, parmesan cheese, and olive oil.
We're using a roasted beet instead of basil and walnuts instead of pine nuts, but keeping the parmesan cheese and garlic.
A splash of lemon juice adds a lovely counterbalance to the sweetness of the beet.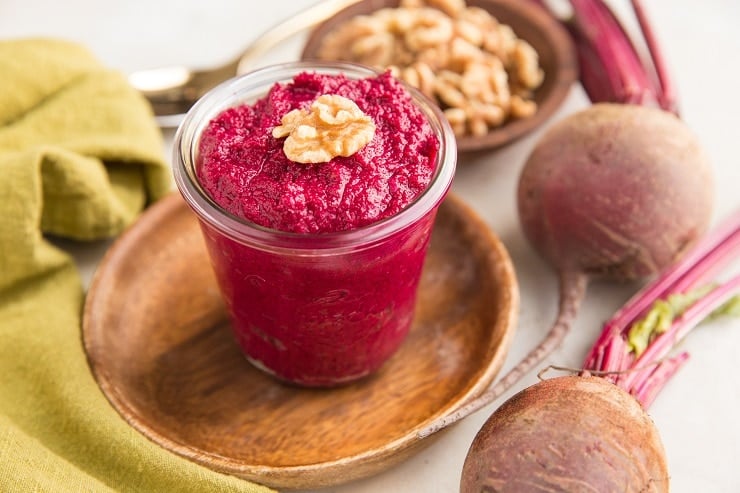 Let's talk about the ingredients in detail!
Roasted Beet Pesto Ingredients:
Beets: Infusing the pesto with a powerful antioxidant punch, beets are famous for their cancer-fighting anti-inflammatory properties. They are also a good source of potassium, Vitamin A and iron. Beets are also a great source of carbohydrate, as they contain a great deal of natural sugars plus the fiber to ensure they are slower burning.
Garlic: A natural antimicrobial and antiviral, garlic is just as huge in health benefits as it is in flavor. It's been recommended by many qualified physicians across numerous cultures to eat a clove or two of raw garlic when you aren't feeling well to ward off any pathogens and allow the good bacteria to take hold.
Of course you don't have to be feeling ill in order to reap benefits from garlic, as it helps promote balance in your gut microbiome and is also a natural anti-inflammatory.
Walnuts: Replacing pine nuts with walnuts adds to the nutrient profile of this beet pesto even further. Walnuts are a good source of iron and magnesium, with a boost of folate, potassium, and calcium.
Parmesan Cheese: Bringing that iconic pesto vibe to the sauce, parmesan cheese adds a great deal of flavor to the sauce. To make this recipe dairy-free or vegan, omit the parmesan cheese, add ½ cup of additional walnuts, and 2 to 3 tablespoons of nutritional yeast (to taste).
Olive Oil: Bringing all of the ingredients together into a sauce consistency, we use olive oil to add fat content and delicious texture. If you prefer avocado oil or grapeseed oil, feel free to make the swap!
Lemon Juice: For a slight acidic tang, lemon juice brings a needed counterbalance to the otherwise sweet sauce. The acidity is needed to round out the flavor. You can also use cider vinegar or rice vinegar in place of lemon juice.
Sea Salt: Add sea salt according to your personal taste. It brings out all of the flavors and makes the sauce taste like a dream, so don't skip it!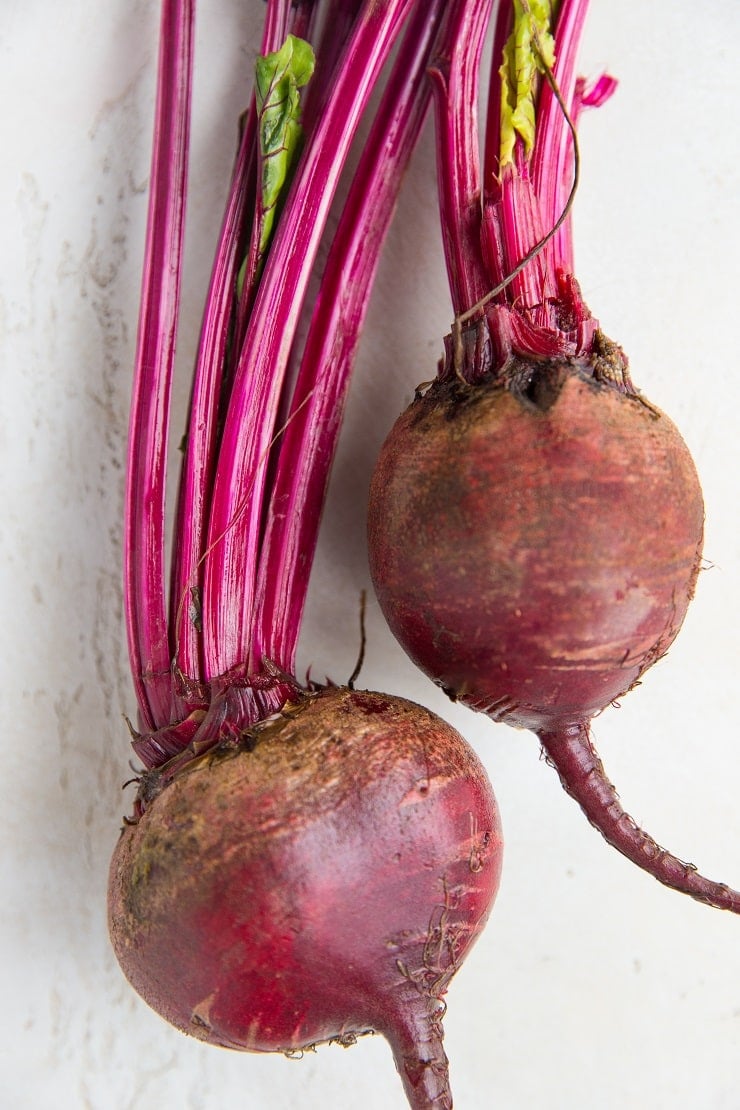 How to Make Roasted Beet Pesto:
Preheat the oven to 375 degrees Fahrenheit. Wash the beet well and chop it into ½-inch pieces (you can peel it if you'd like to do as I do and leave the peel on).
Place the chopped beet on a sheet of foil, then fold the foil over the beets, creating a foil packet.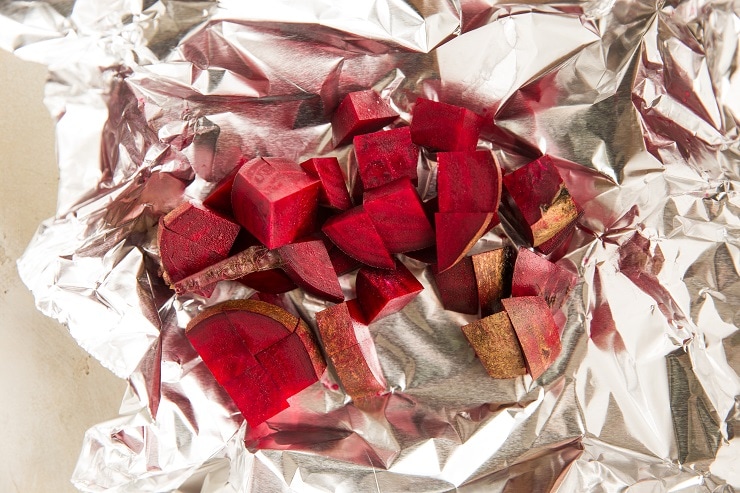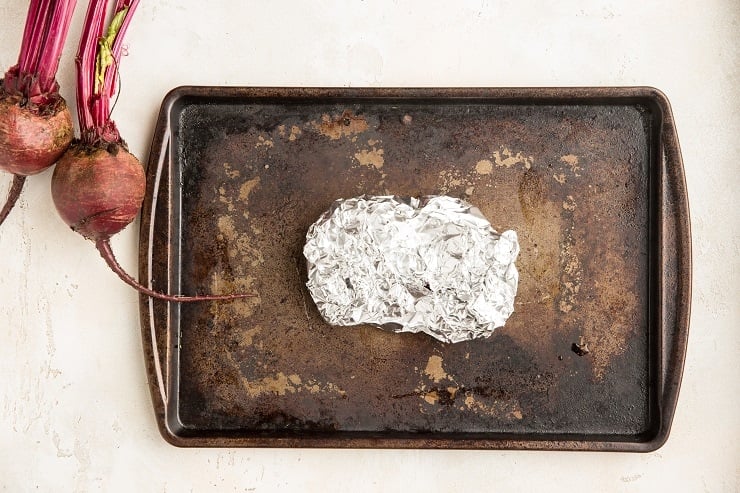 Roast for 40 to 50 minutes, or until the beets are soft when poked with a fork. Allow the beets to cool to room temperature.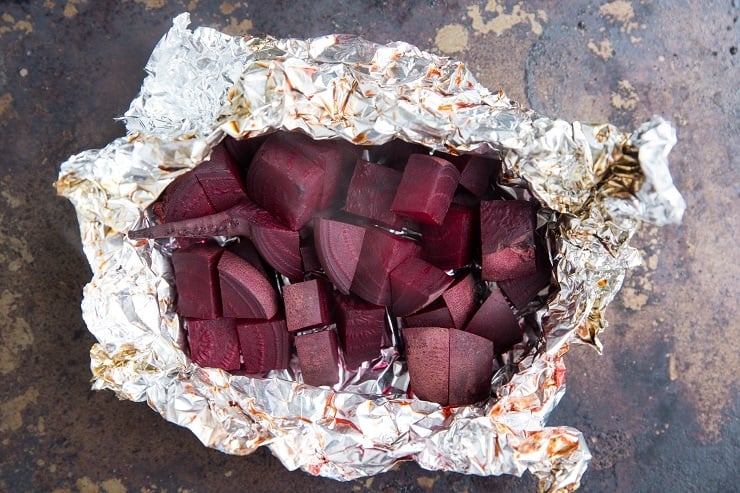 Add all of the ingredients for the pesto sauce to a food processor except for the olive oil.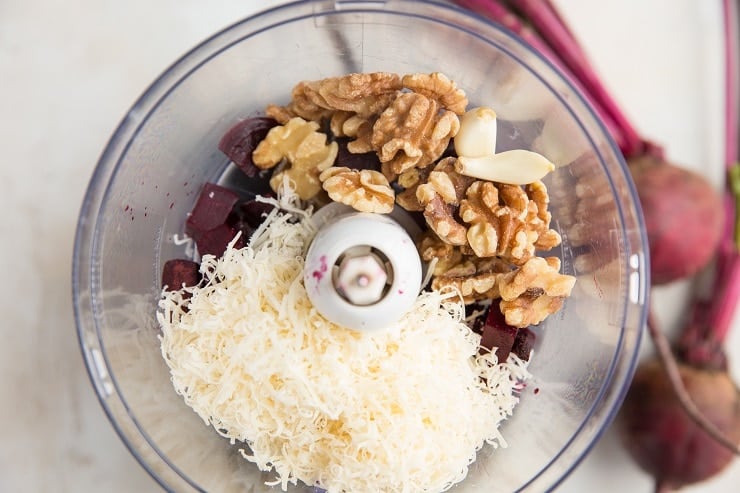 Pulse until everything is well chopped.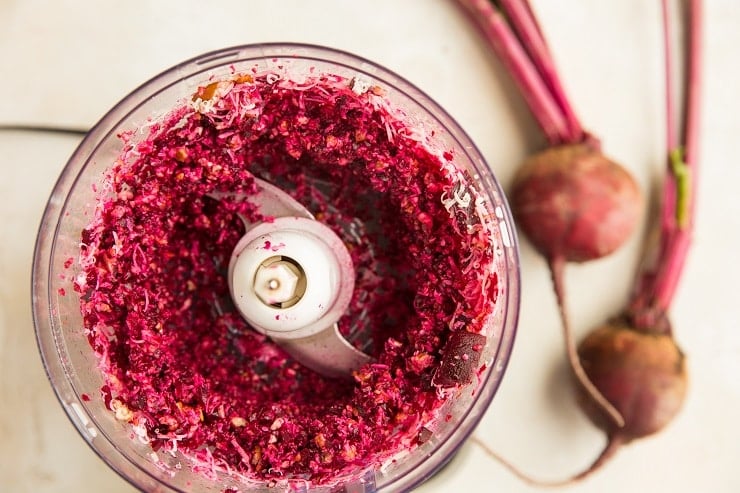 Scrape the sides of the food processor and continue processing until a thick paste forms.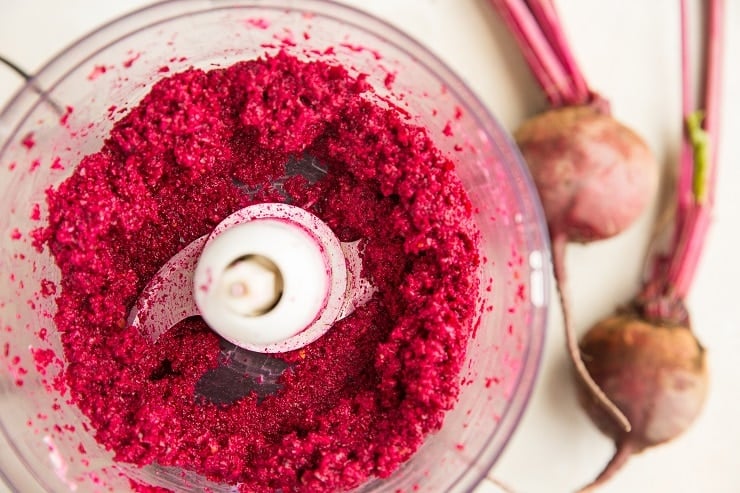 Leaving the food processor on, slowly stream the olive oil through the hole in the top until it is completely incorporated. The sauce should be thick and creamy with a little graininess to it.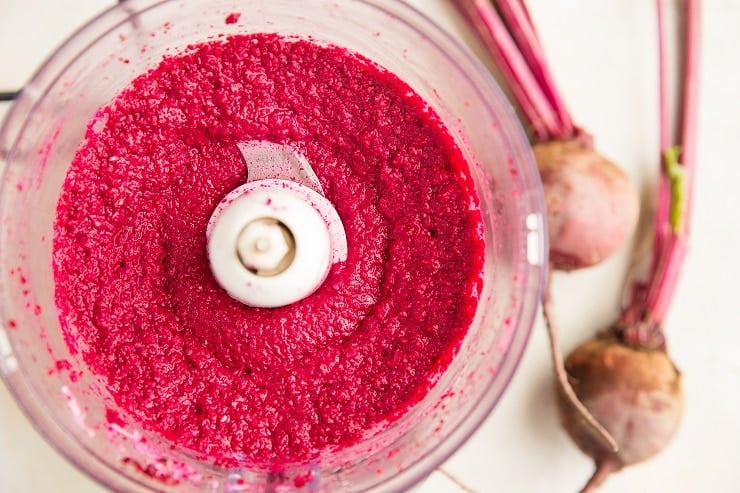 Use roasted beet pesto in any recipe you would normally use basil pesto!
Store pesto in a sealed jar in the refrigerator for up to 10 days, or freeze it for up to 3 months.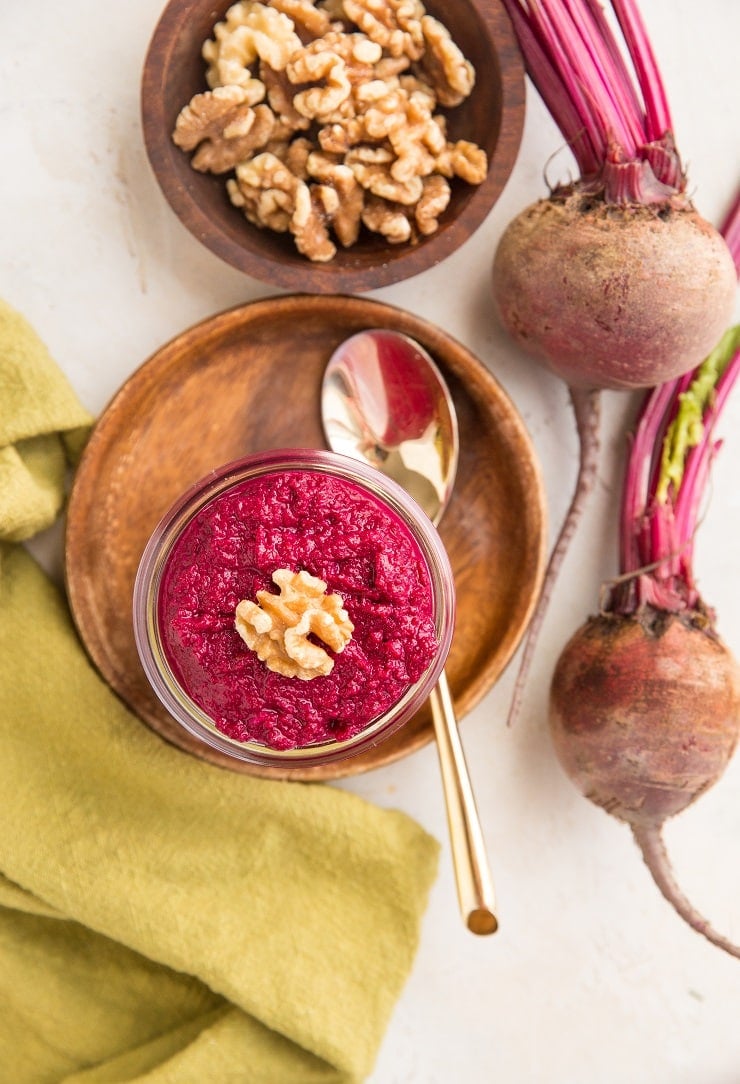 Use this tasty sauce on your burgers, sandwiches, pastas, pizzas, and more!
Check out my Beet Pesto Pizza with Kale and Goat Cheese for a real good time!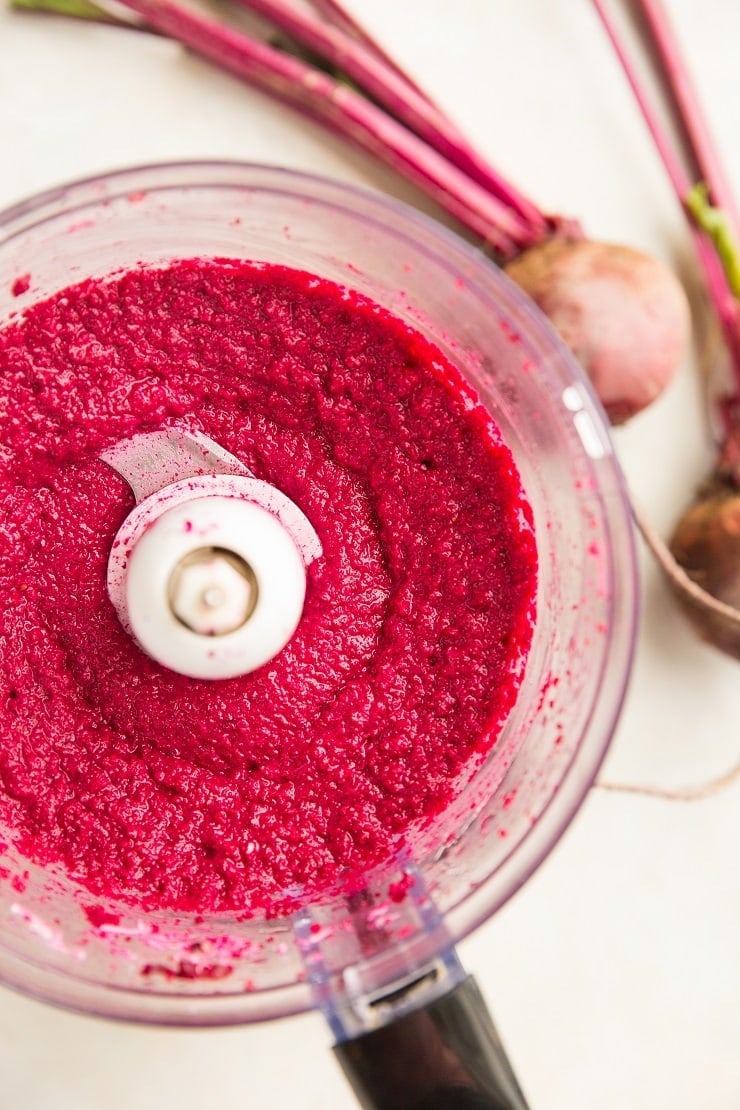 Drop a comment below letting me know what you do with this magical sauce!
Roasted Beet Pesto
Roasted Beet Pesto Sauce is a marvelous nutritious sauce that can go anywhere a regular basil pesto can go.
Ingredients
1

medium-sized red beet

chopped and roasted (about 1 cup)

3

cloves

garlic

roughly chopped

½

cup

walnuts*

1

cup

parmesan cheese

grated

½

cup

olive oil

2

Tbsp

fresh lemon juice***

Salt to taste
Instructions
Preheat the oven to 375 degrees F.

Wash and scrub the beet and pat it dry. Peel and chop it into ½" cubes and place the pieces on a large sheet of foil. Wrap the chopped beet in foil, making a foil packet. Place the packet on a baking sheet. Roast in the oven for 40 to 50 minutes, or until beets are soft and juices are seeping out.

Allow beets to cool completely.

Add all of the ingredients except for the oil to a food processor or blender and pulse several times.

Leaving the food processor (or blender) running, slowly add the olive oil until all ingredients are well combined. If the pesto is too thick for your blender to process, add a small amount of water until desired consistency is reached.

Use the beet pesto sauce in pastas, on pizza, sandwiches, burgers, and more!
Notes
*If you'd like, you can roast the walnuts for 5 minutes at 350 degrees Fahrenheit for additional flavor.
**You can use avocado oil instead of olive oil if you prefer.
***Cider vinegar or rice vinegar can be used as a replacement for the lemon juice.
Nutrition
Serving:
1
of 8
|
Calories:
205
kcal
|
Carbohydrates:
4
g
|
Protein:
3
g
|
Fat:
20
g
|
Fiber:
1
g
|
Sugar:
1
g
This post was originally published on September 19, 2013.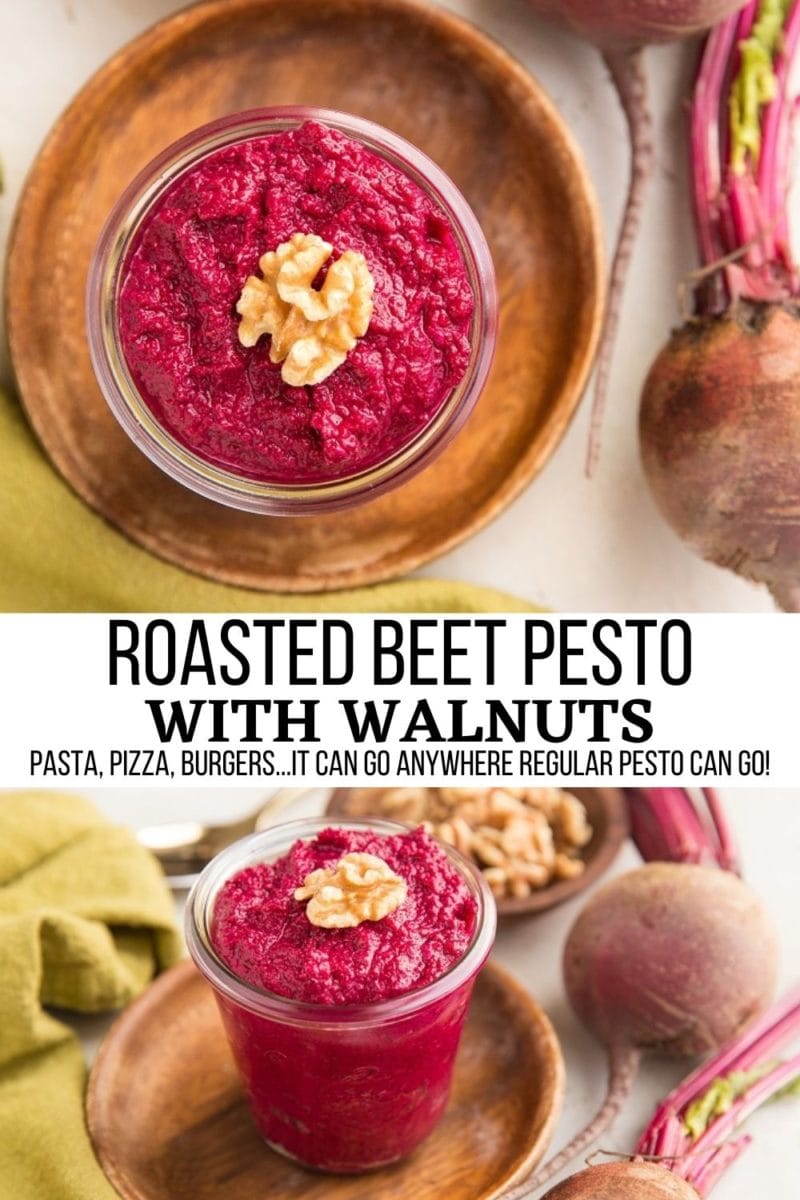 If you make this healthy roasted beet pesto recipe, feel free to snap a photo and share it on Instagram, tagging me at @The.Roasted.Root!