Grain-free almond flour pizza crust made with tapioca flour and yeast – crispy on the outside, airy on the inside for all your favorite pizzas!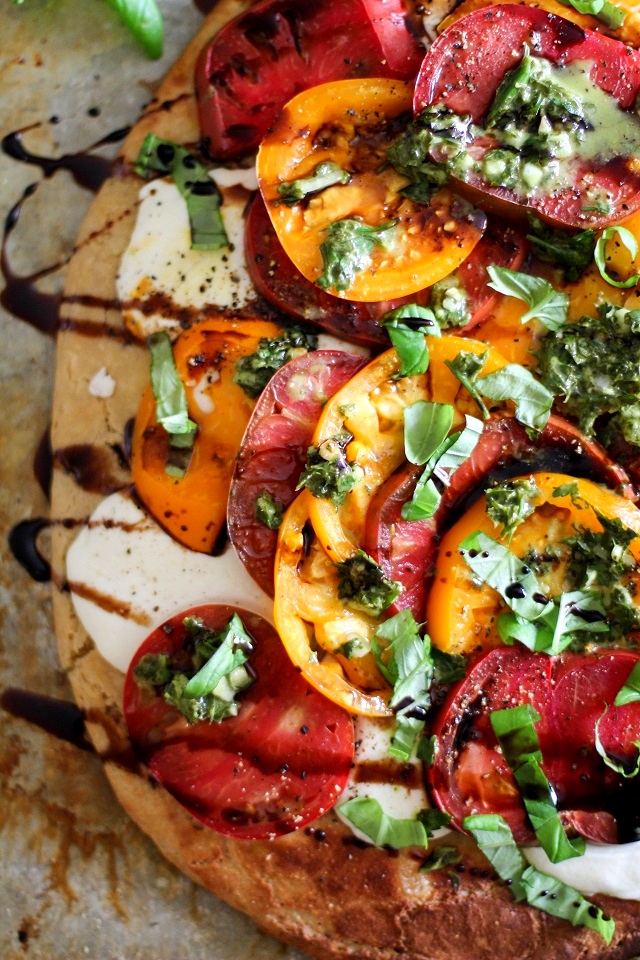 Game
Change
Er
You guys, this pizza crust brings tears to my eye sockets, it's just that good.
While I've been known to make pizza crust out of collard greens, cauliflower, or just straight-up gluten-free pizza mix, I had never made a crustible with almond flour until now. Combining almond flour, tapioca flour, and yeast results in a crispy-on-the-outside-airy-on-the-inside crust that expertly holds your toppings in its warm and fluffy embrace. It's just the loveliest thing.
All things considered, this almond flour pizza crust is:
Grain-free, gluten-free, paleo friendly
Requires no more time or effort than pizza dough made with all-purpose flour
Has a yeasty-cheesy flavor that tickles your tastebuds.
Contains optimal crispy outside with joyful airy inside
Packed with protein for extra nutrient value
Won't make you  beg for belly bloat forgiveness.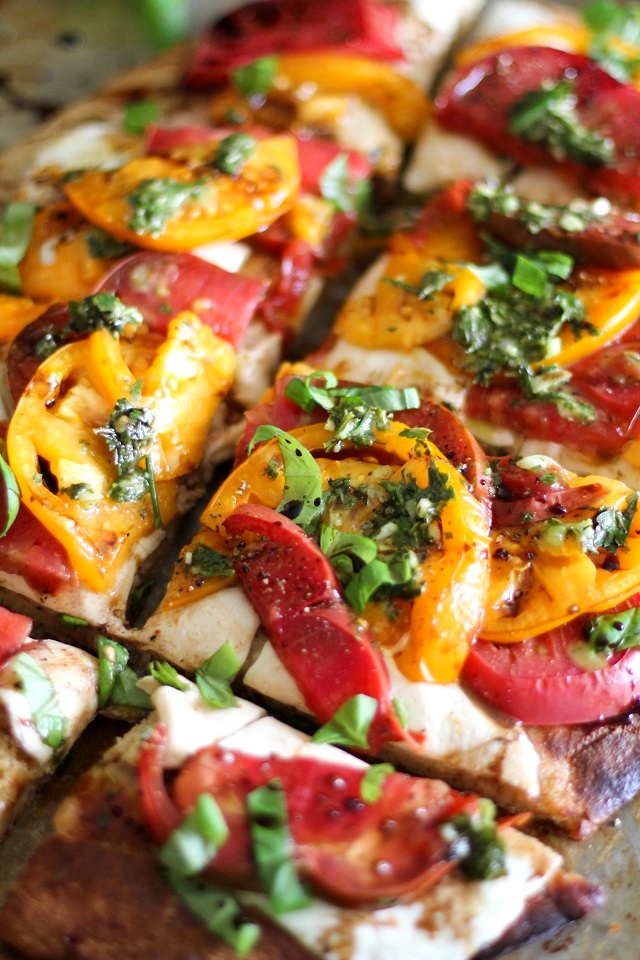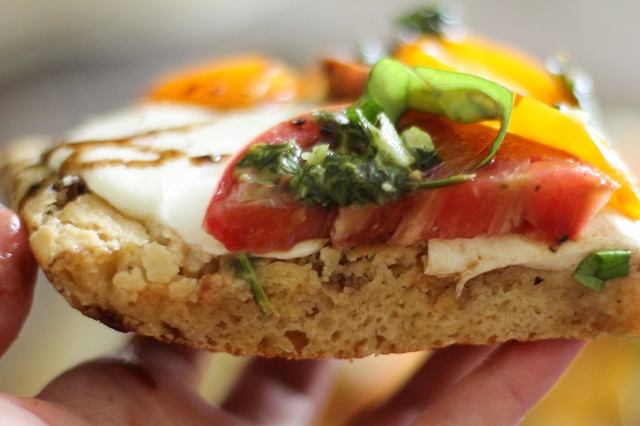 As part of our monthly recipe series, Alexis, Arman, Lindsay, Kylie, Sarah, and I are bringing you healthful recipes using almond flour.  Almond flour is my number 1 go-to when it comes to gluten-free baking (or no-baking). While I've made all sorts of recipes using almond flour in the past, I wanted to try something I had never made before, and pizza crust instantly came to mind. I remembered seeing Natalie's Grain-Free Breakfast Pizza on Pinterest (originally adapted from Zen Belly's NY-Style Paleo Pizza Crust) and knew I had to give the crust recipe a try. I made a few tiny adjustments just to make the recipe a Julia spin, and was pleasantly dumbfounded by the result.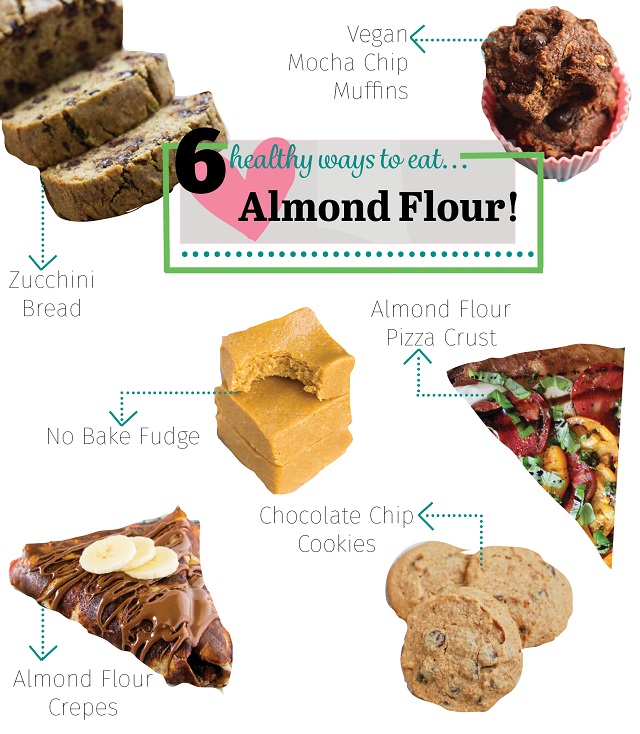 Here are the almond flour recipes my cohorts are bringing to the table:
Vegan Mocha Chip Muffins from Hummusapien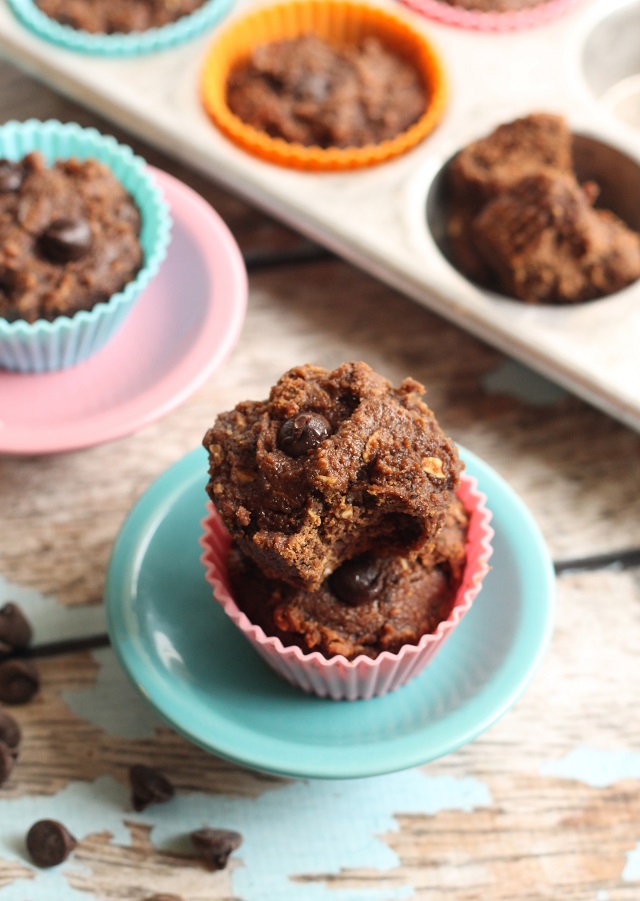 Gluten-Free Zucchini Bread from Making Thyme for Health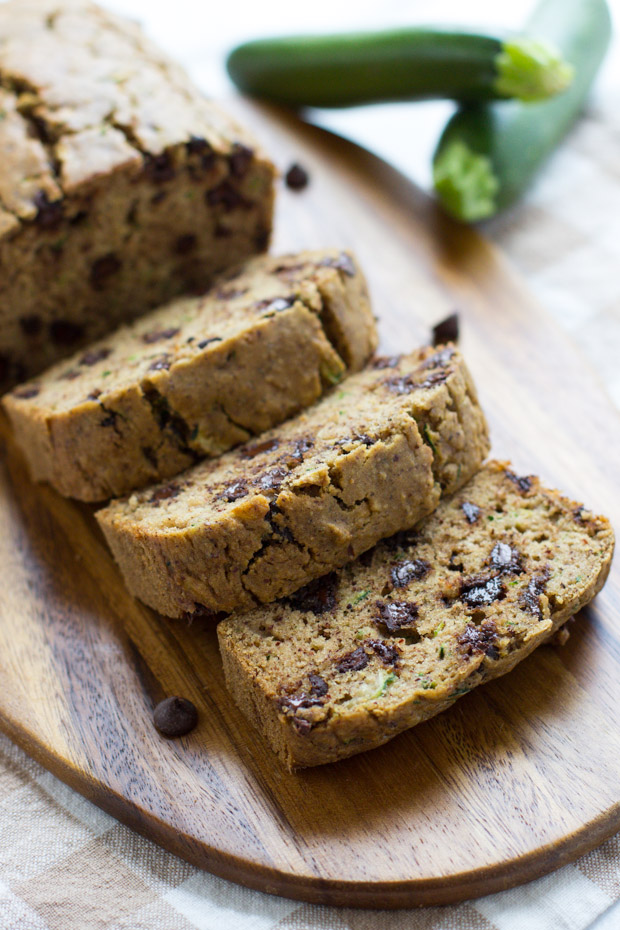 Small Batch Chocolate Chip Cookies from The Lean Green Bean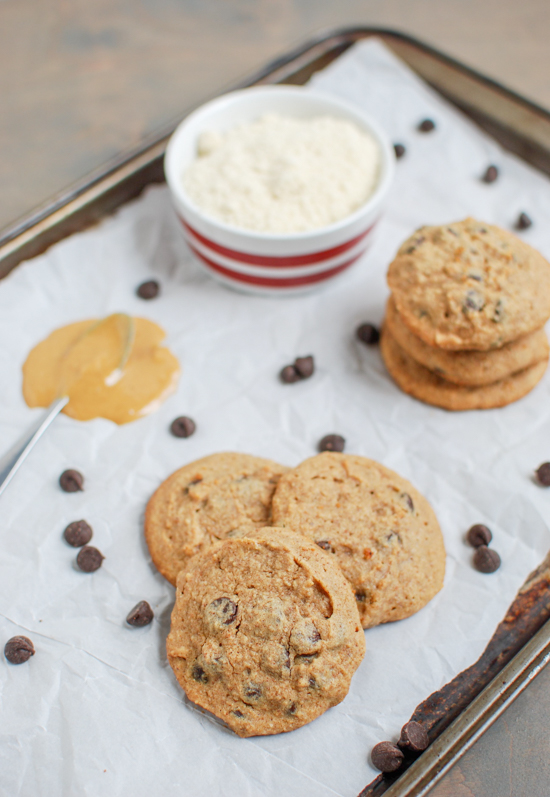 3-Ingredient No-Bake Fudge from The Big Man's World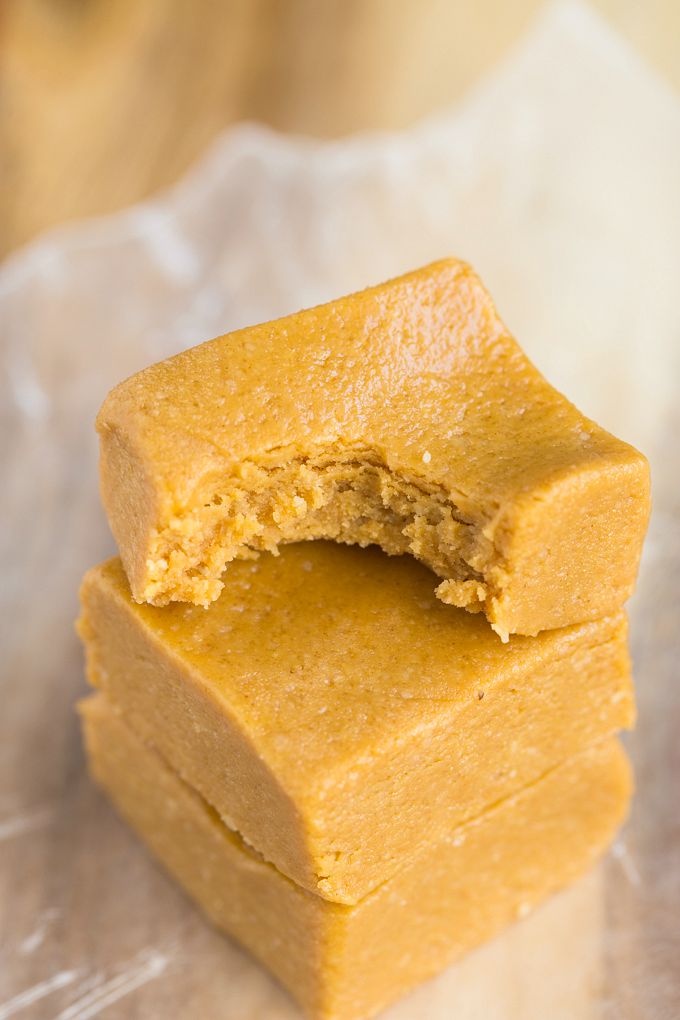 Almond Flour Crepes from Imma Eat That
And now…
Almond Flour Pizza Crust!:
For those of you who are familiar with making pizza dough already, this recipe is a total cinch. For those of you who are new to the pizza dough thing, fret not…I've got pictures!
Here's how it works:
Add the yeast and coconut sugar (or honey or maple syrup) to a mixing bowl, and mix with warm water (be sure the water is between 95 and 115 degrees F). You'll almost instantly begin smelling the yeast and it smells deeeeelicious! Let that elixir sit for 5 minutes to give the yeasties a chance to procreate.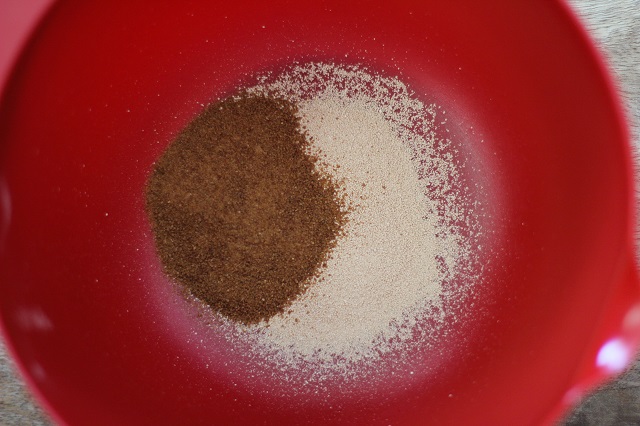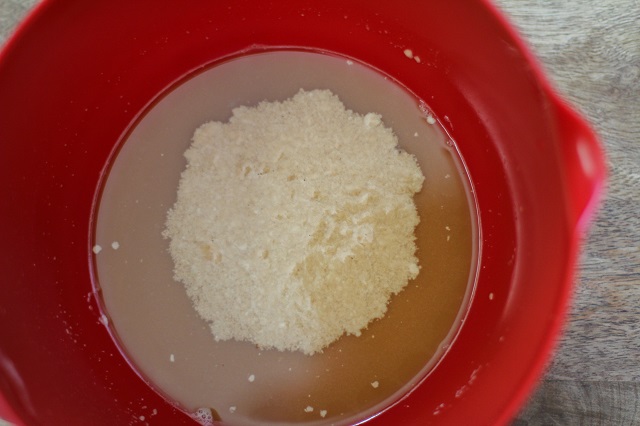 While the yeast is doing its thing, stir together the almond flour, tapioca flour, and salt.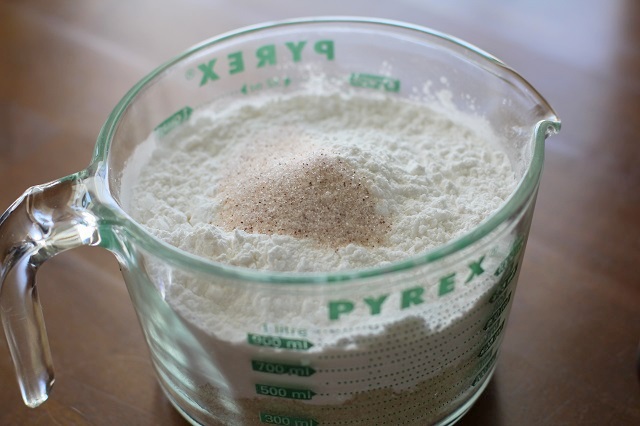 Whisk the egg, oil, and cider vinegar into the yeast mixture, followed by the flour mixture.
Stir it all together for 30 seconds to a minute (really get in there!). Place the bowl in a warm spot (I put mine next to a window that had sun shining through) and allow it to ferment and rise for 60 to 90 minutes (mine took 60 minutes to double in size).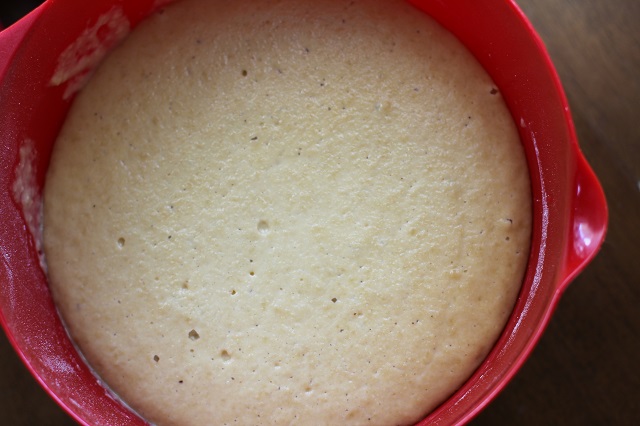 You then pour the dough onto a parchment-lined cookie sheet and spread it evenly. The dough will be suuuupah sticky, unlike regular pizza dough…this is totally normal.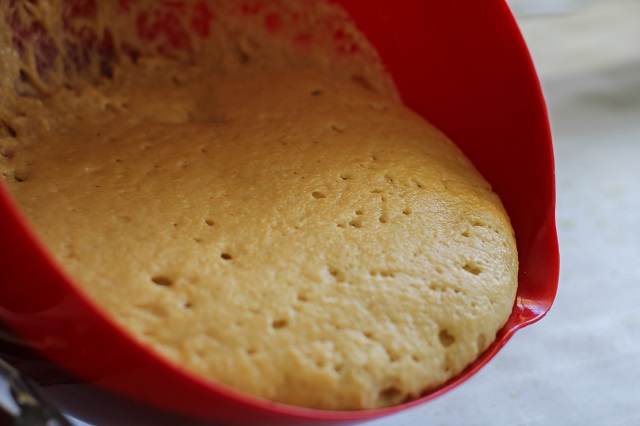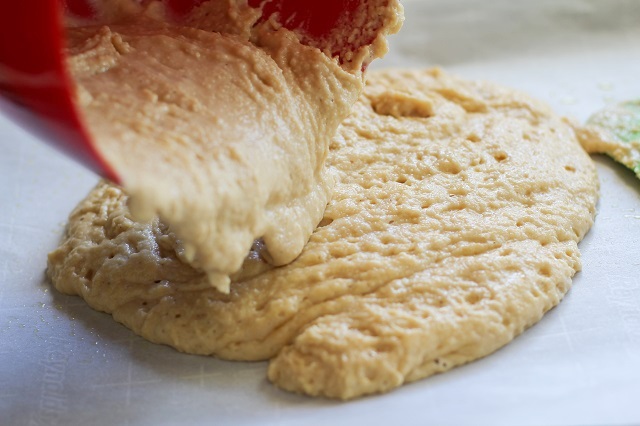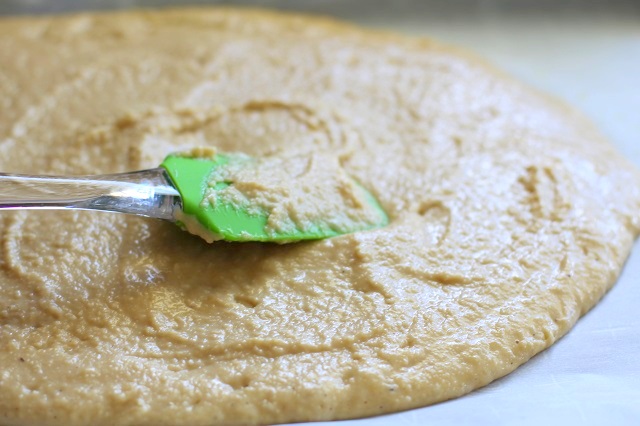 Pre-bake the dough without any toppings to allow it to firm up. The dough does rise, so bear this in mind when choosing your crust thickness. Mine turned out thick and delightful, but in the future, I will spread the dough a little thinner for extra crunch.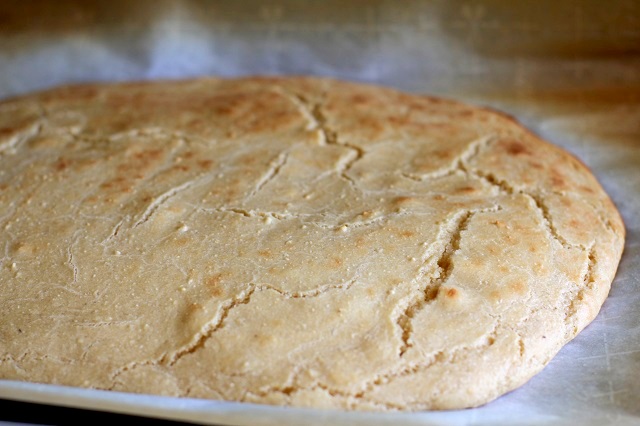 Time to top the pizza! Add your favorite sauces and toppings and put the pizza back in the oven to get the melty flavor meld going.
Speaking of pizza toppings….let's talk about this caprese pizza situation. It's cuh-pray-say (get it? Like cuh-ray-zay? Caprese? Too much? Moving on).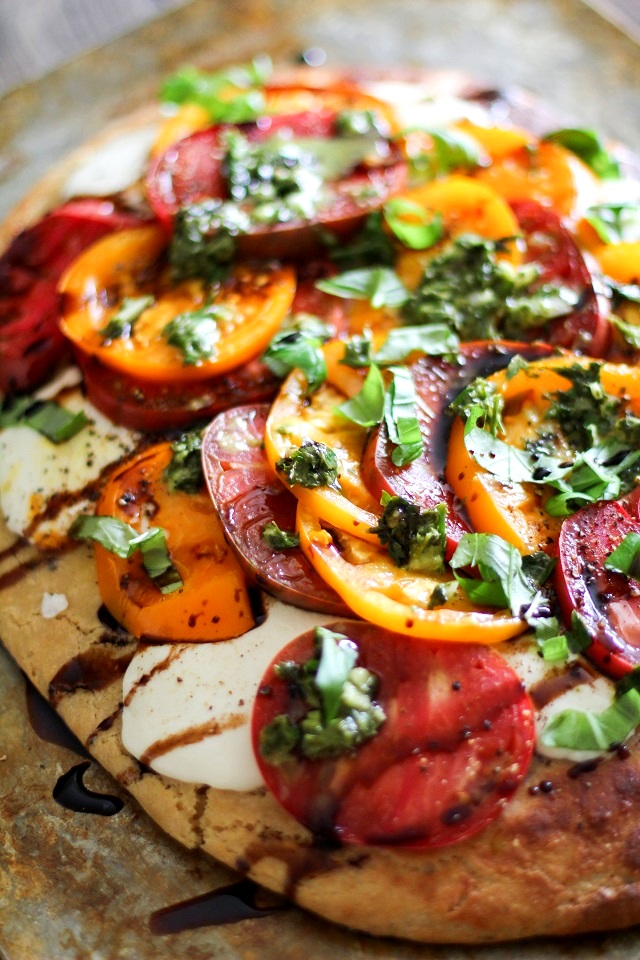 I used fresh mozarella, super juicy heirloom tomatoes, homemade chimichurri sauce, and a balsamic reduction with a sprinkle of fresh basil. I adapted the chimichurri sauce recipe from the August Cooking Light, and thought it made an excellent addition to the pizza.
You can make this an appetizer pizza or do as I did and stuff yourself silly with it. The mozarella melts into the most delicious stringy goo, and even the heirloom tomatoes become more flavorful after roasting. Like I said: tears.to.eyes.
Caprese pizza! It's Cuh-Pray-Saaaaay!
Get that almond flour!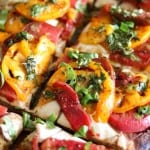 Almond Flour Pizza Crust (+ Caprese Pizza with Chimichurri Sauce)
Print
Ingredients
Chimichurri Sauce:
Caprese Pizza Toppings:
8

slices

thick fresh mozarella

2

inch

large heirloom tomatoes

sliced into ¼- thick slices

1/3

cup

balsamic vinegar

reduced (instructions below)

Chimichurri sauce

recipe above

Fresh basil

Salt

Black pepper
Instructions
Prepare the Almond Flour Pizza Crust:
Add the yeast, coconut sugar, and warm water to a large mixing bowl and stir well. Allow mixture to sit 5 minutes to activate the yeast. Whisk the egg, olive oil, and cider vinegar into the yeast mixture.

In a separate bowl, stir together the almond flour, tapioca flour and sea salt. Pour this dry mixture into the mixing bowl with the wet mixture and stir vigorously for 30 seconds.

Cover bowl with a towel and put in a warm place (next to a window in the sunshine works great). Allow dough to sit 60 to 90 minutes (mine took 60), until it has doubled in size and is full of air bubbles.

Preheat the oven to 500 degrees F and line a large baking sheet with parchment paper. Lightly oil the parchment paper.

Pour the pizza dough mixture onto the parchment-lined baking sheet. Note that the dough will be very sticky - this is normal. Spread the dough to desired thickness. Dough will rise in the oven, so for a crispy crust, be sure to spread dough thinly.

Bake in the preheated oven for 6 to 8 minutes, until firm and golden-brown.
Prepare the Chimichurri Sauce:
Add all ingredients for the chimichurri sauce to a food processor and pulse until well-combined but still chunky. Transfer to a jar and set aside until ready to use.
Prepare the Balsamic Reduction:
Add 1/3 cup of balsamic vinegar to a small saucepan and bring to a full boil. Reduce the heat slightly and allow vinegar to boil, stirring occasionally, until it has thickened and reduced to 1/3 its volume, about 8 to 10 minutes. Transfer to a small cup and allow it to cool to room temperature.
Prepare the Caprese Pizza:
Reduce the oven temperature to 450 degrees F.

Evenly spread the mozarella cheese over the pizza crust. Place on the center rack of the oven and bake until mozarella cheese has melted, about 5 to 8 minutes.

Add the sliced heirloom tomatoes, and drizzle pizza with balsamic reduction and desired amount of chimichurri sauce. Sprinkle with freshly chopped basil, sea salt, and black pepper. Use a pizza cutter or sharp knife to cut large pieces of pizza, and serve.
Recipe Notes
*Be sure your yeast is gluten-free if you follow a gluten-free diet.
The almond flour pizza crust dough should be very thick. If it's overly dry, you can add a couple tablespoons of water to get it to the consistency you see in the photos. Note that if you bake at sea level, you may need to adjust the liquid amount and the bake time. I bake at 6,000 feet of elevation.