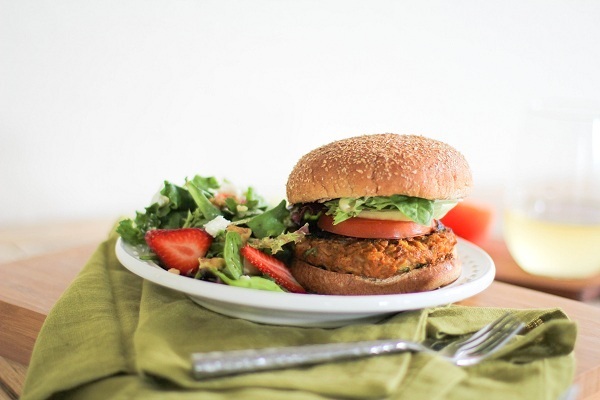 Thank you, my lovey dovies, for your warm birthday notes. You ring my bell!
There may be a little girl talk in this post. Menfolk, eyemuffs!
We women tend to get all jitterbugged out in our twenties. We put pressure on ourselves to have the right job, and find the right "one".  We question ourselves, we bring ourselves down when we fail, we make rules for ourselves. We break our own rules. With our own perception of what should come before the big three-oh, coupled with what we believe is socially acceptable, we do some serious jitterbugging.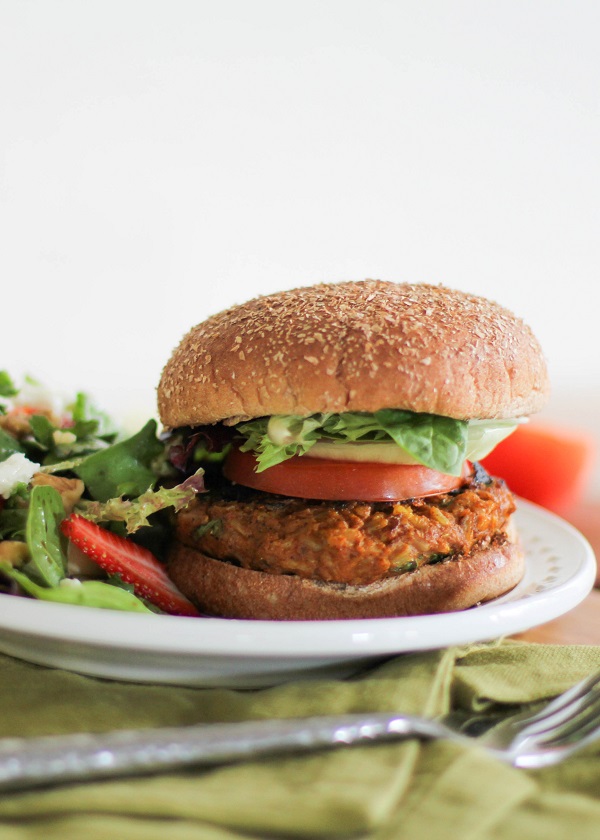 I would like to think I grew since the last time you saw me. My age grew 1 number. My blood sugar grew for a couple of celebratory days.  Now I'm an official member of the late twenties club and really, it's not bad at all. In fact, it's pretty enjoyable.
Struggling down a life path because we deem it "the path" or "the right thing to do" is far more trouble than it's worth in my experience.  I spent the first half of my twenties in pursuit of a lifestyle that didn't fit who I truly am. I know so many women can relate to this, which is why I strangely feel compelled to share my thoughts and tell you that your heart is a wonderful thing to follow. Whatever thoughts, aspirations, ideas, wants you have in your head:  it's never too early, it's never too late. End of story.
Men, you can un-muff your eyes now. And feast them on this: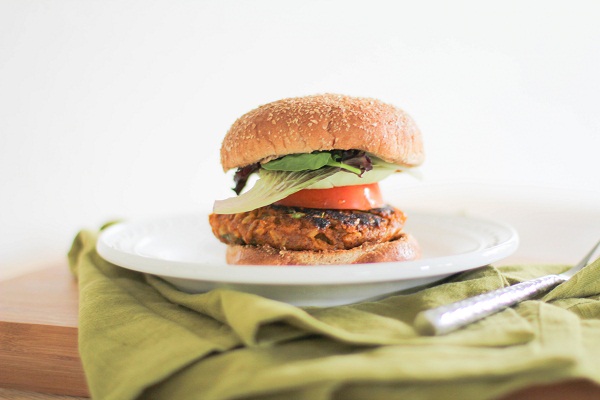 I have been particularly interested in burgers and salad lately. Hence all the burgers and salad you've been seeing on this page. I want to give you variety, I do. But I want to give you burgers and salad more. First the lamb burgers with mint pesto, then the southwest turkey burgers with chipotle yogurt sauce and now a veggie burger. I adore a meaty burger but a great veggie burger tickles me pink too.
This one's made with sweet potato, brown rice, basil and some warm spices. You can doll it up with black beans, jalapeno, corn or anything else that suits you. You can also store the veggie patty mixture in the refrigerator if you don't want to cook up all the burgers at once. If you're a gluten-free gal and toss your burger buns out the window after you're done taking photographs (not that I toss things out the window..that would be wasteful…and inappropriate), you can skip the bun and eat this patty on a bed of lettuce with huge hunks of avocado.
Recipe inspired by Cookie & Kate Sweet Potato & Black Bean Veggie Burgers
Sweet Potato Veggie Burgers
Ingredients
1 medium sized sweet potato, roasted
½ cup brown rice
3 tablespoons oat flour*
½ cup lightly packed fresh basil, chopped **
2 teaspoons ground cumin
2 teaspoons chili powder
1 teaspoon garlic powder
1 teaspoon ground turmeric
½ teaspoon salt (or to taste)
Instructions
Using a fork, poke several holes into a sweet potato, wrap it in foil, and roast it in the oven until it's very soft, about 50 to 60 minutes.
While potato is cooking, prepare the ½ cup of brown rice by following the instructions on your packaging.
When the potato is cool enough to handle, chop it into thirds, add it to a blender or food processor and blend until completely smooth.
Add the potato puree, cooked rice and the remaining ingredients to a medium sized mixing bowl and mix to combine.
If possible, refrigerate the mixture prior to cooking as it is easier to form burger patties after refrigeration. The mixture may be sticky depending on the size of your sweet potato and this is perfectly fine.
Form 3 to 4 veggie burger patties and add enough oil to a cast iron skillet to cover the bottom. Heat the skillet to medium high. Place burger patties on hot skillet and allow them to cook until a nice crisp forms and the sides begin to turn color.
Very carefully flip the patties onto the other side and cook until the other side has a nice crisp and the patties have firmed up a bit.
Serve the patties with your favorite toppings, such as tomato, avocado, onion, spring green mix and your favorite sauce.
Notes
*You can make oat flour by grinding up rolled oats in a food processor or blender. You can also skip the oat flour and simply add rolled oats. I would venture to guess ½ to ¾ cup would make sense. **You can substitute basil for cilantro
http://www.theroastedroot.net/sweet-potato-veggie-burgers/
Other awesome veggie burgers:
Beet Burgers with Lemon Dill Yogurt Sauce
Eggplant Veggies Burgers with Roasted Red Pepper Aioli
Need a vegetable to go with your vegetable? These are the salads I've been tossing:
Roasted Chickpea & Apricot Salad
Roasted Sweet Potato Pesto Salad