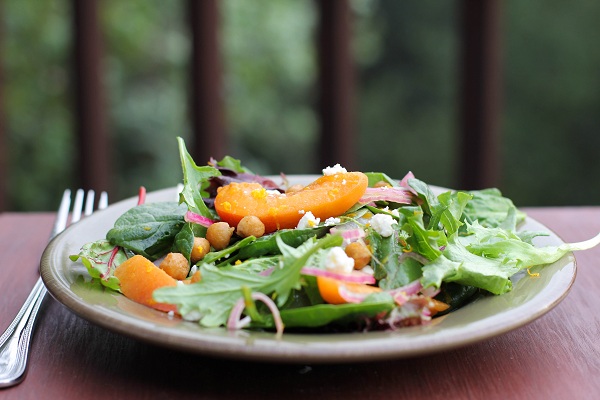 An extra day off for me typically means more opportunity to get into trouble. Staying up extra late, extra wine in my glass, extra large pancake breakfasts (did someone say pancakes? A brand new stack is headed your way this week!), prolonged time in the sun, a new lobster hue to my skin. As I sit and write this post in my bathing suit at 1 am, I'm going to go ahead and say every weekend should be a three day weekend.
Happy Memorial Day, my friends! I hope you all are enjoying the long weekend celebrating the holiday with your loved ones. It may be a bank holiday, but that don't mean we can't fire up the ol' intraverse and gander at Memorial Day recipes! Since we're busy getting ourselves into trouble, let us delve into a fast, healthy, in-season salad.
Have you seen all the stone fruit popping up all over the place in the grocery store? The peaches, the cherries, the apricots, the nectarines. Spring has brought us a bounty of delicious produce and making a tasty salad out of our spring fruit is a dern good idea. Does this salad have the ability to heal sunburn? No. But it's fresh, springy, easy to make in a hurry and tastes great!
Looking for more tasty salad recipes? Check it:
Roasted Sweet Potato Pesto Salad from The Roasted Root
Southwest Kale Salad with Cumin Ginger Sage Dressing from The Roasted Root
A Spring Salad from Roost
Roasted Carrot and Beet Salad with Tahini Dressing from Dishing up the Dirt
Raw Detox Salad with Apple Miso Dressing from Coffee & Quinoa
Blueberry Pistachio Spring Salad with Pomegranate – Honey Dressing from Simply Scratch
Brussel Slaw with Hazelnuts and Dates from Feasting at Home
Stay safe, my lovekins. And wear your sunblock. Lobster is a painful shade of skin.
I adapted this Toasted Chickpea and Apricot Salad recipe from Cooking Light. Check out their Healthy Grilled Burgers for Memorial Day for some last minute grilling ideas!
Roasted Chickpea and Apricot Salad
A fresh, unique salad recipe with apricots and roasted chickpeas
Ingredients
1 15-

ounce

can garbanzo beans

drained and rinsed

¼

cup

olive oil

divided

2

teaspoons

ground cumin

1

pinch

cinnamon

Zest of one orange

2

tablespoons

red wine vinegar

2

tablespoons

fresh orange juice

¼

teaspoon

salt

Pinch

black pepper

¼

red onion

thinly sliced

4

large ripe apricots

pitted and sliced

6

cups

baby arugula leaves

or mixed greens

½

cup

crumbled feta cheese
Instructions
Preheat the oven to 450 degrees.

In a mixing bowl, toss the garbanzo beans with 2 tablespoons of olive oil, the ground cumin and a pinch of cinnamon and salt.

Spread garbanzo beans on a parchment-lined cookie sheet and bake for 20 minutes, stirring half-way through.

In a salad bowl or mixing bowl, whisk together the other 2 tablespoons of olive oil, vinegar, orange juice, salt and pepper.

Add the red onion and apricots and mix to coat in oil.

Add the arugula (or mixed greens) and mix.

Once the garbanzo beans are out of the oven, add them to the salad warm, along with the feta cheese and toss together.

Serve in heaping portions with some delicious barbecue and enjoy!
Nutrition