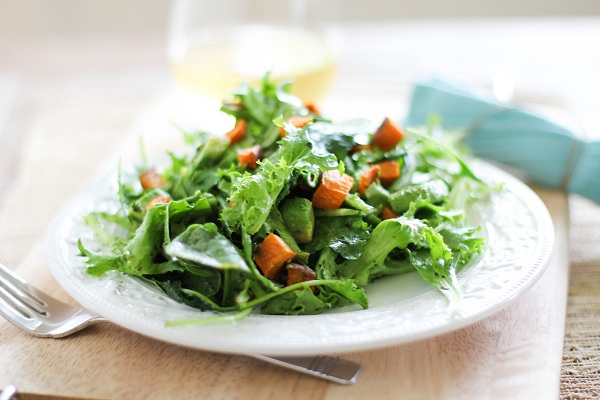 When real life happens to you, you become that person you said you never would.
The girl with the over-sized canvas bag with coffee stains all over it because you never seem to remember to throw it in the laundry and besides, the bag is busy holding all your crap, it doesn't have time for the spin cycle.
The girl with the super big hair. Big and frizzy.
The person who spends the entire day in workout clothes whether or not she actually works out. Did she get a workout in? Who knows, but either way, everything else she owns is dirty, so yoga pants it is!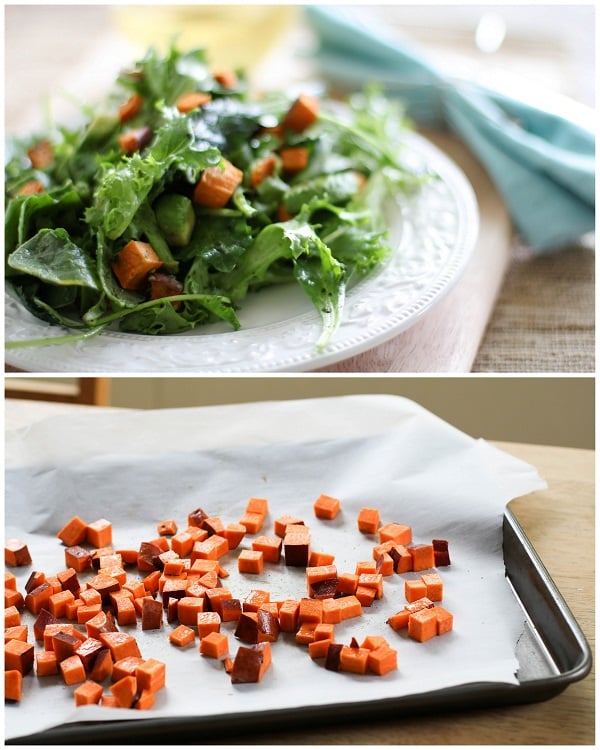 Also real: salad. It is no longer the case that the more char broiled barbecue burgers you eat, the skinnier you get. Salad is a real part of your life now. And you enjoy it. Hop in your time machine and tell that to your 7-year-old self!
Such is life, such is truth. Eventually, many of those things you exempt yourself from as know-it-all 19-year-old become your bread and butter in your mid-twenties. You never would have thought to serve a salad leukwarm, and you're doing it. You would have never thought to use kale pesto sauce as salad dressing…also doing it.
This salad is a total change-up from the regular toss-it-all-together salad I normally make. It's electic yet sophisticated. Adult-esque but fun. It's bangarang, let's make it, shall we?
Roasted Sweet Potato Pesto Salad
Pesto sauce makes for an incredibly delicious salad dressing tying this nutritious roasted sweet potato salad together
Ingredients
2

cups

sweet potato

chopped (1/2 of a large sweet potato)

2

teaspoons

grapeseed or olive oil

Salt and pepper

1

avocado

diced

3

stalk green onion

chopped

6

cups

baby kale*

1/4

cup

to 1/3 cup pesto sauce

to taste

1

Tbsp

lemon juice or cider vinegar

to taste, optional
Instructions
Preheat the oven to 375 degrees.

Chop the sweet potato into ½" pieces. Coat the sweet potato in a couple teaspoons of oil, shake some salt and pepper over them and bake in the oven for 30 minutes, stirring a couple of times part-way through.

Once the sweet potato is soft, remove from the oven and allow to cool slightly.

In a large salad bowl, toss the baby kale (or spinach or spring green mix) in a couple of tablespoons of store-bough or homemade pesto sauce. Continue adding pesto sauce to your personal taste and drizzle with lemon juice or cider vinegar to taste.

Add the diced avocado, green onion and roasted sweet potato and toss together. I like serving this salad slightly warm by adding the roasted sweet potato when it's still warm. You'd prefer, allow sweet potato to cool all the way before adding it to the salad.
Notes
*You can also use spinach or spring green mix. ** I used my recipe for homemade kale and basil pesto sauce. You can find the recipe here
Nutrition