Southwest white bean veggie burgers with black bean and corn salsa make for a flavor-packed, nutritious vegetarian meal, or even appetizer! A great make-ahead option for busy weeknights!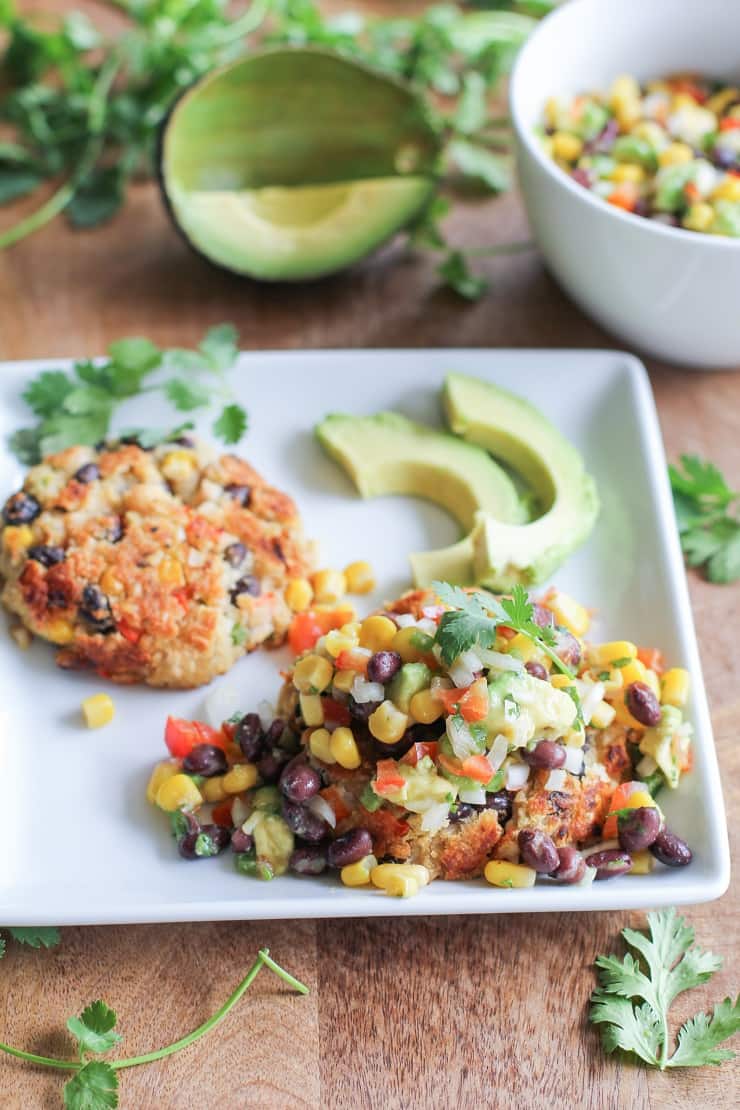 Fasten yer chaps and saddle up yer hoss, we're going to the wild, wild…Southwest!
This is what I imagine Pecos Bill would be eating if he decided to take a break from the ol' beef. Or if Calamity Jane swept through the Southwest and rounded up all Pecos's cattle while he was busy lassoing a tornado and he had no other option but to peruse his pantry. When you were raised by a pack of coyotes like Pecos Bill, something's got to feed your insatiable hunger, and that something is a mountain of Southwest veggie al fresca.
While a rattle snake-slinging 'merican legend devouring a mountain of veggie burgers sounds a bit whimsical, these burgs are no tall tale. No, man. They're legit.
Little known fact: Pecos's favorite meal was dynamite. And that's what these burgs are. BOOM!
The veggie burger. Can you get on board? It's fairly impossible to trump a big beefy burger with melted pepper jack cheese and bacon, but veggie burgers certainly have their place in my mouth. Especially when they're double whammy-ed with Southwest-style ingredients and then topped with hunks of avocado and Southwest Black Bean and Corn Salsa.
Why go to the Southwest just once when you can go there twice?
Or three times?
Or…
Feast your peepers on this: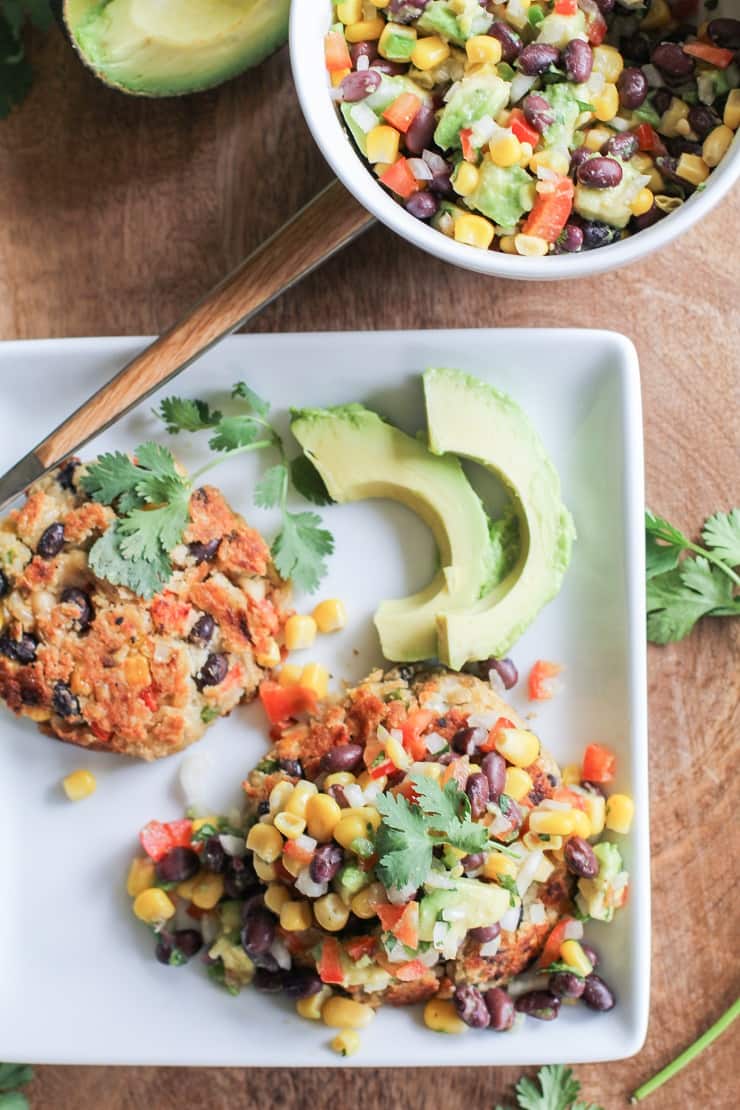 Little known fact: Pecos Bill made his veggie burgers in a cast iron skillet.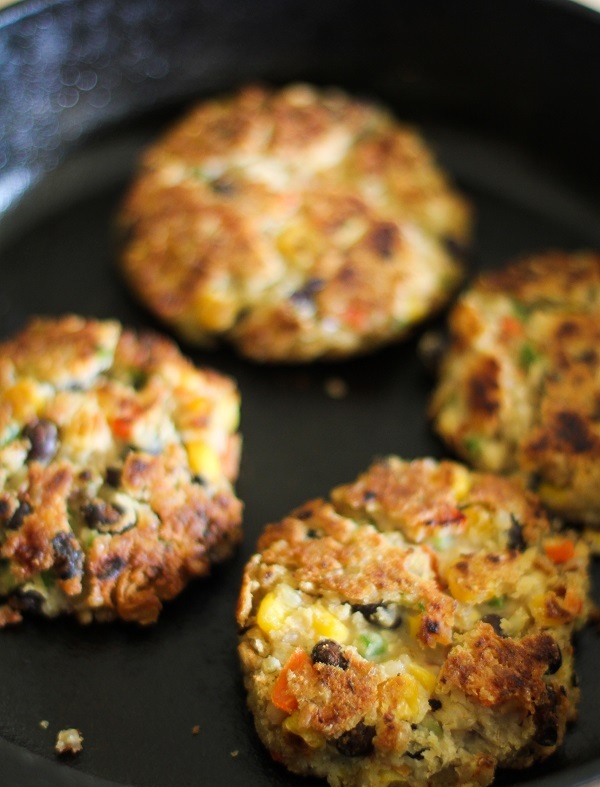 Other than all things Southwest, the veggie burger patties are made with white (cannelini) beans and brown rice, making them gluten-free. They're super easy to put together and can be served as an entree or an appetizer. I like to go bun-less with these burgers, but you can certainly bun 'er up.
Go to the Southwest. At least twice.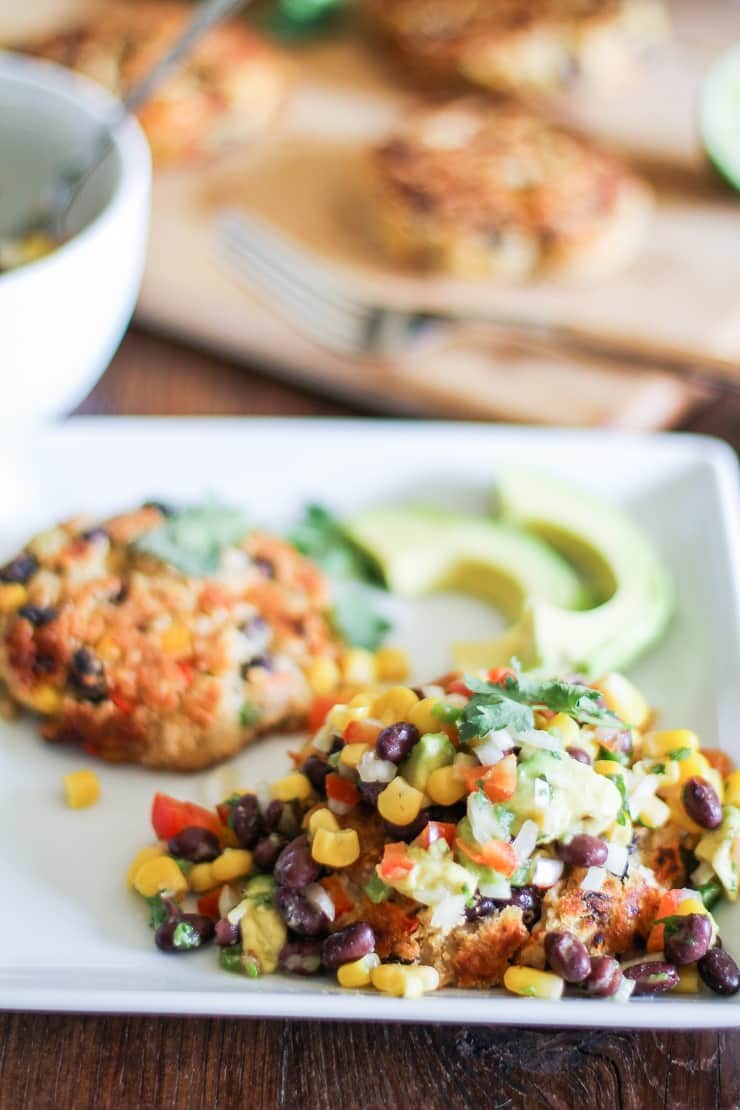 Southwest Veggie Burgers with Black Bean and Corn Salsa
Print
Ingredients
1 14-

ounce

can white beans

drained and rinsed

1

cup

cooked brown rice

1

egg

lightly beaten

2

tablespoons

finely chopped white onion

2

cloves

garlic

minced

1

small jalapeño

seeded and chopped

1/3

cup

red bell pepper

finely chopped (about ¼ of a bell pepper)

1/3

cup

corn kernels

about 1/2 an ear of corn

1/3

cup

black beans

½

teaspoon

kosher salt

½

teaspoon

ground cumin
Southwest Black Bean and Corn Salsa

for serving
Instructions
Prepare the Black Bean and Corn Salsa and refrigerate until ready to use.

Rinse the white beans well and pat them dry.

Add the beans at the cooked rice to a

food processor

and pulse until well combined. It's okay if the mixture is slightly chunky.

Add the white bean/rice mixture to a mixing bowl and mix in the lightly beaten egg.

Add the remaining ingredients and stir together until combined.

Note: If you're using canned black beans and corn, be sure to rinse them and pat them dry before adding them to the mixture.

In a

cast iron skillet

, heat 3 tablespoons of grapeseed or canola oil over medium (or enough oil to coat the surface well).

Measure 1/3 cup of the burger mixture and form a patty using your hands (the mixture will be sticky, and that's okay!). Carefully place the burger on the hot cast iron skillet and allow it to cook for 5 minutes. Carefully flip to the other side and cook an additional 5 minutes.

Repeat for remaining burger mixture.