Creamy Whisky-Spiked Chocolate Chia Seed Pudding is a healthier dessert recipe that is vegan, refined sugar-free, dairy-free, and flavorful! Try blending traditional chia seed pudding for a creamier dessert!
Frideeeeeee time for a shotski of whiskey in your pudding….y!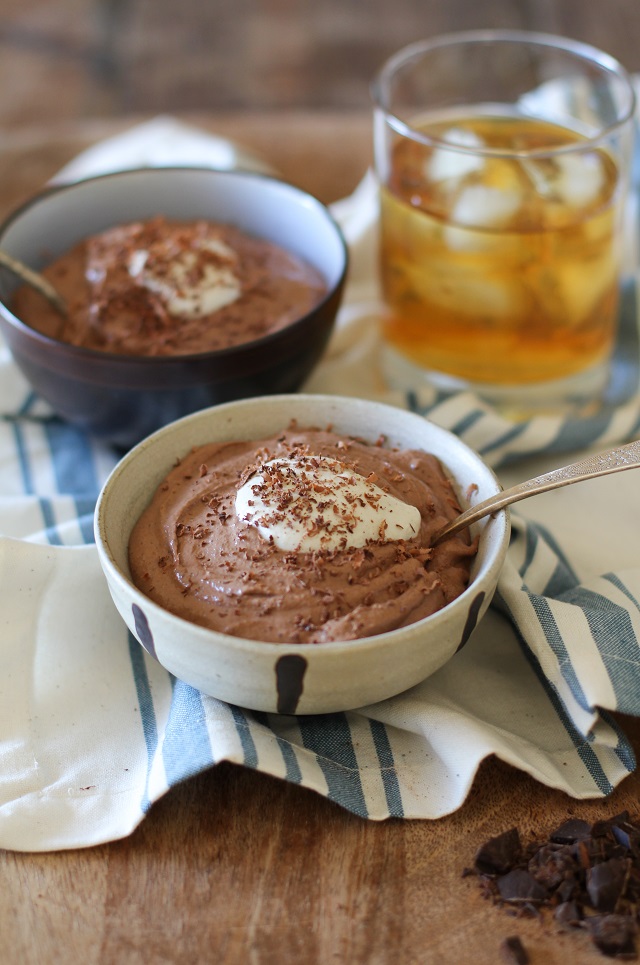 While making this pudding, I unlocked the chamber of enigmas and uncovered the chia seed codex, unleashing a vital secret that will blow your freaking mind: blended chia seed pudding.
As in creamy chia pudding. Put that pudding in a blender and blend it to smithereens until all the little chia nuggets are nice and creamy smooth.
And while you're at it: heat the stuff up, because haven't you heard?: hot pudding is ah-may-zing!
Not gonna lie, I originally thought about soaking the chia seeds in Guinness and using Baileys for this pudding to make an Irish Car Bomb-you-in-the-face dessert for St. Paddy's Day, but then I realized something crucial: I'm not a fan of Baileys, and let's face it: if there's a Guinness or twelve in da.house, I'm drinking that ish, because have you tasted it? Nectar of angels right there.
So I skipped the Irish Car Bomb approach and went the straight-up whiskey in the jar-o route. Out popped this crazy-tasty pudding that really isn't all that bad for you.
Just some sugar from the dark chocolate chips, but chocolate sugar doesn't count.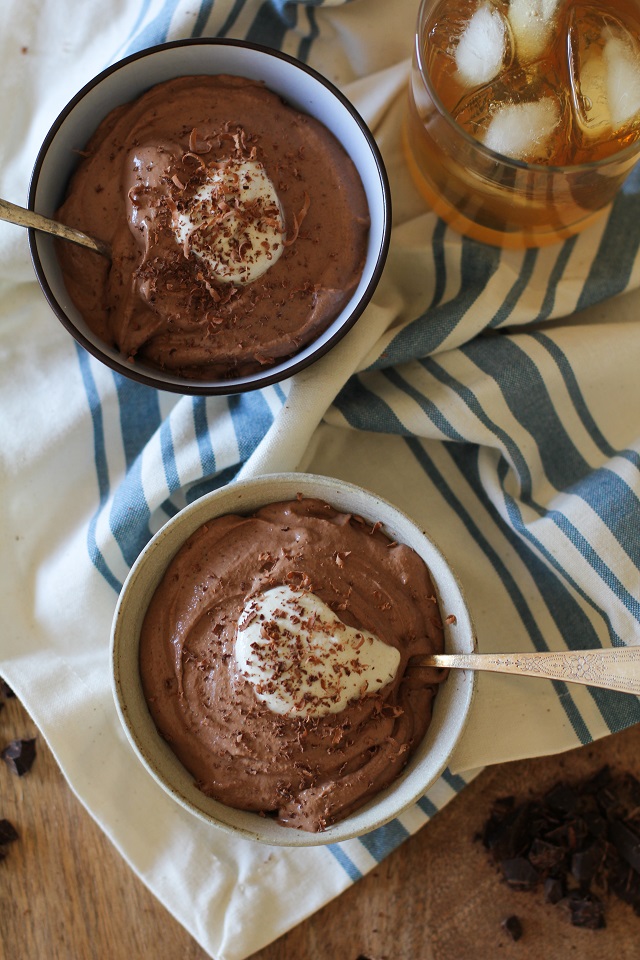 How to Make Creamy Chocolate Chia Seed Pudding:
All I did for this boozy batch was heated already prepared chia seed pudding on the stove top with dark chocolate chips, coffee grinds, and whiskey.
I then poured it in a blender and blended the stuff for dayz. Result: bold, steamy, sultry, hot, finger lickin good goo.
True story: you need a pretty powerful blender to successfully blend up the chia seeds.
I used my Blendtec Blender, put it on the soup setting, and let the pudding blend for 90 seconds. I loved eating the pudding piping hot, but it can be served cold, too. When you refrigerate the pudding, it gets even thicker, like chocolate mousse. Like fairy dust melting on your tongue.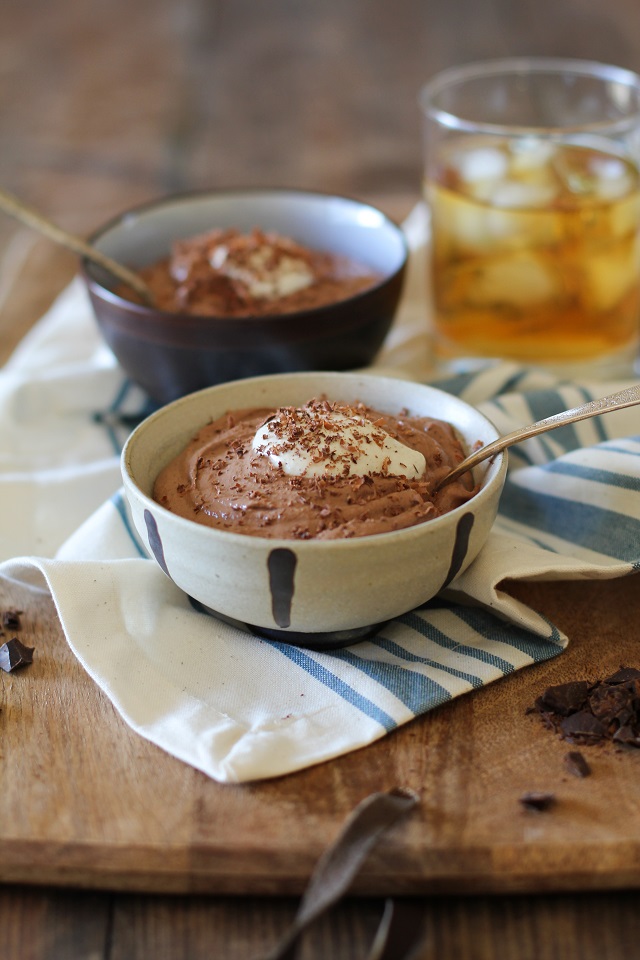 Spike it!
Whiskey-Spiked Creamy Chocolate Chia Seed Pudding
Creamy chocolate chia seed pudding with whisky is blended for a creamy, thick texture for the ultimate dessert.
Instructions
Add all of the ingredients for the pudding to a saucepan and heat over medium, stirring constantly. Cook and stir until the chocolate chips have melted, but avoid bringing the pudding to a full boil.

Pour the pudding into a high-powered blender and blend until completely smooth. This will take 1 to 2 minutes even in a great blender.

Serve piping hot or chill in the refrigerator and serve cold.
Notes
*I used Ghirardeli 60% dark chocolate chips. To make this recipe vegan, use vegan chocolate chips
Nutrition
Serving:
1
of 3
|
Calories:
494
kcal
|
Carbohydrates:
51
g
|
Protein:
6
g
|
Fat:
27
g
|
Fiber:
12
g
|
Sugar:
34
g