Denver. Denver, Colorado. Oh.my.gaaaah. After spending a few days in Denver, I can (incoherently) summarize my recent activities.
Alcohol. There are about a gazillion microbreweries in Denver (heeeeeaven!). And were I to generalize, I would say these people take their alcohol reeeeal serious.
Football. This is well-matched with the above. Where I'm from, football is localized to in-house get togethers as opposed to a mass migration to the stadium and bars. Where I'm from, there is less football-induced yelling, less cursing, more appetizers. I did my first-ever tailgating at the Broncos game yesterday (Peyton f'in Manning, woop woop! Who. am. I?). I like Denver football culture.
Dogs. I have been petting, squeezing, and cuddling a lot of dogs. Dogs are everywhere. And I love it. It makes me want a dog. Dog-friendliness = Denver. Denver loves dogs.
Food. I can't talk about Denver without talking about Chipotle. I have felt actual resentment towards my blog because Chipotle burritos are a very attractive lifestyle. A state of being. Don't tell The Roasted Root I said that. There is also other food in Denver besides Chipotle. Truth.
Insane (by my standard) workouts. As everything in life needs to be in balance, I have learned Denver folk are – in general – fit. They're iron men and ultra marathoners and crossfitters – the energy level is baffling. Once upon a December, I was a crossfitter, so I have rekindled a small crossfitting flame in my friend's crossfitted out garage. I'm sore everywhere. I also took my first Bar class (there are yoga, pilates, and bar studios on every corner, it's gloooorious!!). SO sore!
Walking. Walking Everywhere. I am a HUGE fan of using my own two feet to get from place to place. Where I live, this is much less possible than it is in Denver. My friend's neighborhood has everything we need for a wonderful time, so we have been walking everywhere. I don't think I know how to drive anymore.
To summarize, the Denver culture is a fun'un. I travel back home tomorrow. Denver, you will be missed.
And now for the pancakes.
This is the perfect fall pancake. Can we buzz word it out for a minute? Let's buzz word it out. These pancakes are. . . Gluten free. Grain free. Paleo Friendly. Low glycemic. Refined sugar free. Made of coconut flour. Buzz word. They have. . .caramelized apples on top!
These grain-free, refined sugar-free pancakes are all things autumn, cozy, and warm, plus, they're great for your body. And they're paleo-friendly!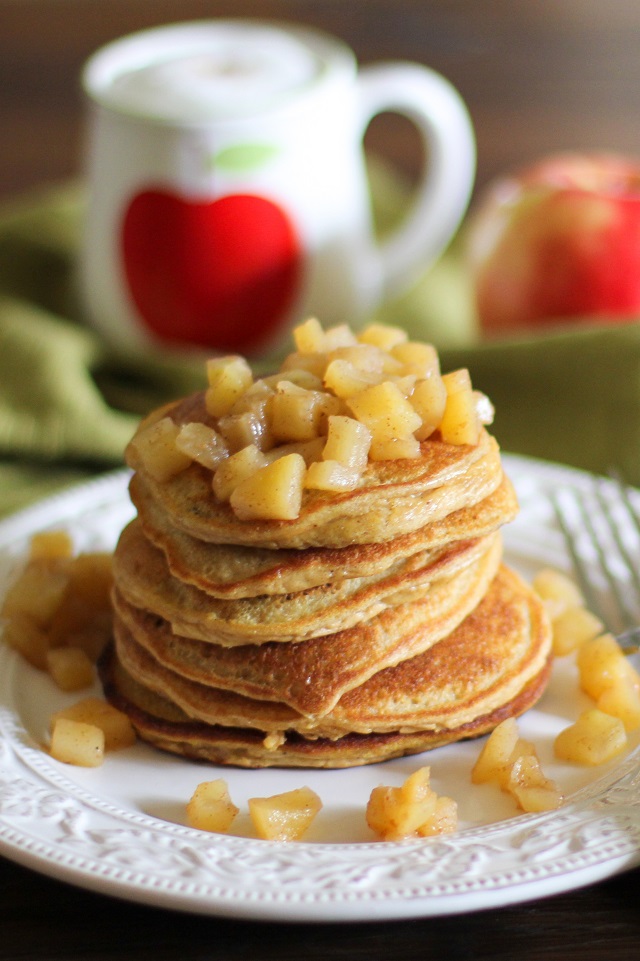 I posted Fluffy Apple Walnut Pancakes about a year ago, but felt everyone could use a good reminder from time to time. When I made these pancakes the second time around, I changed very little about the recipe (learning your blast-from-the-past recipes still work is a waaaaahooo moment), but I did make the instructions much easier to follow/understand.
Onward and upward, my friends. I'm going to go walk the dog, do some burpees, drink some beer, watch some football, eat chipotle, and repeat the process until I'm on a plane tomorrow evening.
Gluten Free Apple Cinnamon Pancakes
Gluten Free Apple Cinnamon Pancakes are a beautiful celebration of fall apple harvest.
Ingredients
For the pancakes:
3 eggs, lightly beaten
1/3 cup full-fat canned coconut milk*
½ teaspoon pure vanilla extract
1 tablespoon coconut oil, or grapeseed oil
1 tablespoon pure maple syrup, optional
¼ cup coconut flour
¼ teaspoon baking soda, not level)
½ teaspoon ground cinnamon
2 tablespoons walnuts, chopped
For the apple topping:
2 honey crisp apples, peeled, cored and chopped
½ cup water, divided
¼ teaspoon ground cinnamon
½ teaspoon ground ginger
2 tablespoons pure maple syrup
Instructions
To Prepare the Apple Topping:
Add the chopped apples and about 2 tablespoons of the water to a small pot and heat to medium.
Cover the pot and bring it to a full boil, stirring occasionally.
As the water evaporates, add more, 1 to 2 tablespoons at a time, until apples are softened (yet still slightly al dente). This process should take about 30 to 40 minutes.
Add the maple syrup, cinnamon, and ginger and stir well. Set aside on low heat until ready to serve.
To Prepare the Pancakes:
In a mixing bowl, whisk together the eggs, coconut milk, vanilla extract and oil.
In a separate bowl, mix together the remaining dry ingredients.
Add the dry ingredients to the bowl with the wet and stir well until all of the clumps are out (coconut flour has a tendency to be chunky, so just keep mixing until a smooth batter forms.)
Heat a skillet or pancake griddle to medium-low heat.
Add enough oil to coat the surface.
Once the skillet is all the way hot, measure out about ¼ cup of the pancake batter and pour it on the skillet.
Allow pancake to cook until sides are firmed up, and middle begins firming up too, about 6 to 8 minutes (no joke!).
Carefully flip the pancake and cook another 2 to 4 minutes, until pancake is cooked all the way through.
Repeat with remaining batter.
Serve pancakes with apple topping.
Notes
*You can also use unsweetened almond milk
Nutrition Information
Yield

6
Serving Size

1 grams
Amount Per Serving
Unsaturated Fat

0g