Bananas Foster Chia Seed Pudding: Because we may not have control over everything in life, but we certainly have power over how we eat our bananas.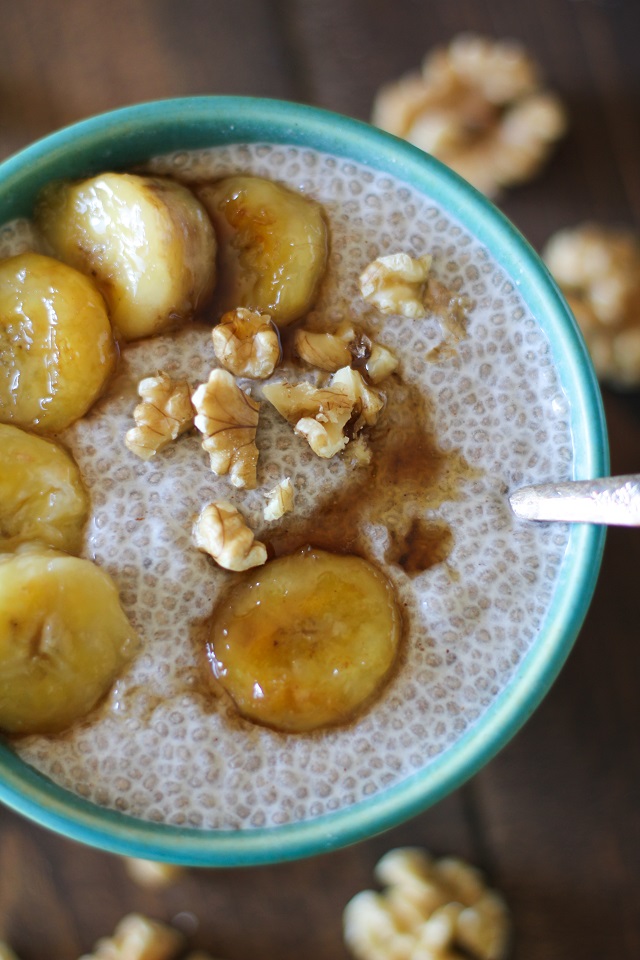 Banaaaaahna boat
Wah wah wah waiiiiiiiit! Before you read every single word in this post, humor me and watch these Banana Boat commercials on the YouTubes.
Did you watch? Every last one of them?
Disclosure: this post is not sponsored by Banana Boat Triple Defence for Men…I just really like a good commercial that happens to relate to one single ingredient in my blog post.
Defy the sun with…
Just Kidding, the prequel.
I have an important question for you. Who is Mr. Tally Man and is a Tally me banana as good as a banana foster? Better? Sub-par? I must know. Okay, that was two questions.
A beautiful bunch of ripe banana!
Let's talk pudding.
Up until making this recipe, my only experience with bananas foster was watching Paula Deen and other folks on the Food Network rave about it. Rum-spiced sweet, cinnamon-y caramelized bananas as a topping to an already delicious dessert? Don't mind if I do! After watching in awe of the Food Networkians enjoying bites of what I would think is delightful decadence, I just knew I had to try it myself.
Bananas foster isn't a major thing on the West coast – a fallacy I don't quite understand. If it were up to me, we West coasters would go through a bananas foster + hushpuppies + country ham revival. And then we'd eat all three with allthethings. Who's up for crispy hushpuppies wrapped in a hearty slab of country ham – taco style – and garnished with bananas foster? Just me, myself, and Guy Fieri?
Defy the sun with…
Just Kidding, the sequel.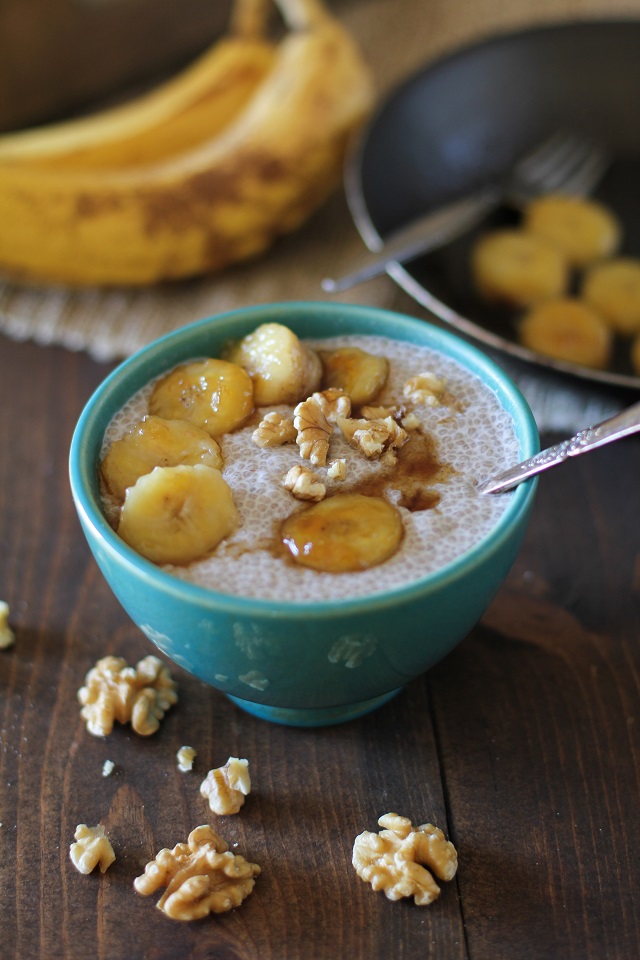 Normally, bananas foster is made with brown sugar, rum, nutmeg, and cinnamon. I replaced the brown sugar with pure maple syrup, which made the whole thing a super cinch to prepare. Basically, all you do is saute sliced bananas with the other fostering ingredients, and the whole thing takes like 8 minutes max. The aroma and flavor is so warm and inviting! And lemme just say: if you've never fostered a banana, you should totes foster a banana, smalls!
After posting my little tutorial on How to Make Legit Chia Seed Pudding, I had plenty of pudding in the ol' refer to enjoy any which way. Whipping out the chia seed pudding to accompany some super stellar caramelized bananas was a pretty epic decision ifIdosaysomyself. Because there's not a lick of refined sugar in the whole dang recipe and the pudding is made all light and fresco with almond milk, this bowl o' delish is actually a bowl o' nutrish as well <- could not stop myself.
So eat it for breakfast and dessert. And brunch and linner.
Take your chia pudding on a banana boat booze cruise!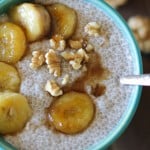 Bananas Foster Chia Seed Pudding
Print
Ingredients
2

cups

to 3 prepared chia seed pudding
Bananas Foster:
2

large ripe bananas

3

tablespoons

to 4 unsalted butter

1-½

tablespoons

spiced rum syrup

see recipe below
Instructions
Prepare the Spiced Rum Maple Syrup:

Add all of the ingredients for the spiced rum maple syrup to a small skillet. Bring to a full boil, then reduce the heat slightly and allow the mixture to simmer, stirring occasionally, until alcohol has cooked off, and syrup is thick, about 2 to 5 minutes. Remove from heat and set aside until ready to use.
Prepare the Bananas Foster:
Heat the butter in a small non-stick skillet over medium heat. Slice the bananas in ¾-inch rounds, and place them on the hot skillet. Cook 1 to 2 minutes, until bananas have begun to soften and are turning brown. Add the spiced rum syrup, flip the bananas carefully (they will be delicate!), and cook an additional 2 to 3 minutes, or until bananas are very soft and caramelized.
Bring it All Together:
Serve heaping bowls of chia seed pudding with caramelized bananas, walnuts, and a drizzle of spiced rum syrup. Save any remaining syrup for your next pancake conquest!