Creamy maple chia seed pudding with cinnamon-maple caramelized figs makes for an amazing breakfast, snack, or dessert. This nutritious vegan recipe is naturally sweetened and only requires a few basic ingredients.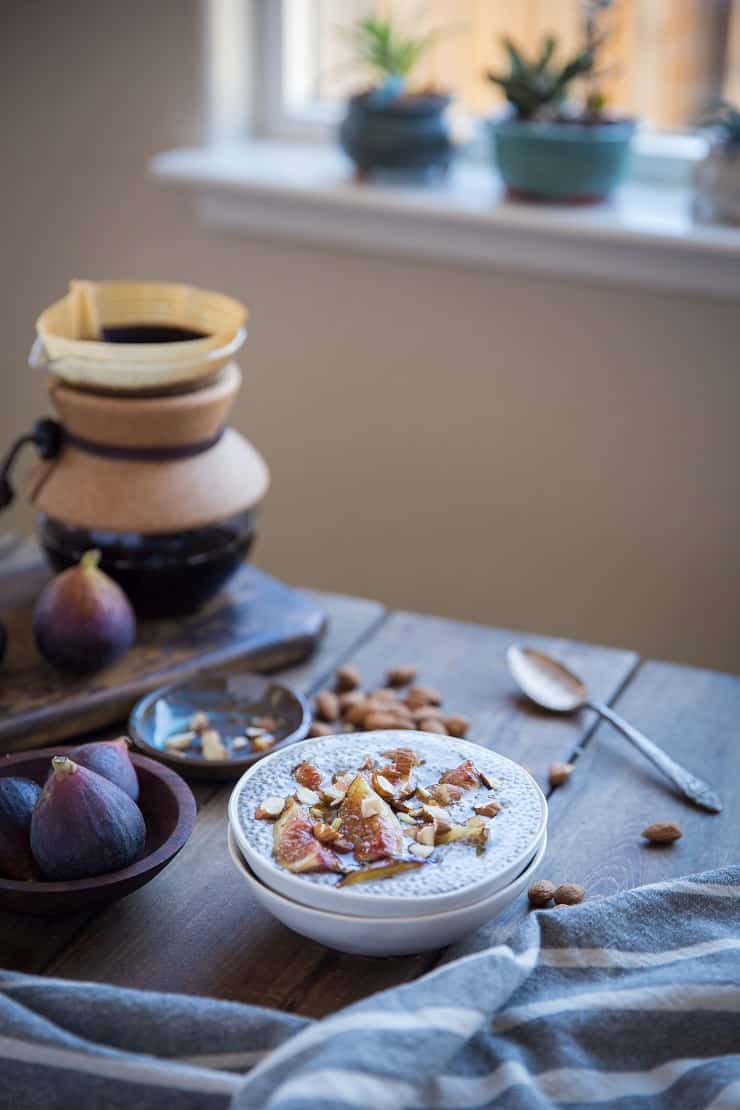 Anyone else craving desserts that are made with real ingredients, simple to prepare, and pack in some surprise health benefits? I'm assuming I'm not the only one!
When I'm feeling basic and still want something to satisfy my sweet tooth, I often lean toward chia pudding.
This dreamy chia pudding is nothing more than a combination of your classic chia pudding topped with figs that have been caramelized in pure maple syrup with a dash of cinnamon.
This super simple recipe is fun to prepare and is such a pleasure to consume.
It's one of those curl-up-on-the-couch with a good book, steamy mug of coffee or tea, and bowl of healthy pudding bliss.
Health Benefits of Chia Pudding
What exactly makes chia pudding "healthy?" Chia seeds are full of antioxidants, fiber, magnesium, calcium, omega-3 fats, and is entirely gluten-free and paleo-friendly. Plus, chia seeds pack a bit of a plant-based protein punch.
How to Make Chia Seed Pudding:
Just like I showed you many years ago in my post, How to Make Chia Seed Pudding, you only need a few basic ingredients – almond milk (or milk of choice), chia seeds, pure maple syrup, vanilla extract, and some sea salt.
Simply add everything to the jar, secure the lid, and shake well (you can also stir, but shaking is better…and funner 😉 )
Place the jar in the refrigerator and refrigerate overnight. You can get away with refrigerating for 4 hours, but the longer the better. If you're able to stir the pudding a few times as it sits in the fridge, you'll lessen your chances of clumping and the pudding will turn out creamier.
How to Caramelize Figs:
Caramelizing figs is a cinch! It seems fancy, but the process is speedy quick and easy!
Simply chop the figs (I like chopping them into quarters) and heat a small amount of avocado oil, ococnut oil, or ghee in a small skillet over medium heat.
Once the skillet is warm, add the chopped figs, pure maple syrup, a dash of ground cinnamon, and a pinch of sea salt.
Allow the figs to cook and soften, stirring occasionally, until they begin to turn golden-brown and crisp up a bit. Once they reach your desired level of caramelization, you're all set!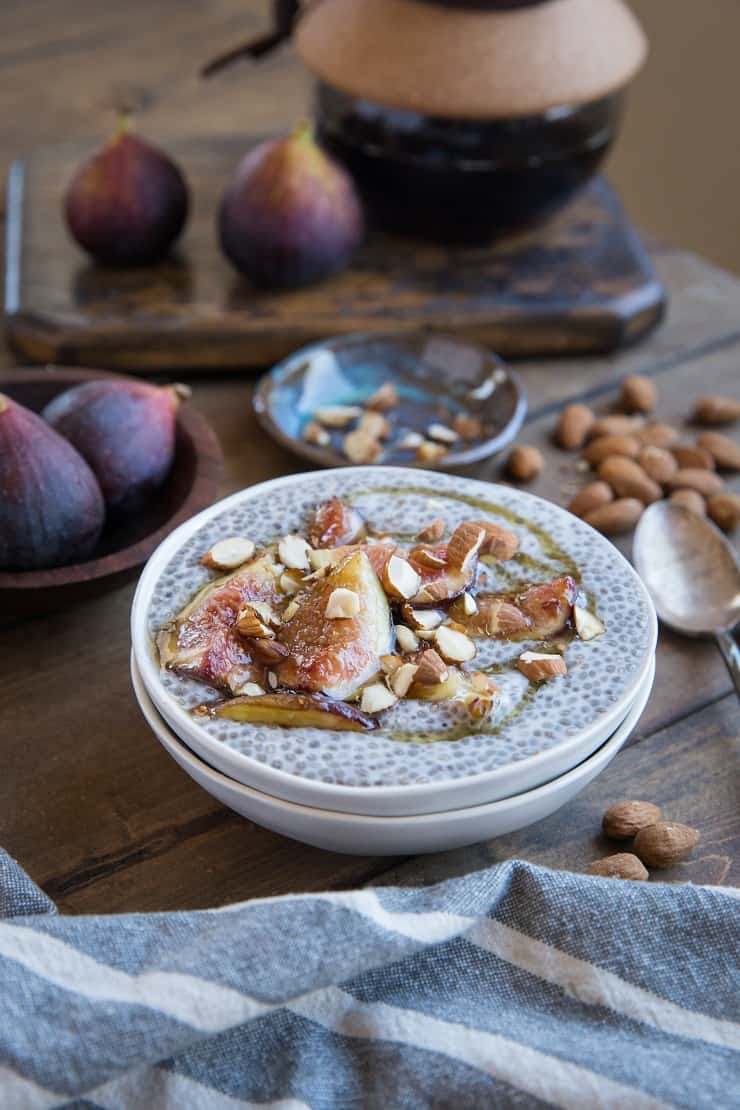 Put it Together
Simply fix yourself a bowl of chia pudding, add the caramelized figs on top, and garnish with chopped roasted almonds and an additional drizzle of pure maple syrup.
You end up with a super creamy pudding with beautifully caramelized figs and a nice crunch from the almonds – the texture is incredible here!
As always, there is plenty of room for improvisation to make this dessert otherworldly for your personal palate.
Recipe Adaptations:
Add your favorite yogurt (coconut milk yogurt is amazing!) for some extra creaminess, protein, and probiotics.
For an extra decadent dessert, replace some of the almond milk with full-fat canned coconut milk.
Sweeten with honey, coconut nectar, or a zero-sugar sweetener like Stevia or Swerve.
Use other fruit, like peaches, pears, or apples, in place of figs (note: other fruit will take longer to soften and caramelize).
Add collagen powder, protein powder, and/or almond butter for some additional protein.
Have a figgin' ball!
Maple Chia Pudding with Caramelized Figs
Vegan Chia Seed Pudding with Caramelized Figs is an incredibly tasty breakfast, snack, or dessert!
Instructions
Prepare the Chia Pudding:
Add all ingredients for the chia pudding to a large sealable jar. Secure the lid and shake until mixture is well-combined. Refrigerate overnight. If possible, stir the chia pudding a few times while it sits in the fridge - this helps avoid clumps and makes the pudding extra creamy.
Caramelize the Figs:
Heat the oil/ghee in a small skillet over medium heat. Once the skillet is hot, add the chopped figs, pure maple syrup, ground cinnamon, and sea salt. Cook, stirring occasionally, until figs appear puffy, golden-brown, and are caramelized, about 5 minutes.

Remove from heat and serve on top of chia pudding with a sprinkle of chopped roasted almonds.
Nutrition