Chia Seed Pudding Parfait with a layer of vegan chia seed pudding, muesli, and blackberry smoothie. Three layers of deliciousness make up this healthy chia seed pudding parfait recipe!
This post is sponsored by Bob's Red Mill. Check out more delicious healthy recipes, snag coupons and find stores near you at BobsRedMill.com!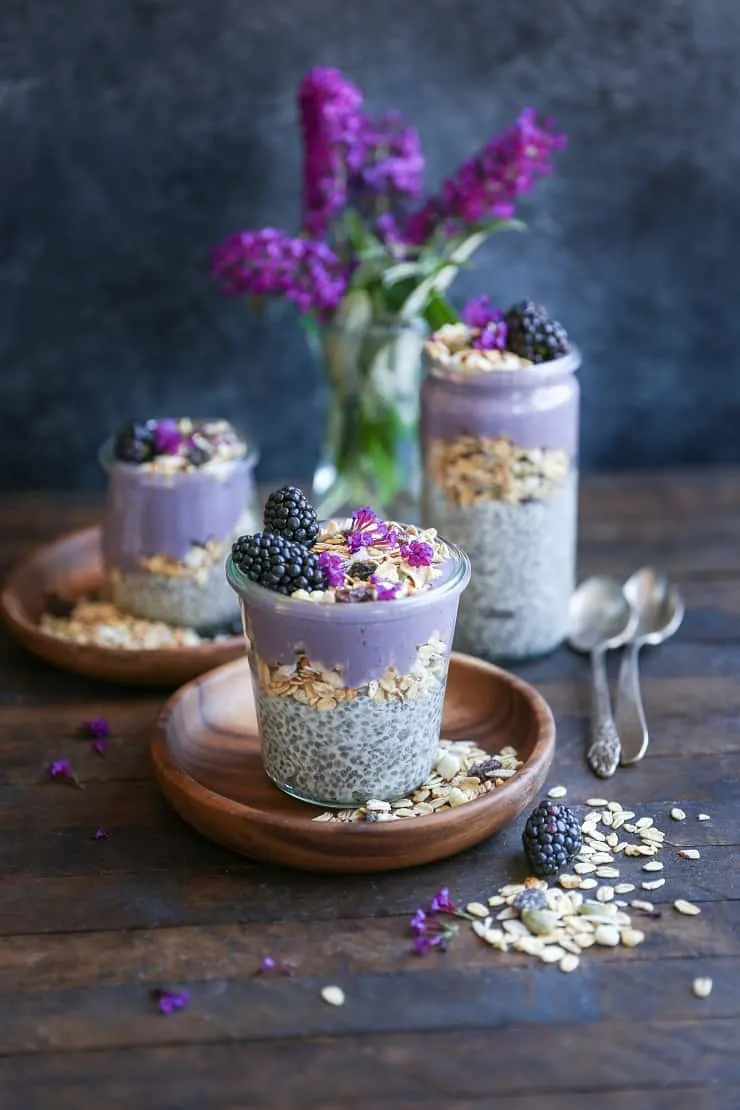 Did you know I used to be a daily cereal eater? From early childhood through my mid-twenties, I ate cereal almost every day for breakfast.
And typically not the healthful kind…the sugar-laiden, artificially colored and flavored, marshmallow studded not-so-great-for-you varieties were my jam.
I had a very regimented routine before I left for school each morning, involving prancing around to my favorite tunes, and – you guessed it – a big bowl of cereal.
Honestly, when I changed my eating habits and began eating a whole food diet, I missed those sugary cereals the most.
These days, I rarely think about most of the less-than-stellar foods I used to eat, and am happy in choosing the real food options, as they keep my digestive system happy, and in turn keep me feeling energetic.
One of the great advancements our food industry has seen over the past 5 to 10 years is the movement toward convenient foods that are still whole food based and nutritious. While I normally eat a veggie scramble for breakfast, I still love a good quality cereal or granola for afternoon snack!
Which brings me to one of my favorite foods: muesli!
I used Bob's Red Mill Gluten-Free Muesli in these parfaits, which is always my go-to for cold cereal. Packed with gluten-free oats, dried fruit, nuts, and seeds. Whole grains like gluten-free oats help support a healthy digestive system, as they act as prebiotics to feed healthy gut bacteria and promote efficient digestion.
You've heard me say this time and again, but having a healthy digestive system helps keep your immune system strong, and also fights disease.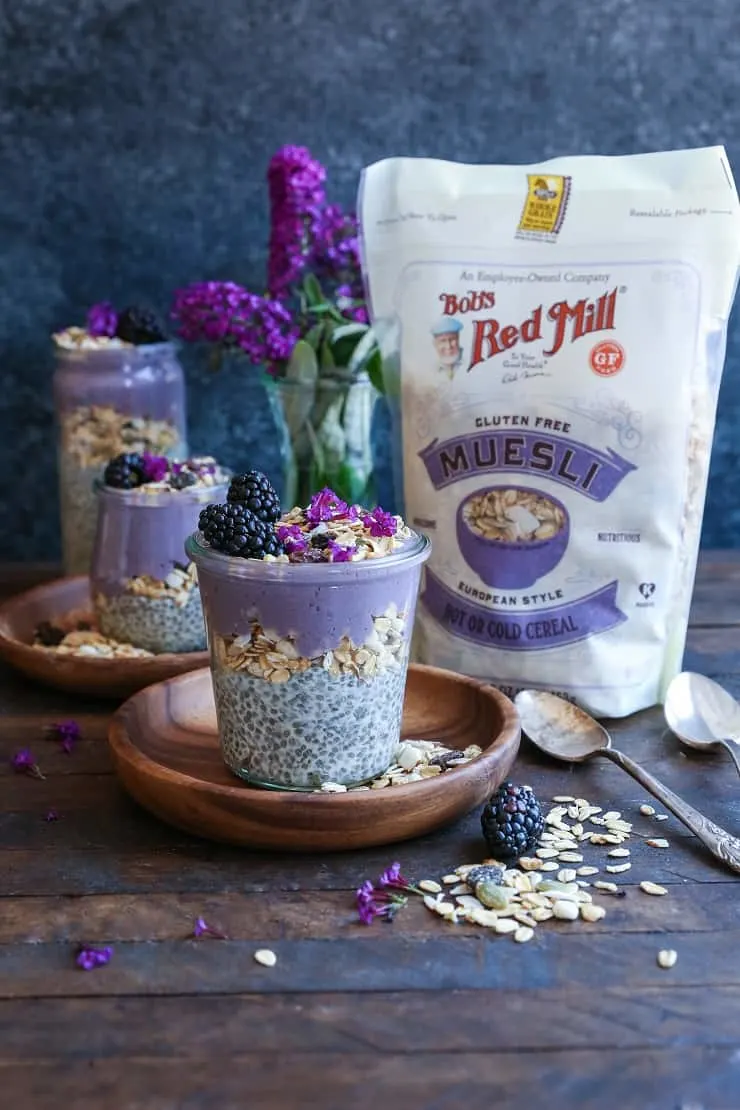 I love that Bob's Red Mill Muesli is very low in sugar (4 grams per 1/4 cup), so rather than being an overly indulgent breakfast option, it's very nutritious.
Bob's Red Mill also makes a Gluten-Free Tropical Muesli (which is also delicious!) and a grain-free Paleo Muesli, which is perfect for those of you who have a difficult time processing grains. Point is: when it comes to breakfast, we have options!
While these parfaits may appear fancy and time-consuming, they're actually incredibly easy to assemble. They are comprised of three components: chia seed pudding (which takes 5 minutes to make, but about 3 hours of refrigeration time), a blackberry smoothie, and muesli.
All bits and pieces combined makes for a thick and creamy, tangy sweet adventure with a nice little crunch.
Now that the kidlets are back in school, I see these parfaits as being the perfect before-school breakfast (you can even spin this as a grab-and-go breakfast by using jars with lids), or after school snack. They're naturally sweetened and are packed with vitamins, minerals, antioxidants, omega-3 fatty acids, and complex carbohydrates.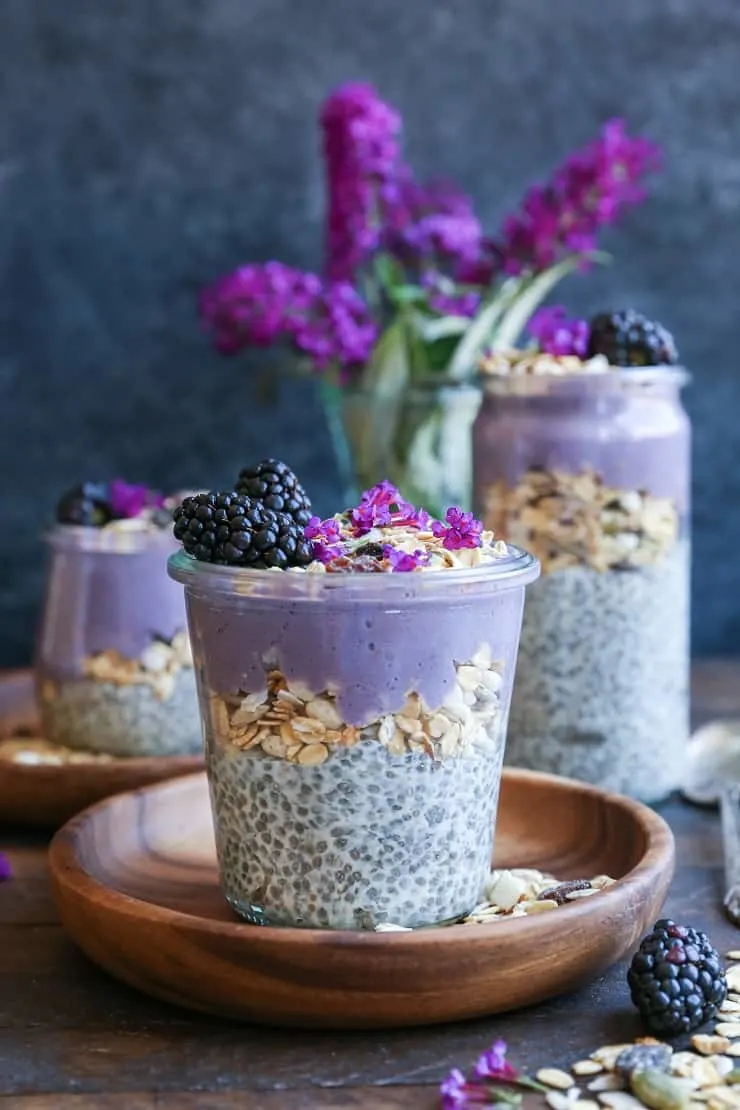 Recipe adaptations? Oh my gaaaaw there are so many alterations you can do here to make this thing perma-interesting.
You can look at these layered chia seed pudding smoothie muesli treats as your gateway to the ultimate customizable breakfast – if you're a lover of variety, the great news is you can put this concept on repeat and never consume the same parfait twice.
Recipe Adaptations: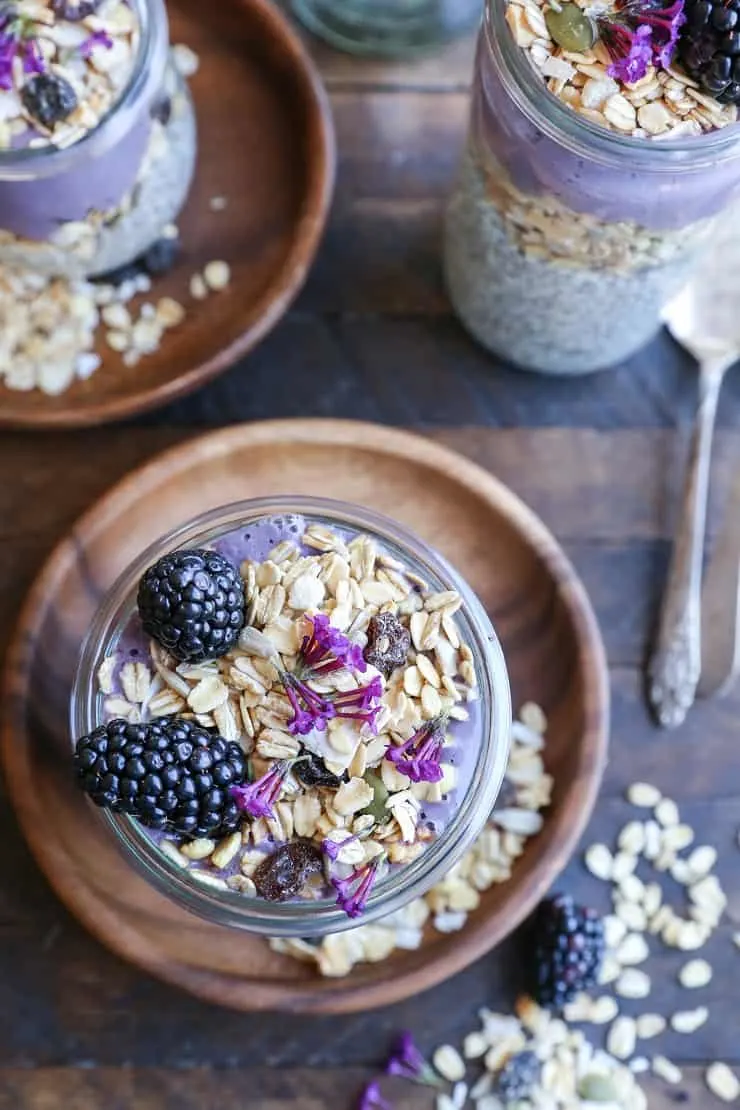 My cookbook,
Paleo Power Bowls
, is now available! CLICK HERE to check it out. Thank you for your support!
If you make this recipe, please feel free to share a photo and tag me at @The.Roasted.Root on Instagram!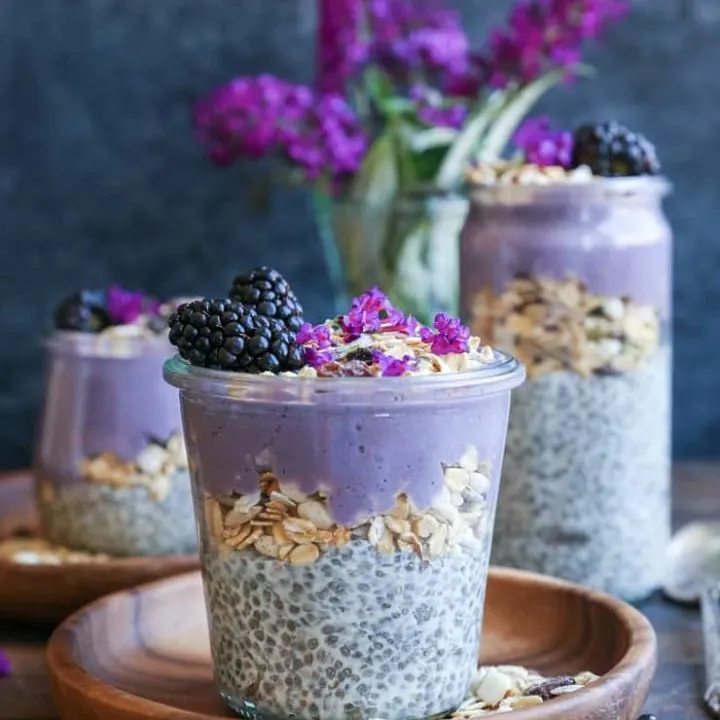 Blackberry Smoothie Chia Seed Pudding Parfaits
A unique breakfast, snack, or dessert, these parfaits combine a delicious blackberry smoothie with granola or muesli and chia pudding for all the flavors and textures!
Ingredients
Chia Seed Pudding:
2 cups non-dairy milk of choice, see note*
Blackberry Smoothie:
1 cup fresh blackberries
1 cup non-dairy milk of choice, or yogurt
2 large medjool dates, pitted
1 teaspoon fresh ginger, peeled and grated
handful ice
Parfaits
Instructions
Prepare the chia seed pudding first. Pour the non-dairy milk into a sealable jar, followed by the chia seeds, pure maple syrup, and pure vanilla extract. Seal the jar and shake very well. Refrigerate at least 4 hours (overnight is better!), stirring the pudding occasionally.
Add the ingredients for the blackberry smoothie to a blender. Blend until completely smooth. Taste smoothie for flavor and add another date or two if you like your smoothies sweeter.
Layer the chia seed pudding, muesli, and smoothie in jars. Enjoy immediately, or seal the jars and take them with you for breakfast.
Notes
*I used pea milk for this round of chia seed pudding, but almond milk, cashew milk, and coconut milk work phenomenally, too!
Nutrition Information
Yield

3
Serving Size

1 grams
Amount Per Serving
Unsaturated Fat

0g