Moist and fluffy gluten-free pumpkin bread with chai caramel glaze makes for an epic breakfast or snack! This warmly-spiced bread is made with almond flour and rice flour and naturally sweetened with pure maple syrup for a healthful approach to comfort food.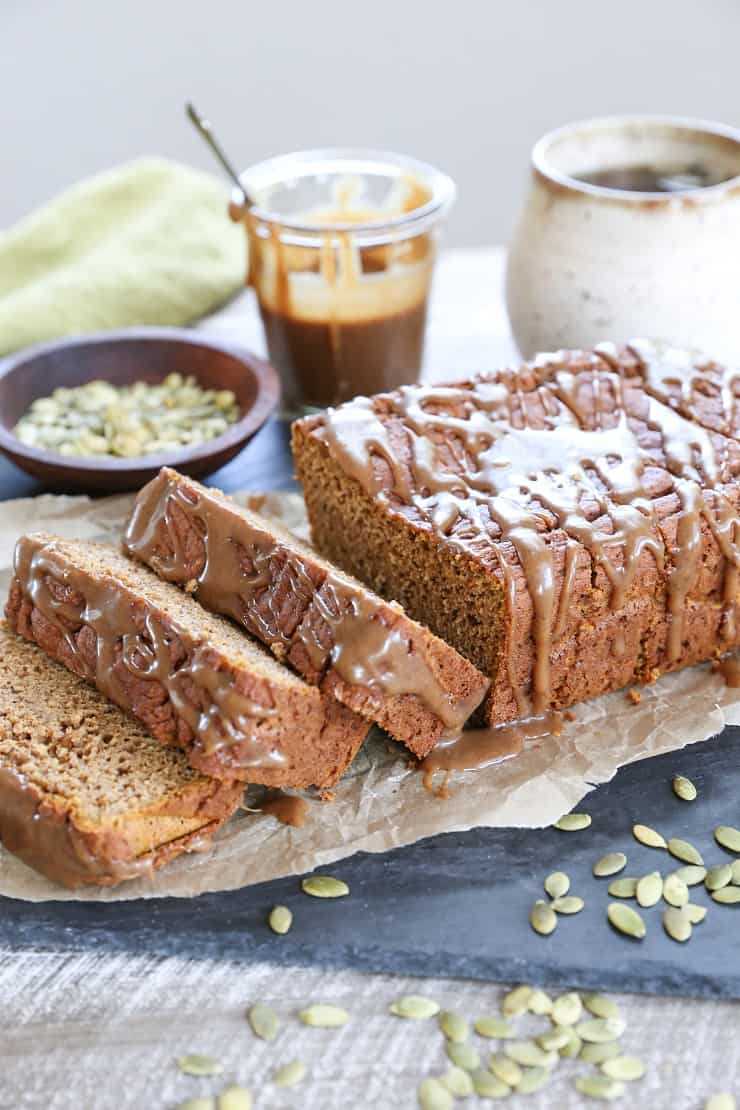 Well, hello, bliss!
Just when you thought life couldn't get any sweeter, a loaf of autumn color and flavor just crash landed on your lap.
BOOM! Caramel drizzles and cinnamon-spiced crumbs everywhere.
But don't worry…this loaf was why napkins were invented 😉
The texture of this bread is pure perfection. It's as though all of the comfort sweaters simultaneously piled on top of you while you're watching your program and some dreamy Greek God (or Goddess) tenderly plays with your hair. I wish I were kidding, but alas, I'm 200% cereal.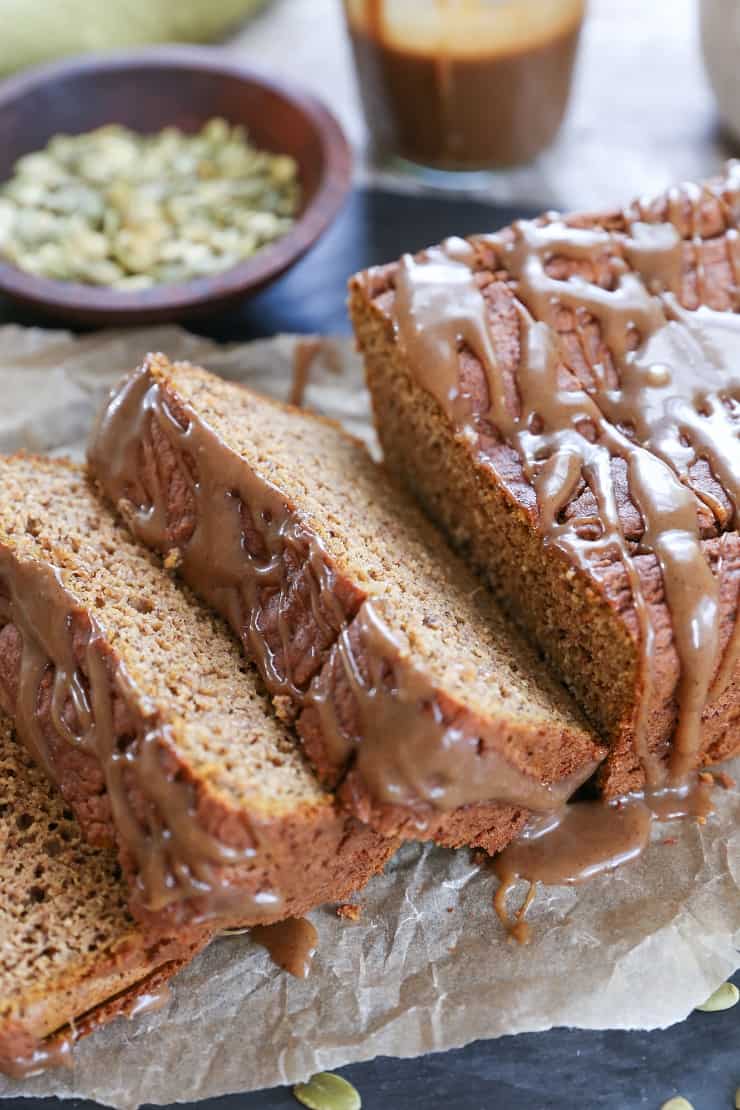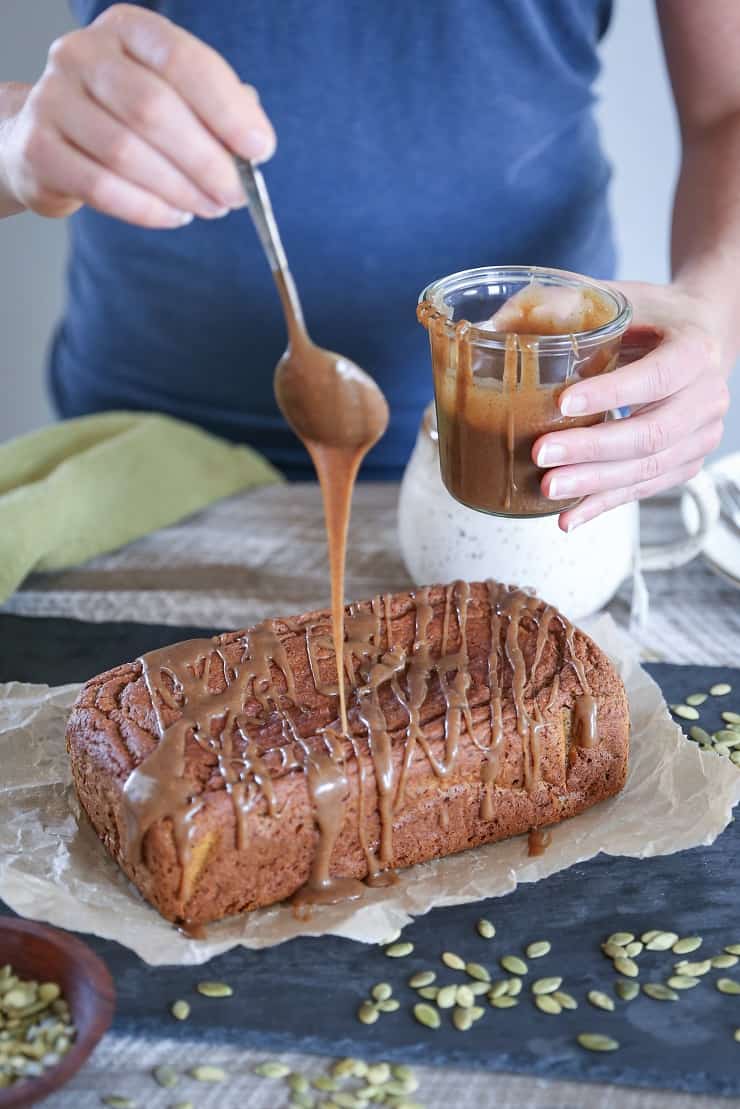 While I normally bake my treats in grain-free fashion, sometimes I throw in some rice flour to give them some extra fluff for those times I'm itching for an ultra comforting result. I've found the combination of almond flour and rice flour to be on point AF when it comes to yielding a treat that has a near identical texture to one made with regular all-purpose flour
The bread doesn't turn out overly sweet, which is why I drizzle it with Chai-Spiced Paleo Salted Caramel to ramp up the sweet level a tad. You can serve the bread with a dollop of butter and a drizzle of pure maple syrup or honey for an epic breakfast or snack. If you like your quickbread on the sweeter side, you can even add some coconut sugar or cane sugar to the bread batter (I'd start with ¼ cup and go from there).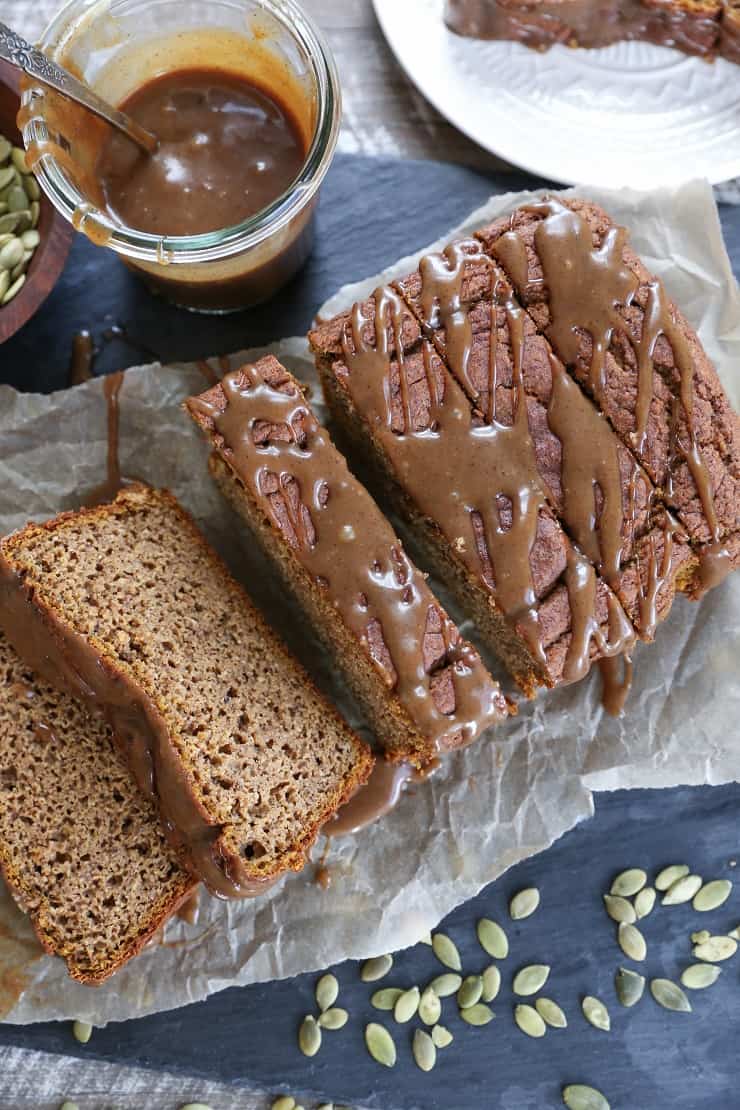 As per ush, we simply toss all of our bread ingredients in a blender and blend until smooth. Pour the batter into a loaf pan, bake for 50ish minutes, then allow the bread to cool before cutting into it. Drizzle with homemade caramel (or your favorite glaze), then enjoy!
The man and I are heading to Switzerland on Wednesday to visit a couple of friends and hike around in the gorgeous Swiss Alps. Chocolate is numero uno on my agenda, yoooou bet your bottom dollar it is! I have some posts scheduled for you while I'm out of town, and will likely be Instagram story-ing my face off at you. Stay tuned for pretty mountain snapshots!
Get a loaf of this!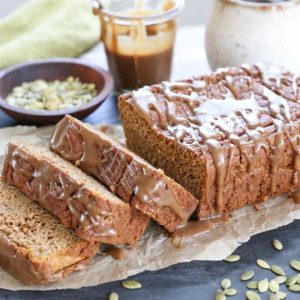 Gluten-Free Pumpkin Bread
Print
Instructions
Preheat the oven to 350 degrees F, and line a 9" x 5" loaf pan with parchment paper.

Add all ingredients for the bread to a blender and blend until well-combined (Note: if you don't have a blender, you can use a hand mixer by beating the wet ingredients together first and then adding the dry ingredients).

Pour the pumpkin bread batter into the prepared loaf pan and spread into an even layer. Bake on the center rack of the preheated oven for 55 minutes, or until the center has set up. Turn off the oven and allow the bread to sit in the hot oven for 10 minutes longer.

Remove bread from the oven and allow it to cool 1 hour before turning it out onto a cutting board, drizzling it with Chai-Spiced Paleo Salted Caramel, and cutting into slices. Enjoy!