Paleo mixed berry parfaits with grain-free vanilla cake and coconut whipped cream. A fun, festive, and healthful treat for the 4th of July!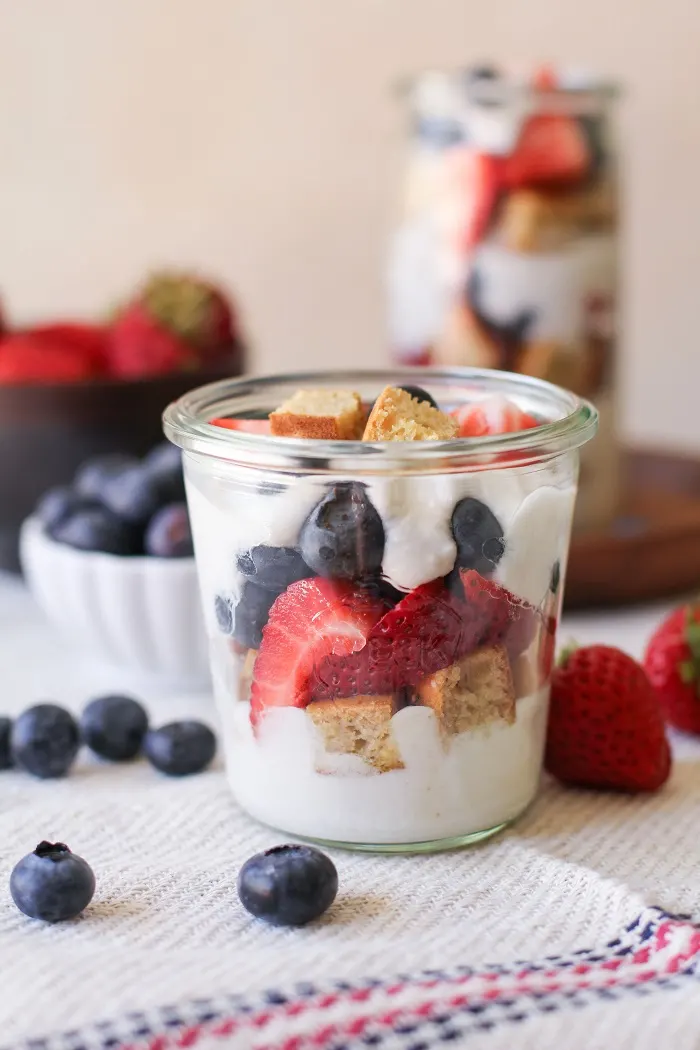 The 4th of July is right around the corner, so to get you ready, Sarah, Arman, Alexis, Kylie, Lindsay, and I have prepared some healthy Independence Day eats for you all to enjoy. You can scroll down to check out their recipes, or continue reading. You're gonna wanna hear this stuff…it involves cake.
Paleo Vanilla Cake cubes to be exact.
Have you ever put hunks of cake in your dessert parfaits? It's just the darndest. Basically the idea here is a strawberry shortcake in a jar type of situation, using grain-free paleo vanilla cake, coconut whipped cream, and of course the blueberries and strawberries. I used the Paleo Vanilla Sheet Cake I showed you on Tuesday and the Coconut Whipped Cream I posted a while back in order to compile these parfaits. The whipped cream recipe makes enough for 3 small parfaits, whereas the sheet cake makes enough cake for 12 parfaits, so bear this in mind when deciding how much whipped cream to make. Using simple math, you'll want to double the whipped cream recipe if serving more than 3 people.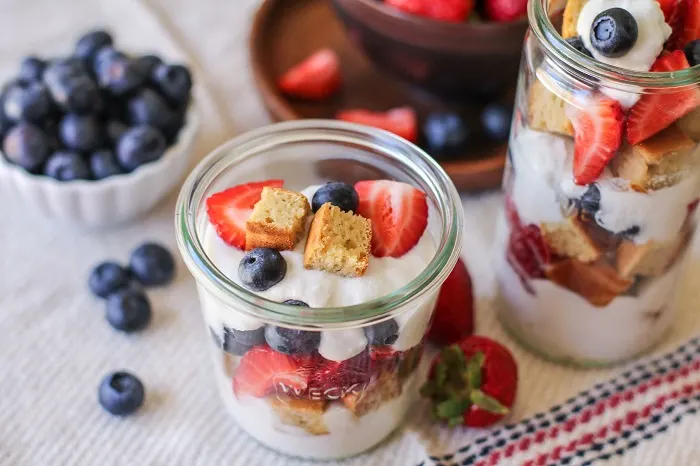 To save some time, you can absolutely use store-bought yogurt instead of homemade whipped cream. My recommendation would be plain, vanilla or lemon yogurt. You can also get creative with your fruit, topping, and sauce choices. Really, there's no wrong answer, people.
Texture Talk. As the cake sits in the coconut milk whipped cream, it becomes a little mooshier, but the texture holds up spectacularly well. If you use yogurt instead of coconut milk whipped cream, my guess is the cake will get a little soggier – cake sog is fine by me, but bare this in mind when serving guests.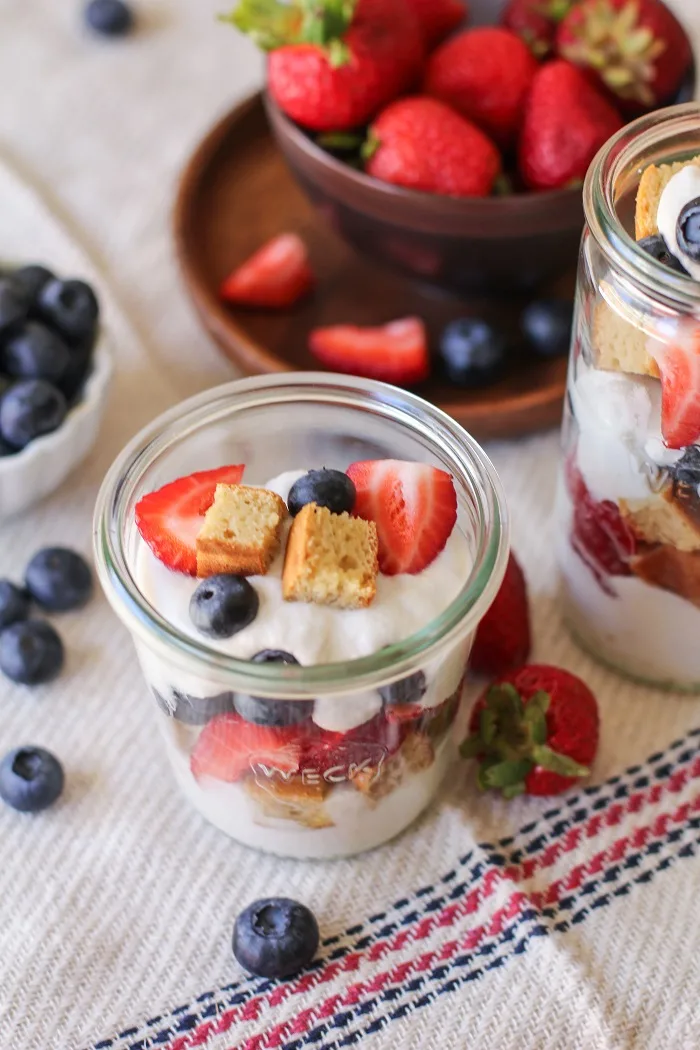 Let's talk planning.
Both the cake and the whipped cream can be made ahead of time, making this a simple recipe to prepare in parts. If you're planning on making this recipe for friends and family for a picnic or barbecue, the dessert can easily be made in advance and stored in small mason jars with lids for easy transportation.
What to change it up? Here are some ideas:
Use yogurt instead of coconut whipped cream to make the recipe quicker (vanilla yogurt works great!).
Prepare a compote using either the strawberries or bluberries (or both) to fancify the dessert with a sauce.
Add a drizzle of honey, pure maple syrup, paleo salted caramel, and/or chocolate sauce.
Top with nuts or granola.
Incorporate your favorite fruit, such as banana, blackberries, raspberries, mango, etc.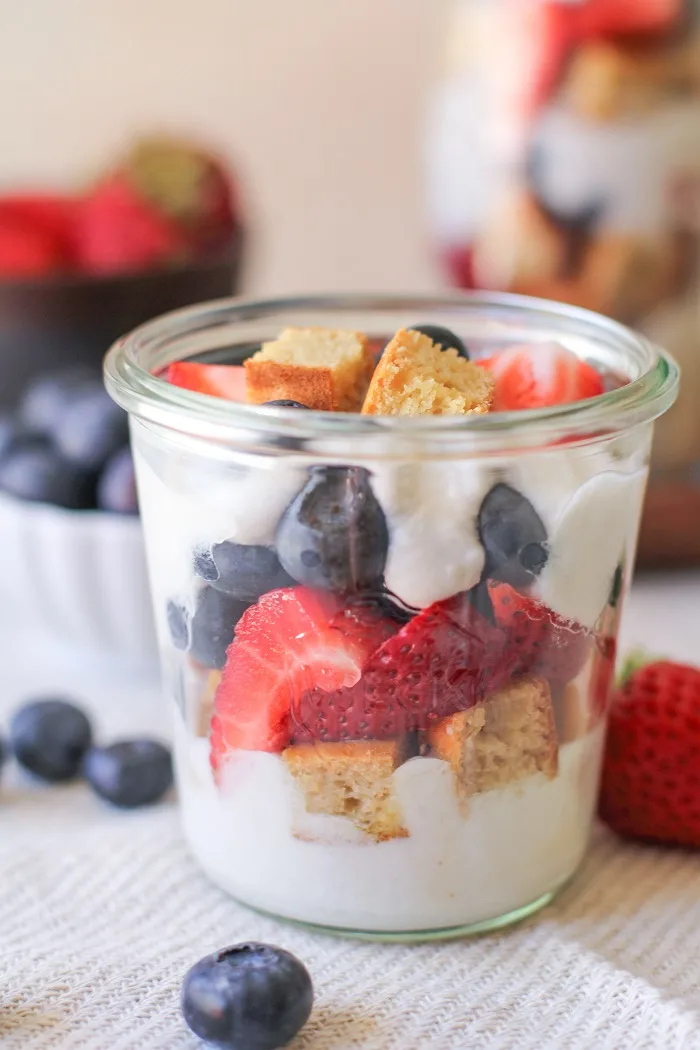 One of my favorite parts about healthy desserts is they can 200% be consumed for breakfast, it's just so blameless. They say if you're going to eat dessert, you should do so before 2pm in order to metabolize the sugar, so why not make it a morning/afternoon shindig? Just thinking out loud.
Now for the rest of our 4th of July Menu: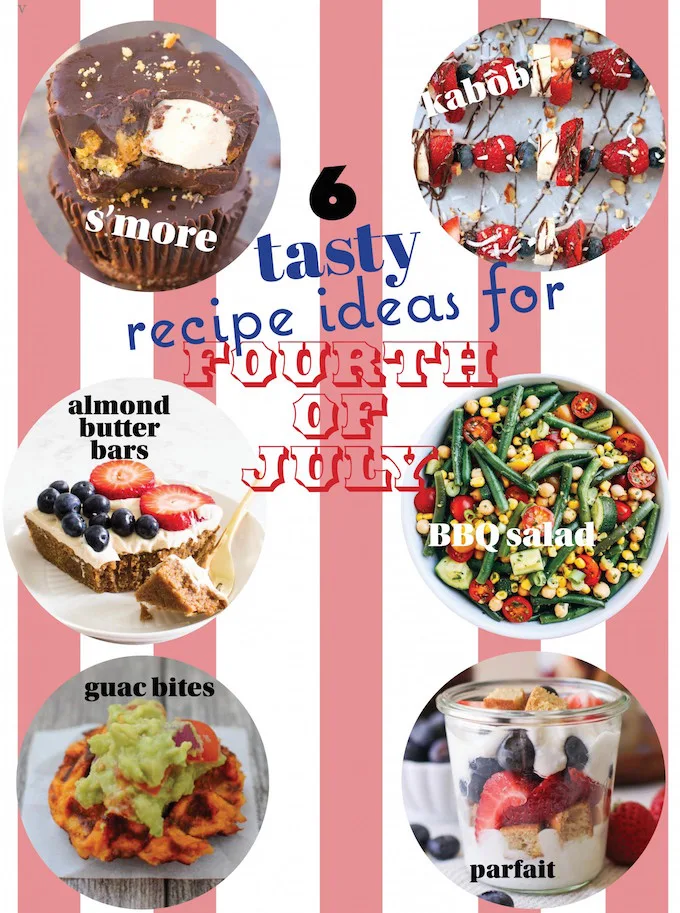 Fresh and beautiful Summer Green Bean Salad from Making Thyme for Health to bring delicious healthy balance to your BBQ.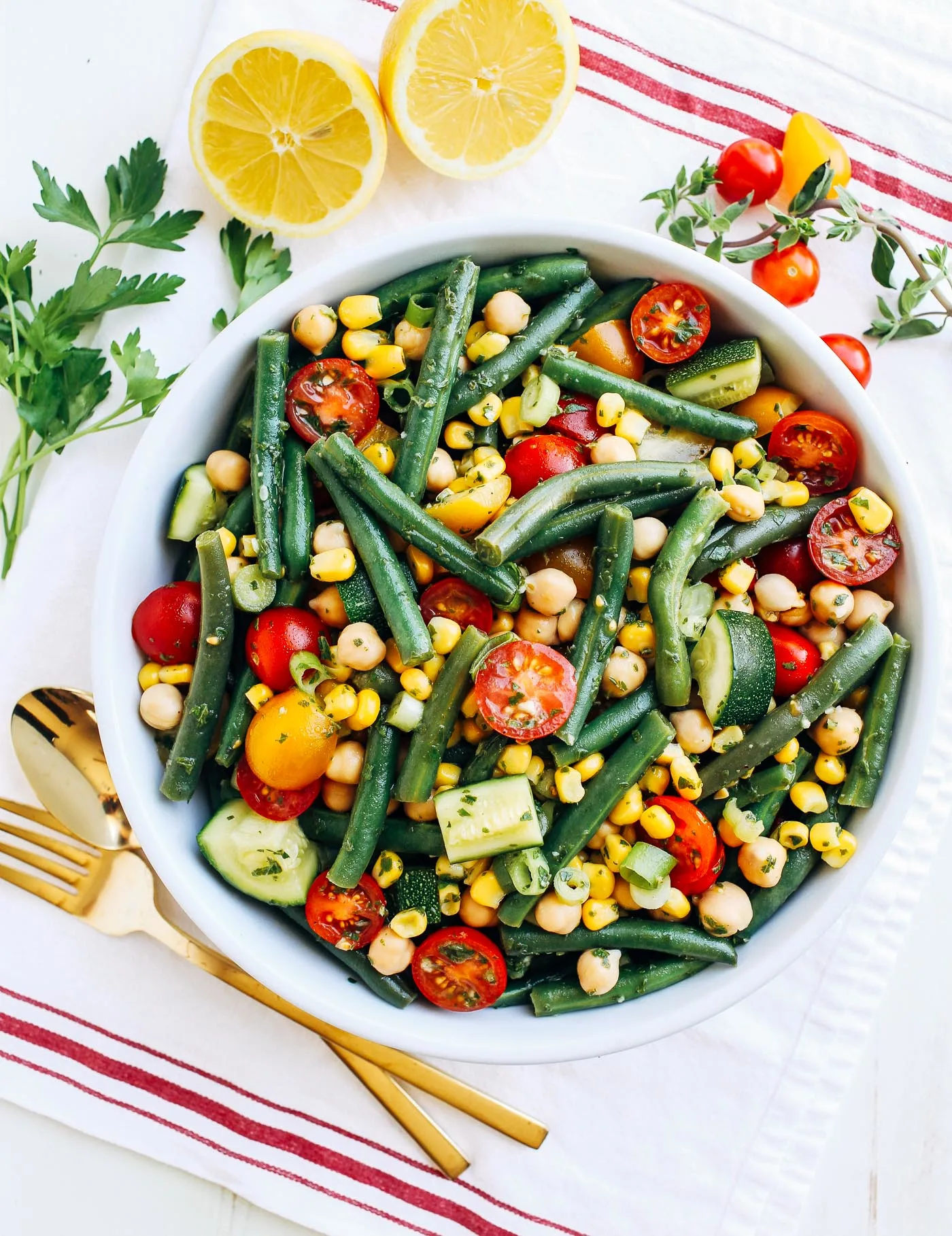 The perfect bite! These Guacamole Waffle Bites from The Lean Green Bean are a crispy, creamy, fun appetizer!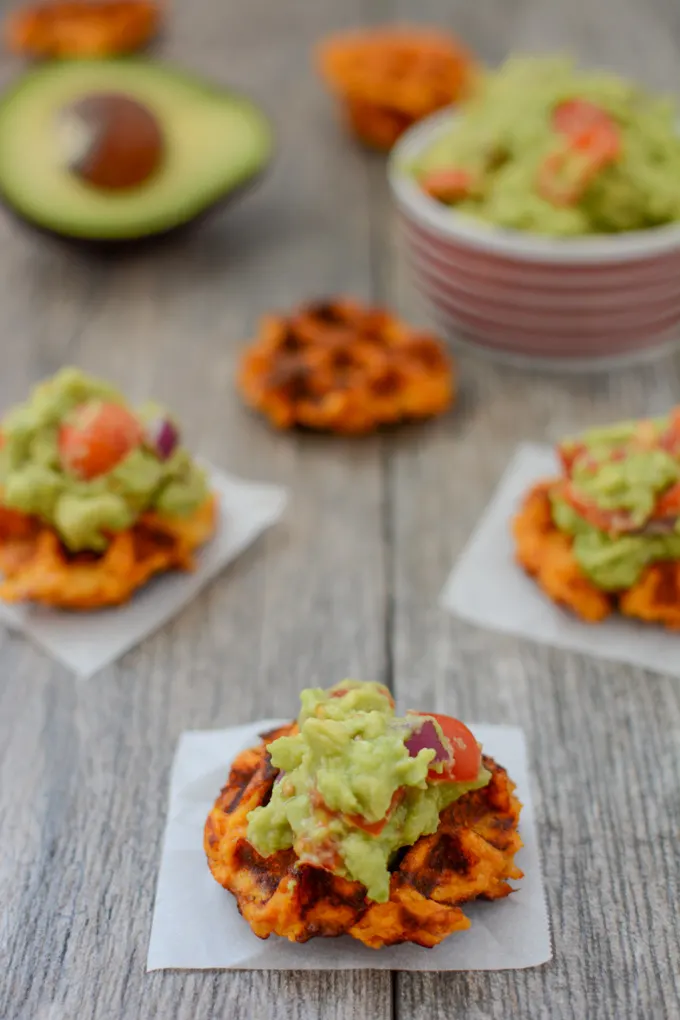 Bring the classic campfire treat indoors with these No-Bake S'mores Cups from The Big Man's World.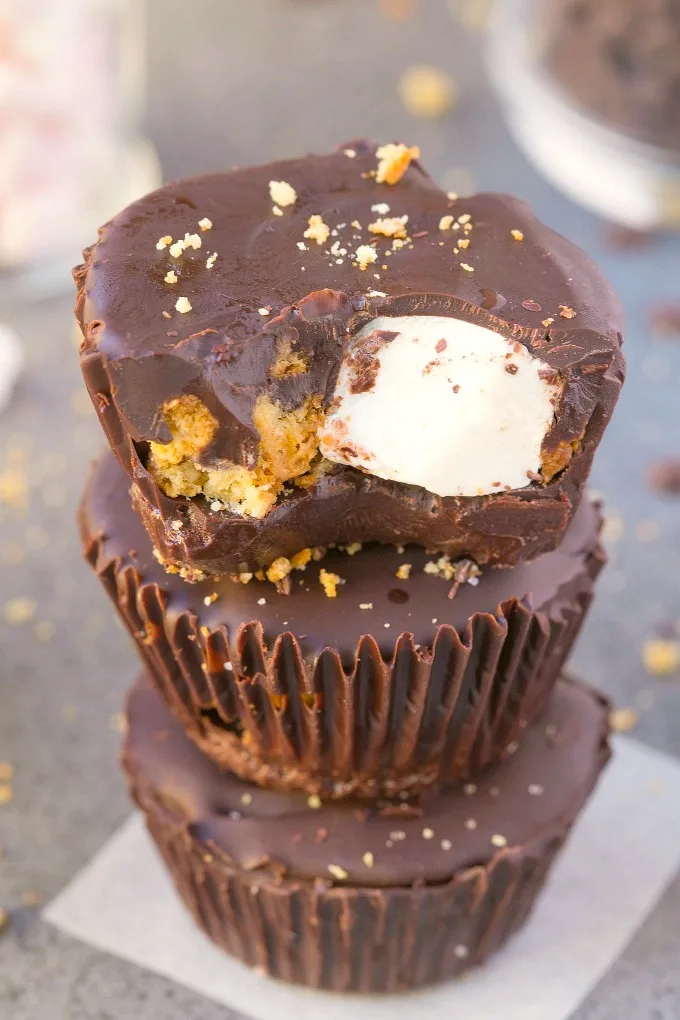 So easy, so fun, so festive, these Chocolate Drizzled Fruit Kebabs from Hummusapien are a MUST at your 4th of July gathering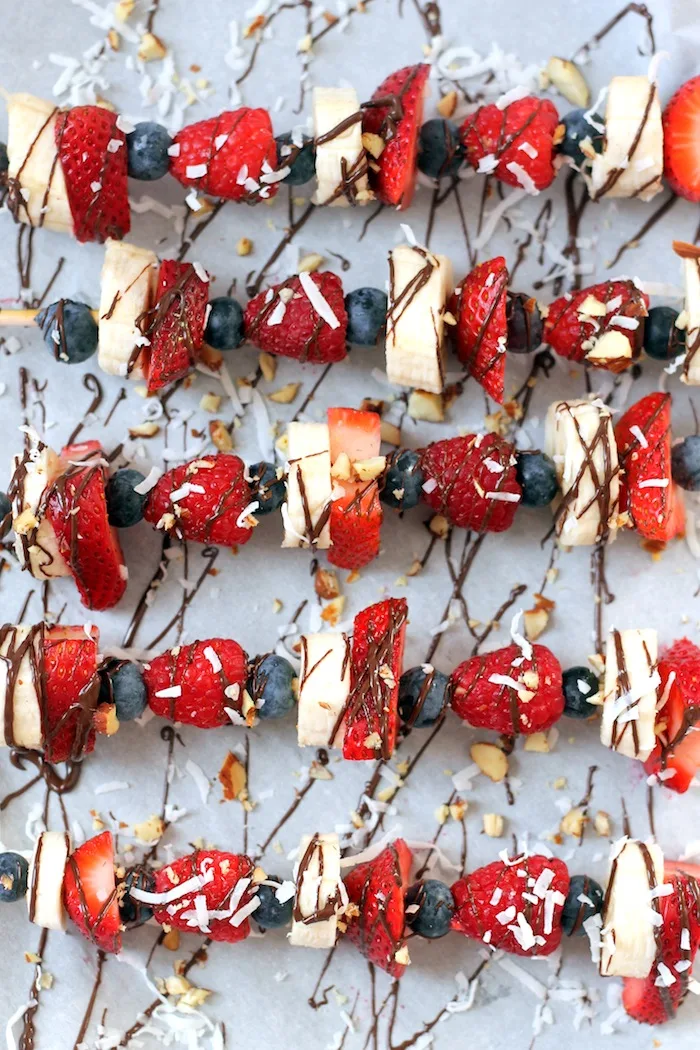 These Almond Butter Snickerdoodle Bars with Cheesecake Frosting from Imma Eat That pack a festive protein punch!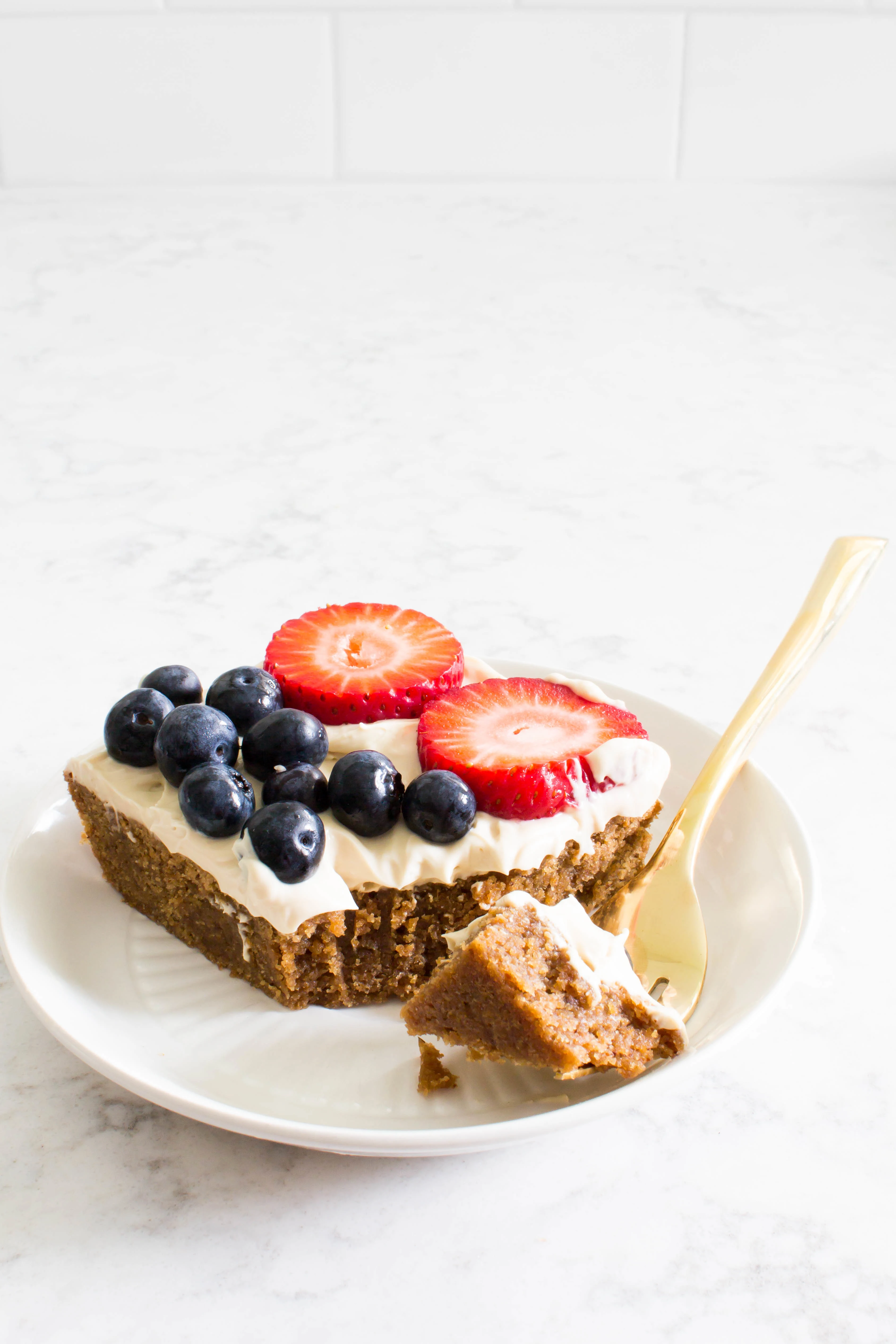 Time to parfait!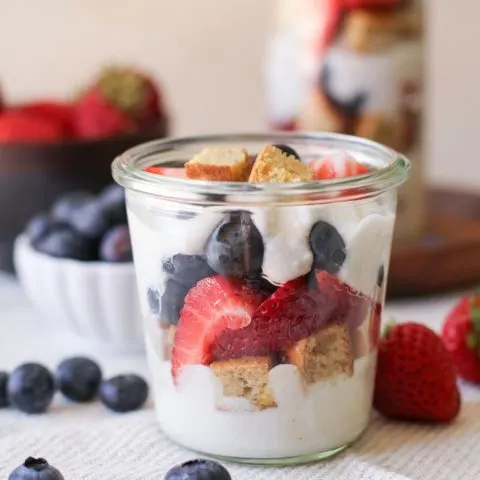 Paleo Red White and Blue Vanilla Cake Parfaits
A little patriotic dessert recipe!
Ingredients
Fresh ripe blueberries and strawberries
Instructions
Prepare the paleo vanilla cake and the coconut whipped cream. Once cooled, cut a few pieces of the cake into small bite-sized cubes.
Layer jars or glasses by alternating coconut whipped cream, vanilla cake, and fresh berries.
Nutrition Information
Yield

3
Serving Size

1 g
Amount Per Serving
Unsaturated Fat

0g