Vegan cheesecake stuffed strawberries are an easy treat to whip up for any special occasion. Make vegan "cream cheese" filling using raw cashews and pure maple syrup!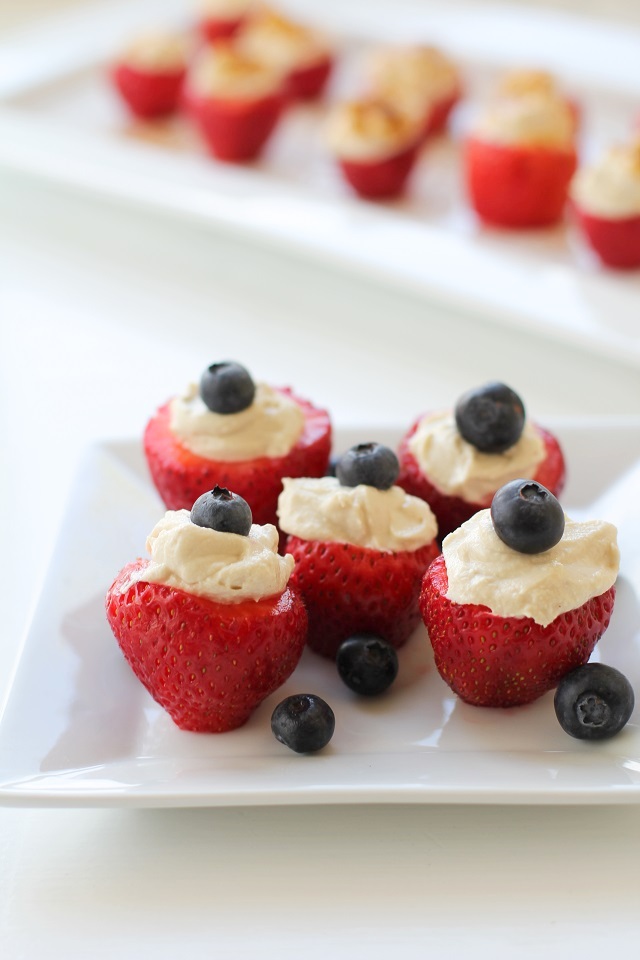 Heyo! Happy Independence Day weekend! I recently discovered the amazingness that is no-bake vegan cheesecake filling so I thought I'd share it with you all for a last-minute festive treat.
Cheesecake and I have had a pretty solid relationship for quite some time, but I stopped making it as frequently when I began limiting my intake of dairy and sugar. I have seen all sorts of recipes for vegan no-bake cheesecake over the years, and finally got around to making it. Not only does it taste so similar to the real thing, but vegan cheesecake filling is actually quite good for you! You know how I like my desserts with benefits.
To get started, you'll need to soak raw cashews overnight. It may be tempting to soak the nuts for only a few hours, but for the creamiest, dreamiest results, you'll need a full 8 to 12 hours of soak time. Once the cashews have soaked, drain them of the water, give them a rinse, and blend them with the rest of the ingredients in a blender. Other than raw cashews, the filling is made with lime (or lemon) juice, pure maple syrup (or agave), a splash of vanilla extract, and some almond milk (or water). So simple, no baking or cooking required, cheesecake for days!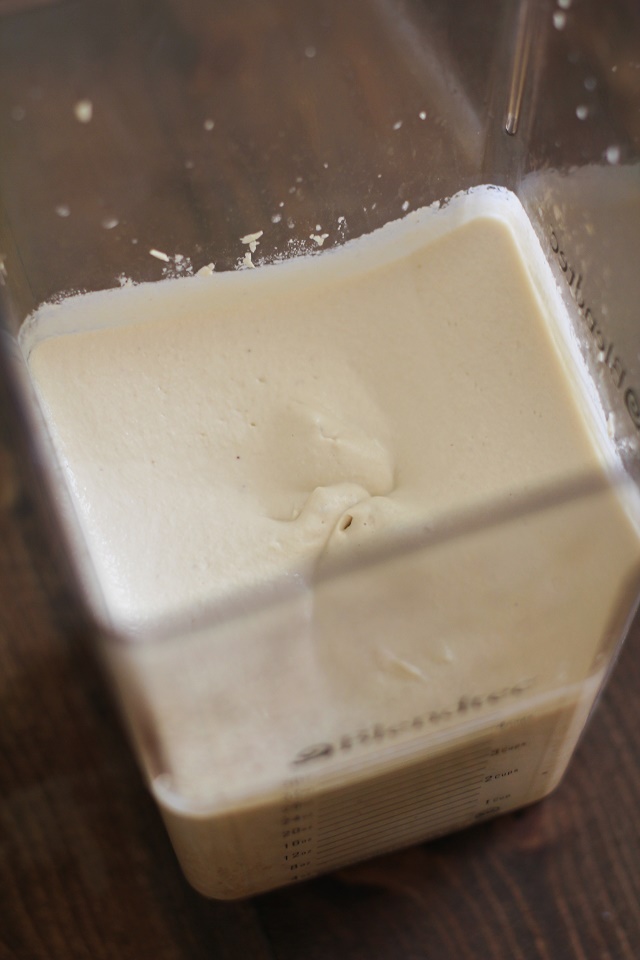 I found the cheesecake filling gets even thicker and more flavorful as it sits in the refrigerator, so I would recommend chilling it for a few hours (overnight is fine too) before putting it to use. If you're looking to make a full vegan cheesecake, you'll need to double the filling recipe, as the recipe listed in this post is just the right amount to stuff 32 ounces (2 containers) of strawberries.
When I was in college, one of my roommates was obsessed with chocolate covered strawberries and cheesecake-filled strawberries. Every once in a while, we'd get together and drink wine and make massive batches of strawberry treats.
We'd dip some in dark chocolate, some in white, some in both, stuff some with cheesecake filling, and drizzle the cheesecake-filled ones with the remaining melted chocolate. This simple dessert was a fun activity and the best part, butofcourse, is eating as you go.
Remembering how much I enjoyed cheesecake-filled strawberries, I used my new-found lovely vegan cheesecake filling for that exact purpose.
You can do as my friend and I used to do and drizzle the stuffed strawberries with melted white or dark chocolate (to keep them vegan, use vegan chocolate chips), or top them with fresh blueberries for a red, white, and blue festive dessert for the 4th of July.
I also topped some of the strawberries with coconut sugar, which almost gives them a toasted marshmallow flavor. The sugar melts into the cheesecake filling and gives them a caramelized/buttery effect.
Now that you're aware of my new discovery, you can probably imagine what is soon to come…no-bake vegan cheesecake galore, my friends!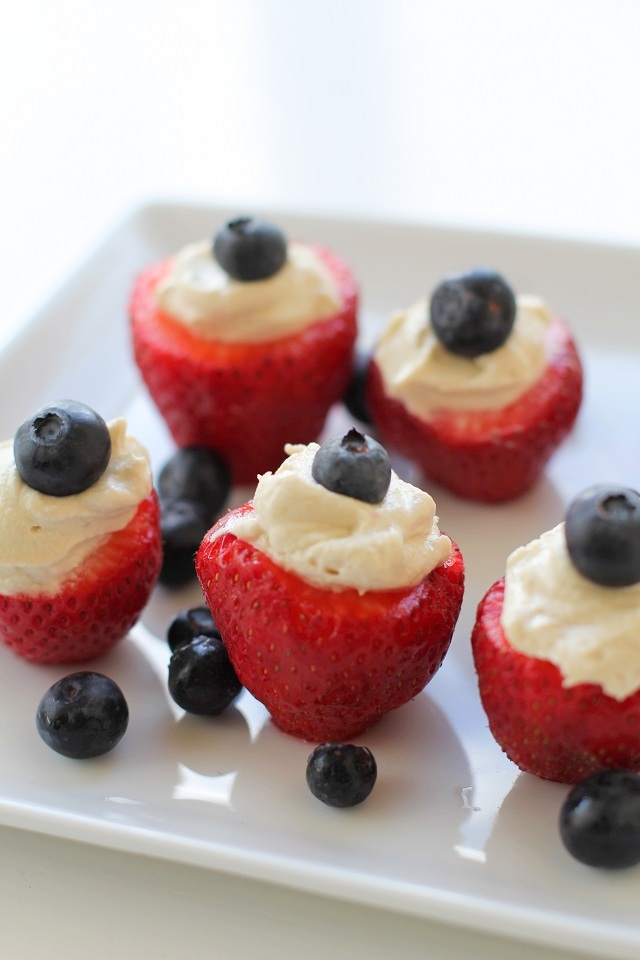 Have a safe and fun weekend! Until Monday…stuff yourselves silly on these healthful stuffed strawberries!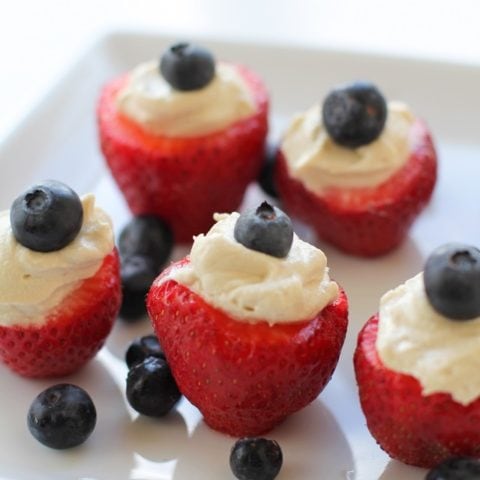 Vegan Cheesecake Stuffed Strawberries
Strawberries stuffed with homemade cashew-based "cream cheese" for a rich, creamy dessert recipe!
Ingredients
Vegan Cheesecake Filling:
1 cup raw cashews, soaked overnight
2 tablespoons coconut oil, melted and cooled
3 tablespoons lime or lemon juice
3 tablespoons to 4 pure maple syrup or agave nectar, to taste
1 teaspoon pure vanilla extract
3 tablespoons to 4 unsweetened almond milk or water*
Pinch sea salt
Vegan "Cheesecake" Stuffed Strawberries
32 ounces fresh ripe strawberries
Vegan "cheesecake" filling, recipe above
Fresh blueberries, optional
1 tablespoon coconut sugar, optional
Instructions
Soak the cashews for 8 to 12 hours. Drain and rinse.
Add cashews to a high-powered blender along with the remaining cheesecake filling ingredients. Blend until completely smooth. It will take several cycles of blending (about 2 full minutes of blend time) to get the mixture smooth. If necessary, add more almond milk or water to get the ingredients to blend.
Transfer "cheesecake" filling to a container and refrigerate until completely chilled, about 2 hours.
Rinse the strawberries well and pat dry with a paper towel. Chop the tips and tails off and use a pairing knife or melon baller to scoop the insides (hull) out of each strawberry.
Stuff each strawberry with the vegan "cheesecake" filling and top with fresh blueberries and/or coconut sugar. You can also drizzle each strawberry with melted white or dark chocolate.
Serve chilled and enjoy!
Notes
*If necessary, add more almond milk (or water) one tablespoon at a time if mixture is too thick.
Nutrition Information
Serving Size

1 grams
Amount Per Serving
Unsaturated Fat

0g