Strawberry Cheesecake Jars are a fun individual-sized portion treat to share with friends and family. Make them ahead of time for entertaining guests or bringing to a potluck.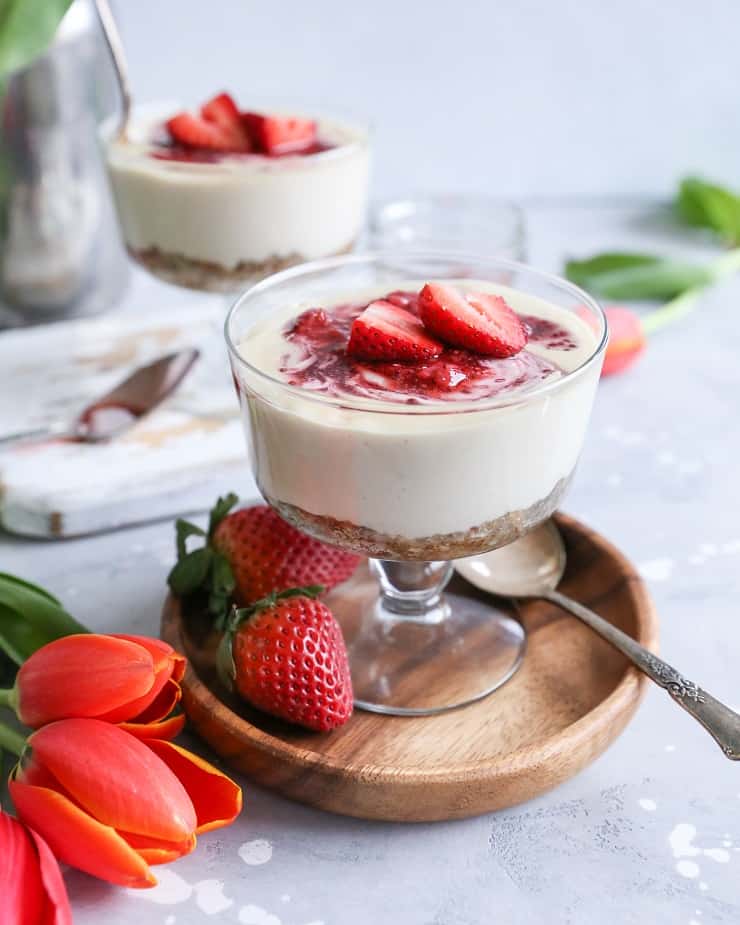 Looking for a fun, festive, and somewhat healthy dessert to serve guests at your summer BBQs? THIS JUST IN!
These Individual Vegan Strawberry Cheesecake Jars are magnificent for making individual portions of healthier "cheesecake." They are dairy-free using soaked and pureed cashews as a replacement for cream cheese. They are refined sugar-free, swapping out sugar for pure maple syrup (or honey if you aren't vegan). The crust is also grain-free, made using nuts and dates.
Essentially what we have here is a silky-smooth, mouth-watering vegan cheesecake recipe that will knock the socks off your guests and fits so many dietary restrictions. No one will guess they aren't fully leaded cheesecakes!
In addition to these beauties checking all the dietary boxes, they are easier to prepare than a full-sized cheesecake. Plus: portion control!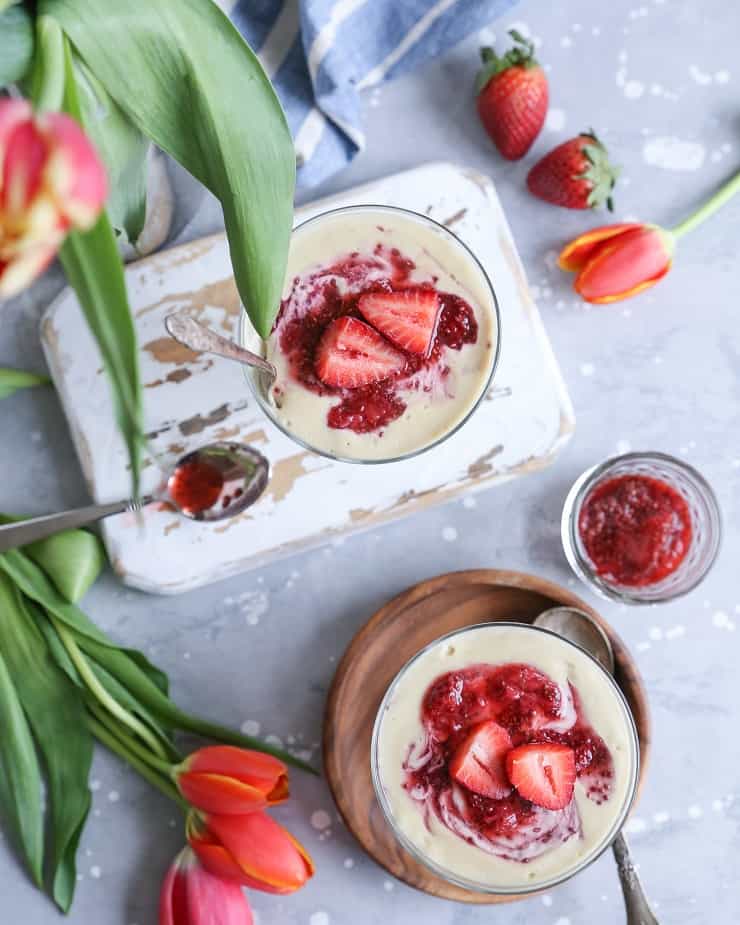 Recipe Tips:
I will say, these jars do require a few steps and a lot of waiting time to prepare. The upside is, the recipe itself is very easy to make and it can easily be made in parts!
If you're serving just a few guests, you can halve the recipe; however, the way I see it, if you end up with leftovers, you can simply refrigerate or freeze them for later. Or send them home with your guests!
Note: if you do want to prepare this as a full-sized cheesecake, follow the recipe for my Vegan Strawberry Cheesecake.
So let's make them!
How to Make Individual Vegan Strawberry Cheesecake Jars:
Begin by soaking the cashews for the "cheesecake" filling. Place the cashews in a bowl and cover with a couple inches of water. Allow the cashews to soak for at least 4 hours, preferably overnight.
In the meantime, you can prepare the crust and make a batch of Strawberry Chia Seed Jam. If you don't want a full batch of strawberry jam, you can simply stew 1.5 cups of strawberries on the stove top with 3 tablespoons of pure maple syrup. Cook in a saucepan at a boil until very thick, about 15 to 20 minutes. Allow the strawberry mixture to cool completely by chilling it in the refrigerator before adding it to the cheesecake.
Add all the ingredients for the crust to a food processor and process until a thick, sticky dough forms. You want to be able to pinch the mixture together and have it hold. If necessary, add 1 to 3 Tbsp unsweetened almond milk.
Press the crust mixture into small jars or dessert dishes. I recommend using Mini Mason Jars.
Once the cashews have finished soaking, drain them and add them to a high-powered blender along with the rest of the ingredients for the filling. Blend until completely smooth. You may need to stop the blender a couple of times to scrape the sides and get it going again.
Fill the jars with the cheesecake filling and either top with Strawberry Chia Seed Jam, or swirl the jam into the cheesecake mixture.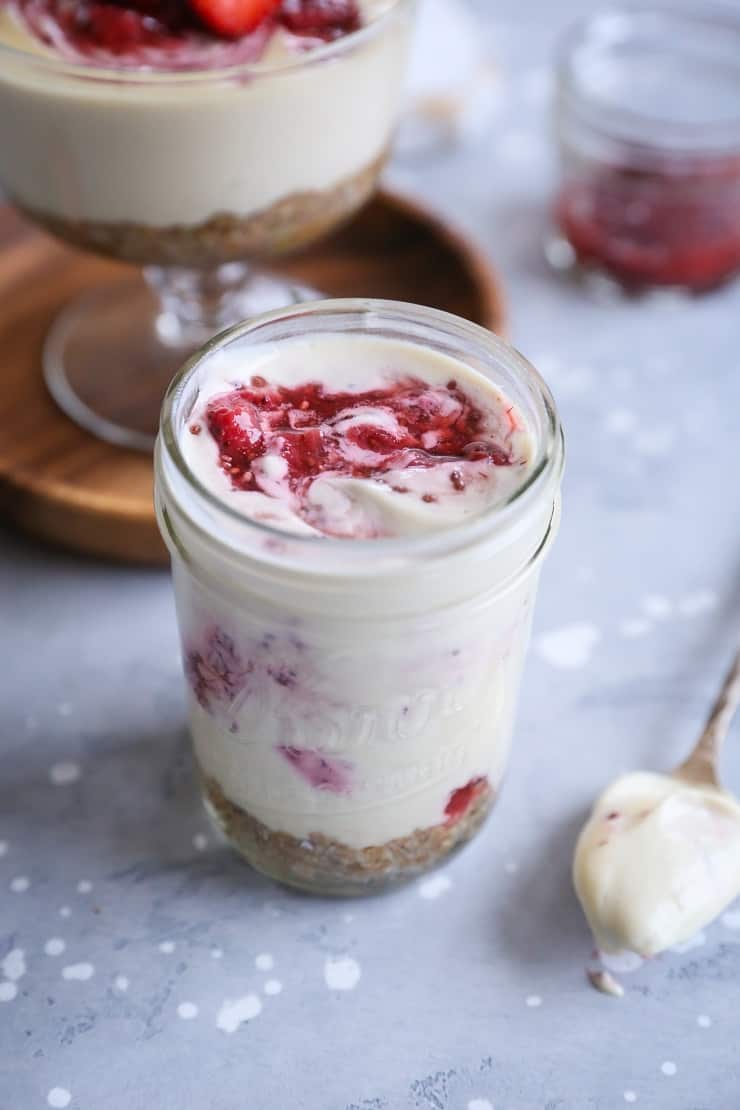 Seal the jars (or if using dishes, cover with plastic wrap) and refrigerate at least 4 hours.
Serve to your guests and enjoy!
Recipe Adaptations:
Use a combination of almonds and walnuts for the crust. Or, r

eplace almonds with pecans or walnuts.

Make this a festive red, white, and blue recipe by topping with fresh blueberries.

Replace the pure maple syrup in the cheesecake filling with honey – this will make the filling taste more cheesecake-like because of the tang of honey, although the recipe will no longer be vegan.

To make keto, replace the pure maple syrup with sugar-free syrup. I like to use Pyure Maple Flavored Syrup
Use Raspberry Chia Seed Jam

instead of the strawberry.
My cookbook,
Paleo Power Bowls
, is now available! CLICK HERE to check it out. Thank you for your support!
If you make these Strawberry Cheesecake Jars, please feel free to share a photo and tag @The.Roasted.Root on Instagram!
Vegan Strawberry Cheesecake Jars
Amazingly creamy dairy-free cheesecake with the most delectable strawberry swirl is an amazing no-bake dessert that is easy to make!
Ingredients
For the Cheesecake Filling:
For the Strawberry Jam Swirl:
Instructions
Prepare the Crust:
Add the ingredients for the crust to a food processor and process until a thick dough has formed - you may need to stop the food processor several times to scrape the sides.
Prepare the Strawberry Chia Seed Jam:
Add all ingredients for the strawberry jam swirl except for the chia seeds to a saucepan. Cover and bring to a full boil. Cook, stirring occasionally, until strawberries begin to soften, about 5 minutes. Reduce the heat and mash the strawberries using a fork or potato masher. Cover and continue cooking until thick, about 15 minutes. Add the chia seeds, stir well and allow strawberry mixture to cool to room temperature. Refrigerate in a sealed container at least 1 hour before using.
Prepare the Cheesecake Filling:
Soak the cashews for 3 to 8 hours in water. Drain, rinse, and add to a high-powered blender. Add the remaining ingredients for the filling to the blender and blend until completely smooth - this will take 1 to 3 minutes of blending.
Assemble the Strawberry Cheesecake:
Line a spring form pie pan with parchment paper. Press the crust mixture firmly into the bottom of the pan, creating a tight, even layer. Pour in the cheesecake filling. Spoon the strawberry mixture into each jar and give it a swirl.

Place the pie in the freezer and freeze 2 hours or until completely set up. When ready to serve, thaw the cheesecake 8 to 10 minutes. Slice and serve! Note: You can also refrigerate the cheesecake jars, but they won't set up as much as if you freeze them.
Notes
*You can also use honey if you aren't vegan. Honey gives the cheesecake a nice tang, which makes it taste even more like regular cheesecake than the pure maple syrup version!
Nutrition
Serving:
1
of 12
|
Calories:
439
kcal
|
Carbohydrates:
33
g
|
Protein:
11
g
|
Fat:
30
g
|
Saturated Fat:
6
g
|
Polyunsaturated Fat:
12
g
|
Fiber:
5
g
|
Sugar:
24
g