Gluten-free and vegan peach crisp made with Bob's Red Mill's gluten-free 1-to-1 Baking Flour, oats, and pure maple syrup. A simple-to-prepare summer dessert that can 200% be eaten for breakfast.
Oh, hello! You made it! It's Friday, the day you thought would never come. Have you been surviving summer? It's been a hot metropolis of Hades here in Reno, and if you know me at all, you can assume I've been moving at a sloth-like pace as though I'm dragging an anchor in tow. Heat + Julia? So not rock n' roll.
So how about we bake something!
But first…
I have some talking points to discuss with you! First and foremost, I'm leaving on a trip to Iceland on Tuesday of next week and am just completely beside myself. I'm excited. I'm nervous. I'm ordering toiletry bags, extra camera batteries, memory cards, and uuuge water bottles on Amazon last minute, per my typical procrastinating way.

Second item of business: you should definitely watch Stranger Things on Netflix (and chill). It's a Netflix original, and you guys: Winona Ryder. Are you a child of the 80s? Dig creeping yourself out before bed? Feel dark and twisty about Sci Fi? Do it. Only 8 episodes, you totally have time.
Last item on the agenda: OHMYGERD, dessert.
It's high time we shared a fruit-infused summer dessert, you and me. Should we pour a glass of sauvignon blanc, scoop some fresh-out-of the oven gooey peach crisp into a bowl, plop some fresh-out-of-the-freezer vanilla ice cream on top and get to chit chatting about nothing at all in particular? Just see where the afternoon takes us? Sounds like a porch time sesh in which I'd 200% want to take part!
You're looking at my favorite dessert I've made so far this summer. It's a quickie to prepare, and the end result is the most addicting display of splooge you'll ever lay mouth on. It is all things crispy, crumbly, gooey, peachy yet vanilla-y and citrusy, sweet and tangy, warm and comforting, yet fresh and light. Planning on doing some home-bodying over the weekend? This crisp'll keep you mad company.
You can probably surmise from the Paleo Strawberry Crumble, Paleo Raspberry Crumble, and the Paleo Cherry Crumble I posted in years passed that I'm mega bonkers into the fruit crumble/crisp. And you guys, I have to say: this peach crisp trumps those paleo crumbles. Every dang day. Sure, they're super amazing as far as paleo crumbles are concerned, but this recipe tastes just like the real deal. And I'm calling it healthy, so there is that.
The goo factor here. My gah it's the darndest! The roasting process brings out a great deal of flavor in fruit, and I love the self-caramelizing factor that comes with fruit due to its natural sugars. My favorite way of enjoying a good seasonal fruit crisp is with a hefty scoop of coconut milk ice cream. 
I used Bob's Red Mill's Gluten-Free 1-to-1 Baking Flour, along with their Gluten-Free Old Fashioned Rolled Oats. The topping is so silly simple to prepare, you'll want to whip it up for every single crisp/crumble ever. All it takes is a bowl and a few seconds of stirring to make this amazing topping a reality. When all's said and done, the crumble is…
Dairy-Free and Vegan

Gluten-Free

Refined sugar-free

Crispy and buttery tasting, just like a regular crisp
The peach filling is a simple mixture of fresh ripe peaches, agave (or pure maple syrup), and a couple tablespoons of Bob's Red Mill's Gluten-Free 1-to-1 Baking Flour for thickening. You don't need to add flour to the filling per se, but I prefer it nice and thick. Is that what she said? Is it? Is it? Bueller? I'll stop.
This peach crisp vanished within 3 hours of its coming to fruition (get it? fruition? I know, I know…you've had better..), as it was a prep-shoot-devour situation. The man stallion, one of my girlfriends, and I plowed through the entire crisp like underfed teenagers with scoops of vanilla coconut milk ice cream. While the recipe can easily feed 4, it ended up feeding 3…which means if you and your family/friends have a hefty sweet tooth, you could consider doubling the recipe.
As in, double the recipe…you'll want leftovers for breakfast. Just trust.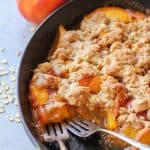 Peach Crisp (gluten-free and vegan)
Print
Instructions
Preheat the Oven to 350 degrees F and lightly oil a 9-inch square or round baking dish (I used a 9-½-inch cast iron oval baking dish).

Combine all of the ingredients for the crumble topping in a mixing bowl and stir well to combine. Refrigerate for 5 minutes while you prepare the rest of the recipe.

Add the sliced peaches to a large mixing bowl, along with the rest of the ingredients for the peach filling. Gently toss everything together until combined.

Transfer the peach filling to the oiled baking dish, then evenly spread the crumble topping on top. Bake on the center rack of the oven for 40 to 50 minutes, or until topping is golden-brown and crispy.

Allow crumble to cool 15 minutes before serving with ice cream.
This post is sponsored by Bob's Red Mill. All opinions are my own, and I thank you for supporting the brands that help make this site possible. For more delicious recipes, please visit BobsRedMill.com!