Gluten-Free Vegan Peach Cobbler featuring sweet fresh peaches and a rich oatmeal crisp topping. This simple recipe requires zero baking experience and basic pantry ingredients you probably already have on hand.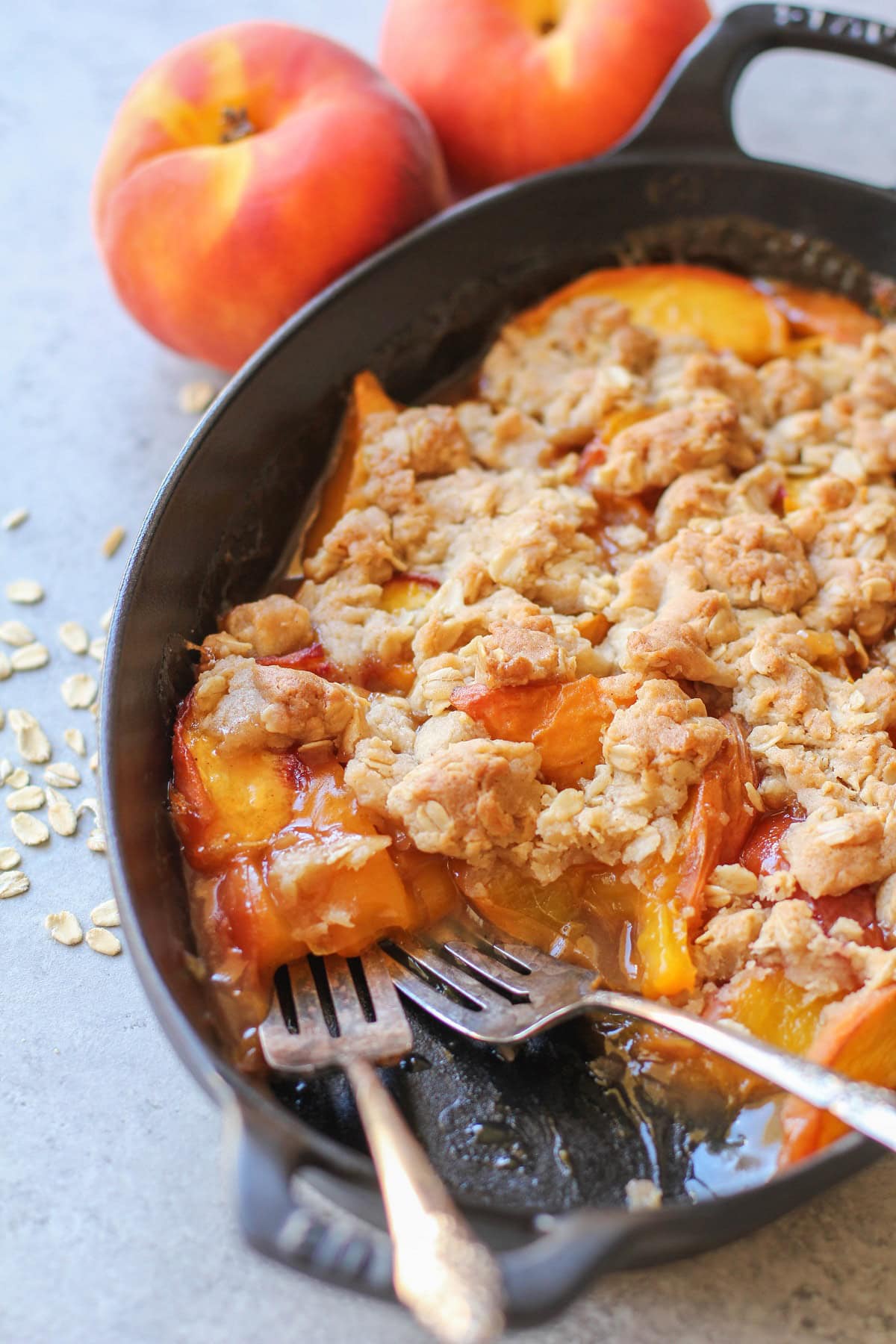 When I originally made this easy Peach Cobbler recipe back in 2016, it vanished within minutes of it coming to fruition.
Myself and two others hovered over it like vultures until the whole dessert was devoured.
While this delicious dessert can easily feed four individuals, I recommend doubling the recipe if you plan on serving more than 3 because it is just that addictive.
Plus, you'll want some leftovers for breakfast the next day, right?
This delicious gluten-free peach crumble is quick and easy to prepare, and zero baking experience is needed.
The end result is all things crispy, crumbly, gooey, peachy yet vanilla-y and citrusy, sweet and tangy, warm and comforting, yet fresh and light.
You can probably tell from the Paleo Strawberry Crumble, Gluten-Free Blueberry Crumble, and my Paleo Blackberry Cobbler I shared in years passed that in the event I'm whipping up a non-chocolate-oriented dessert, I'm fully invested in the fruit crumble/crisp.
The roasting process brings out a great deal of flavor, and I love the self-caramelizing factor that comes with fruit due to its natural sugars. In this case, the peach juices create that gooey effect which makes for the most delicious cobbler.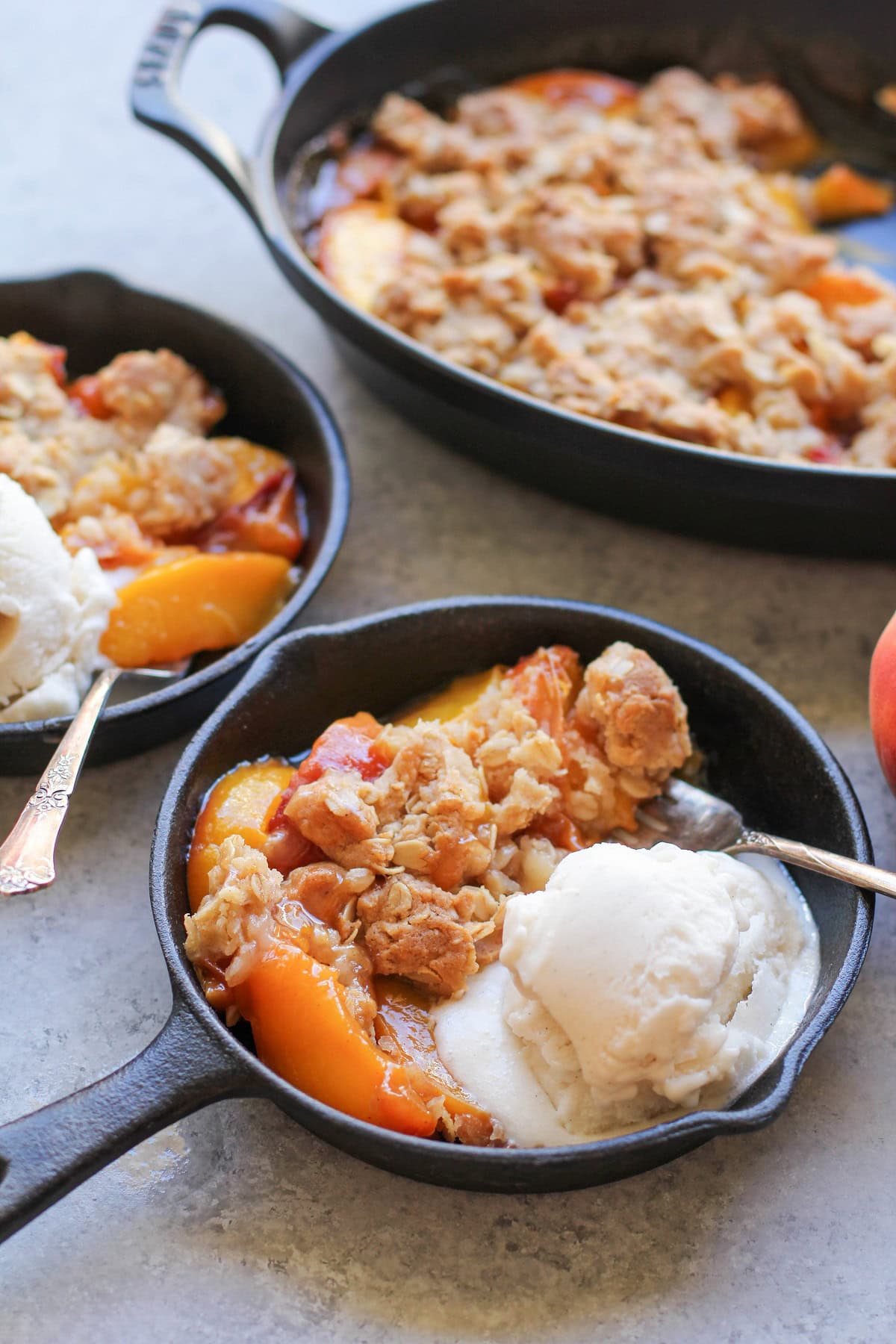 The cobbler topping is so simple to prepare, you'll want to whip it up for every single fruit crisp or crumble you make in the future. Because we don't use butter in the recipe, there is no cutting cold butter into all-purpose flour or the need for any fancy pie crust tools.
All it takes is a bowl and a few seconds of stirring to make this amazing topping a reality.
The recipe highlights here are that this easy vegan peach cobbler is gluten-free, egg-free, quick and easy to prepare, and only requires a handful of basic ingredients.
Plus, it tastes rich and buttery in spite of being buttery-free and dairy-free. You'd never guess this easy peach cobbler wasn't made with standard cane sugar, butter, and flour!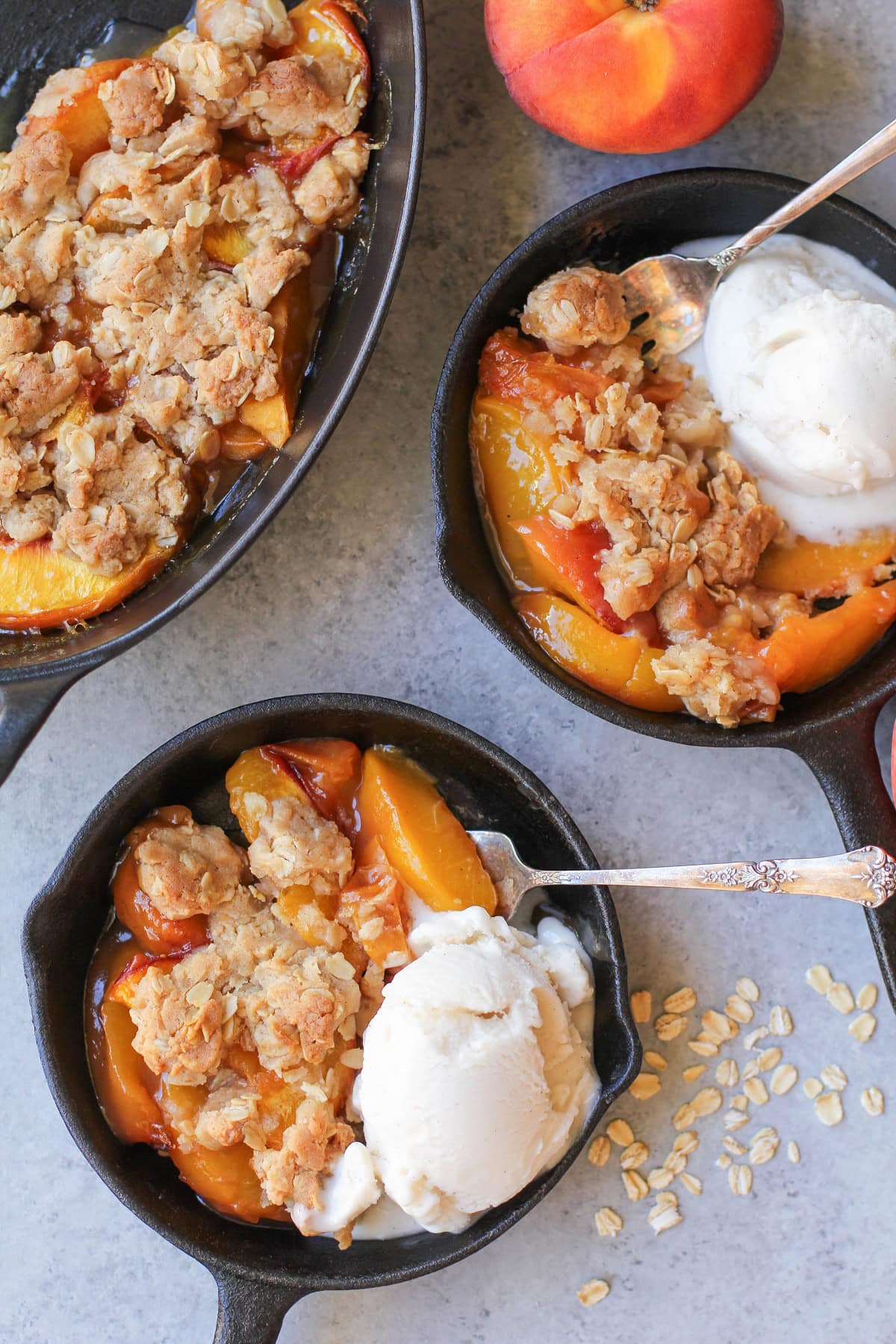 Let's discuss the basic ingredients for peach cobbler.
Ingredients for Vegan Peach Cobbler:
For the Gluten-Free Crisp Topping:
Gluten-Free All-Purpose Flour & Rolled Oats: The easy cobbler topping for this peach crisp is made using a gluten-free flour blend and rolled oats or quick oats. I used Bob's Red Mill Gluten-Free 1-to-1 Baking Flour, along with their Gluten-Free Old Fashioned Oats.
Pure Maple Syrup: Used to sweeten the cobbler topping, I keep it natural with pure maple syrup. For a sweeter topping, add 1 to 3 tablespoons of regular white sugar or brown sugar in addition to the pure maple syrup.
Coconut Oil: The delicious fat portion of the crumble topping that brings all of the ingredients together and makes the topping taste buttery in spite of containing no butter. I use unrefined coconut oil for the best results because it has richer flavor. If you aren't dairy-free, use melted butter instead of coconut oil.
Sea Salt & Cinnamon: Bringing warm flavor, a little cinnamon brings a little something special to the topping and salt enhances all of the flavors. Skip the cinnamon if you aren't into it.
Peach Filling Ingredients:
Fresh Peaches: Ripe juicy peaches are the reason we're all here! Ripe peaches get sliced up and tossed with a few ingredients to make a gooey, delicious peach filling. For the best peach cobbler recipe, be sure to use sweet peaches.
If the peaches you're using unripe peaches, consider adding a few tablespoons of a granulated sweetener (in addition to the pure maple syrup) so that the cobbler turns out perfectly sweet.
Gluten-Free All-Purpose Flour: Used to thicken the peach mixture so that it's so gooey and thick and delicious, we use a little gluten-free all-purpose flour. Use the same one as the cobbler topping.
Pure Maple Syrup: A little pure maple syrup brings amazing sweetness to the fruit cobbler and enhances the gooey texture.
Fresh Lemon Juice and Lemon Zest: I love adding fresh lemon juice and lemon zest to bring a little citrus vibrance to the filling. It creates a lovely nuance that you'd never guess is so tasty!
Pure Vanilla Extract: Warm vanilla notes bring an inviting essence to the cobbler and help counterbalance the citrus.
Ground Cinnamon and Sea Salt: A pinch of salt brings out that delicious peach flavor and a little cinnamon adds warmth.
I also love adding fresh ground nutmeg, although this ingredient is optional.
Now that we're familiar with the simple ingredients for gluten-free peach cobbler, let's make it!
How to Make Vegan Peach Cobbler:
Making this gluten-free peach cobbler is super simple and only requires three steps and so little time or effort.
1.) Make the Peach Filling:
Cut the peaches into slices and remove and discard the pit. Whether or not you peel off the peach skin before cutting the peach slices is up to you!
To make the peach cobbler filling, gently toss fresh sliced peaches, lemon juice and zest, pure maple syrup and a small amount of gluten-free flour in a mixing bowl.
Transfer the peach filling to a 8″ x 8″ casserole dish, cake pan or baking dish (or one of similar size).
2.) Prepare the Biscuit Cobbler Topping:
Simply stir up all the ingredients for the cobbler topping in a mixing bowl, and you're DONE!
You can use the same bowl you used to toss together the peach filling. The topping is so silly simple to prepare, you'll want to whip it up for every single crisp/crumble ever.
3.) Make the Cobbler:
Scoop portions of the cobbler topping on top of the peaches. You don't have to be perfect about this! I spoon it over haphazardly in a somewhat even layer.
Bake the cobbler until the topping is golden brown delicious and you're in for a real wild ride!
My favorite way of enjoying a good seasonal fruit crisp is with a hefty scoop of my Dairy-Free Vanilla Ice Cream (or 3-Ingredient No-Churn Vanilla Ice Cream for those who do dairy).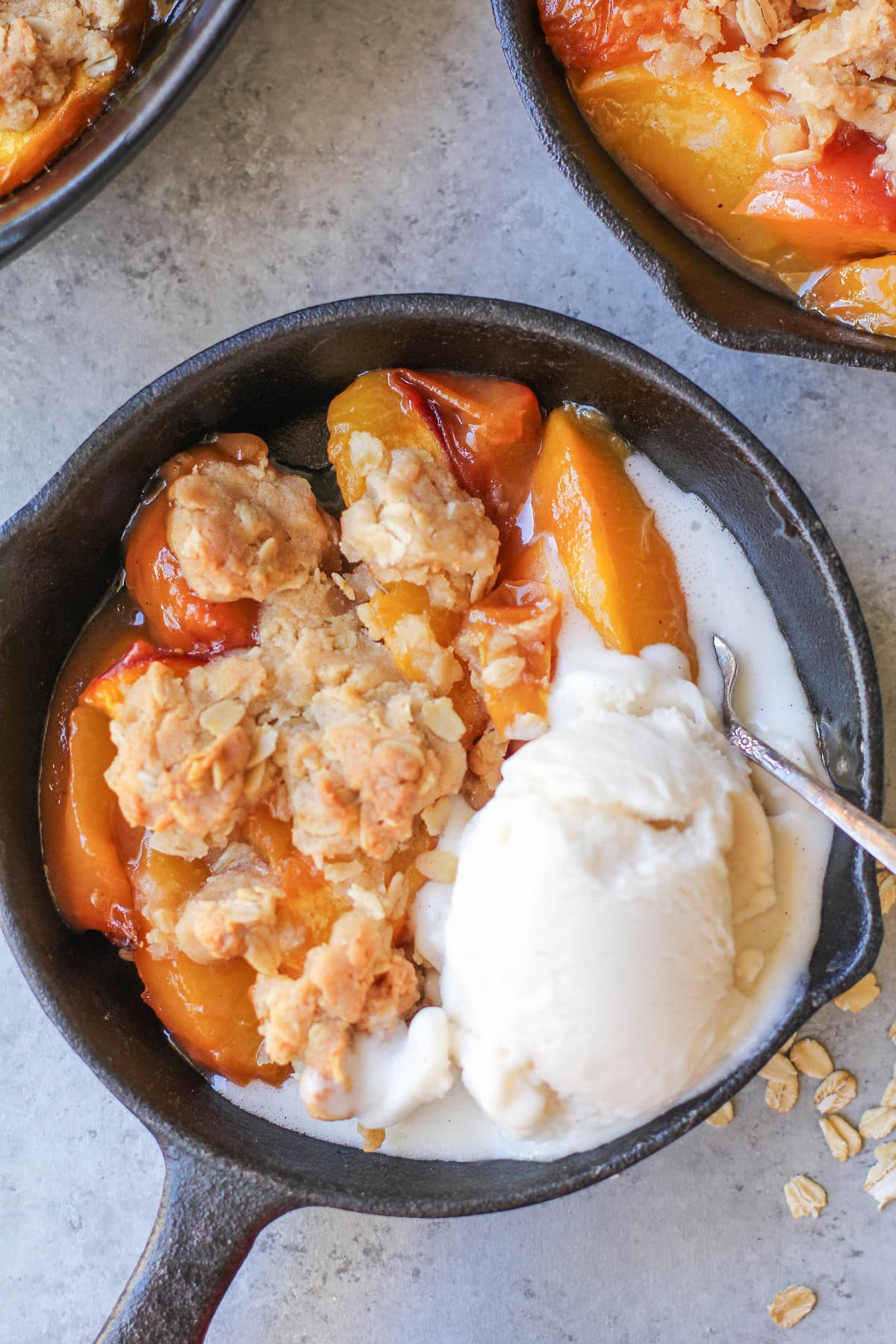 If you follow a grain-free diet and are looking for a grain-free peach cobbler or a paleo peach cobbler recipe, make my Vegan Paleo Peach Cobbler, which uses almond flour for the crumble topping.
If you enjoy peach desserts, also try my Vegan Peach Pie Bars or my Paleo Peach Coffee Cake.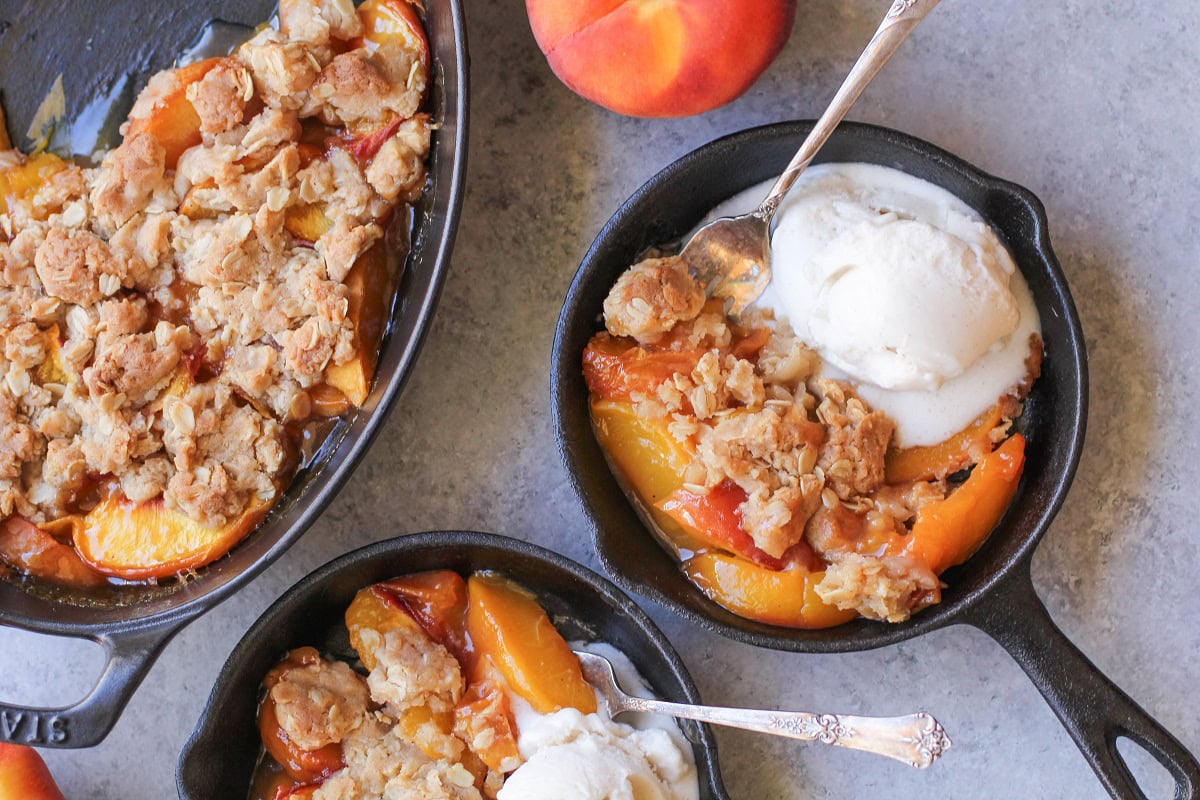 And that's it! Summer's favorite dessert that is perfect for peach season. You can make this easy dessert recipe year round using frozen peaches or canned peaches too.
Be sure to make extra fresh peach cobbler to enjoy for breakfast or brunch! The next time you're craving an old fashioned peach cobbler recipe, whip up this easy recipe!
If you love fruit desserts no matter the time of year, also try these reader favorites.
More Fruit Crumbles and Cobblers:
Peach crumble for breakfast, snack, and dessert! Don't forget the scoop of vanilla ice cream!
Peach Crisp (gluten-free and vegan)
This Gluten-Free Vegan Peach Cobbler Recipe showcases juicy peaches and the easiest crumble topping that tastes rich and buttery in spite of being dairy-free! Serve it warm with a scoop of vanilla ice cream for a delicious dessert!
Instructions
Preheat the Oven to 350 degrees F and lightly oil an 8-inch or 9-inch square or round baking dish (I used a 9-½-inch cast iron oval baking dish).

Combine all of the ingredients for the crumble topping in a mixing bowl and stir well to combine. Refrigerate for 5 minutes while you prepare the rest of the recipe.

Add the sliced peaches to a large mixing bowl, along with the rest of the ingredients for the peach filling. Gently toss everything together until combined.

Transfer the peach filling to the oiled baking dish, then evenly spread the crumble topping on top. Bake on the center rack of the oven for 40 to 50 minutes, or until topping is golden-brown and crispy.

Allow crumble to cool 15 minutes before serving with ice cream.
Notes
If you don't follow a gluten-free diet, you can use regular all-purpose flour and oats.
Similarly, if you don't follow a dairy-free diet, use melted butter instead of coconut oil.
Nutrition
Serving:
1
Serving (of 4)
|
Calories:
446
kcal
|
Carbohydrates:
71
g
|
Protein:
4
g
|
Fat:
19
g
|
Saturated Fat:
15
g
|
Polyunsaturated Fat:
1
g
|
Sodium:
301
mg
|
Fiber:
4
g
|
Sugar:
40
g
This post is sponsored by Bob's Red Mill. All opinions are my own, and I thank you for supporting the brands that help make this site possible. For more delicious recipes, please visit BobsRedMill.com!
I originally shared this recipe on August 5, 2016. I updated the information, made a slight change to the recipe and updated the photos.
This post contains affiliate links, which means I make a small commission off items you purchase at no additional cost to you.