Maple Bourbon Mashed Sweet Potatoes with orange zest and pure maple syrup is a magically flavorful side dish, amazing for any time of the year. Make it in bulk during the holidays!! Boozed up mashed sweet potatoes…can life get any better?!
The question isn't where would you put your booze…it's where wouldn't you?
The more I think about liquor, the more I realize everything deserves a splash of it.
Cake, coffee, milkshakes, sauces, marinades…booze, booze, booze. Especially, and in particular, around the holidays. Which reminds me…
It's Thanksgiving week, everyone! Who wants to take shots?
Are you freaking out?
Is your menu all planned out?
Are you ready for feasting, napping, then more feasting and more napping?
Are you planning on infusing each and every one of your side dishes (and mouth) with alcohol?
And since we're on the topic of feasting, how do you like your side dishes?
Cheesy and creamy? Chunky and savory? Dessert-y and pie-y?
When it comes to sides, I can get on board with the traditional recipes or the avantgarde.
There's nothing like a family recipe that's put on replay year after year, but let's face it: sometimes you need to add a little jazz hands to your feast Liquored up sweet potatoes'll do a feasting good.
And these ones are filthy. There's an entire shot of bourbon PLUS butter, PLUS maple syrup all shmoooshed up in there.
You're nodding your head like you're picking up what I'm putting down, yes siree!
I like my taters like I like my men: bold, buttered, and drunk. < – Joking. Not joking.
Carbs don't count on Thanksgiving.
It probably doesn't come as a shock that 78% of what I eat on Thanksgiving day is made out of sweet potatoes.
Sure, I can down my fair share of turkey with cranberry sauce, maple roasted butternut squash and beets, brown rice stuffing, and the whole gamete.
But for me, sweet potato dishes are the main event. The sweetness, that mouth feel, those carbs. They're just so pleasing!
Which is why 84% of what I eat on Thanksgiving day is made out of sweet potatoes.
This mashed whiskey lullaby is wúnderbar. It's a real booze cruise.
As in, it's easy to make.
Pure maple syrup + sweet taters + orange zest + bourbon + butter = slutted up mashed taters with silky smooth texture and rich flavor.
You're wondering if you can add marshmallows or streusel topping and bake these suckers twice? Yes, and do it!
Carb like no one is watching.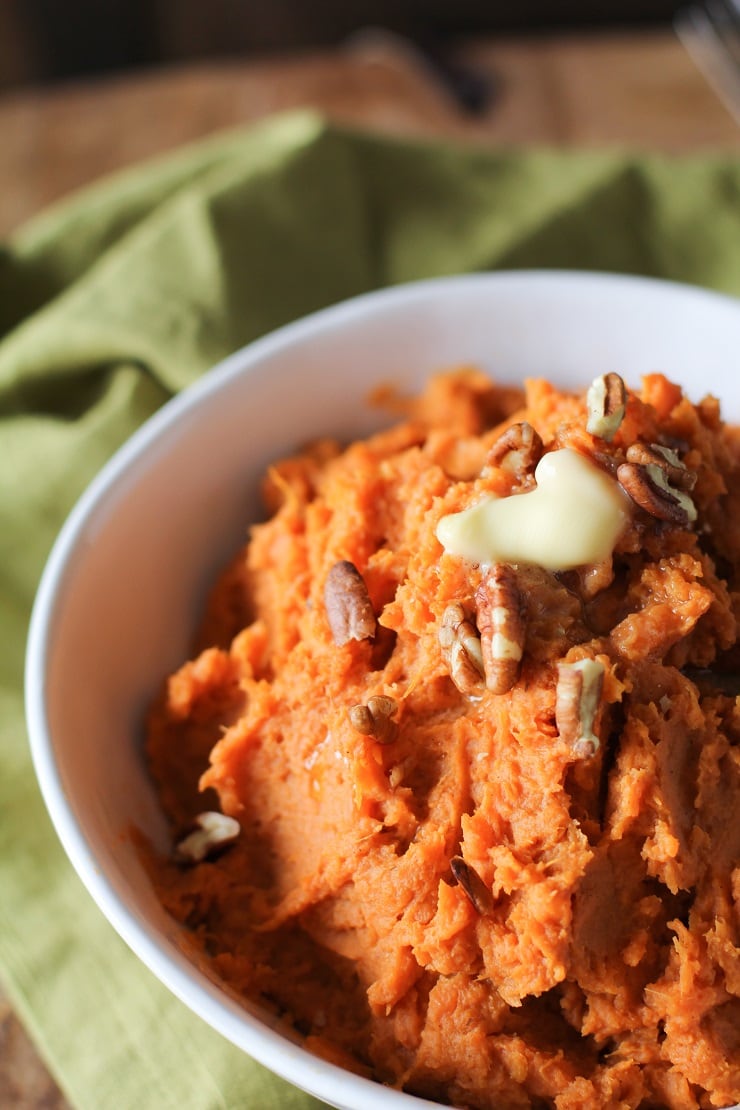 If you make this mashed sweet potatoes recipe, feel free to share a photo on Instagram and tag me at @The.Roasted.Root!
Maple Bourbon Mashed Sweet Potatoes
The most AMAZING mashed sweet potato recipe on earth! Insanely flavorful and amazing for serving at any gathering.
Ingredients
2

large sweet potatoes

(4 cups mashed)

3

tablespoons

salted butter

melted (or more to taste)

¼

cup

pure maple syrup

or more to taste

3

tablespoons

bourbon whisky

Zest of 1 orange

1

teaspoon

ground cinnamon

¼

teaspoon

ground cardamom

1

teaspoon

kosher salt

or to taste
Instructions
Preheat oven to 400 degrees F.

Wash the sweet potatoes and pat them dry. Poke several holes in each potato with a fork and wrap them in foil. Place potatoes on the center wrack of your oven and roast until very soft and juices are seeping out, about 60 to 90 minutes.

Remove potatoes from the oven and allow them to cool enough to handle.

Peel the skin off of the potatoes (it should come off easily using your hands), and place the flesh in a medium-sized mixing bowl.

Add the remaining ingredients to the bowl and mash everything together until well combined.

If necessary, heat the potatoes back up on the stove top before serving.

Serve with butter and chopped pecans.
Nutrition
Serving:
1
of 6
|
Calories:
167
kcal
|
Carbohydrates:
25
g
|
Protein:
1
g
|
Fat:
6
g
|
Fiber:
1
g
|
Sugar:
9
g