Citrusy Brown Rice with Butternut Squash and Pomegranate makes for a fresh, flavorful side dish perfect for the fall and winter months. This sweet and savory rice dish is perfect alongside any main dish.
Let's talk about passion.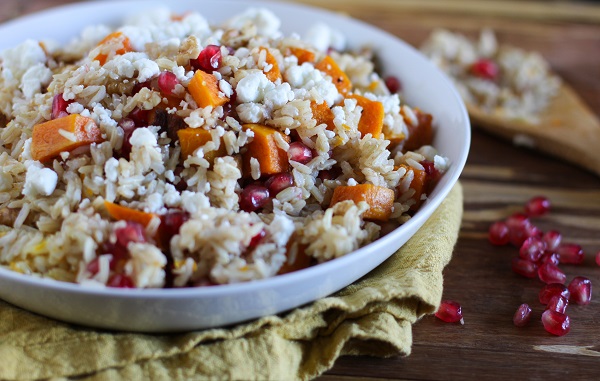 Lately, I've been feeling wildly passionate about side dishes.
Like, skip the entrée, just give me all the sides. My fire's stoked and I would like to get inappropriate with all 50 Shades of Side Dish, puh-lease and thank you. And not tapas-sized portions, because that's just confusing.
Full-sized portions, because there's a Winter Layer Competition happening right now, and we're in it to win it.
Wait, you haven't heard of the Winter Layer Competition? It involves carbs and cheese. Need I say more? Here, eat this, it should catch you up.
Over-eating at side dishes is something I'm prepared to be an expert at. Bloating is the new black, sons and sisters. Bloating is the new black.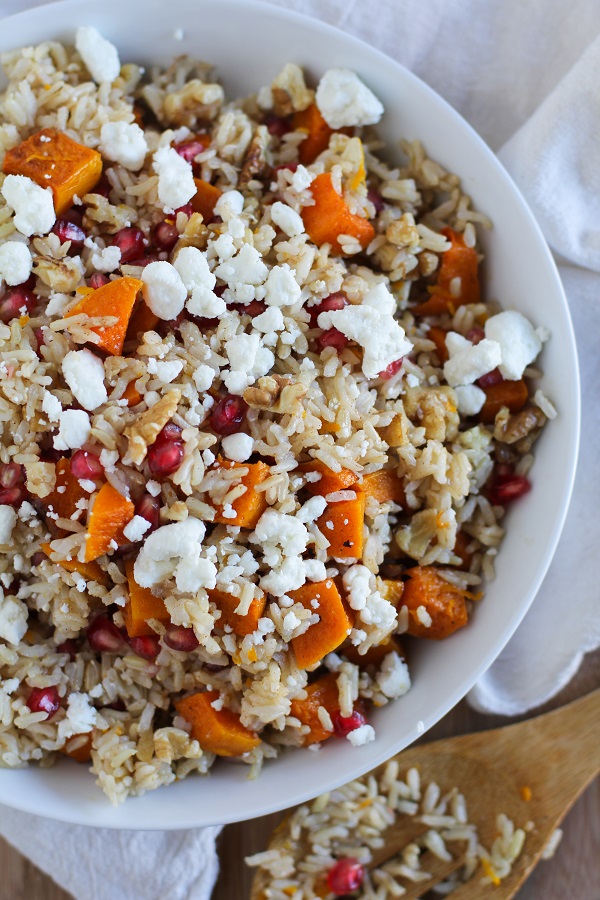 I like to look at my recent love for Side Dishing as "market research." You know, "taste testing" my way through the seasonal foods to figure out which ones are suitable for public viewing and human consumption. As part of my market research, please join me for Carb Fest! BYOC!
Just kidding, I'll supply every last one of them (the carbs, that is). All you need to bring is yourself, your yoga pants, and the willingness to pooch out your belly, because comparing winter layers is half the fun. Let's co-dependently ingest.
P.S. I like my side dishes to come with side dishes.
I know what you're thinking: "How guh-great could this possibly be? Rice is rice is rice." < – Erroneous assumption. Erroneous on all accounts. You'll once you sink your teeth in.
Except, with rice, you don't really do any teeth-sinking…it's more like a gentle gumming kind of situation. But that's neither here nor there. As it turns out, butternut squash, pomegranate seeds, walnuts, and goat cheese are full of good vibrations when they're swaddled in citrusy brown rice (which is now officially a thing). And don't be afeard of the pomegranate portion of this shindig. Simply follow my tutorial on How to De-Seed a Pomegranate. BOOM! Seeds.
I'm not one to give unsolicited advice (< – vicious lie), but you should put this rice on your Thanksgiving/Friendsgiving/Christmakwanzakah table.
Even if you do all sorts of swapperooskis, like exchange the brown rice for quinoa, goat cheese for feta, walnuts for pecans, butternut squash for acorn squash, and pomegranate arils for dried cranberries, there's no way you're not enjoying this thing.
It's got flavor, it's got texture, it's got rhythm, it's got music, it's got my guy, who could ask for anything more?
Whoa you shouldn't let me get carried away like that.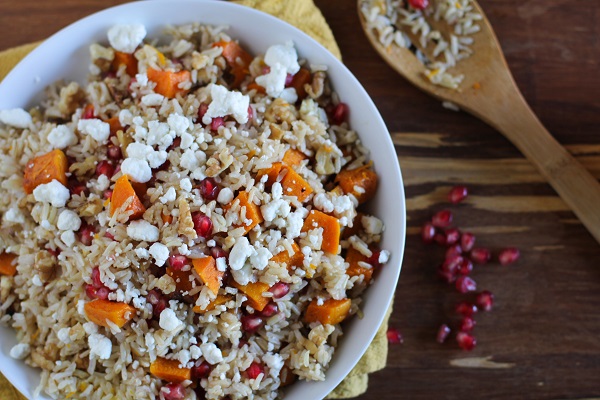 What was I saying? Oh yes, options galore for this bad mama jamma.
Citrusy brown rice with roasted butternut squash, pomegranate arils, walnuts, and goat cheese is the perfect side dish to enjoy all fall and winter long! < – That sentence was for SEO purposes only. It's a sentence you'll never get back.
Get jazzy on this!
Brown Rice with Butternut Squash, Pomegranate Seeds, and Goat Cheese
A fresh, delicious winter grain salad with brown rice, butternut squash, pomegranate seeds, zesty dressing and goat cheese (or feta!) is incredible alongside any main entrée!
Ingredients
For the Roasted Butternut Squash:
½

small butternut squash

peeled and chopped (3 cups)

1 1/2

tablespoons

olive oil

½

teaspoon

ground cinnamon

½

teaspoon

kosher salt
For the Rice:
1

cup

dry basmati brown rice

2

tsp

orange zest

1

tablespoon

fresh squeezed orange juice

2

teaspoons

olive oil

¼

teaspoon

salt

¼

teaspoon

ground cinnamon

2/3

cup

pomegranate arils

½

cup

chopped walnuts

½

cup

goat cheese crumbles
Instructions
Roast the Butternut Squash:
Preheat the oven to 375 degrees F.

Peel and chop 3 cups-worth of butternut squash and place it in a mixing bowl.

Add the olive oil, cinnamon and salt and use your hands to coat all of the butternut squash evenly.

Spread the butternut squash on a large baking sheet and bake for 20 to 25 minutes, until browned, soft, and crispy.
Prepare the brown rice:
Add 1 cup of uncooked brown basmati rice and 2 cups of water to a medium-sized saucepan.

Bring to a full boil, then reduce the heat and cover. Cook until all of the water is absorbed, about 30 to 35 minutes.

Remove from heat and allow rice to cool slightly.

In a small bowl, stir together the orange zest, orange juice, olive oil, salt, and cinnamon. Pour this mixture over the brown rice and stir well to combine.

Pour the brown rice into a large serving (or mixing bowl). Add the roasted butternut squash, pomegranate arils, chopped walnuts, and goat cheese. Toss everything together and serve with your favorite entree.
Nutrition
Serving:
1
Serving
|
Calories:
309
kcal
|
Carbohydrates:
42
g
|
Protein:
8
g
|
Fat:
14
g
|
Fiber:
4
g
|
Sugar:
3
g