Sweet, zesty, and moist Paleo Cranberry Orange Banana Bread recipe! This grain-free quick bread recipe is sweetened with bananas and pure maple syrup.
This bread is delightfully flavorful, healthy, and comes together quickly in your blender.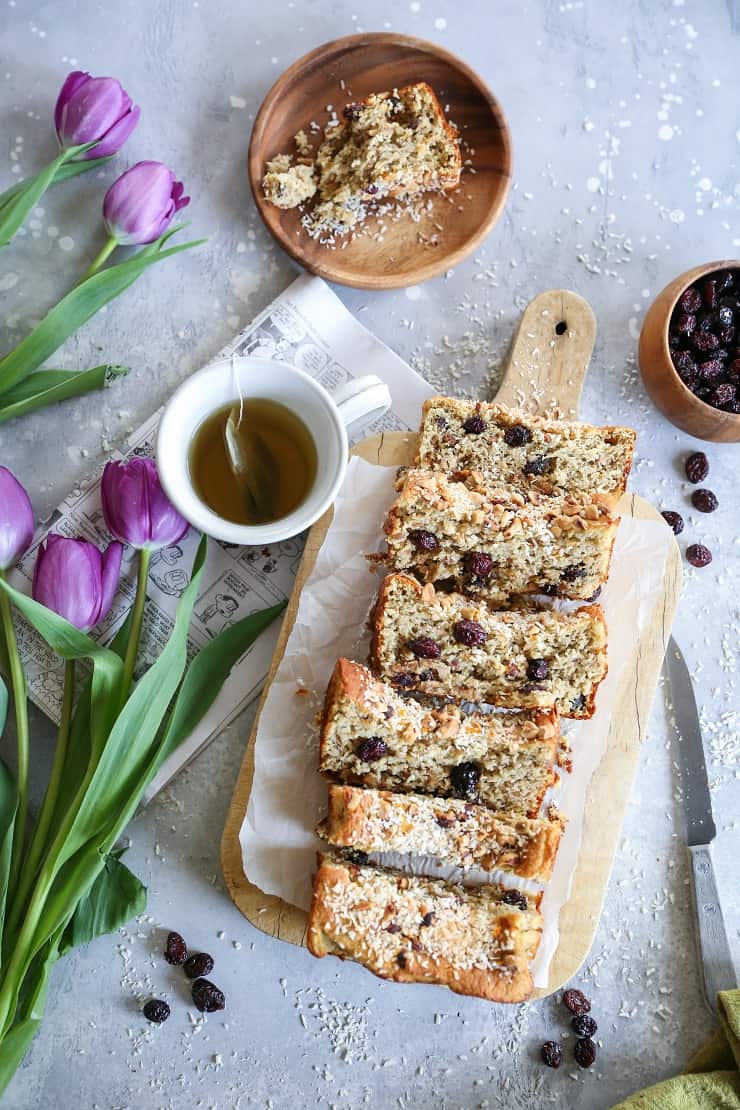 Did I ever tell you my favorite coffee shop eat when I was a kid was the classic cranberry orange muffin? It's true! I, hands down, would always choose a cranberry orange muffin over a donut or pastry. It blew my mom's mind, lemme tell you.
Well, in the spirit of my undying love for the cranberry orange combination, I went ahead and made us a grain-free, dairy-free paleo cranberry orange bread, sweetened almost entirely with bananas!
This zesty, tangy, moist cranberry orange bread is sure to please the whole family, and it has already become a staple in my household.
If you've tried my Paleo Banana Bread, you already get the concept behind this cranberry orange bread. I used that recipe as my base for this one, and simply added a ton of orange zest, dried cranberries, and toasted hazelnuts.
Let's talk flavor. This bread is bursting with cranberry-orange flavor to the extent that you can barely detect it's even a banana bread. It does have a very subtle banana bread undertone, but the primary flavor you get out of it is that zing of cranberry-orange. Before making the recipe, I was concerned the cranberry-orange and the banana bread would clash, but alas, the flavor combinations work famously together.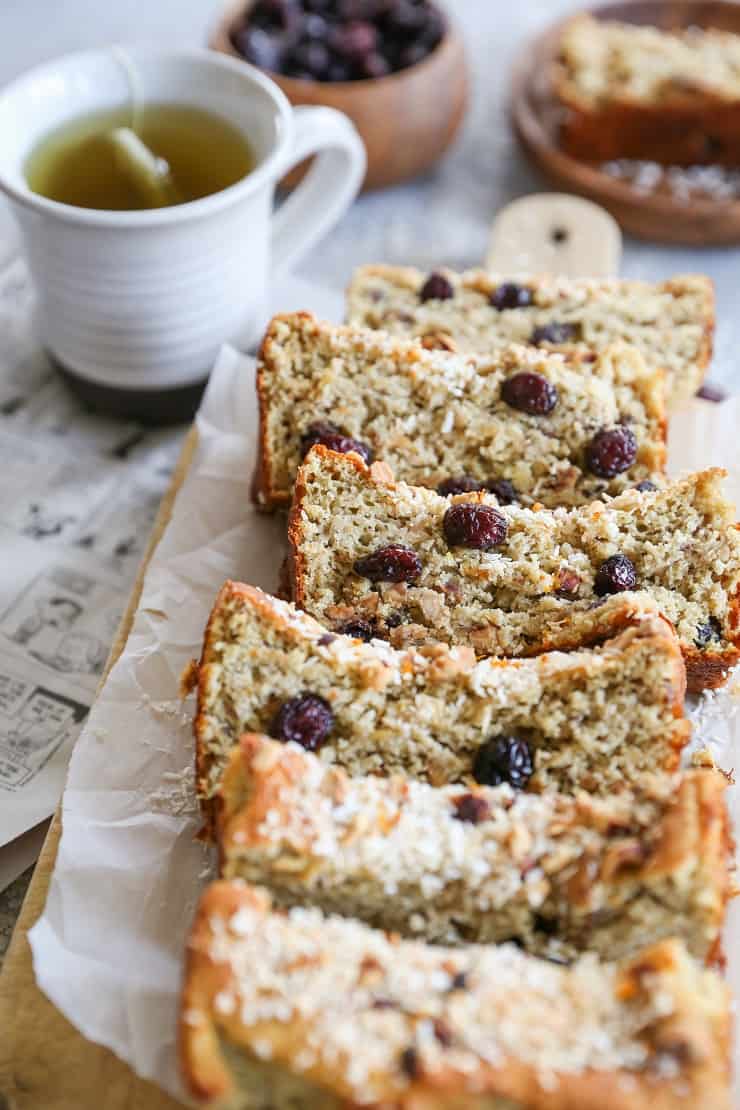 Per usual, this Paleo Cranberry Orange Bread recipe is made using your blender, making the preparation of this bread super quick and simple.
I used juice-sweetened dried cranberries for this bread, which is always my preference over sugar-sweetened. The juice sweetened has such a nice tang and is (obvi) lower in sugar than its sugar-sweetened counterpart. If your local grocery store doesn't carry juice-sweetened cranberries in its bulk bins, Steve's PaleoGoods is a great option, which you can buy on Amazon.
Because I'm a sucker for that nutty crunch, I added toasted hazelnuts to this bread (which I found in the baking aisle at one of the grocery stores here in Reno).
You can use any nut you'd like, or go nut-less. In addition to putting hazelnuts inside the actual bread, I topped the batter with more hazelnuts and shredded coconut before popping it in the oven.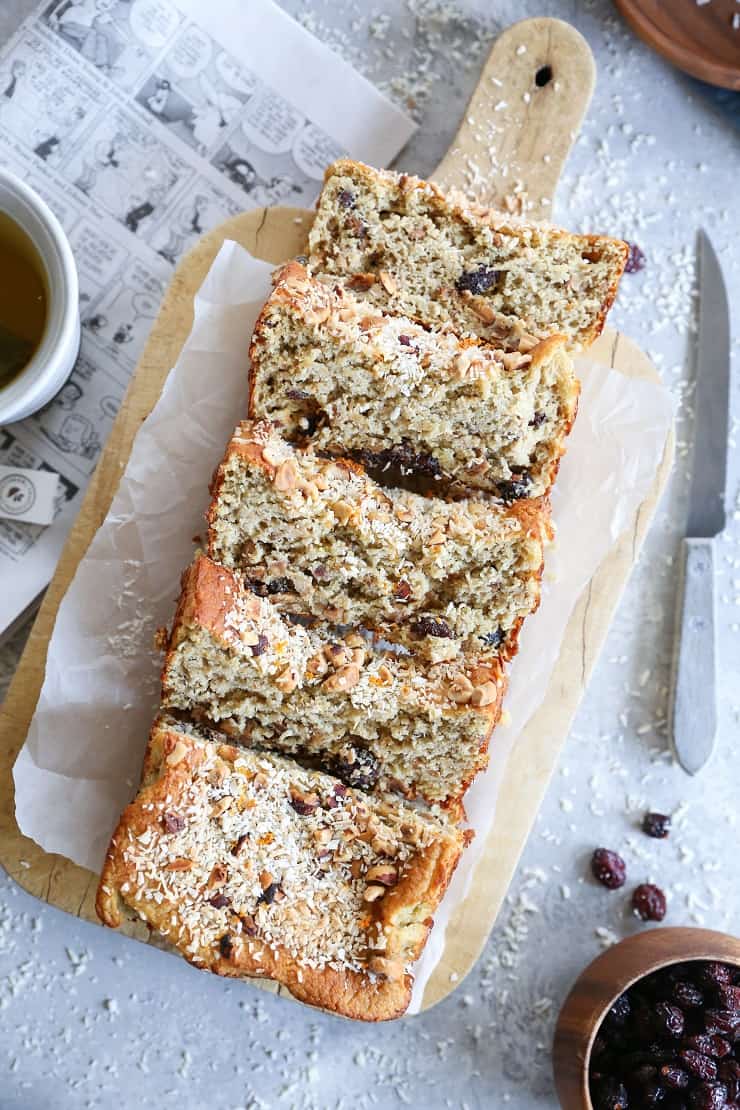 That topping is SO good that after shooting the recipe, not only did I eat two pieces of the actual bread, but I ate all the tops off of each slice. Insert embarrassed-face emoji here.
My intuition tells me you guys are going to ask me this, so I figured I'd address the question right here: Can I make this banana bread using coconut flour? YES! Please do. Rather than using almond flour, you can follow my Coconut Flour Banana Bread recipe and simply add the orange zest, dried cranberries and hazelnuts as normal.
You can get creative with your add-ins by playing with different types of dried fruit and nuts (dried blueberries with some poppy seeds sounds like a heavenly loaf to me!).
In essence, using that original Paleo Banana Bread recipe as the foundation for all your quickbreads is pretty brilliant if you ask me! Grain-Free Chocolate Chip Banana Bread? Don't mind if you do! 😉
Get that loaf!
Paleo Cranberry Orange Banana Bread
Zesty, perfectly sweet, moist and fluffy paleo-friendly quick bread with little bursts of dried cranberries and orange is an amazing treat!
Instructions
Preheat the oven to 350 degrees F and line a 9" x 5" baking pan with parchment paper.

Add the first 8 ingredients (bananas through sea salt) to a blender and blend until smooth. Toss the dried cranberries and hazelnuts in 2 teaspoons almond flour so that they don't sink to the bottom of the loaf while baking. Fold the dried cranberries and hazelnuts into the banana bread batter.

Transfer batter to the prepared loaf pan and smooth into an even layer. Top with more hazelnuts and unsweetened shredded coconut. Bake 35 to 45 minutes, until bread begins turning golden-brown around the edges. Turn off the oven and leave bread in the hot oven another 5 minutes.

Remove banana bread from the oven and allow it to sit at least 30 minutes before slicing and serving.
Nutrition
Serving:
1
slice
|
Calories:
124
kcal
|
Carbohydrates:
19
g
|
Protein:
3
g
|
Fat:
5
g
|
Saturated Fat:
1
g
|
Sugar:
20
g