Chai-spiced paleo salted caramel made with a handful of basic ingredients you probably already have in your pantry. This amazing sauce is perfect for dressing up any treat!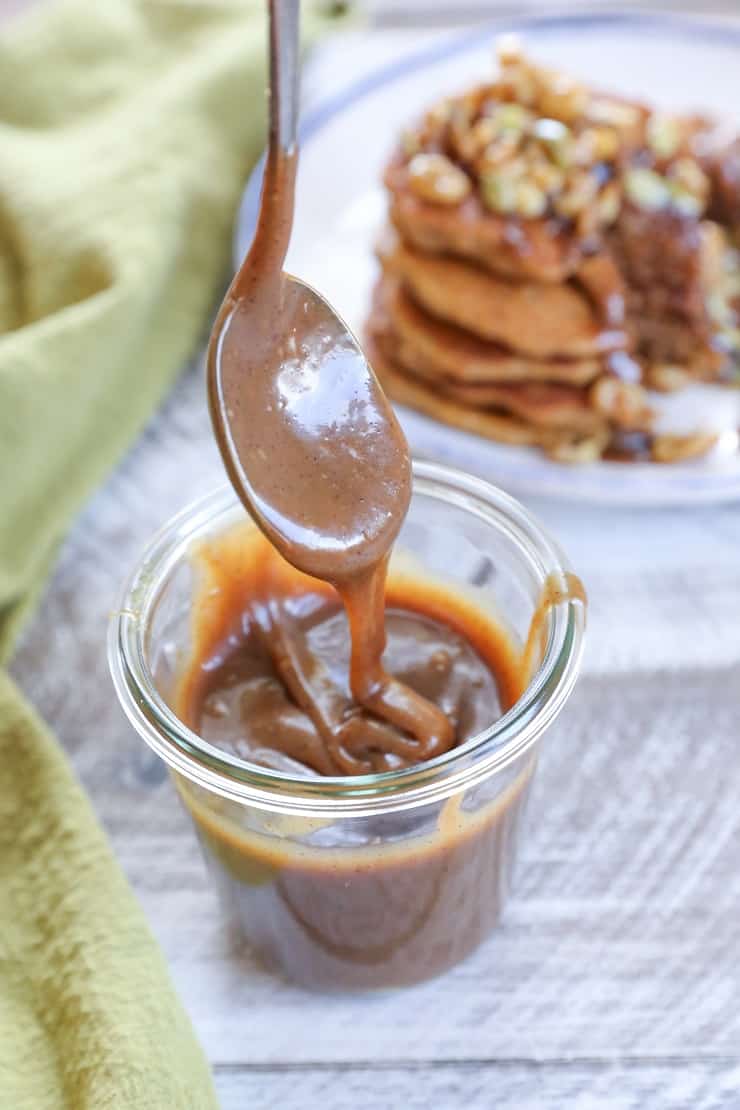 Never have I ever wanted to bathe in caramel so badly in my life.
Paleo Salted Caramel made its debut a few years ago, after which I drizzled every last thing with caramel, including but not limited to these Grain-Free Waffles with Spiced Apples and Caramel Sauce, White Cheddar and Spiced Apple Crepes with Salted Caramel, Dulce de Leche Ice Cream, Kabocha Squash Spice Cake with Chai Caramel, and this Naturally Sweetened Caramel Macchiato
Spoiler alert: history repeated itself.
I made this Chai-Spiced Salted Caramel and then proceeded to pour it on eeeeeeee'rthaaaaang!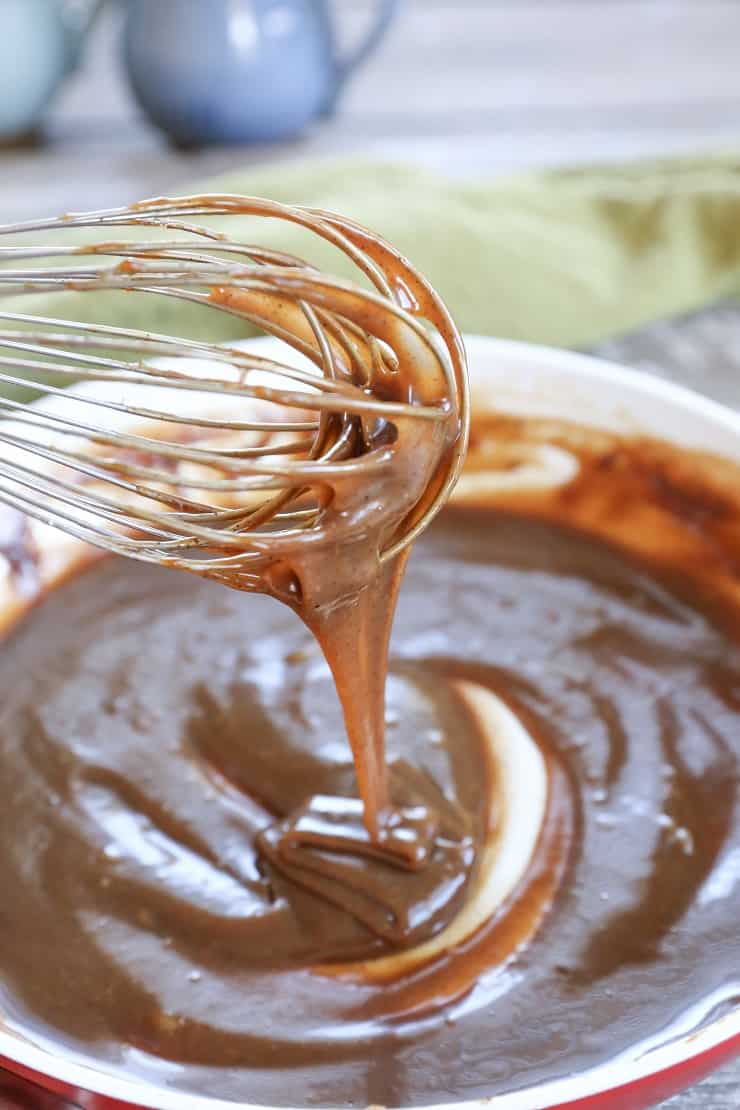 My unsolicited advice to you is to familiarize yourself with this caramel. Not only because after a long hard day at work, you deserve nothing less than to swan dive into the jar of almond butter alongside the jar of paleo salted caramel, switching off as necessary, but because I have a few upcoming recipes that don't necessarily require the caramel, but are certainly improved by it.
So here's how the salted caramel dance works:
We heat a can of full-fat coconut milk in a skillet with coconut sugar, pure maple syrup, and chai spices. We bring it to a gentle boil and whisk occasionally to avoid clumps or skins forming on the milk (in essence, don't walk away from the stove, and if you do, let it only be for a hot minute or so). We cook and whisk until the mixture thickens quite a bit and begins to look like caramel.
Remove the caramel from the stovetop, and stir in some salted grass-fed butter (ghee or vegan butter spread work too). From here, we can use the caramel immediately or refrigerate it in a jar. I love using the caramel as a glaze for quick breads, topping for pancakes and waffles. It can go anywhere a butter can go in terms of using as a spread for biscuits, scones, breads, etc. A drizzle on ice cream? Direct route to my soul strings.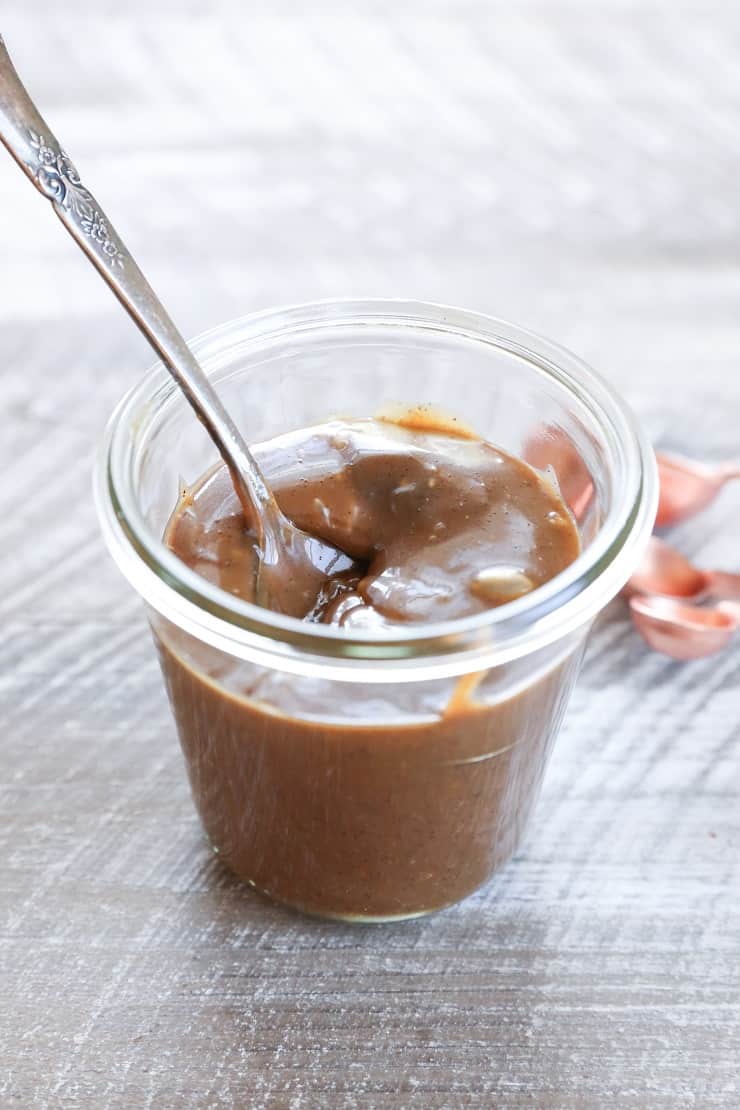 So! There you have it! A naturally sweetened approach to your favorite drizzle. What'll you put it on? Stay tuned – many caramel-doused recipes are coming your way!
Chai-Spiced Paleo Salted Caramel
Incredibly rich and flavorful homemade vegan caramel is so easy to prepare and is delicious on everything from apple crumble to pancakes!
Instructions
Add the coconut milk, coconut sugar, pure maple syrup, and spices to a large saucepan and whisk over medium-high heat.

Bring mixture to a full boil, then reduce the heat slightly to allow the mixture to continue to cook at a managed boil. Be sure to whisk frequently (or constantly) to avoid the coconut milk from separating or clumping up. Cook and whisk until caramel has thickened and is one half to one third of its original volume, about 10 to 15 minutes.

Remove from heat and whisk in the salt, butter, and pure vanilla extract. Allow caramel to cool to room temperature. Note that the caramel will continue to thicken as it cools off.

Transfer to glass jar, seal, and refrigerate until ready to use. Caramel can be stored in a sealed container in the refrigerator for up to 3 weeks.
Notes
You can replace all the spices with 1-1/4 teaspoon store-bought or homemade Chai Spice blend
Nutrition
Serving:
1
g
|
Calories:
184
kcal
|
Carbohydrates:
22
g
|
Protein:
1
g
|
Fat:
11
g
|
Sugar:
21
g