Paleo Lemon Blueberry Bread made with coconut flour, tapioca flour and pure maple syrup is a zesty, perfectly sweet, berry-studded treat! Simply whip up the batter in a blender, and enjoy this healthy quick bread!
I have included a gluten-free version of this recipe using coconut flour and a gluten-free flour blend instead of tapioca flour if you do eat grains.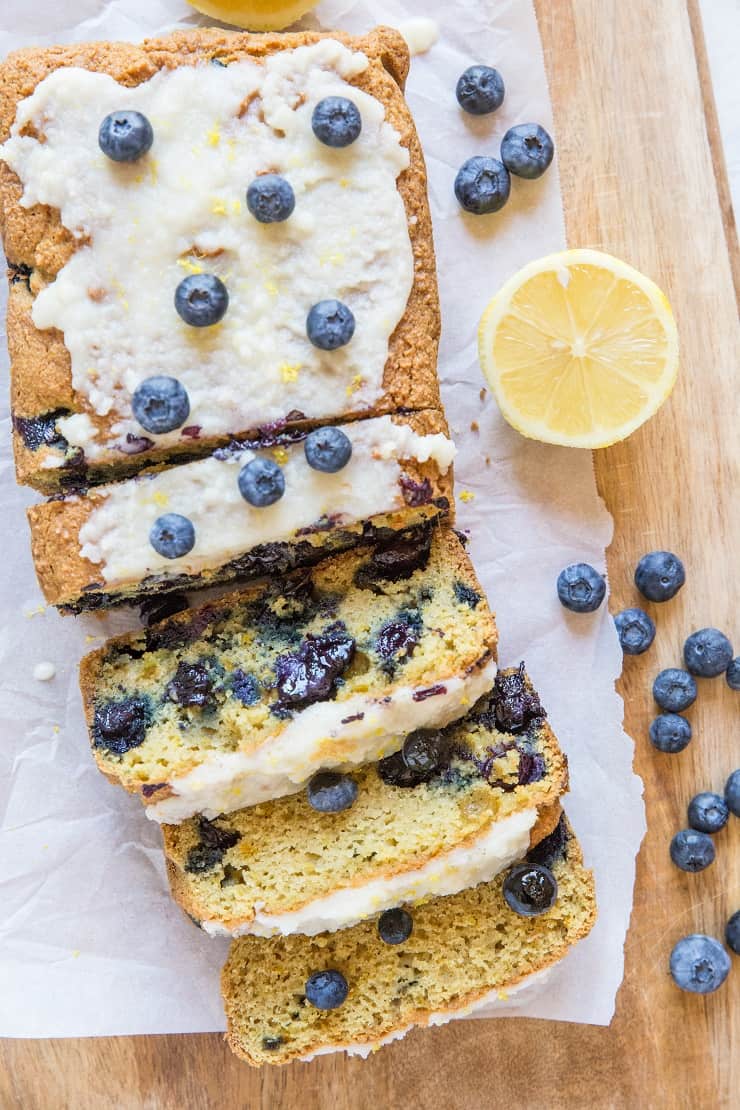 When two amazing bakery goodies join forces and the result is something supercalifragilisticexpialidocious..
That is this bread…
We combine the lemon concept with the blueberry theory for the ultimate healthy baked treat… and we never look back!
I enjoy this bread so much, I almost feel like all lemon breads should include blueberries and all blueberry breads should include lemons. Throw in some poppy seeds and now we're just talking OVERSTIMULATION!
Highlight Reel:
Grain-free and gluten-free

Dairy-free

Refined sugar-free

Moist, fluffy, perfectly sweet

Zesty and berry-studded

Similar in taste and texture to your favorite bakery muffin

Crispy on the outside, nice and soft on the inside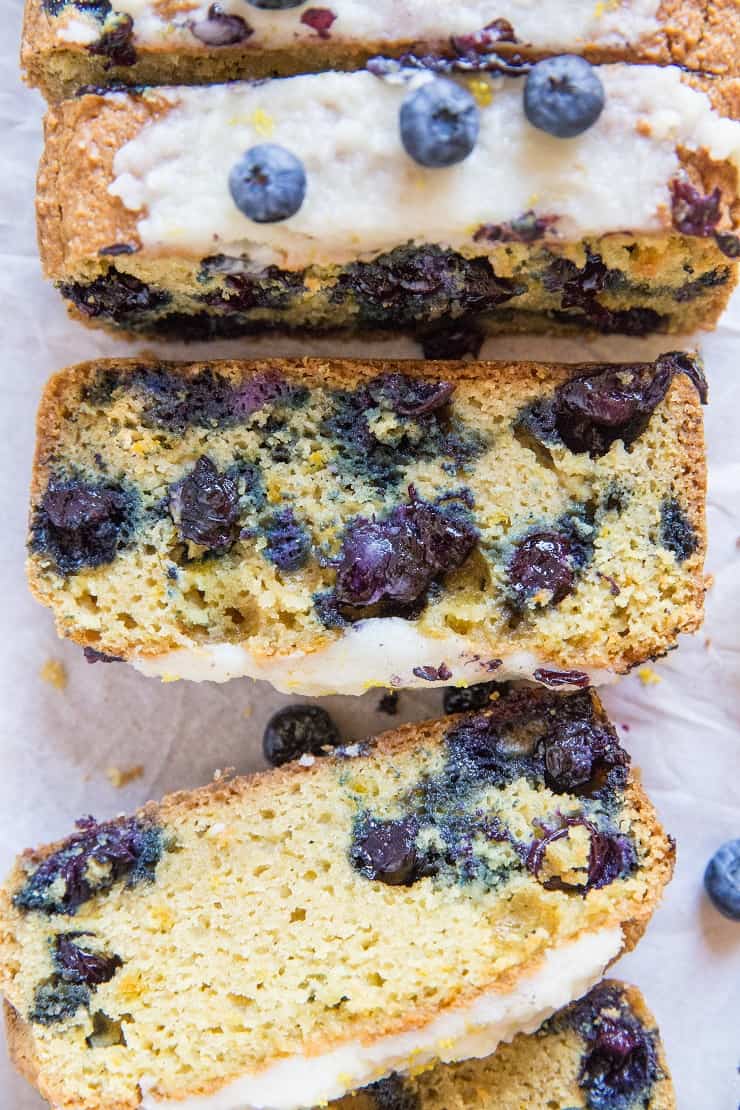 Ingredients for Lemon Blueberry Bread:
The Dry Ingredients: coconut flour, tapioca flour, sea salt, baking powder, and baking soda. Don't forget the blueberries! The combination of these ingredients results in a bread that has a rises well, is nice and fluffy yet perfectly dense, with a lovely crisp on the outside. You can replace the 1 cup of tapioca flour with ¾ cup of gluten-free flour blend (this is my preference).
The Wet Ingredients: Eggs (lots of them), pure maple syrup, coconut oil, lemon zest + juice, and vanilla extract if you have it on hand. The result? Lots of moisture, zesty flavor, perfect sweetness for a bread that is all-around perfect 😉
The optional glaze is made using coconut butter and pure maple syrup. I like it for extra visual appeal but it truthfully isn't necessary. You can always melt some butter on a thick slice if you're feeling wild.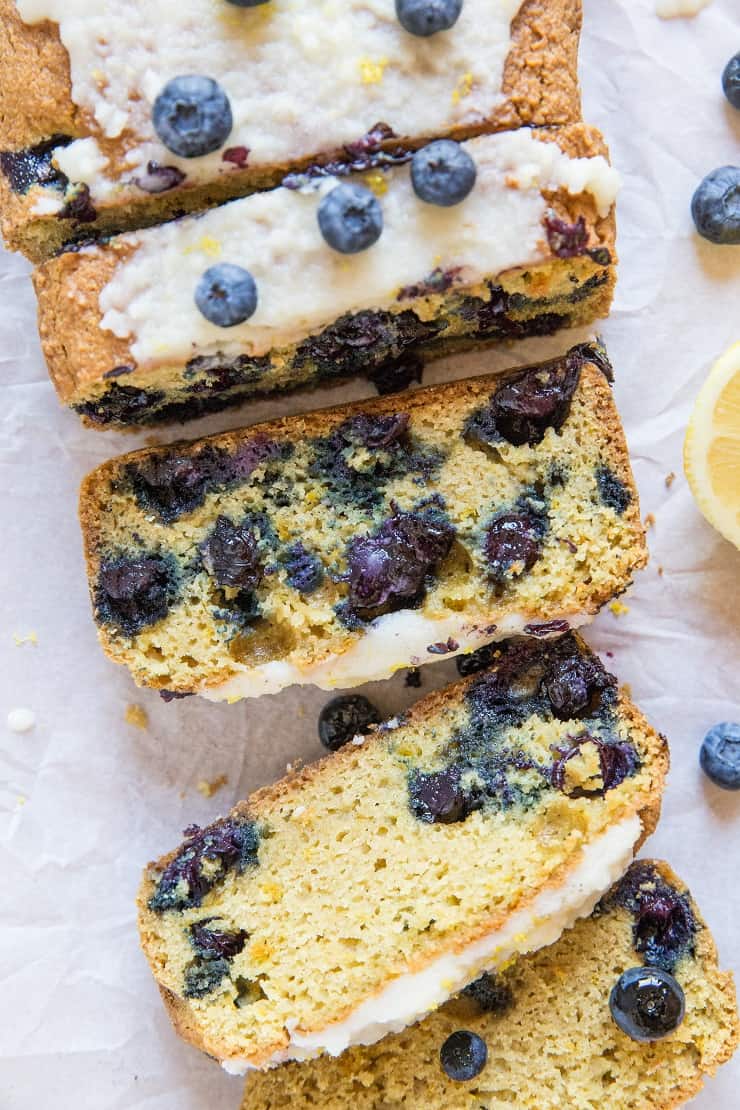 Tips for Baking This Bread:
Be sure you toss the blueberries in coconut flour prior to adding them to the batter so that they are evenly distributed through the bread and don't all sink to the bottom.
Melt your coconut oil in the microwave or on the stove top prior to using, and allow it to cool to room temperature.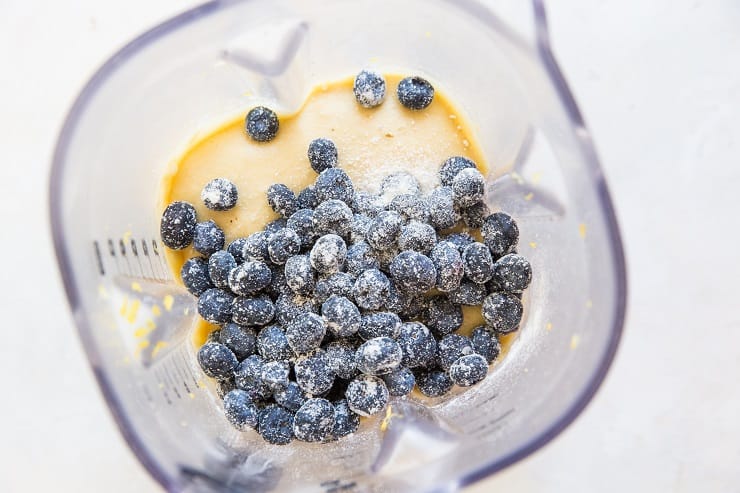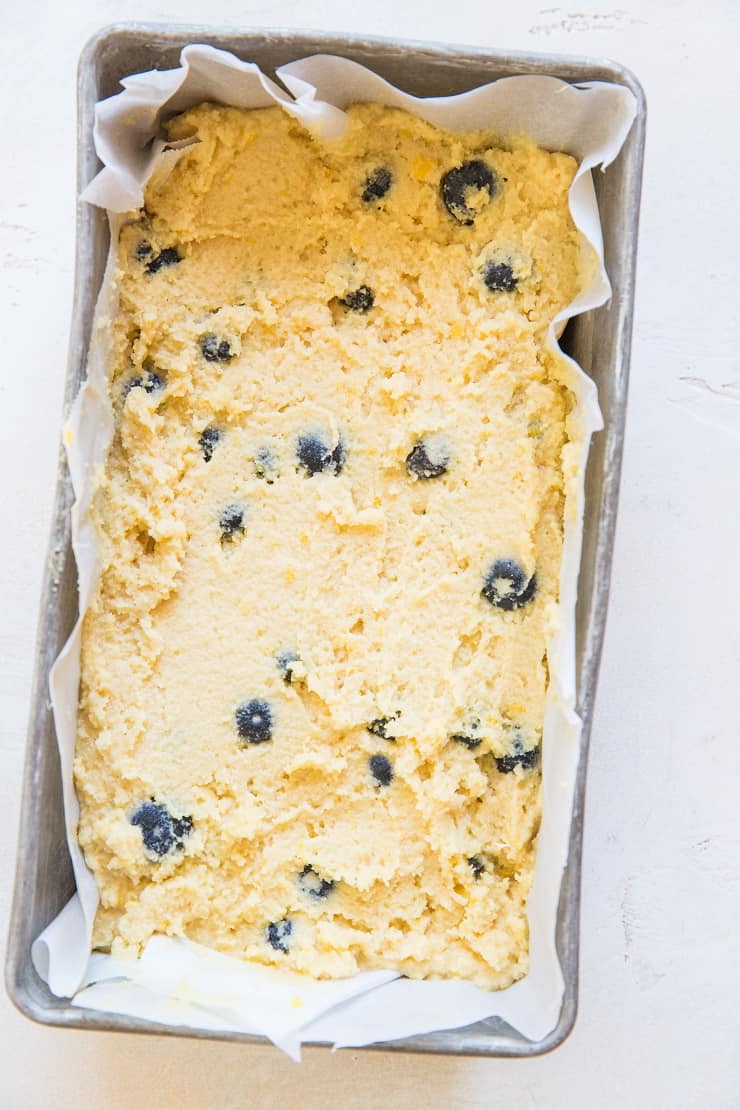 Gluten-Free Flour Blend v. Tapioca Flour:
You have a couple flour options for baking this bread – a coconut flour and tapioca flour combo, or coconut flour and gluten-free all-purpose flour.
The texture turns out better when using a gluten-free flour blend in my opinion – it turns out very similarly to a sweet quick bread made with regular all-purpose flour.
The tapioca flour turns out a big spongy, which I do adore as well…it all depends on the texture you're looking for. If you use a gluten-free flour blend, this bread will not be paleo-friendly.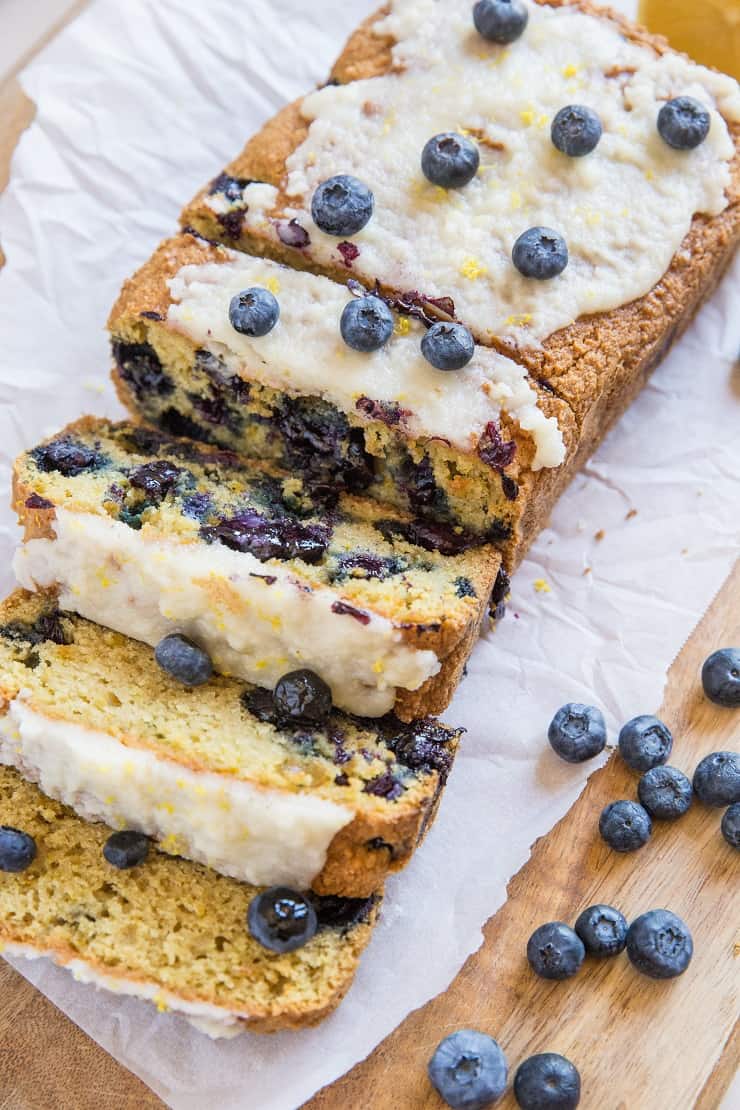 Can I Use a Almond Flour Instead of Coconut Flour?:
In short, no. You would need to make many other changes to the recipe if you were to try using any other flour than coconut flour, as coconut flour absorbs 4x the liquid than any other flour. In this sense, you're stuck with it 😉
You can, however, replace the tapioca flour with ¾ cup gluten-free flour blend (I use Bob's Red Mill's 1-to-1 Gluten-Free Baking Flour). I have not tested the recipe using cassava, almond, rice flour, oat flour, etc instead of tapioca flour, but if you give one of these a whirl, leave a comment letting us know how it turned out!
More Healthy Bread and Muffin Recipes:
Lemon + Blueberries 4Ever
My cookbook,
Paleo Power Bowls
, is now available! CLICK HERE to check it out. Thank you for your support!
If you make this recipe, please feel free to share a photo and tag @The.Roasted.Root on Instagram!
Paleo Lemon Blueberry Bread
Grain-free lemon blueberry bread made with coconut flour makes a healthy refined sugar-free breakfast or snack. This simple healthier bread recipe is lower in carbs but you'd never guess it!
Instructions
Preheat the oven to 350 degrees F and line a 9" x 5" loaf pan with parchment paper.

Add all ingredients for the bread except for the blueberries to a blender and blend until combined. The batter will be thick so you may need to stop the blender to scrape the sides a couple of times.

Place blueberries in a bowl or measuring cup and toss with 2 teaspoons of coconut flour. This ensures the blueberries don't all sink to the bottom of the bread during the baking process.

Transfer the blueberries to the blender with the bread batter and carefully stir until well-incorporated into the batter.

Transfer the batter to the parchment-lined loaf pan and smooth into an even layer (again, the batter will be thick! This is normal).

Bake on the center rack of the oven 40 to 50 minutes, until bread is golden-brown and tests clean. I bake for 40 minutes, turn off the oven, then leave the bread in the warm oven for another 5 minutes.

Remove bread from oven and allow it to cool at least 40 minutes.

If making the optional glaze, add the coconut butter and pure maple syrup to a small bowl or ramekin and microwave in 10 second increments, stirring between, until melted (it took me 10 seconds, since my coconut butter was already soft).

Pour the glaze over the bread and spread evenly. The glaze will be thick!

Slice the bread and serve.
Nutrition
Serving:
1
of 12
|
Calories:
219
kcal
|
Carbohydrates:
18
g
|
Protein:
4
g
|
Fat:
12
g
|
Fiber:
3
g
|
Sugar:
10
g