Healthy Ground Beef Recipes to keep you feeling satiated and energized throughout the week. These easy ground beef dinner ideas can be utilized as meal prep or tossed together any given weeknight. Which one will you make for dinner tonight?
If you're anything like me and absolutely love ground beef for 1.) the mouth-watering flavor, 2.) the ease of preparation and 3.) the incredible density of nutrients, you are in the right spot, my friend!
During the week, I often use ground beef as my default protein (I'll do anything between 90/10 and 80/20 for fat content) and mix it up with vegetables and brown rice. For me, this combination is so satisfying and tasty that I can put it on repeat without getting tired of it.
However, if unlike me you don't enjoy eating the same thing over and over and over again but do love using ground beef as a source of your protein, here are 18 healthy ground beef recipes to keep you feeling energized.
Before we jump into these best ground beef recipes, I want to touch on the nutrient content of ground beef.
Health Benefits of Ground Beef:
Ground beef is exceptionally high in protein, Vitamins and Minerals. The high-quality protein in beef is amazing for repairing muscle and is very easy on the digestive system.
Ground beef is a great source of iron, which is ideal for women who are low in iron or anemic.
Just 3.5 ounces of ground beef contains 25% of your daily value of Vitamin B3, 37% of your daily value of Vitamin B12, 18% of Vitamin B6, 12% of iron, 32% of zinc, and 24% of selenium.
Red meat is also rich in creatine and carnosine, which are important for muscle and brain function.
Grass-fed ground beef is far superior to grain-fed ground beef in terms of the quality of the fat content. Grass-fed has a much higher ratio of omega-3 fatty acids where grain-free ground beef is higher in omega-6 (pro-inflammatory) fats.
Omega-3 fats are the ideal source of fat in general, as it is unsaturated fat, imperative for brain and hormone health.
As a side note, the concept that saturated fat causes high cholesterol has long been debunked. In fact, studies show swings in blood sugar (in other words, diets rich in simple carbohydrate) are the cause of high cholesterol. You can always use lean ground beef with 10% or less fat for a lower calorie, lower fat version.
In addition, high cholesterol isn't necessarily a bad thing. Ideally, we want HDL cholesterol to be higher than LDL, but higher cholesterol (within reason) has been correlated with longevity (especially in women). Not to mention, we absolutely need cholesterol in order to make hormones. Still, lean ground beef is always a great alternative, and you can substitute for ground turkey in most cases.
Now, let's get to this collection of ground beef recipes!
No matter the time of year and what's in season, this roundup of healthy beef recipes has you covered! Plenty of variety in flavors and produce in these easy dinners with little effort, and not much time, you'll never wonder what to do with your much coveted ground beef 😉
18 Healthy Ground Beef Recipes:
Easy Stuffed Peppers – Taco-style ground beef Easy Stuffed Bell Peppers include plenty of cheese with the perfect kick. Serve them up with your choice of side dishes for a lovely Mexican-inspired meal.
Instant Pot Paleo Pumpkin Chili – Bean-less paleo pumpkin chili made easily in the Instant Pot (or on your stove top!) This one-pot meal comes together quickly and is healthy comfort food at its finest! A feel-good hearty soup recipe.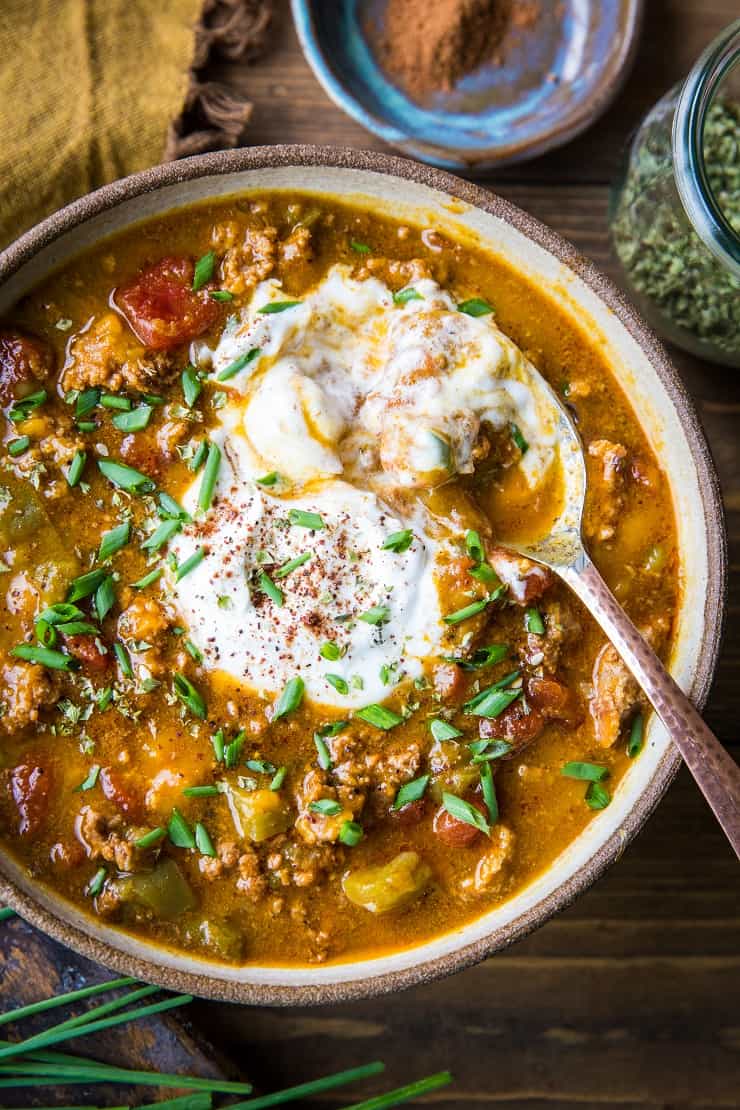 Taco Stuffed Zucchini Boats – Taco Stuffed Zucchini Boats are an easy low-carb dinner recipe, perfect for celebrating your summer bounty of squash! These cheesy delights are easy to prepare any night of the week!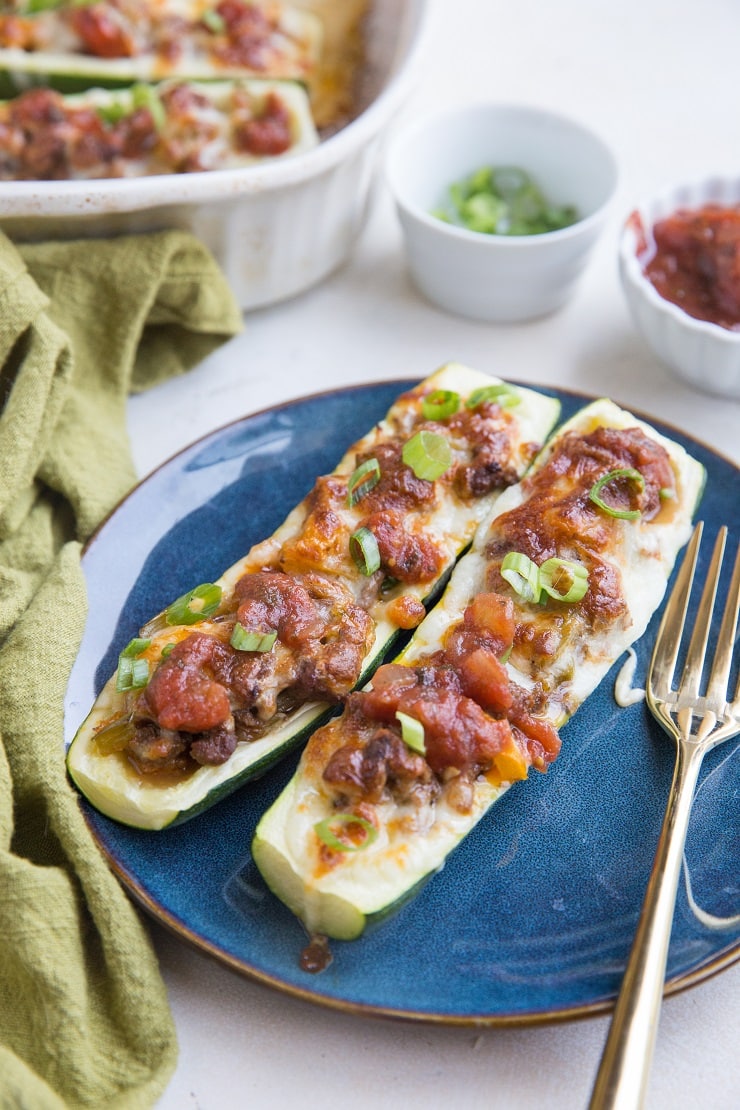 Ground Beef Taco Meat– Quick and easy ground beef taco meat using homemade taco seasoning. Only one skillet and less than 30 minutes is needed for this mouth-watering taco meat. Make it for ground beef tacos or taco salad!
Rigatoni Pasta with Bolognese Sauce – Rigatoni Pasta with Bolognese Sauce is loaded with tangy, sweet, rich hearty flavor and makes for an incredibly satiating meal. This easy to make healthy pasta recipe with meat sauce is gluten-free, packed with protein, and an incredible celebration of carbs. You can use your favorite tomato sauce or Italian sausage to change up the recipe to your heart's delight.
Easy Shepherd's Pie with Sweet Potatoes – Easy Shepherd's Pie with Sweet Potatoes makes for an amazingly comforting meal! If you love meat and potatoes, you'll go wild over this recipe!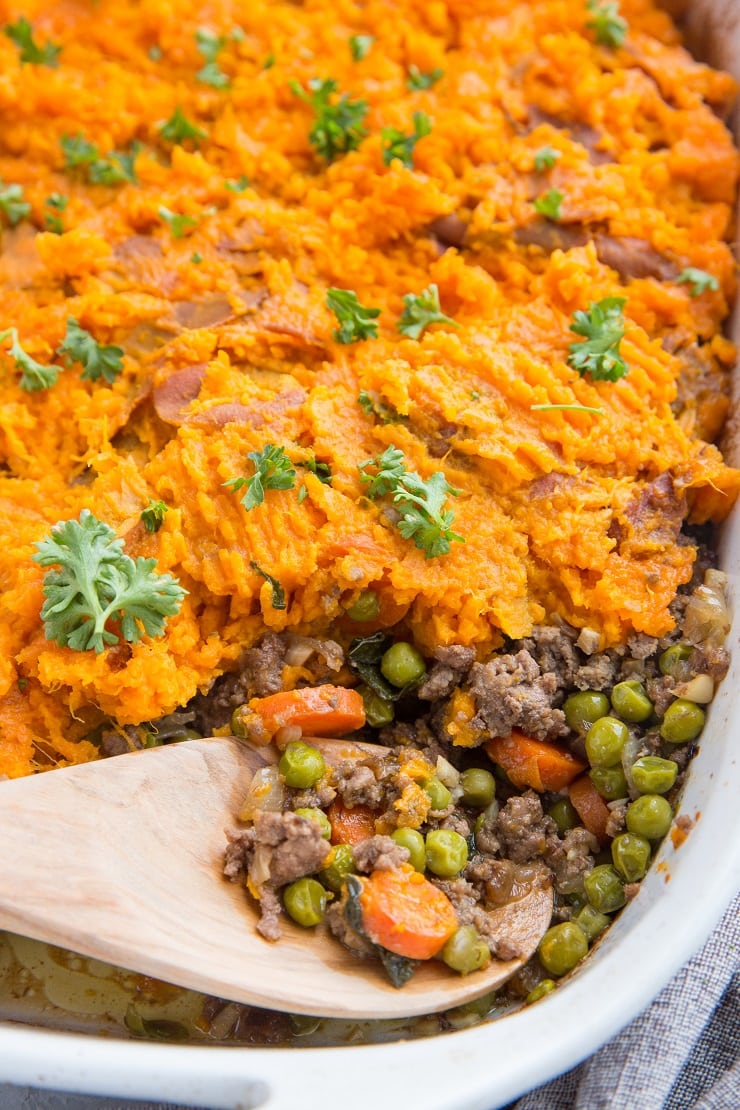 Ground Beef and Cabbage Soup is an incredibly simple hearty soup recipe, ideal for those looking for a belly-pleasing meal without much effort! If you're new to making soup, this one's a great introduction, as it only requires 10 basic ingredients and zero fancy tricks.
30-Minute Vegetable and Ground Beef Skillet– Quick and easy 8-Ingredient Vegetable and Ground Beef Skillet. This nutritious recipe contains a plethora of fresh vegetables and grass-fed ground beef. One of those perfect 30-minute meals for those who follow a paleo, keto, low-carb, or low-FODMAP diet. Add soy sauce for more flavor if desired!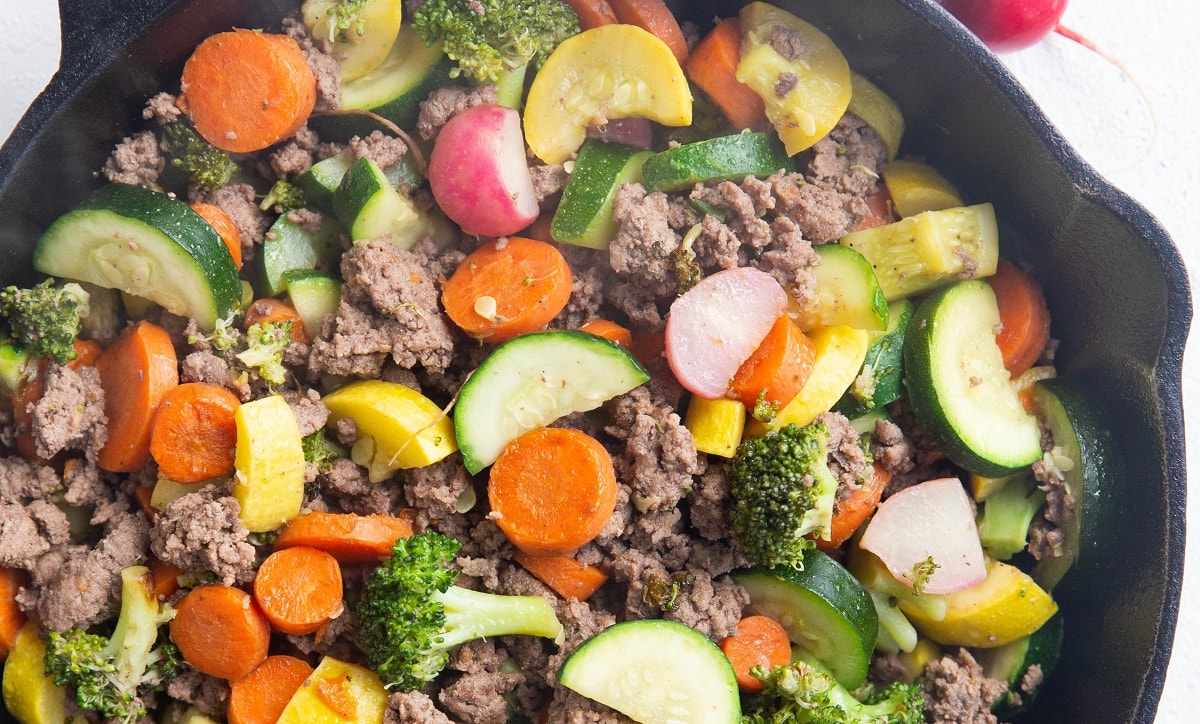 Gluten-Free Dairy-Free Ground Beef Stroganoff – Creamy, satisfying, delicious stroganoff made with ground beef and a dairy-free cream sauce. This simple recipe comes together in just over 30 minutes, is big on flavor and so incredibly filling!
Nightshade-Free AIP Chili Recipe – Nightshade-Free AIP chili made with ground turkey, pumpkin puree, ginger, vegetables and more. This no-bean chili recipe is low-inflammatory, easy to prepare, and so comforting!
20-Minute Paleo Mongolian Ground Beef – An easy, flavorful Asian-inspired meal that comes together in less than 30 minutes! Serve it up with your choice of side dishes for a complete meal.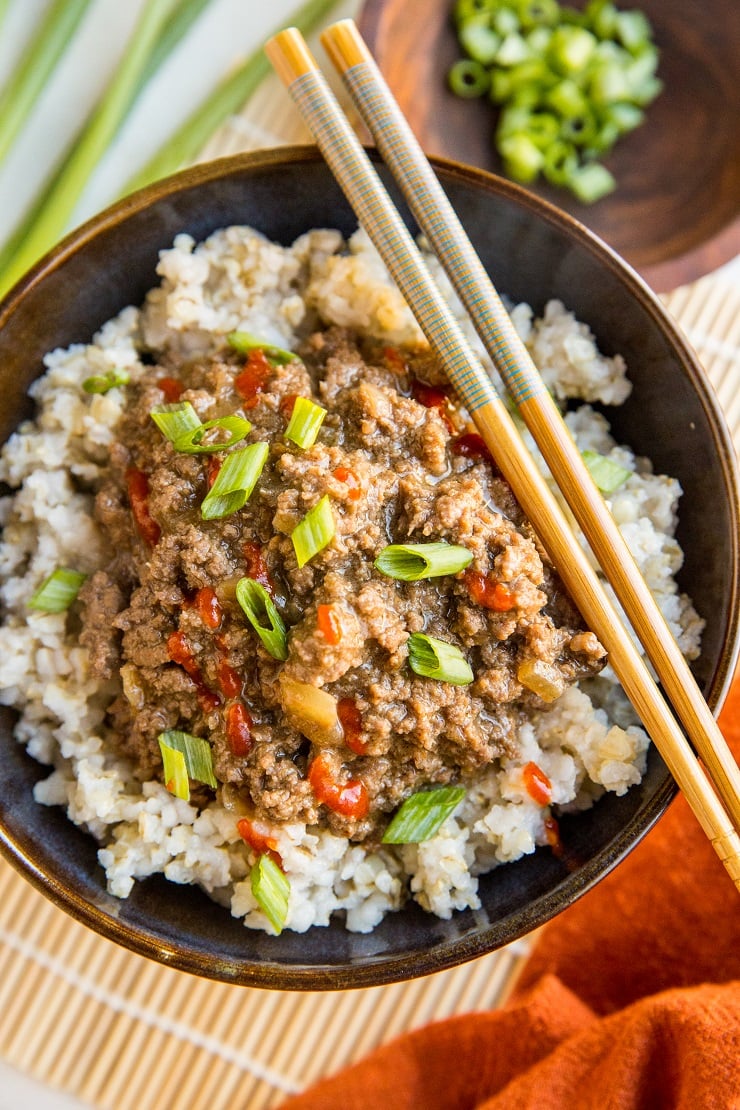 Stuffed Delicata Squash with Ground Beef – Stuffed Delicata Squash with Ground Beef, cranberries, pecans and green onion is a healthy, filling clean dinner recipe perfect for those looking for a nutritious meal! This easy recipe comes together quickly and is a great option for those following a paleo or whole30 diet.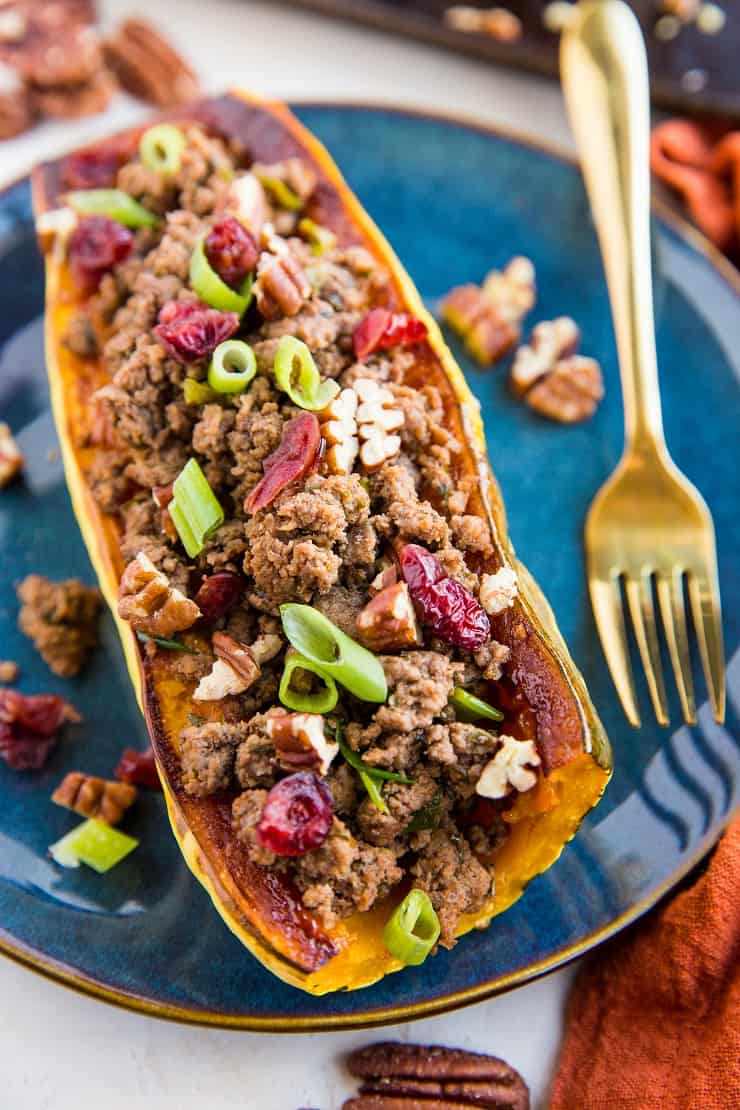 One-Skillet Ground Beef and Wild Rice – One skillet ground beef and wild rice with onion, garlic, bell pepper and rainbow chard is a quick and easy one-pot meal that results in a lovely well-balanced dinner.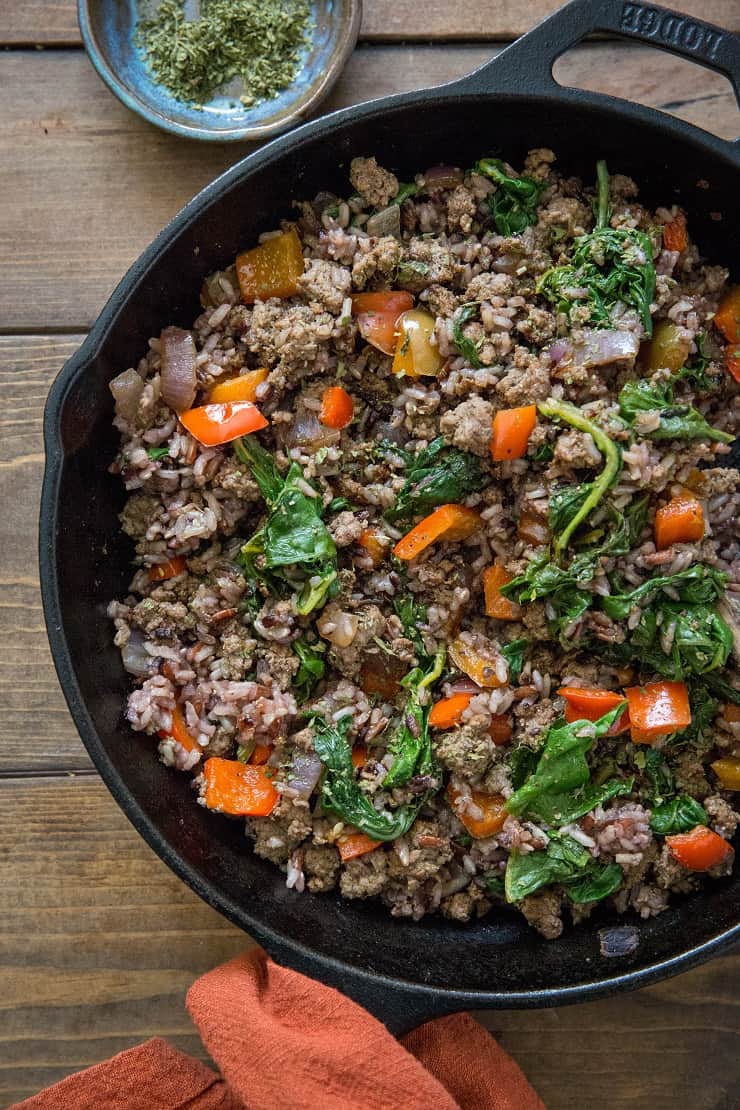 Pesto Burgers with Caramelized Onions and Mushrooms – A mouth-watering juicy burger topped with pesto, caramelized onions and mushrooms are perfect for easy summer eating. Cook this burger recipe up in a cast iron skillet or on your grill and serve them up on your bun of choice!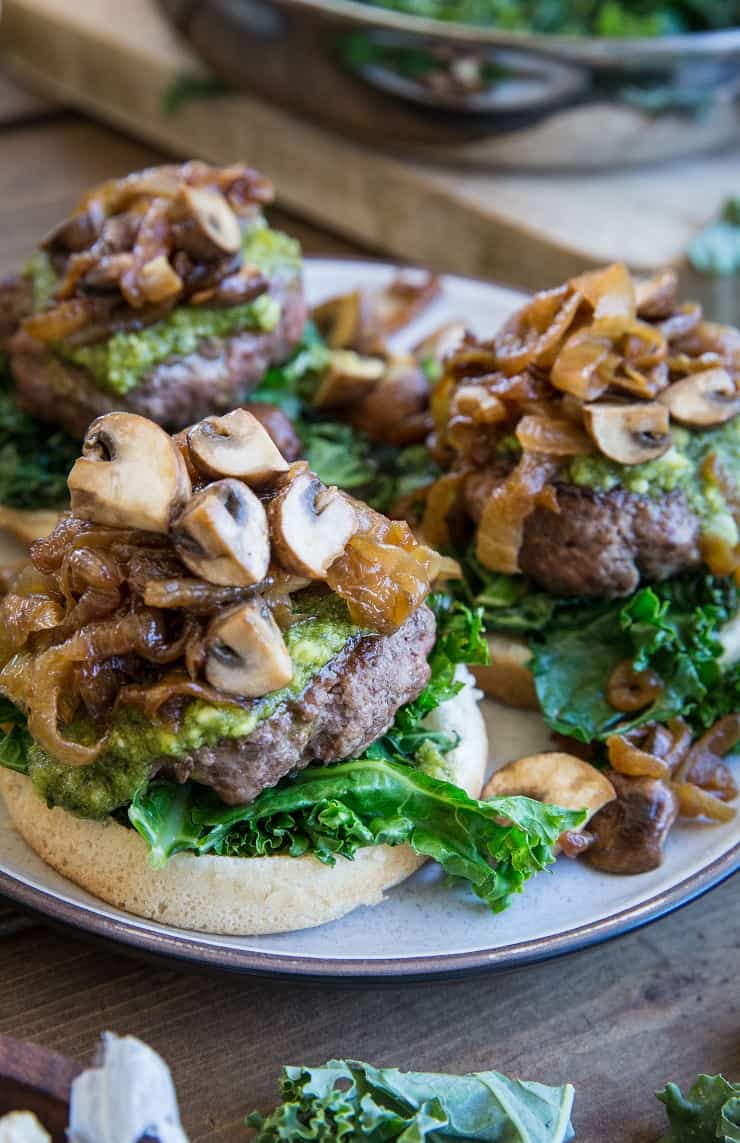 Stuffed Acorn Squash with Ground Beef, Kale and Brussels Sprouts – Stuffed acorn squash with kale, brussels sprouts, ground beef, and onion. This simple, clean meal keeps weeknight eats fun and interesting.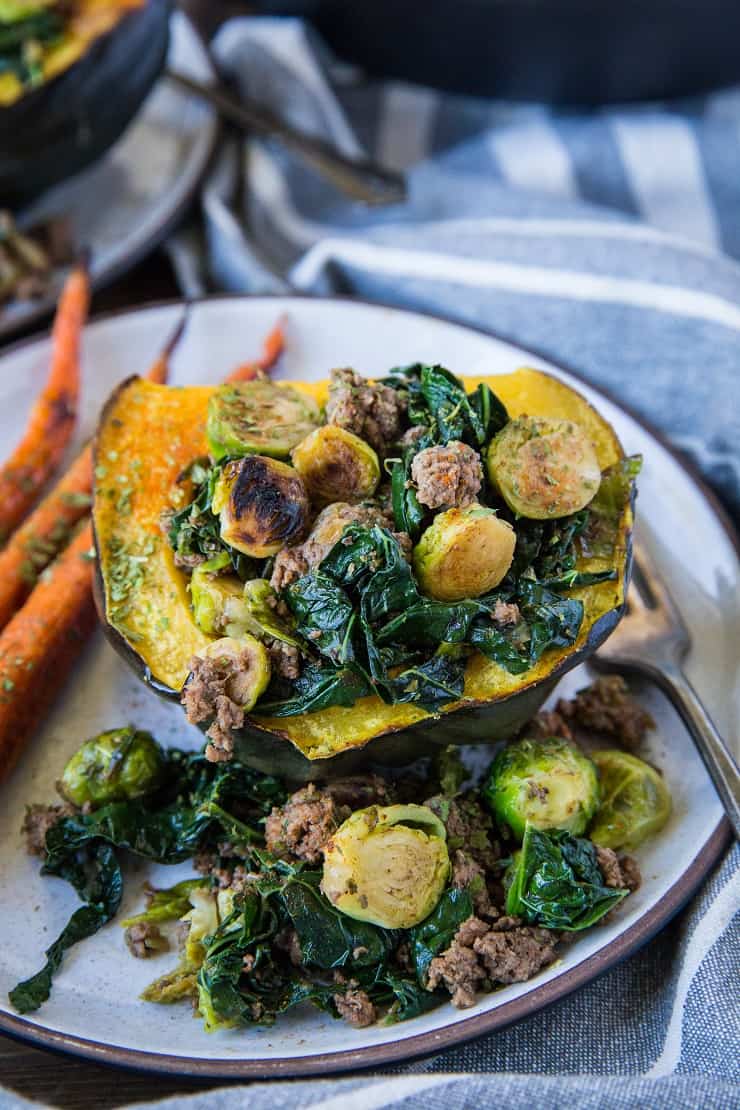 Ground Beef and Sweet Potato Skillet with Brussel Sprouts – Quick and easy 30-Minute Ground Beef and Sweet Potato Skillet with Brussel Sprouts is a simple, nutritious dinner recipe that is paleo, whole30 and delicious! Serve it as is or with additional side dishes for a satiating meal.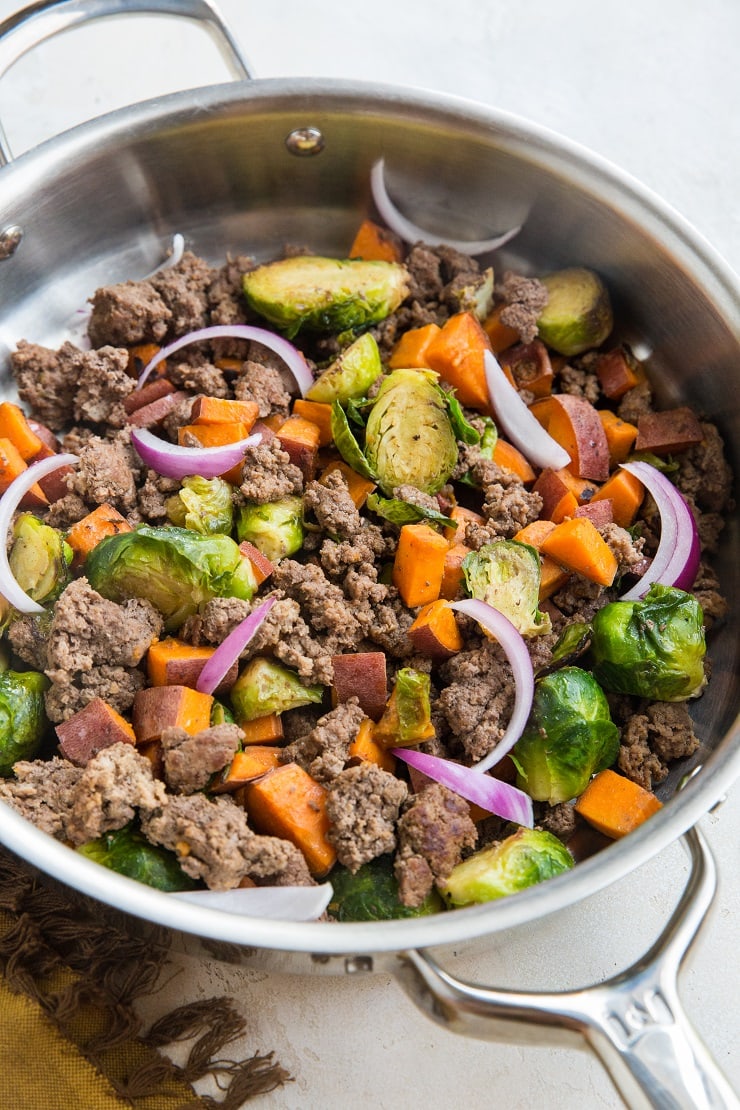 One-Pot Ground Beef and Cabbage – A quick and easy yet wildly delicious and satisfying one pot meal! Ground beef, cabbage, mushrooms, bell pepper, onion (and more) make this delightful healthy ground beef recipe so dreamy! A simple, easy low-carb dinner recipe ideal for any busy weeknight.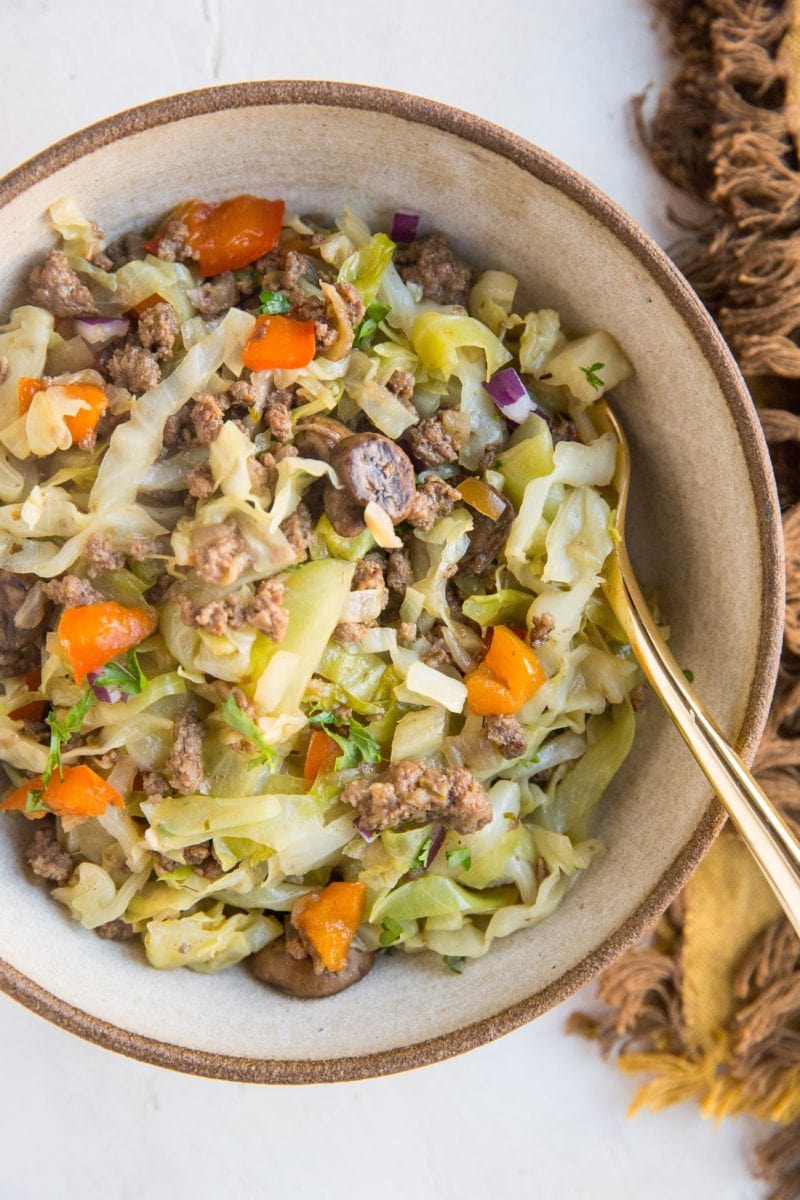 30-Minute Teriyaki Beef Skillet – Teriyaki Beef and Vegetable Skillet made in less than 30 minutes! This flavorful, nutritious meal comes together lightning quick and will please even the pickiest eaters. Make it as a meal prep recipe to enjoy throughout the week, or serve to friends and family.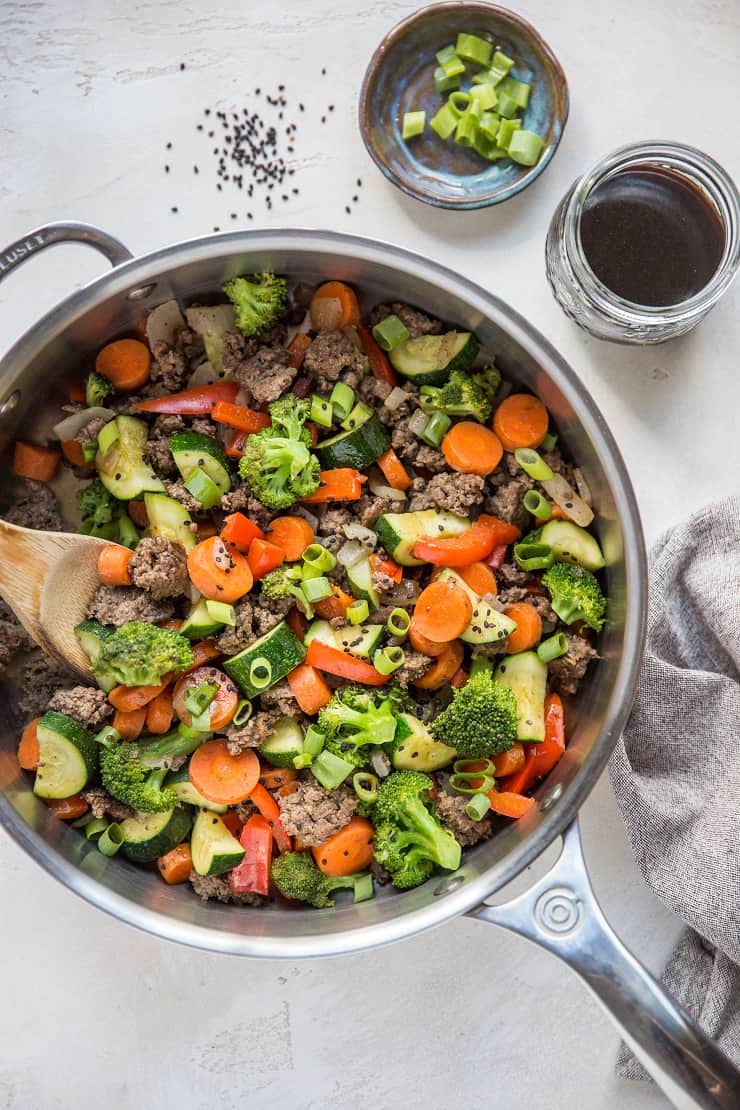 Taco Stuffed Sweet Potatoes – Easy, healthful taco stuffed sweet potatoes are a filling, complete meal that is grain-free but includes plenty of cheddar cheese. Whip them up any night of the week, or turn it into a meal prep situation!
Beef and Lentil Chili – Beef and lentil chili is easy to prepare and is so comforting during the fall and winter months. This easy-to-prepare healthy dinner recipe requires just one pot and about 1 hour to make.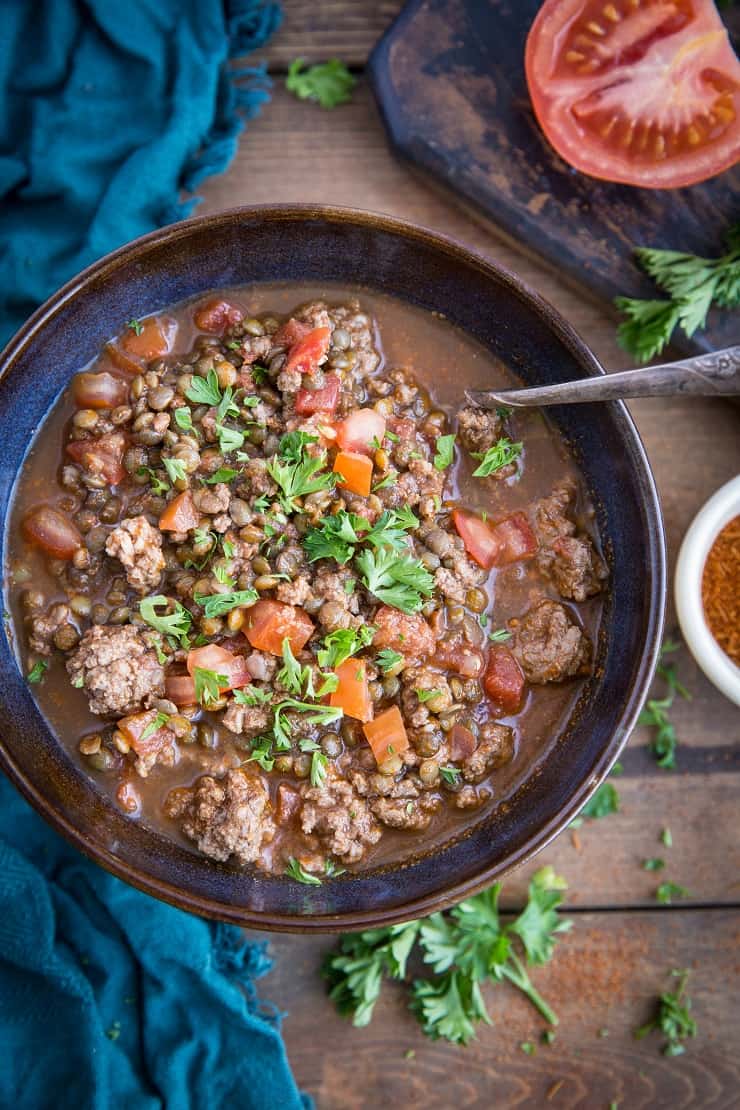 Instant Pot Hamburger Helper with Rice – Instant Pot Hamburger Helper With Rice – a dairy-free, healthier version of classic Hamburger Helper for an amazingly filling dinner.
Paleo Swedish Meatballs – Delicious gluten-free tender meatballs swaddled in a creamy cauliflower-based sauce. This paleo take on classic Swedish meatballs omits the heavy cream for a lighter yet still satisfying main entrée. Juicy meatballs for life!
Enjoy!
xo