Delicious gluten-free meatballs swaddled in a creamy cauliflower-based sauce. This paleo take on classic Swedish meatballs omits the heavy cream for a lighter yet still satisfying main entrée.
Have you ever had the pleasure of enjoying Swedish Meatballs?
I admit, I'm new to them.
Although I'm a Swedish meatball newbie, I love them with all the force of a great typhoon (<- name that Disney song).
I mean, what's not to love about a meatball?
What Are Swedish Meatballs?:
Classic Swedish meatballs are served with a cream-based sauce that is rich in dairy and thickened using all-purpose flour. The meatballs are typically served with mashed potatoes, but can also be served with noodles or rice.
My paleo version of Swedish meatballs removes the cream and wheat flour and replaces it with a cauliflower-based sauce – no cream or flour necessary! The cauliflower sauce is still super creamy and gives you that rich sauce feel without being overly heavy or making you go into a dairy coma.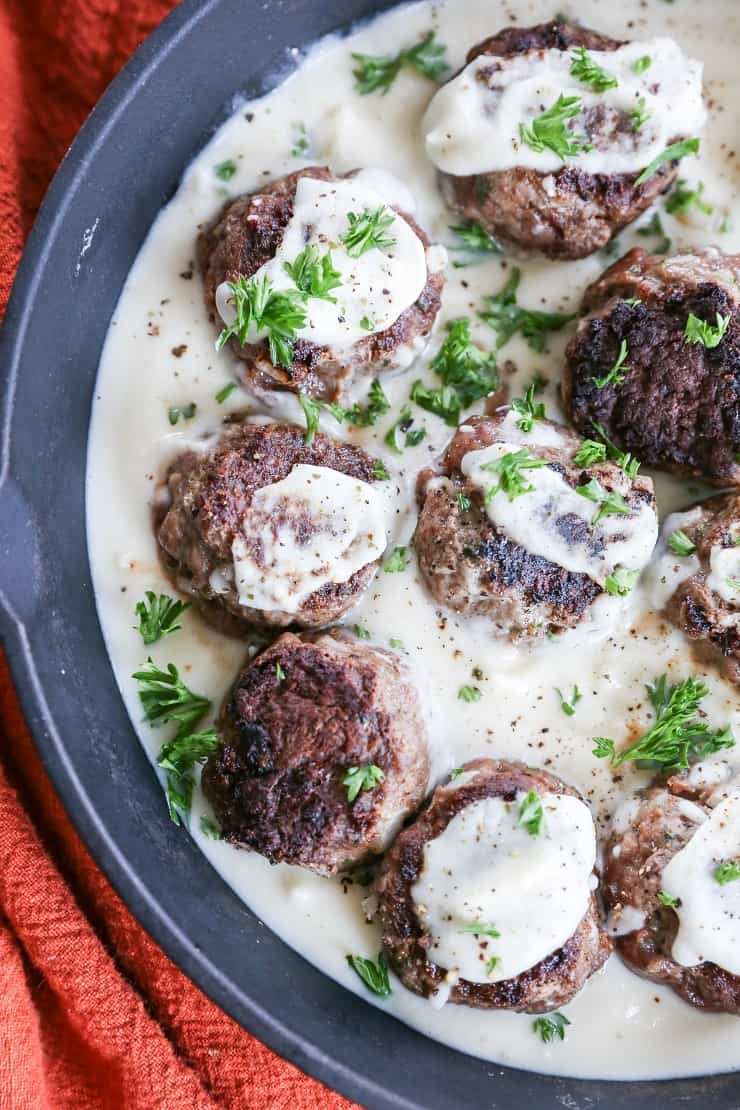 In essence, you can enjoy this incredibly flavorful, filling meal without any backlash.
Plus, the rebellious health nut in me loves the fact that you're getting some sneaky vegetable nutrition out of this dish without even detecting the vegetable. WIN!
I use grass-fed ground beef for the meatballs, which I find to be mega flavorful. I'm all about 85/15 fat content, but if you like going leaner, feel free to do so!
Shall we make some meatballs? Let's do this!
How to Make Swedish Meatballs:
Start by making the sauce. Steam the cauliflower, then blend it with the rest of the sauce ingredients in a blender until it's super silky-smooth.
Prepare the meatballs by mixing all the ingredients together in a mixing bowl or a stand mixer. Use a skillet to cook the meatballs until they have a nice crisp on the outside – they don't need to be cooked through just yet!
Once the meatballs are browned up, you pour the cauliflower creamy sauce into the skillet with them, cover, and cook at a very gentle boil (just above a simmer) until the meatballs have cooked through.
One of the cool parts about preparing these meatballs is you can cook them very slowly (upwards of 1 hour) for that ultra flavor-developed experience, or you can serve them as soon as they're fully cooked, which only takes about 8 minutes once the sauce is in the skillet. Either way, you're in for a tender meatball treat with all that creaminess to go along with it.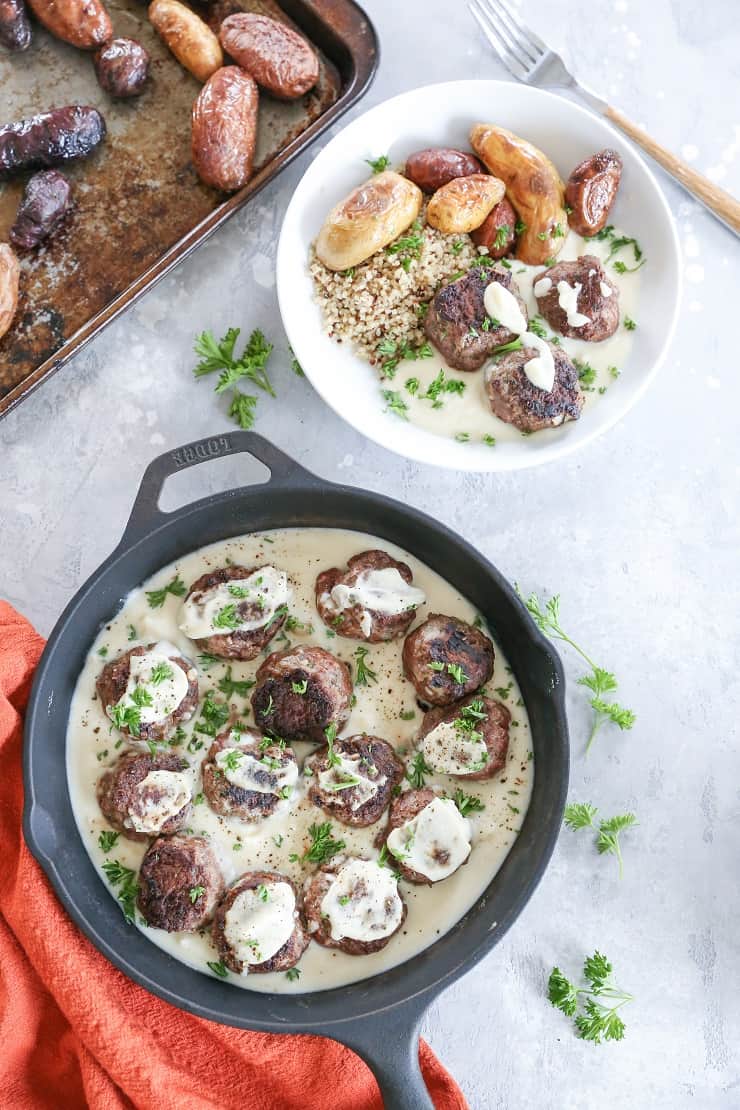 Recipe Adaptations:
This recipe makes a lot of meatballs! Halve the recipe to serve 3 instead of 6.

Replace tapioca flour with arrowroot flour

Replace ghee with avocado oil, olive oil, or full-fat coconut milk to make recipe entirely dairy-free.
Serving Options:
I like serving the meatballs with roasted potatoes, mashed potatoes, or rice.
If you go with rice, you can use it to soak up some of that creamy cauliflower sauce, which is a major YUM in my book.
You can absolutely go with quinoa, zucchini noodles, regular noodles, cauliflower rice (to double up on the cauliflower) or just go full-tilt meatball. I also enjoy the meatballs alongside roasted vegetables.
Recipe Tips:
If you don't have a very large (12-inch) cast iron skillet, you can use a thick-bottomed stock pot or Dutch oven.
To make recipe in parts, the sauce can be prepared up to 3 days ahead of time.
Pair it with Roasted Sweet Potato Kale Salad for a nutritious meal.
If you're into ground beef recipes, also try my Paleo Meatloaf or check out my top 21 Healthy Ground Beef Recipes.
Have a ball!
If you make this recipe, please feel free to share a photo and tag @The.Roasted.Root on Instagram!
Paleo Swedish Meatballs
Amazingly flavorful perfectly cooked meatballs in a healthy creamy cauliflower-based sauce
Ingredients
For the Cauliflower Sauce:
1

small head cauliflower

chopped into florets (about 5 cups)

3

Tbsp

ghee or grass-fed butter

melted

1

cup

beef bone broth

1

Tbsp

stone ground mustard

*

1/4

tsp

sea salt

to taste
Instructions
Prepare the Sauce:
Steam the cauliflower for 8 minutes in a steamer or in boiling water, until soft when poked with a fork.

Transfer steamed cauliflower to a high-powered blender along with the rest of the sauce ingredients.

Blend until completely smooth. If necessary, add more broth to thin out the sauce to desired consistency.

Taste sauce for flavor and add more ghee and/or sea salt to taste. Set aside until ready to use.
Make the Meatballs:
Add all ingredients for the meatballs to a mixing bowl and use your hands to mix everything together until well-combined (note: you can also perform this step using a stand mixer with the paddle attachment).

Form meatballs 1.5 to 2 inches in diameter and place on a plate.

Heat 2 tablespoons avocado oil or cooking oil of choice in a large cast iron skillet over medium-high heat. Once hot, place the meatballs on the hot skillet, giving each one plenty of room (you'll need to do this in 2 to 3 batches). Cook 2 minutes, flip to the other side and cook another 2 to 3 minutes, until browned on 2 sides. Transfer to a plate.

Wipe out the skillet, lower the heat to medium-low and add the sauce. Bring sauce to a gentle boil then add the meatballs and stir. Cover and cook until meatballs are cooked through, about 5 to 8 minutes. For more developed flavor, cook meatballs at a very gentle simmer over medium-low heat for 30 to 60 minutes, stirring occasionally.
Notes
*You can replace the stone ground mustard with 2 tsp Dijon mustard.
Nutrition
Serving:
1
of 6
|
Calories:
525
kcal
|
Carbohydrates:
6
g
|
Protein:
43
g
|
Fiber:
3
g
|
Sugar:
2
g