Mouth-watering pesto burgers topped with caramelized onions and mushrooms are perfect for easy summer eating. Cook them up in a cast iron skillet or on your grill and serve them up on your bun of choice!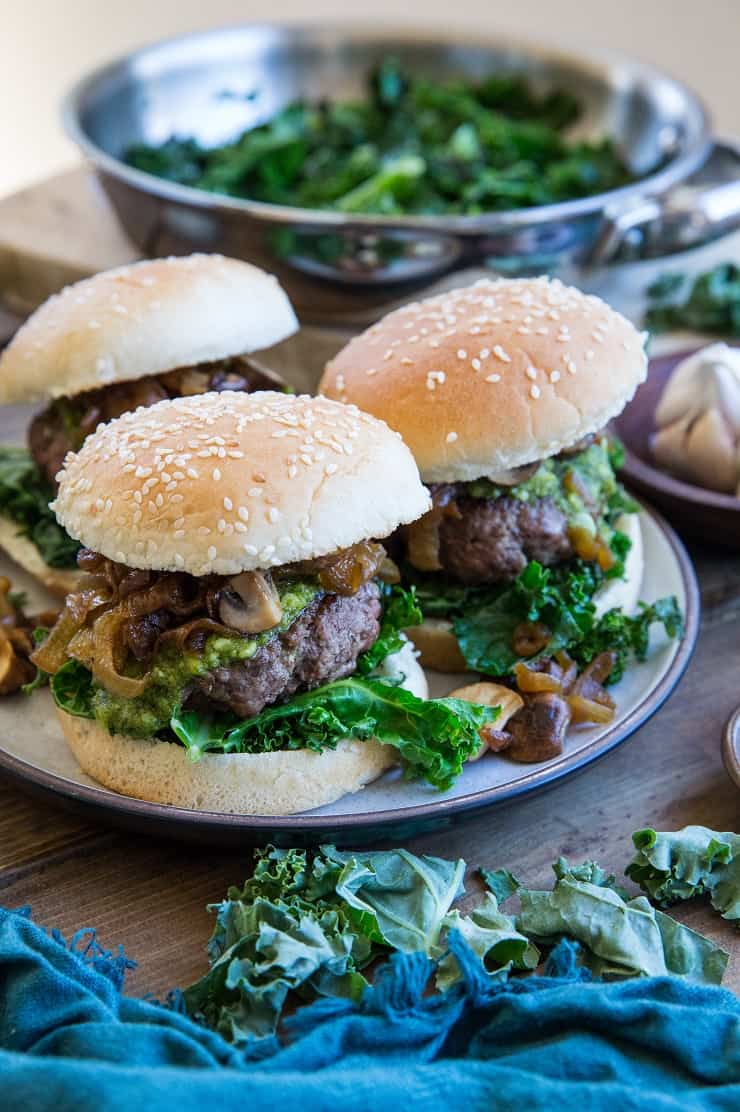 When was the last time you had a really, really ridiculously good burger?
Given how frequently burgers manifest themselves in my household, I'm actually slightly shocked I don't post recipes more often.
The secret to a good burger (IMHO) is a 3-part formula:
1.) Using good quality meat.
2.) Seasoning the meat well with sea salt and garlic powder and onion powder (and any other spice/herb combos), and
3.) Cooking the burgers to medium-rare perfection on a cast iron skillet or grill.
In that sense, I believe you only need one burger "recipe," and then you're set for life; however, sometimes when the inspiration strikes, I do love getting creative with my toppings and sauces, which is exactly what we have done here.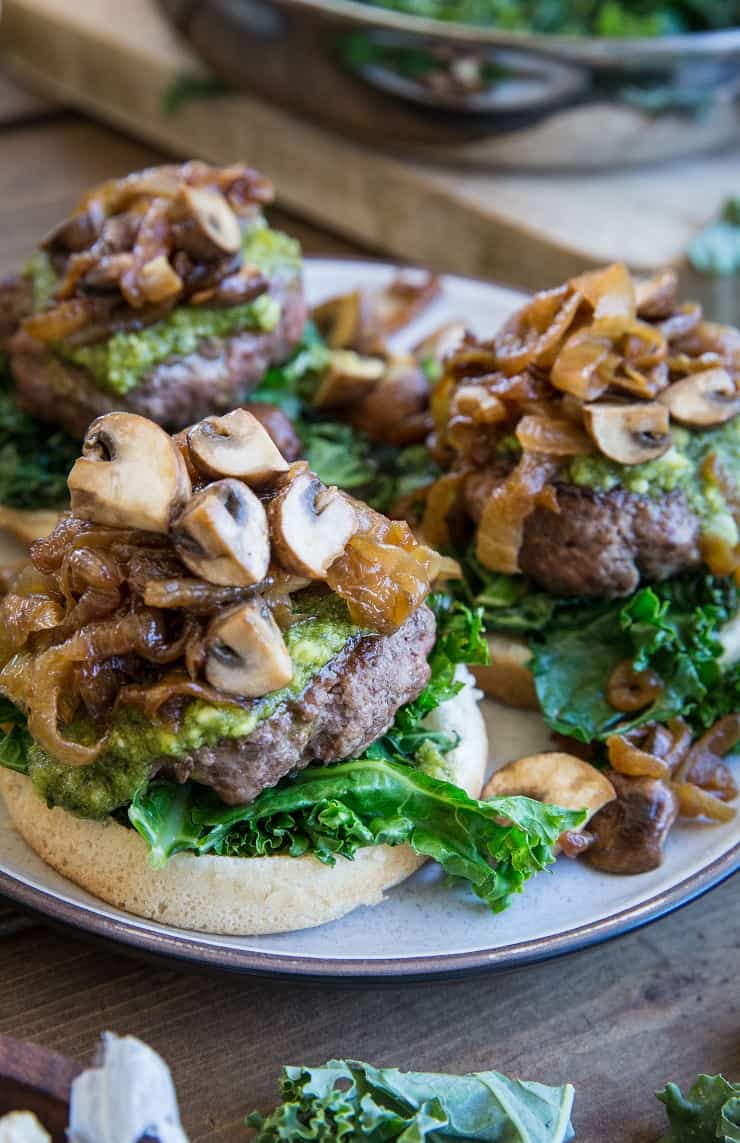 Caramelized Onion Burger Toppings:
Let's discuss the toppings here.
I grew up in a household where beef and caramelized onions were a major thing.
There was no steak or burger without the caramelized onion…it is just one of those core values you put in your satchel and take with you everywhere.
So these burgers are the spawn of having grown up with the caramelized onion tradition.
The mushrooms are inspired by one of my brothers, who is responsible for getting me to actually like fungus due to his cooking technique.
The pesto? Bangarang.
Combine the perfectly cooked beef burger with the caramelized onions, mushrooms, and pesto, and you're set for a completely mouth-watering, mind meld of an experience.
Should we even talk about adding bacon?
That would just be sensory overload.
Pesto sauce options:
We're limitless.
I've been making pesto sauce sans garlic and cheese lately and still love the way it tastes.
You can follow the pesto recipe in this post, or if you like a classic version, you can make my Basil Pesto Recipe which does include garlic and parmesan.
Also feel free to dabble in my Beet Green Pesto , Broccoli Pumpkin Seed Pesto, Roasted Beet Pesto, or Kale Pesto. Feeling like you'd rather skip the pesto-making process?
Feel free to use store-bought pesto sauce!
OH, and if you would like to go with a different sauce altogether, I can speak to the deliciousness of chimichurri sauce (as seen in my Chimichurri Beef Sliders).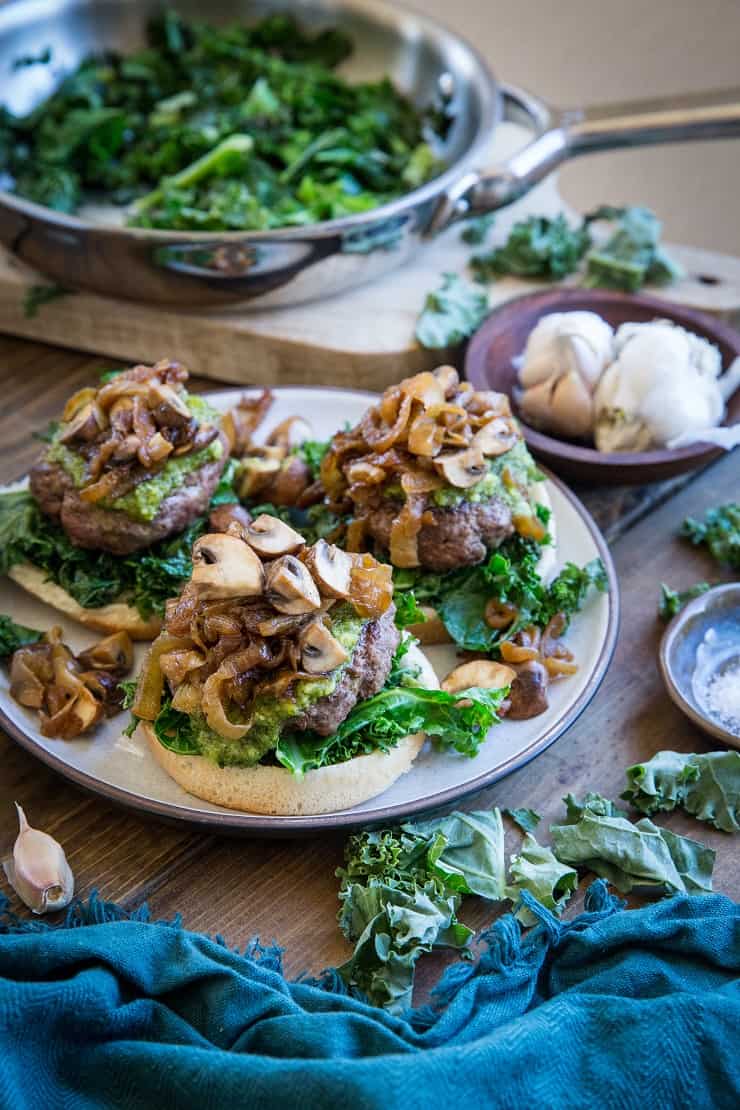 I cooked these sliders in my cast iron skillet, but you can easily grill them as well. Feel free to add cheese and any additional toppings or condiments. One of my friends who tried these added ketchup and avocado in addition to the pesto and she loved the result!
Of course, you can use your favorite type of meat in place of the beef. I'm a UUGE fan of bison, and dig a great turkey burger too.
BUNS. Not just for shaking.
As you can see, I photographed the burgers upon regular buns (I live with a gluten eater, shhhh! Don't alert the authorities), but you can go bun-less (which is what I do), or use your favorite gluten-free hamburger buns.
And, yes, your eyes are not deceiving you…there is sautéed kale in the mix, too. You can take it or leave it or replace it with spinach or lettuce depending on how you like your foliage.
No matter how you slice it, you're in for a real good time. Make these on the 4th of July to feed your people, or make them a regular part of your daily life!
Pesto Burgers with Caramelized Onions and Mushrooms
The ultimate burger! Pesto sauce, caramelized onions and mushrooms yield the most incredible flavors here!
Ingredients
Caramelized Onions and Mushrooms
2

tablespoons

avocado oil

or olive oil

2

large yellow onions

thinly sliced

1/4

teaspoon

sea salt

2

cups

baby bella mushrooms

chopped
Burger Meat:
1 1/2

pounds

ground beef

1/2

teaspoon

sea salt

1/2

teaspoon

garlic powder

1/2

teaspoon

onion powder
Basil-Walnut Pesto:
For Serving:
4 to 6

burger buns

sautéed kale

optional
Instructions
Prepare the Caramelized Onions and Mushrooms:
Add the oil to a large non-stick skillet and heat to medium. Add the onions and cook, stirring occasionally, until onions begin to brown on the edges, about 15 minutes. Reduce the heat to medium-low and continue cooking, stirring occasionally, until onions are dark brown and caramelized, about 40 minutes. Add a small amount of water twice throughout the cooking process to deglaze the pan when the onions begin sticking.

Once the onions are almost fully caramelized, add the mushrooms. Continue cooking until onions are a deep brown color and mushrooms have leached mush of their liquid, have softened, and have a golden-brown sear on them.
Prepare the Pesto Sauce:
While the onions are caramelizing, make the pesto sauce and prepare the burgers. Add the basil, walnuts, and sea salt to a food processor and pulse until chopped. Leave the food processor on while streaming the oil through the top. Taste for flavor and add more sea salt or oil as desired. Set aside until ready to use.
Make the Burgers
Add the ground meat to a mixing bowl along with the sea salt, onion powder, and garlic powder. Mix well with your hands. Form 4 to 6 burger patties (according to your size preference).

Add 1 to 2 tablespoons of avocado oil (or cooking oil of choice) to a large cast iron skillet and heat to medium-high. Once the skillet is fully hot, carefully place the burger patties on the surface. Cook until deep brown char marks appear, about 3 to 5 minutes. Carefully flip and continue cooking to desired doneness, another 2-3 minutes for medium-rare, 5 minutes for medium, and 7 to 8 minutes for well-done.
Prepare the burgers:
Toast your burger buns (if desired), then add sauteed kale (or green of choice), a burger patty, pesto sauce, and caramelized onions and mushrooms. Sink your teeth in, and enjoy.
Nutrition
Serving:
1
Burger
|
Calories:
629
kcal
|
Carbohydrates:
21
g
|
Protein:
45
g
|
Fat:
41
g
|
Fiber:
2
g
|
Sugar:
3
g