Easy, healthful taco stuffed sweet potatoes are a filling, complete meal. Whip them up any night of the week, or turn it into a meal prep situation!
I find myself hankering for tacos and burritos regularly.
While I can definitely dig a gluten-free or grain-free tortilla, sometimes I'm cool with just stuffing my taco into a roasted sweet potato and calling it gravy.
Stuffed sweet potatoes are one of those ultra satisfying dishes when you're stuffing them with protein.
You have your quality sweet potato carb balanced with protein and fat for a filling meal that makes your body just feel good.
All I do for this recipe is cook up the beef in a cast iron skillet with onion, garlic, spices, and a fresh tomato.
It only takes 25 to 30 minutes to prepare the meat portion of the recipe, and the potatoes are a hands-off procedure as well, making this a SUPER easy weeknight meal.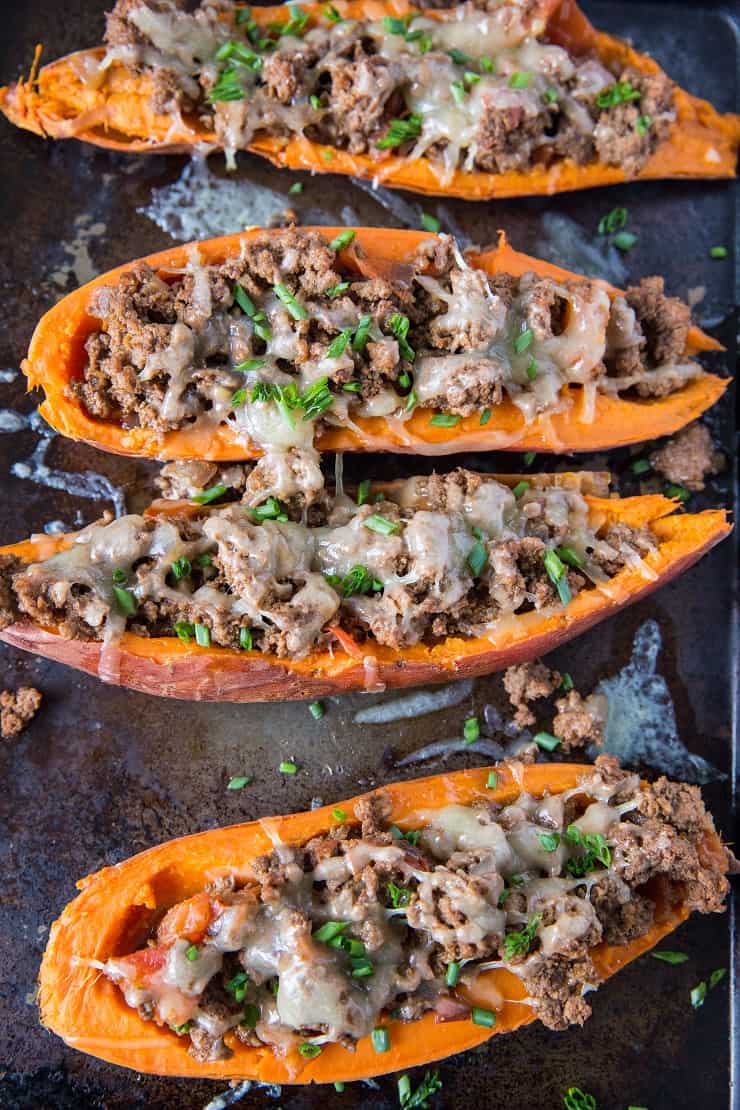 If you're a meal prep-er, you can roast the sweet potatoes and/or cook the meat up to 5 days ahead of time, giving you plenty of opportunity to consume this dinner throughout the week.
Plus, you can always re-purpose any leftovers in a myriad of ways.
You can turn the meat into actual tacos or burritos, or serve it over rice with guacamole as a burrito bowl. The potatoes can be turned into all sorts of dinner or even dessert recipes.
What I'm getting at here, is not only is this meal easy to prepare, it is also versatile as all get out.
You can make it your go-to during the busy holiday season when there's no time to over-think meals and to keep things healthful. Save your indulgences for the cookies, right? But of course!
A quick note about cheese: I top these with raw milk white cheddar cheese, which I find to be a most magical situation.
You can absolutely go cheese-free if you stay away from the dairy, or you can make a dairy-free queso to give it that creamy feel. Natural food stores even carry dairy-free queso, so that's an option, too!
This recipe makes enough taco filling to fill 3 to 4 medium-sized sweet potatoes.
You can adjust the amount of sweet potatoes you roast based on how many people you're serving – I assume 1 whole potato per person, so the recipe serves 3 to 4 people.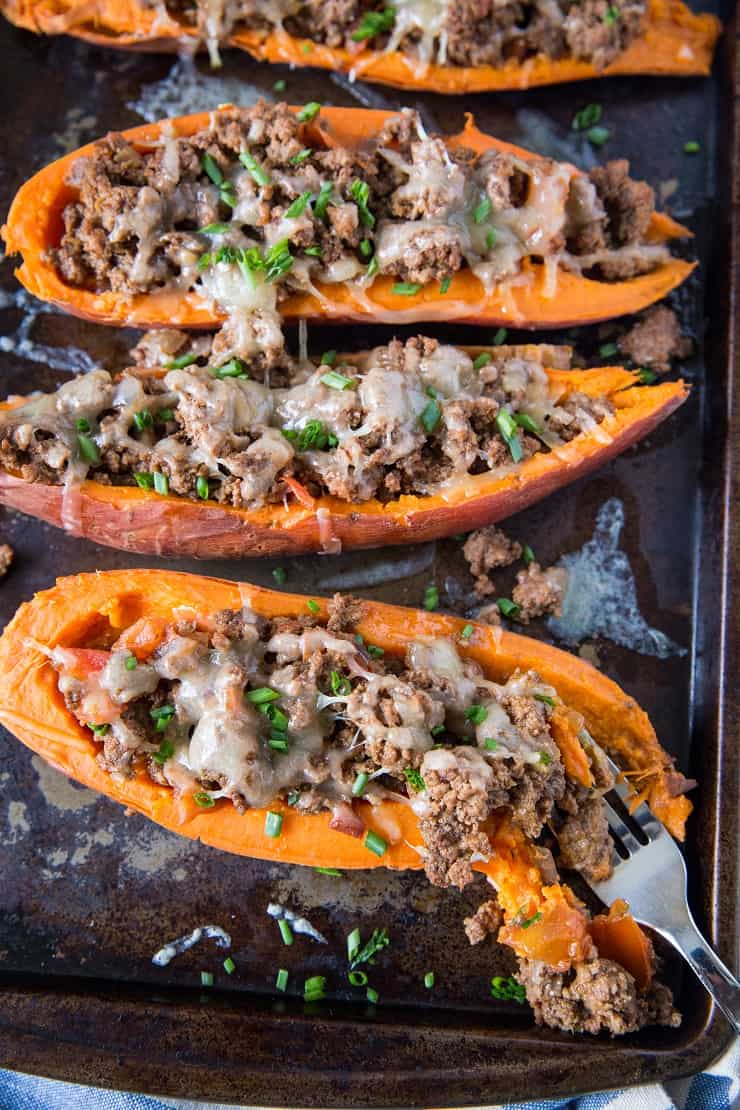 Meat-wise, I go with Butcher Box Grass-Fed Ground Beef (85/15, son!), but you can absolutely go with ground turkey. If you use ground turkey, I recommend adding a couple extra tablespoons of oil (whether you use avocado oil, algae oil, olive oil, etc) to give it some extra flavor.
…And if you prefer russet potatoes, butternut squash or acorn squash over sweet potatoes, feel free to swap out the boat!
Taco time!
More Healthy Beef Recipes:
My cookbook,
Paleo Power Bowls
, is now available! CLICK HERE to check it out. Thank you for your support!
If you make this recipe, please feel free to share a photo and tag @The.Roasted.Root on Instagram!
Taco Stuffed Sweet Potatoes
Get your taco fix with nutritious roasted sweet potatoes!
Ingredients
For Serving:
1

cup

cheddar cheese

grated

6

chives chopped
Instructions
Roast the Sweet Potatoes:
Preheat the oven to 400 degrees F. Wash the sweet potatoes well and pat them dry. Poke each sweet potato several times with a fork and wrap in foil. Place sweet potatoes on a baking sheet. Bake 60 to 90 minutes (depending on size of sweet potatoes), until potatoes are very tender.
Prepare Taco Filling:
While the sweet potatoes are roasting, you can prepare the taco filling. Add oil to a large cast iron skillet and heat to medium. Add the onion and saute, stirring occasionally, until onion has softened and is translucent, about 5 to 8 minutes.

Scoot the onion off to the side of the skillet and add the ground beef, leaving it in a layer (don't break it apart quite yet). Brown the meat 2 minutes, then flip to the other side and brown another 2 minutes.

Add the garlic, chili powder, and sea salt, and stir everything together well. Cook for 2 minutes, until the garlic is very fragrant.

Add the chopped tomato, cover, and cook 10 minutes, stirring occasionally.

Remove cover and cook another 5 to 8 minutes, stirring occasionally, until much of the liquid has burned off.
Stuff the Sweet Potatoes:
Slice the roasted sweet potatoes in half length-wise and scoop out some of the flesh (leave about 1/2 inch of flesh around the skin), saving the flesh for muffins, pancakes, or mashed sweet potatoes.

Stuff the sweet potatoes with desired amount of taco meat. Sprinkle with cheese and chives and serve. Note: you can heat the stuffed sweet potatoes in the oven for a couple of minutes to melt the cheese if desired.
Nutrition
Serving:
1
Stuffed Potato (2 halves)
|
Calories:
454
kcal
|
Carbohydrates:
29
g
|
Protein:
34
g
|
Fat:
22
g
|
Fiber:
5
g
|
Sugar:
12
g